Citrus is one of the best Yuri anime, which paved the way for more Yuri anime to follow the same route. Much hot anime similar to Citrus are popping up one after the other.
That's why, we are gonna talk about some of the most popular Yuri anime, which are very similar to Citrus. We will be talking about some of the top hot 15 anime like Citrus of all time.
All of these titles are ranked by IMDB, and we are also gonna discuss where to watch them. Without further ado, let us straight jump into the ranking of the top 15 anime like Citrus.
15 Hot Anime Like Citrus
15) Netsuzou Trap NTR
| | |
| --- | --- |
| IMDB Ratings | 5.0 |
| Genre | Drama, Romance |
| Studio | Creators in Pack |
| Where to Watch | Crunchyroll |
Yuma Okazaki and Hotaru Mizushin were childhood friends, and in high school, they also found their boyfriends. They always go on double dates, and keep having fun all the time.
However, Hotaru's sudden actions of stroking Yuma's thighs surprised the latter. Hotaru starts making moves on her and passionately keeps taking advantage of Yuma. How will Yuma now respond to Hotaru?
---
14) Candy Boy: Nonchalant Talk of Certain Twin Sisters in Daily Life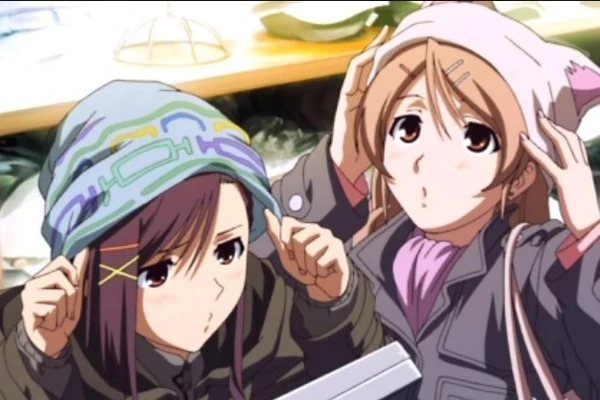 | | |
| --- | --- |
| IMDB Ratings | 5.7 |
| Genre | Romance |
| Studio | AIC |
| Where to Watch | N/A |
Yukino and Kanade Sakurai are twin sisters, who love each other and live together in the school dorm. But one certain day, Kanade sees Yukino hanging out with another girl called Sakuya.
Both of them spend a lot of time together, so Kanade starts to distance herself. The truth was Sakuya was asking Kanade for advice, also revealing her obsessive love for Kanade.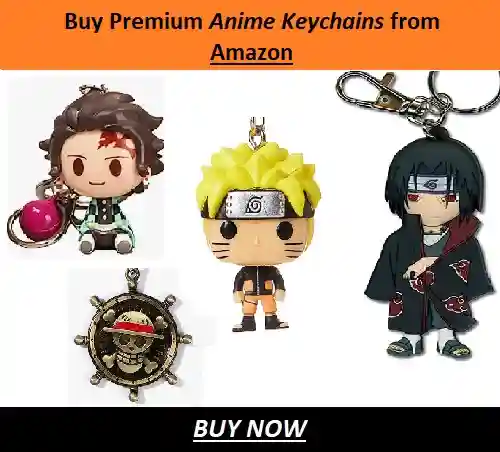 Will Yukino and Kanade be able to build their relationship back? How does the arrival of Sakuya change their relationship? These are some of the major questions answered in the anime.
---
13) Riddle Story of Devil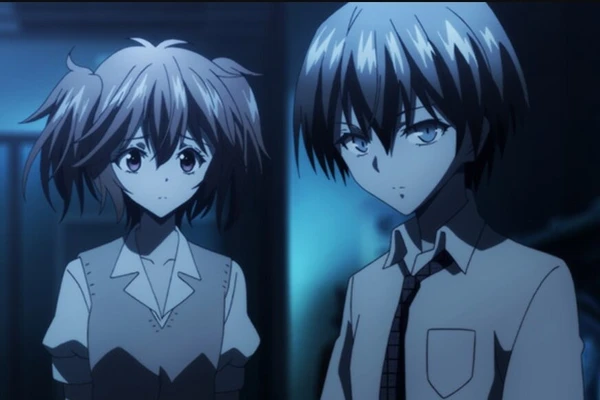 | | |
| --- | --- |
| IMDB Ratings | 6.3 |
| Genre | Action |
| Studio | Diomedea |
| Where to Watch | Funimation, Apple TV, Crunchyroll |
Tokaku Azuma is an assassin, who had transferred to Myoujou Academy, a girls' boarding school, to take part in the challenge of killing Haru Ichinose. There are also 11 other girls, who have taken part in this contest.
The one who successfully eliminates Haru will get all of their wishes granted, no matter the cost. The only catch here is that each assassin only gets one chance, and is expelled if they fail.
But, going against all odds, Tokaku falls for Haru, during the time she spends with her. She now tries to protect Haru, from the other 11 assassins who are out for her life.
---
12) Happy Sugar Life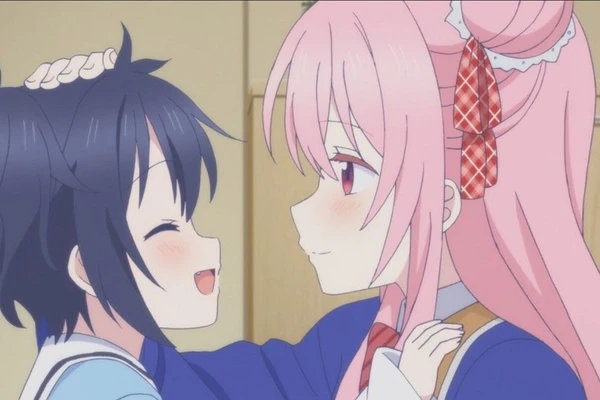 | | |
| --- | --- |
| IMDB Ratings | 6.4 |
| Genre | Drama, Horror |
| Studio | Ezola |
| Where to Watch | Prime Video |
Satou Matsuzaka is a gorgeous high school student, who always spends time with other men. However, it was only after meeting a girl called Shio Koube, she realizes that this was her first love.
Soon enough, Satou starts living with Shio, to strengthen their relationship and love further. Despite Satou's innocent looks and beauty, there are some of her dark secrets, which might threaten her relationship now.
And, Satou is also willing to do anything, to preserve this relationship. This anime has many similarities with Citrus and this is the reason this title is at the 12th position in anime like Citrus list.
---
11) Kuttsukuboshi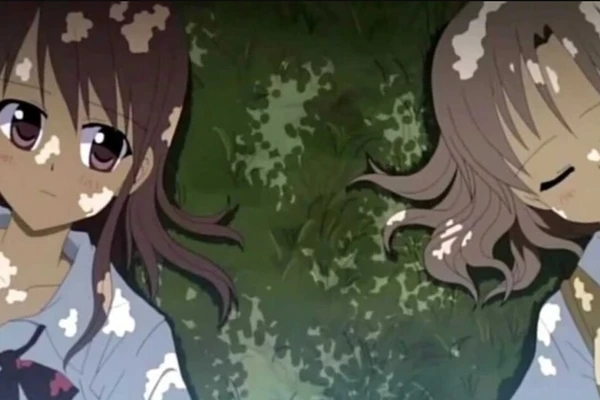 | | |
| --- | --- |
| IMDB Ratings | 6.7 |
| Genre | Drama, Romance, Supernatural |
| Studio | Primastea |
| Where to Watch | N/A |
This anime is the sweet love story of Kiiko Kawakami and Aaya Saitou. Aaya had mesmerized Kiiko so much, that the latter would never be able to live without Aaya. Aaya also later reveals to Kiiko, that she has psychic powers.
How will their relationship now change with this secret? What will happen to Kiiko, when she learns that Aaya still has a lot more dark secrets, which he hasn't disclosed to Kiiko?
---
10) Maria-sama ga Miteru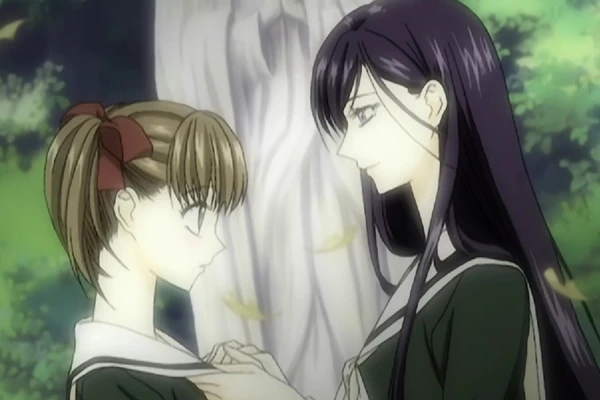 | | |
| --- | --- |
| IMDB Ratings | 6.8 |
| Genre | Drama |
| Studio | DEEN |
| Where to Watch | HIDIVE, Tubi TV, Prime Video |
Moving into the top 10 of the anime like Citrus list, we have a long-running Yuri series, Maria-sama ga Miteru. Yumi Fukuzawa is an innocent girl, who had just joined the Lillian Girls' Academy.
But soon enough, she meets the most beautiful and popular girl, Sachiko Ogasawara who takes an interest in her. Sachiko later offers to be Yumi's soeur, her sister, and guide for the time she is in this academy.
However, slowly both of them fall for each other, and we get to see a beautiful relationship.
---
9) Whispered Words
| | |
| --- | --- |
| IMDB Ratings | 6.9 |
| Genre | Comedy, Romance |
| Studio |  AIC |
| Where to Watch | Crunchyroll |
Murasame Sumika is the most popular girl in her high school, she excels at both studies and sports. But, she secretly loves one of the girls, in her school. She had never revealed nor told this to anyone.
Sumika has a crush on her classmate Kazama Ushio, who does understand the love between girls but has always been rejected. Will she take notice of Sumika's feelings for her, and make it into her ideal relationship?
---
8) Sakura Trick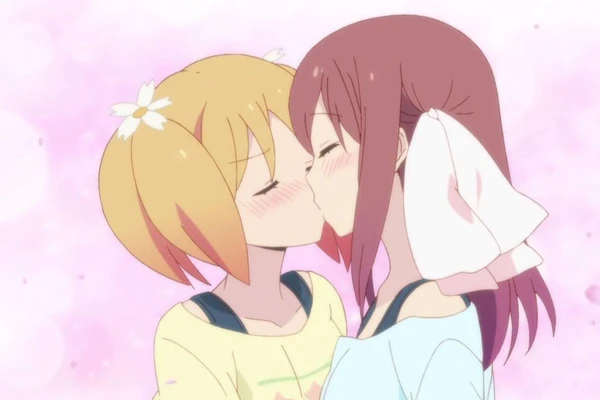 | | |
| --- | --- |
| IMDB Ratings | 6.9 |
| Genre | Comedy, Romance |
| Studio | Studio DEEN |
| Where to Watch | HIDIVE, Crunchyroll, Apple TV, Youtube |
If you are looking for Yuri and romance anime similar to Citrus, then Sakura Trick is the perfect watch for you. Haruka Takayama and Yuu Sonoda have been best friends since their middle school.
They also managed to attend Misato West High School together but had received their place on opposite ends of the classroom. However, when both of them share a kiss, they understand that they have a deeper connection, than just friendship alone.
---
7) Aoi Hana
| | |
| --- | --- |
| IMDB Ratings | 7.0 |
| Genre | Drama, Romance |
| Studio | J.C.Staff |
| Where to Watch | Crunchyroll, VRV |
Fumi Manjoume is a very shy and kind girl, who was best friends with the caring and sweet Akira Okudaira since her elementary school days. But, Fumi has to move to her hometown, for her high school, due to some situations.
They do share their reunion at the Fujigatani Girls' Academy, but this is quickly overshadowed by the most popular senior Yasuko Sugimoto. Yasuko keeps on trying to charm Fumi, and Fumi cannot decide what she wants to do.
Will she be able to understand her feelings for Akira, before their happy reunion turns into a sad one?
---
6) The Magical Revolution of the Reincarnated Princess and the Genius Young Lady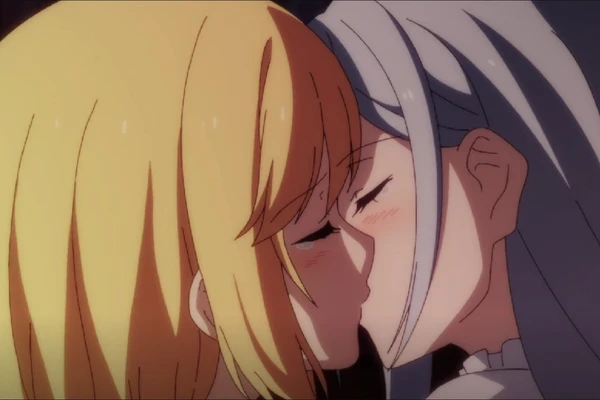 | | |
| --- | --- |
| IMDB Ratings | 7.0 |
| Genre | Fantasy |
| Studio | Diomedea |
| Where to Watch | Crunchyroll, Youtube |
Anisphia Wynn Palletia is the Princess of a Kingdom but left her right for the throne because she cannot use magic. Now, the throne is passed to her younger brother Algard, who also has to marry Euphyllia Magenta, against his wishes.
Soon enough, he tries to publicly humiliate Euphyllia, and cancel their wedding. But, Anisphia saves her and asks Euphyllia to become her assistant. Although this might be good for Euphyllia, Anisphia has some other reasons for her taking her in.
Anisphia is interested in women, and has found Euphyllia to be charming, and falls in love with her. Will Euphyllia be able to understand her feelings and what she wants to do now?
---
5) Adachi and Shimamura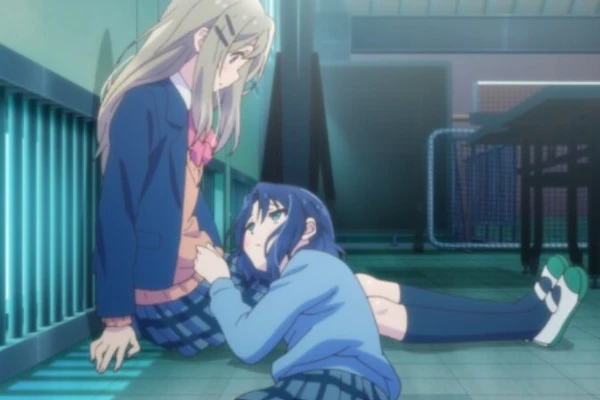 | | |
| --- | --- |
| IMDB Ratings | 7.1 |
| Genre | Romance |
| Studio | Tezuka Productions |
| Where to Watch | Crunchyroll, Prime Video, Funimation, Apple TV, |
Sakura Adachi and Hougetsu Shimamura are two students, who met by chance in the school gym, after skipping classes. Slowly, both of them develop a friendship, and gradually, we get to know that this isn't the end of their relationship.
Through the series, they also realize that they hold special emotions for each other. This is pretty similar to Citrus, due to the themes and the representations of characters.
---
4) Strawberry Panic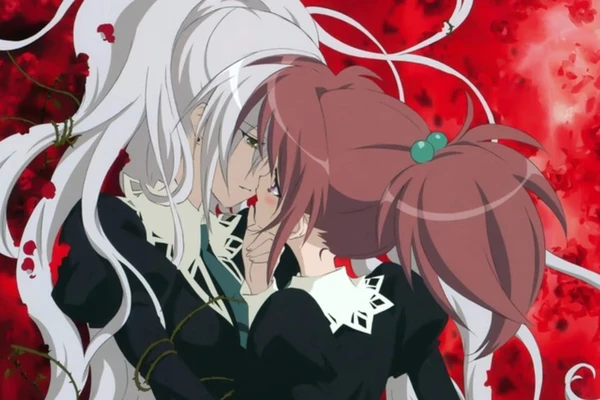 | | |
| --- | --- |
| IMDB Ratings | 7.1 |
| Genre | Drama, Romance |
| Studio | Madhouse |
| Where to Watch | Tubi, Prime Video |
Nagisa Aoi is a new transfer student, at the St. Miator's Girls Academy, and is new to everything and everyone over there. However, she soon sees a gorgeous student and ends up in the infirmary after witnessing her beauty.
When she meets her roommate Tamao, she learns of the existence of Etoile. Moreover, she also learns that the beautiful girl she met earlier was Shizuma Hanazono, the one and only Etoile.
Things take an even more interesting tour when Shizuma is interested in Nagisa and keeps on making moves toward her. This is its most similar aspect to Citrus and is also very popular for this.
---
3) Yuru Yuri
| | |
| --- | --- |
| IMDB Ratings | 7.6 |
| Genre | Comedy |
| Studio | Doga Koba |
| Where to Watch | Crunchyroll, Funimation, VRV, Prime Video |
It took a full year, for Akari Akaza and her friends Yui Funami and Kyouko Toshinou to reunite, at her middle school. They also talk about how they formed the Entertainment Club, which is just there to provide entertainment for the members.
The rest of the series follows the daily life of all of these girls, while they try to entertain themselves and fall in love with one another. It is a very funny series, which includes the slice of life aspect too, which makes it more interesting.
---
2) Bloom Into You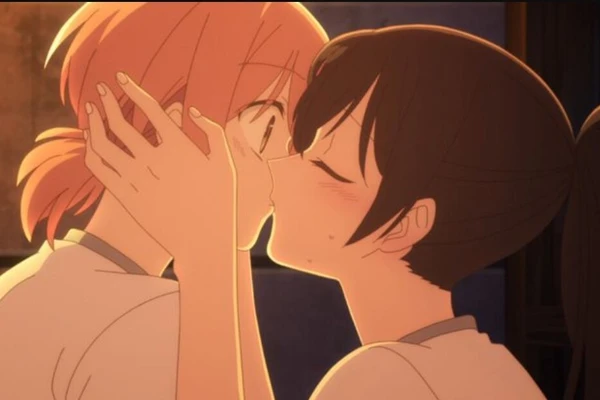 | | |
| --- | --- |
| IMDB Ratings | 7.8 |
| Genre | Drama, Romance |
| Studio | TROYCA |
| Where to Watch | HIDIVE |
Yuu Koito was always a big Shoujo manga fan, of romantic songs, and had always wanted to be in a relationship. But, she doesn't feel anything at all, when she is confessed by one of her classmates.
Now, she goes to a high school and meets the School Council President, Touko Nanami. To her surprise, Touko proposes Yui during their first meeting. Yuu must now come to terms with her feelings, as this might be the love she was longing for.
---
1) Nana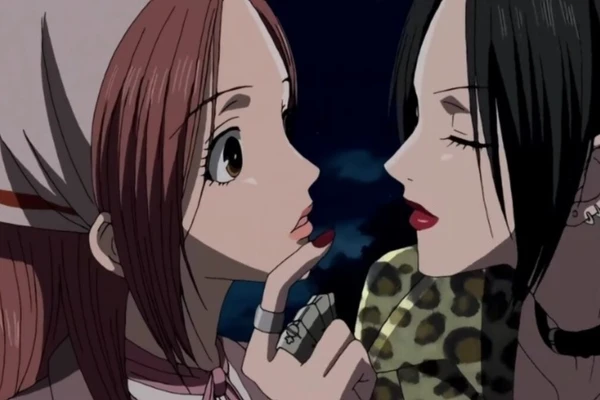 | | |
| --- | --- |
| IMDB Ratings | 8.5 |
| Genre | Drama, Romance |
| Studio | Madhouse |
| Where to Watch | Hulu, HIDIVE |
Nana Osaki and Nana Komatsu, are two people who have the same name and are visiting Tokyo at the same time, for different purposes. Osaki is looking for her love, and Komatsu is trying to build her career in music.
Coincidentally, both of them also share the same flat, and now have to support one another in their endeavors. How will their relationship now bloom, after they have learned of secrets which might destroy them?
This marks the end of our article on the top 15 anime like Citrus. For more similar and interesting content, make sure to check some of our other articles here.
---
Do small things with great love.
Follow us on Twitter for more updates.
Also Read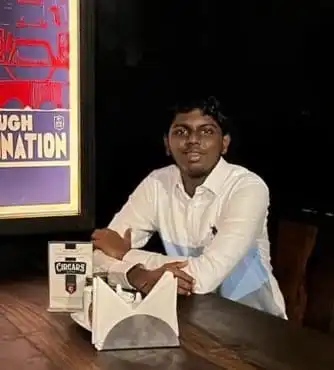 Eswar Keshav is an ardent anime fan for more than a decade. Along with this, he also has been following anime and manga updates for years. He is also enthusiastic and passionate when it comes to writing about his favorite things. Combining his love for writing and his love for anime and manga, his articles speak of his love for the genre.