Anime is home to some of the best antagonists, protagonists, and side characters, which are well-recognized even by people who are not a fan of anime. Just like that, anime is also home to some of the most busty anime girls, and we all wish that it would have been so much better only if they were real.
Today, we are going to take a look at some of the most busty anime girls who you wish were real without any second thoughts. Let's dive right into the ranking without further ado.
15+Busty Anime Girls
15) Hanabata Nohkins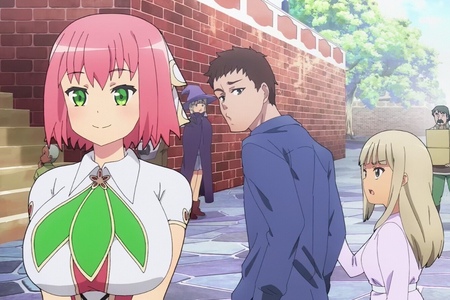 Anime: Immoral Guild
One of the most recent addition, Hanabata Nohkins, is one of the side characters in the recently completed anime Immoral Guild. On top of being busty, she has a pretty good character design that enhances her curves. 
A special uncensored version of this anime was also aired, from which we can see her and other characters' erotic bodies in the series. Even when she is in her normal attire, we can see how other people try to steal glances at her enormous bust.
The best part about her is that whenever she activates her frenzy state, she loses control over her mind and acts like a cute and lovestruck kid. Who wouldn't want a dreamy character like this having a huge bust with a sexy side and cute sides to exist, really?
---
14) Anna Nishikonimya 
Anime: SHIMONETA: A Boring World Where the Concept of Dirty Jokes Doesn't Exist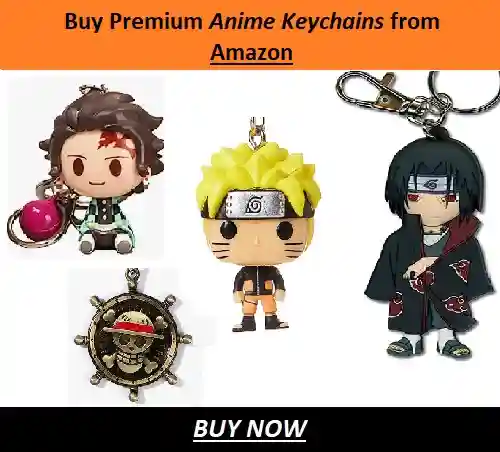 One of the main characters in the series, she transforms from a cute and sexy girl oblivious to anything to an obsession with the male lead. She is very attractive with short silver hair and a big bust.
Time and over again, she keeps obsessing over the main character and keeps lusting for him. She is not able to differentiate between love and lust and thinks all of her feelings are love.
This character is the perfect example of a busty anime girl who should have been real. After all, everyone would love to see someone like this obsess over them all the time.
---
13) Lalatina Dustiness Ford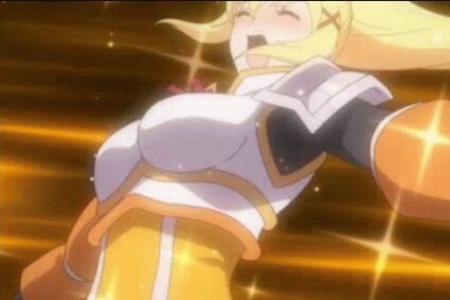 Anime: KonoSuba: God's Blessing on This Wonderful World!
Commonly known as darkness, we all know about her masochistic nature and how erotic she looks with her bust. On top of her charming and alluring looks, we know that she is a pervert and loves being abused.
This is one of her kinks, and she keeps repeating this gag throughout the series. And through many of those scenes, we also get a look at her body behind her armor which he usually wears.
After taking a look at her like this, we can indeed say that she is a busted anime girl, especially one that we would love to see in real life. Taking into count her personality and her nature, we can say that she would have been unique had she existed really.
---
12) Roxanne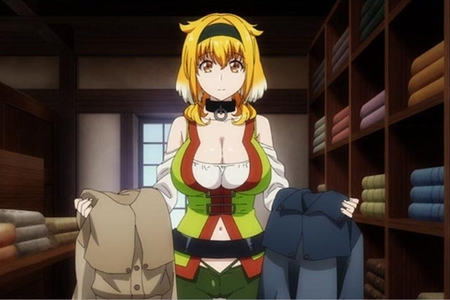 Anime: Harem in the Labyrinth of Another World
One of the main female leads in a classic niche Ecchi anime genre, she does not disappoint us with her looks or her bust. She can be classified as a fox girl with cat-like ears and a tail. This further enhances her cuteness and her s*x appeal.
Luckily enough, this anime does have an uncensored version to watch Roxanne's raunchy scenes with the main protagonist. There is also the uncensored manga available, which also shows Roxanne's body at her best.
With all of these features, enough said, we would love this busted anime girl who is caring, cute, and sexy all at once. This anime also does good in capturing the charm and the nature of Roxanne.
---
11) Vermeil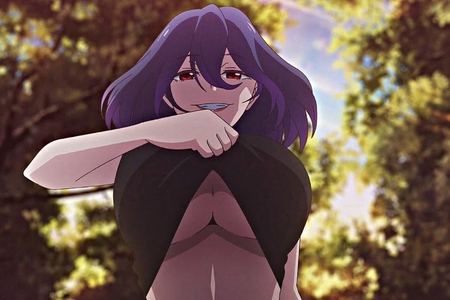 Anime: Vermeil in Gold
Another main female lead of an Ecchi anime series, Vermeil, has a noticeably large bust size on top of possessing hot and sexy looks. She cares a lot for the main character and tries to protect him all the time.
She has alluring looks and always wears hot and revealing outfits that further enhance her body. Vermeil likes to be naked around the main character and loves teasing him every time.
Who wouldn't love a teasing and sexy, busty anime girl in her prime with all of her features and personality? On top of all this, Vermeil is also in love with the main character, which works in her favor, more or less.
---
10) Wiz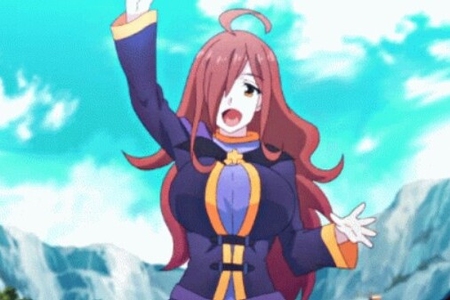 Anime: KonoSuba: God's Blessing on This Wonderful World!
There is also another character that matches that of a busty anime girl in Konosuba, and that is Wiz. One of the minor characters and a former demon lord, Wiz possesses an unbelievably large bust with charming looks to top it off.
She is a soft-spoken and kind character that cares about the protagonist's party and the audience, showing off her body whenever she gets the chance. Wiz has a running gag throughout the series, which further showcases her bust size whenever she appears on-screen.
Wiz's personality and character design further enhance her s*xual nature. Because of the running gag, we can't take our eyes away from her even for an instant. This gives her an advantage over the other characters in the series, as she has a higher s*x appeal than all of them.
---
9) Meiko Shiraki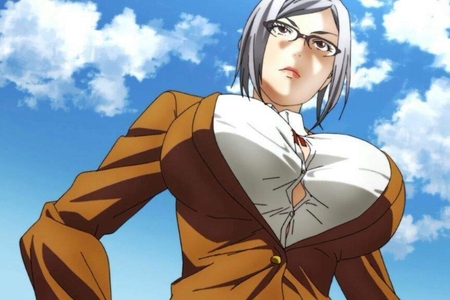 Anime: Prison School
One of the supporting cast of the series, she has the sexiest character design in the series and is unimaginably busted. She has a large bust and wears a revealing outfit, which further shows off her best parts.
Even if she is a supporting character, she steals the show with her hot looks and her personality. She is also obsessed with the main character and wants to be recognized by him. Meiko also has sadistic tendencies, which keep showing up in her punishments.
---
8) Lucoa Quetzalcoatl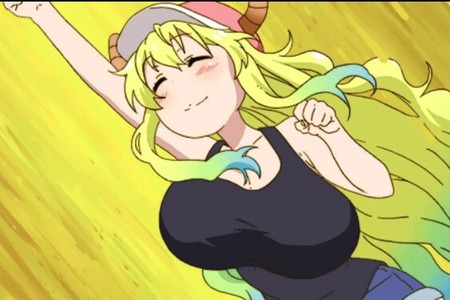 Anime: Miss Kobayashi's Dragon Maid
Another Ecchi anime in the fray, this anime also has a decent enough storyline, along with some busted girls, that hooks the audience. The most striking one of all the characters should be an incarnation of the mythical deity Quetzalcoatl.
On top of having an enormous bust size, she has a cute appearance with blond wavy hair and charming heterochromia eyes. She has a striking personality and kind nature and has horns as well as a tail. Lucoa is also a fan-favorite character with her personality traits and her gorgeous appearance on screen.
Despite being a side character, she captures the audience with her looks. Even in the anime, all the guys are surprised and engrossed at the huge size of her bust. Her design further enhances her bust and makes it stand out the most in her appearance.
---
7) Tsunade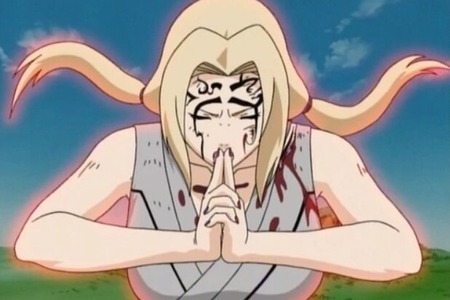 Anime: Naruto
Who is more suitable and the perfect candidate if not for the most beautiful Kunoichi in Naruto? The definition of beauty with brawns, Tsunade, has it all, as she is the 5th Hokage of Konohagakure.
She has short blond hair, and her normal outfit choice is green Haori around a Kimono and a short blouse that reveals her sizeable bust. Her features are conveyed perfectly with her outfit choice and her character design.
Tsunade is also one of the most memorable characters in this series, given her vital role in the growth of Naruto. Her appearance, enhanced with all of her dazzling features and bust, also does play a part in this.
---
6) Hestia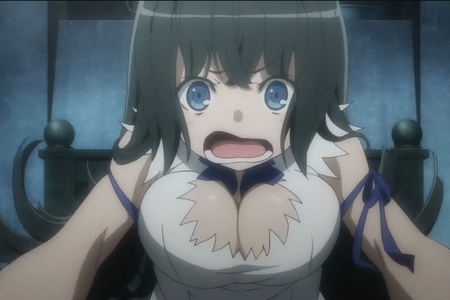 Anime: Is It Wrong to Try to Pick Up Girls In a Dungeon?
One of the goddesses in the anime, Hestia, is an energetic and strong girl with a short demeanor. She also has a nickname in the anime, Loli Big-boobs, which speaks enough about her unnatural bust size.
She is a short girl who has a cute appearance and a large bust size than we can imagine. This puts her in a favorable position in this list, with her cute and erotic appearance.
Hestia has a stacked bust, which makes the audience, as well as other characters in the series, hooked on it. Her character design is also made to enhance her curves more, which it perfectly accomplishes.
---
5) Rangiku Matsumoto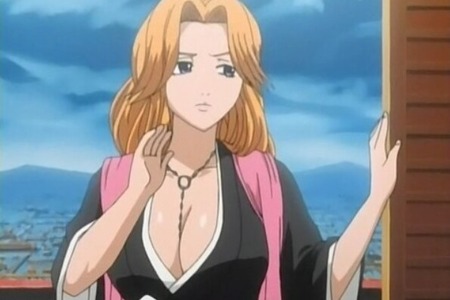 Anime: Bleach
The lieutenant of Squad 10 is not to be taken lightly, given her power and her position. On top of being a powerful woman, she has a luscious body. One that is adored by fans and even the characters in the series alike.
Rangiku has a perfect body, which she shows off proudly in many of the comedic moments throughout the series. Her character design further serves the purpose of enhancing and showcasing her perfect body.
Given her superior bust size and her proportions, she is a force to be reckoned with compared to many of the other characters in this list.
---
4) Rias Gremory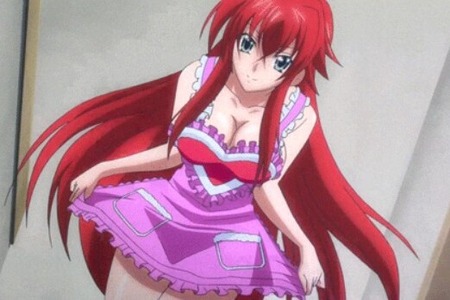 Anime: Highschool DxD
The female lead from the most popular Ecchi anime, Rias, shows off why she is the female lead with her revealing outfits and her giant bust. She is beautiful enough, with her crimson hair and her blue eyes, which were further embellished by her sensuous body.
Rias is the tallest character in the series, with a sizeable bust, and the uncensored version of the anime gives us a chance to look at her voluptuous body at its fullest many times. She is also very close with the protagonist and tries to seduce him all the time.
With all of these factors, it's not hard to explain why Rias is number 4 and has one of the best busts in the series. Her vivid appearance further enchants her beauty, and it is not too hard to see why she is the female lead.
---
3) Leafa  
Anime: Sword Art Online
Coming from one of the most infamous Isekai anime, Leafa is the avatar of Kirito's sister in Alfheim Online. She has a large fanbase for her character mainly due to her personality and her likable nature. Fans immediately fell in love with this character when she came out, and the later seasons just improved upon this.
Barring this, she also has a perfect body and proportions in correspondence with her character design. She has a bigger bust and acts pretty mature for her age. Her body also is extremely mature, and her avatar expanding upon her bust fits perfectly with her.
The most visible part of her design is, of course, her massive bust, which looks unreal. But she is one of the most attractive, cute, and perfect characters, which we wish was real.
---
2) Akeno Himejima
Anime: Highschool DxD
The character who steals the fanbase with her best and exemplary body and bust is not the main character but rather the side character of this series. Akeno can be called a rival of Rias, as both of them are always at odds.
They always try to up each other by contesting in a seducing competition to see who seduces the protagonist better and comes up with new and quirky ways to accomplish this. She is a Deredere, meaning she is extremely in love with the main character and always wants to act lovey-dovey.
Thanks to this anime being uncensored, we can once more take a look at her bare body multiple times in the series. Her most attractive and seductive look should be granted to her traditional Miko outfit, in which he looks flawless with her colossal bust.
---
1) Nico Robin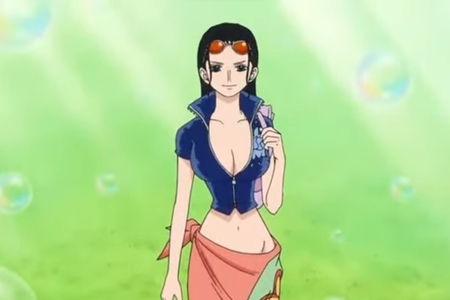 Anime: One Piece
What more than to end this busty anime girl list with the most beautiful, charming, and sexiest pirate lady of all time? She is a tall and thin woman who has a stacked bust. Her graceful figure elevates her body proportions to a different dimension and makes he bust stand out the most.
Even her revealing attire showcases her massive bust and proves why she is the best girl with a huge fanbase in the One Piece fandom. Robin looks so dazzling and seductive in all of her outfits and is truly the best girl for the number one position.
She is stunning and captivates the audience with her flawless body. Over the time skip, her bust growth was even more visible, leaving fans with shocked expressions as well as wanting to see more of her appearances.
With this, we can end our list of Busty Anime Girls you wish were real. All of the girls in this list have perfectly shaped and desirable bodies and busts, with their appearances further gratifying their curvaceous bodies, making us wish for them to be real.
---
Do small things with great love.
Follow us on Twitter for more post updates.
Also Read: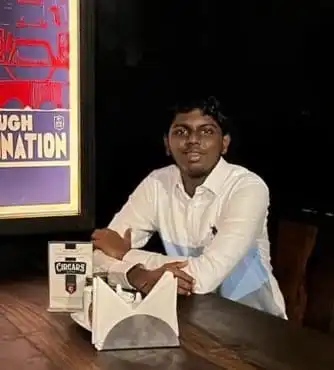 Eswar Keshav is an ardent anime fan for more than a decade. Along with this, he also has been following anime and manga updates for years. He is also enthusiastic and passionate when it comes to writing about his favorite things. Combining his love for writing and his love for anime and manga, his articles speak of his love for the genre.