The previous chapter of Jujutsu Kaisen was all about Higuruma Hiromi. He is the player in the culling game who Megumi and the others are currently targeting. The chapter started with a piece of general information where it said that most of the trials in Japan ended with a guilty verdict.
We saw Higuruma questioning a client who had been accused of murder. All the shreds of evidence pointed towards him being guilty, but Higuruma was not ready to listen to that. We learned that Higuruma tries his best to check all the facts even if there is a slight chance of the person being innocent. But he still ended up on the losing side most of the time, which led to his clients hating him.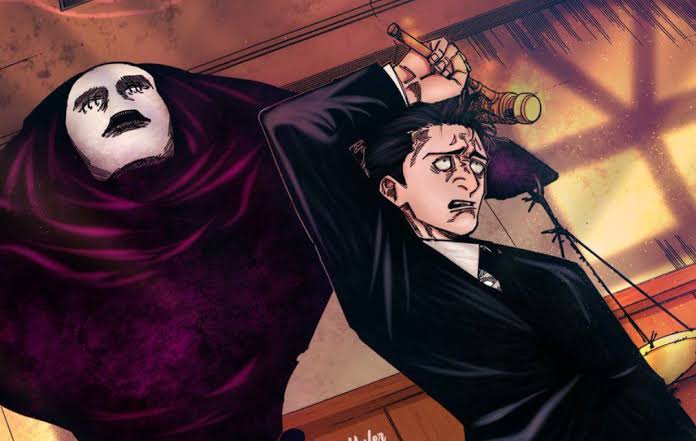 One day we saw that somehow there was a Not Guilty verdict. But Higuruma sat down and said that the opposition would immediately challenge it and the verdict would be guilty. According to Higuruma, he just wanted to keep his eyes open, unlike Lady Justice. In that hearing, we saw Higuruma suddenly rising in his place and using the Judge's mallet to strike loudly on the table.
He told everyone to come inside, and they would have a retrial. Just then, we saw a stand appearing behind Higuruma with scales in place of hands and the eyes stitched. The chapter kept the fans on the edge as they kept wondering what it was.
Jujutsu Kaisen Chapter 160 Raw Scans-
We have got a glimpse regarding Higuruma, whom our boys are chasing. It is clear that he has a strong sense of justice which is why he did not shy away from killing players. The biggest mystery will be the stand that appeared behind him.
Since Higuruma looked like an ordinary person, it is possible that the stand may provide him powers. What will be interesting to note is what kind of powers it has and whether the others will stand up to it. If Hakari takes the front role in the upcoming chapter, it will please the fans since he is clearly a powerful character, and we may get to see more of his techniques.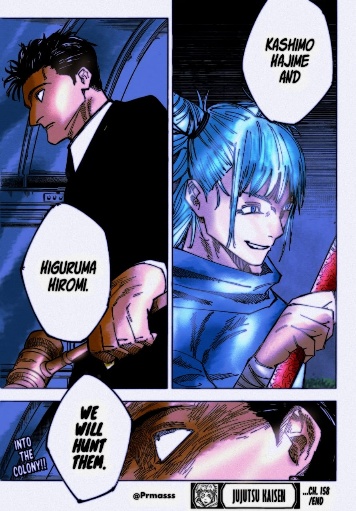 We also need to keep in mind that Yuta will also appear somewhere within the coming, and he has a high probability of facing Angel. Since Angel looks like the toughest player in the Culling Game at the moment, it is only natural that Yuta goes to face her.
Note: The raw scans of Jujutsu Kaisen Chapter 160 will surface this Thursday. Therefore, we will update this post based on the raw scans and confirmed spoilers.
Jujutsu Kaisen Chapter 160 Raw Scans and Spoilers-
The next chapter of Jujutsu Kaisen will focus on Kenjaku who makes a sudden appearance. A secret will be revealed that is bound to stir up the fans. Chapter 160 will have the title "Colony" as Itadori and the others will finally enter the barrier.
• The chapter will start with Kenjaku apologizing to Sasaki.
• Sasaki is the girl in Yuji's occult research club and they are currently in a black space.
• Kenjaku will tell that she is in a game where people are supposed to kill each other. But people like her have a chance to get out so they can opt out of the game.
• Sasaki asks if she is in a dream to which Kenjaku replies that it is a spell between dream and reality
• At the last moment Kenjaku will thank her for taking care of his son.
• After that she will find herself outside the barrier with the other members of the Occult Research Club. Kenjaku has talked with all of them but only she has heard the bit about son.
• Sasaki will guess that Kenjaku is talking about Yuji.
• Meanwhile Yuji and the others will be unable to find a player named angel.
• They figure out that it is not her real name and decide to split into two groups.
• Hakari and Panda will go to Tokyo 2 barrier while Megumi and Yuji will go to Tokyo 1 barrier.
• At the end of the chapter we will see a Kogane explaining about the game to two teams who agree to participate.
---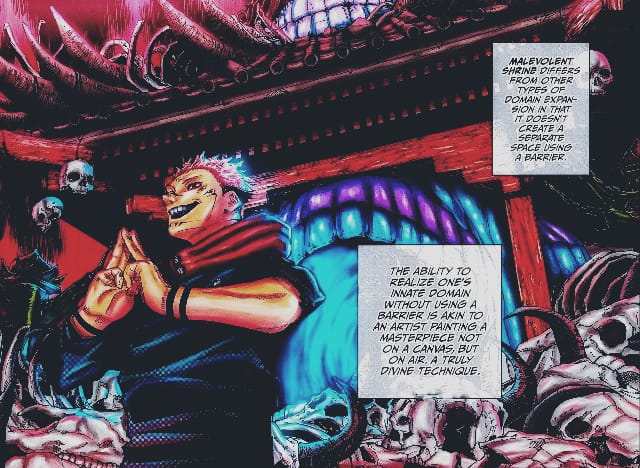 Must Read- (2021) Top 7 Strongest Domain Expansion In Jujutsu Kaisen Ranked
---
Jujutsu Kaisen Chapter 160 Release Date-
According to the Mangaplus Shueisha, fans will get their hands on the new chapter on September 26, 2021. The next week we will witness the continuation of Megumi's plan. A week's gap will give the fans time to ponder the events that have occurred as we still wait to see what happened with Maki after the Zenin household incident.
Where to Raed Jujutsu Kaisen Chapter 160-
Mangaplus Shueisha and Viz Media are the two usual destinations for fans to read the latest chapters of their favorite manga. We will come back again with the new spoilers of Jujutsu Kaisen. Till then, stay tuned.
---
Do small things with great love.
Follow us on Twitter for more post updates.
Also Read: 
(2021) Top 20 Strongest Characters in Jujutsu Kaisen (Ranked)

Top 10 Strongest Cursed Techniques in Jujutsu Kaisen Ranked

Top 10 Strongest Sorcerers in Jujutsu Kaisen (Ranked)

Top 10 Most Beautiful Females in Jujutsu Kaisen (Ranked)

(2021) Power of Suguru Geto in Jujutsu Kaisen Explained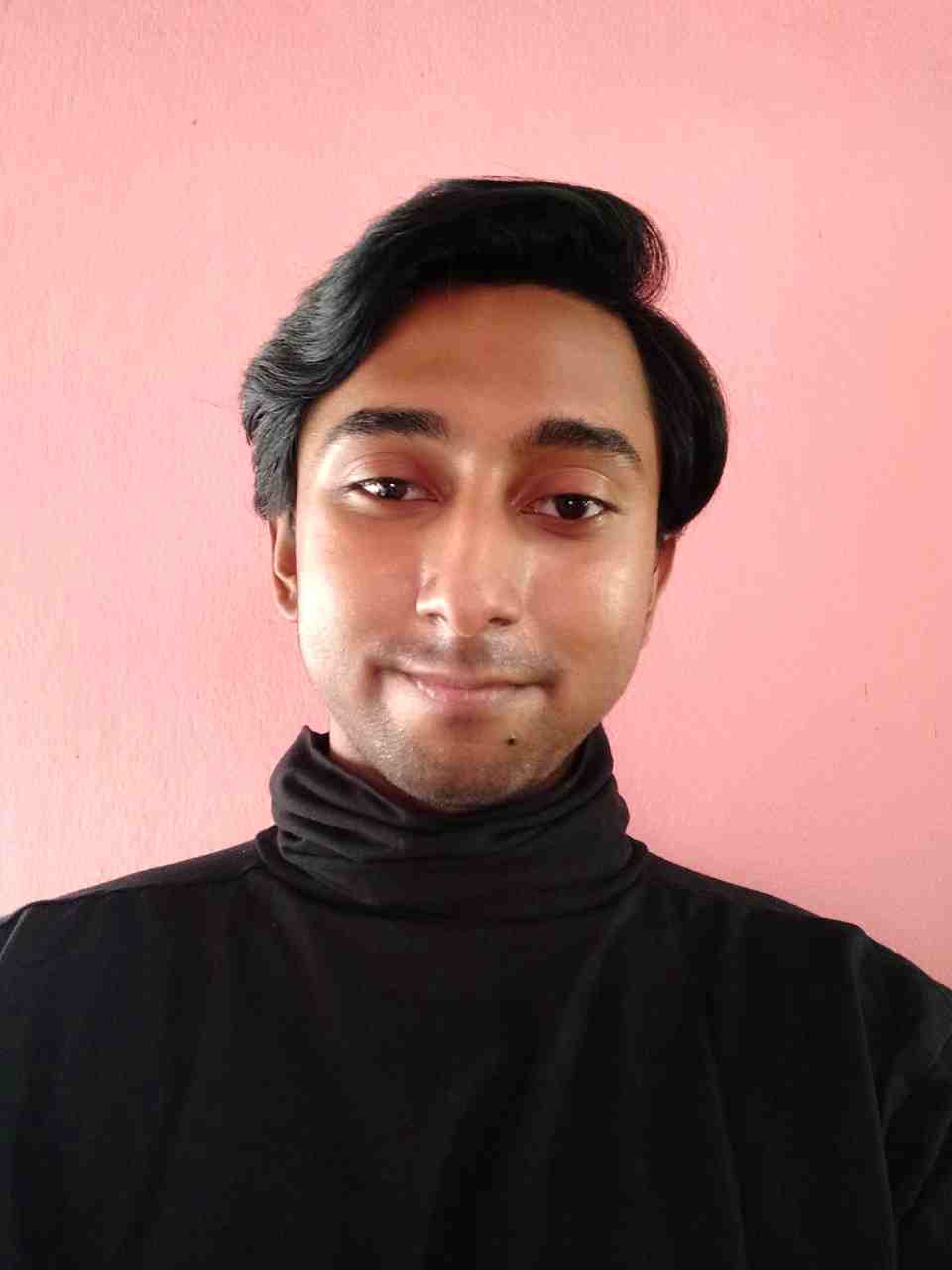 Life took a sudden turn for me when I finally decided to watch Kimi no nawa & Clannad. While both of them made me cry and introduced me to this vast world of anime. The Anime and Manga world is an escape for me from this complicated real world and serves as a relief. Being a content writer for OtakusNotes still feels like a dream and has been one of the best things to happen to me this year. It has been a productive distraction for me and I am loving every moment of it.