In this article, we will discuss Kaiju No. 8 Chapter 40 Spoilers, Predictions, and Delayed Release Date. The story in the last chapter of Kaiju No. 8 had strayed away from Kafka Hibino, who did not make a single appearance. 
It started with Kikoru Shinomiya getting a message from Mina Ashido about Kafka's execution being delayed. 
Meanwhile, the vice commander of the Defense Force appeared before Kikoru and told her that she was going to meet the commander of the First Unit in which she would be placed. Kikoru was in anticipation of how the First Unit commander was going to turn out to be. 
However, it was not at all how she expected it to be, and the commander of Japan's strongest unit turned out to be a lazy person who likes to be immersed in games and other kinds of stuff. 
Eiji Hasegawa had to force him to clean his rooms, and then he picked him up and placed Narumi in front of Kikoru.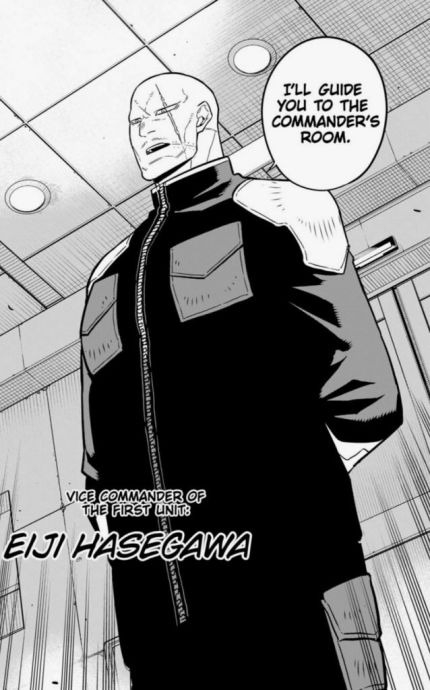 Kikoru did not deem Narumi worthy of respect, but she still decided to honor the ranking hierarchy and showed her respect. 
But to everyone's surprise, Narumi said that he didn't want that and asked Kikoru to follow him to battle. A huge monster had appeared on the ocean that was edging closer and closer towards the base. 
The members of the Defense Force were able to place it under the containment zone by firing shots at it. It was then Narumi's moment to shine who jumped straight at the monster's back with his weapon and finished it off with one shot. This impressed Kikoru, who realized that things had just started to get interesting.
Kaiju No. 8 Chapter 40 Spoilers-
Since there was no mention of Kafka Hibino in the previous chapter, we can expect to see an update on his status in chapter 40 of Kaiju No. 8. It is likely that Kafka has also been placed under the First Unit so that he can be closely monitored by Isao Shinomiya.
 The relationship between Narumi and Kikoru is also something to keep an eye on as they both have explosive offensive power and can form the finest duo in the Defense Force.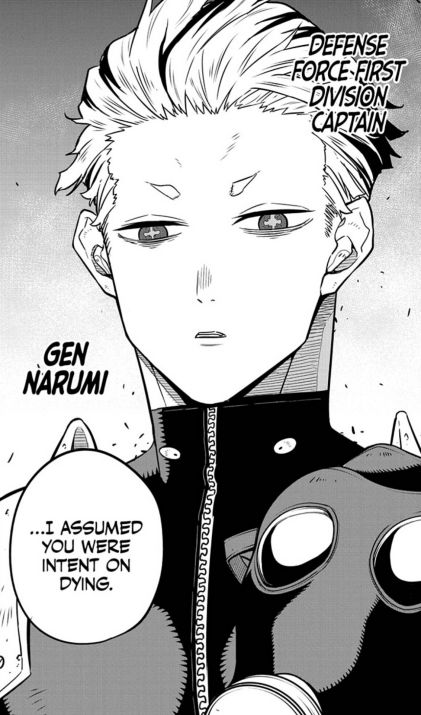 We had previously seen that Monster #9 has also started making its move. It probably wants to revive Monster #8 that is currently residing within Kafka Hibino. 
It gives a solid boost to the Defense Force in terms of power that Monster #9 wants to take away. Thus, we can expect a rematch between the two of them, and we can hope, Kafka to be victorious in this round.
---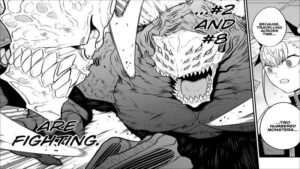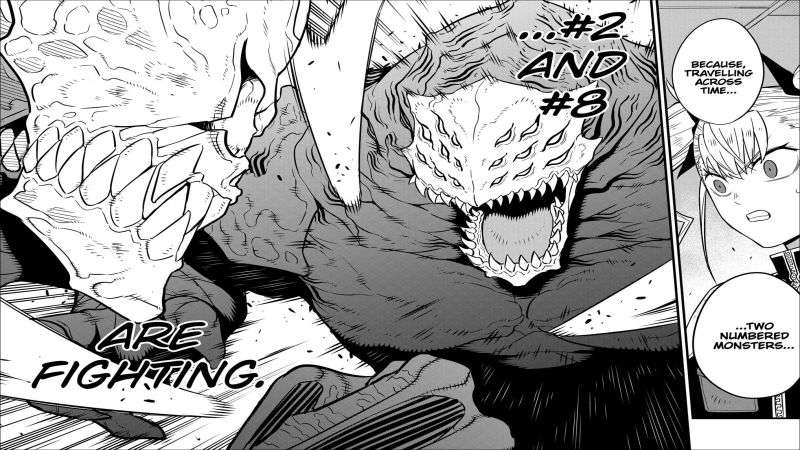 Must Read- (2021) Power of Isao Shinomiya (Monster #2) in Kaiju No. 8 Explained
---
Kaiju No. 8 Chapter 40 Release Date-
As per the official release schedule of Kaiju No. 8, its next chapter is going to release on July 22, 2021. This comes as a mild disappointment to the fans that we are already getting another break since Kaiju No. 8 was on a break the previous week too.
Where to Read Kaiju No. 8 Chapter 40-
Readers can head over to the official site of Mangaplus Shueisha and enjoy the latest Kaiju No. 8 chapters. They can also download the official app from the play store. Till we come back with another new article, stay tuned. 
---
Follow us on Twitter for more post updates.
Also Read-
Power of Soshiro Hoshona in Kaiju No. 8 (Explained)



Top 10 Most Powerful Monsters in Kaiju No. 8 (Ranked)

Power of Monster #9 in Kaiju No. 8 (Explained)

(2021) Top 20 Best End of World Anime Ranked

(2021) Top 30 Best Korean Anime of all time Ranked

Power of Kafka Hibino's Kaiju Form in Kaiju No. 8 / Monster #8

(2021) Top 20 Most Powerful Tokyo Revengers Characters Ranked

(2021) Top 10 Most Popular Old Lady Cartoon Characters Ranked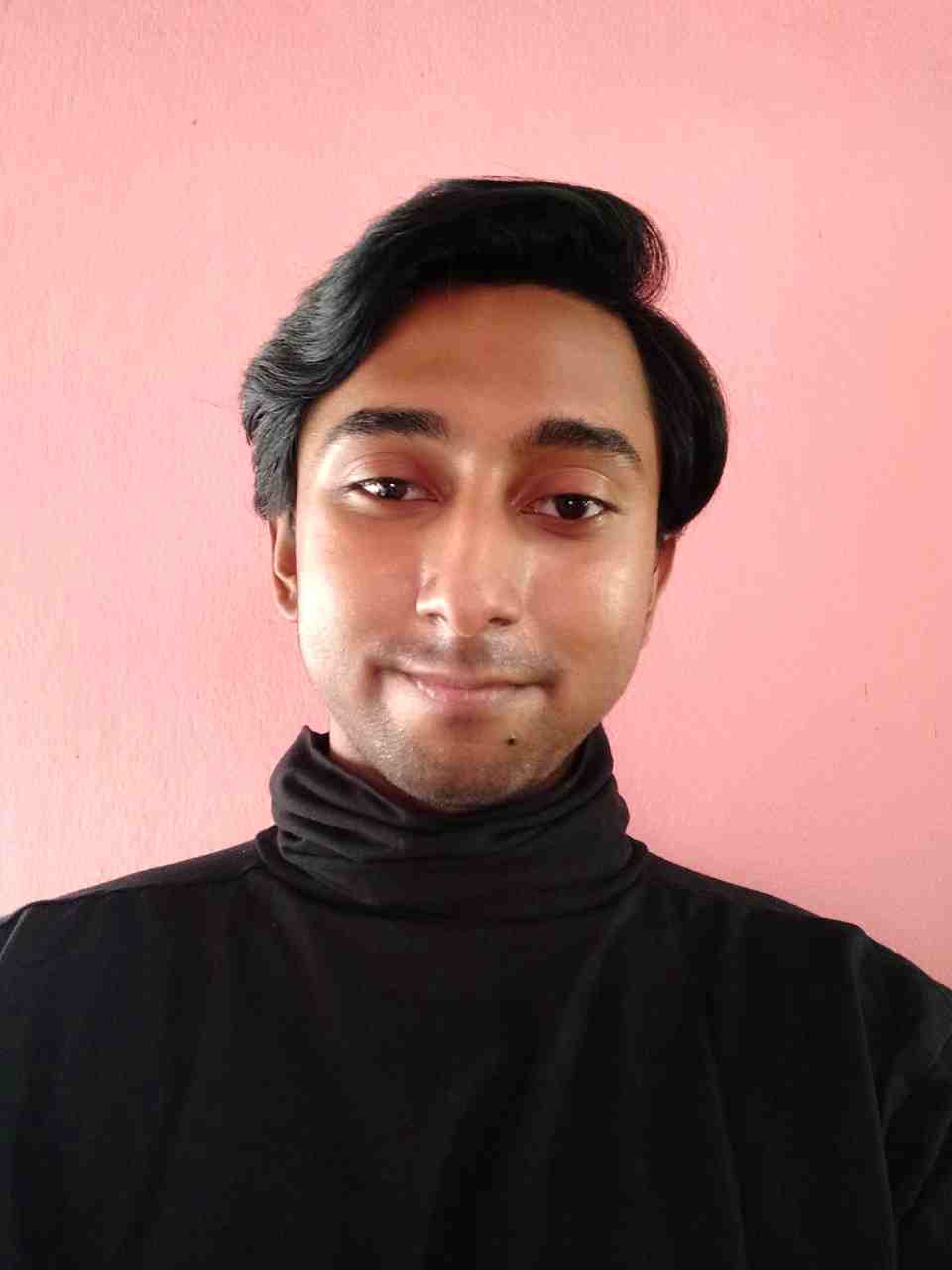 Life took a sudden turn for me when I finally decided to watch Kimi no nawa & Clannad. While both of them made me cry and introduced me to this vast world of anime. The Anime and Manga world is an escape for me from this complicated real world and serves as a relief. Being a content writer for OtakusNotes still feels like a dream and has been one of the best things to happen to me this year. It has been a productive distraction for me and I am loving every moment of it.