The Japanese animation industry is well known for producing animes for massive audiences. They cater to all age groups starting from a five-year-old to a mature adult. With this classification of the audience comes content that is targeted at specific age groups through genres and types. Some might even be lewd anime.
These classifications include:
Shonen

: Animes targeted at a teenage male audience. Classic examples of these are Naruto, Dragon Ball Z, and Black Clover.

Shojo

: It is targeted at teenage female audiences. Examples of this type of anime would be Sailor Moon and Fruit Basket.

Seinen

: Animes of this genre are targeted at young males and cover mature themes. It focuses on content that is 18+. Monster, Akira, and Beserk are classic examples of this genre.

Josie

: These animes cover 18+ content for

 young women

. They portray more mature themes than their teenage counterpart. Classic examples of these would be Paradise Kiss and Honey Clover.
These shows can have multiple genres ranging from sports to dramas to fantasy to cyberpunk. 
---
What is Lewd Anime?
Lewd anime are animated shows that mostly cater to the Seinen of Josei audience groups. These are very adult and feature genres like harem  and ecchi.  Such anime often contain nudity due to their higher age brackets.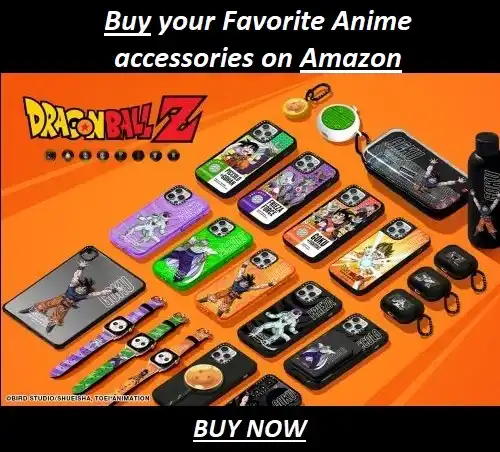 Lewd anime also borrow from shonen and Shojo shows. They tend to mix these lewd adult shows with genres for younger audiences. This can include supernatural, fantasy, and drama shows to help build on the adult factor.
A lot of these lewd anime tend to become fan favorites for them to find their waifus and husbandos. And they are infamous for fan service. 
So, let's begin the ranking of the best Lewd anime of all time. We have ranked them based on IMDb ratings.
---
Top 20 Uncensored Lewd Anime of All Time
20) Seven Mortal Sins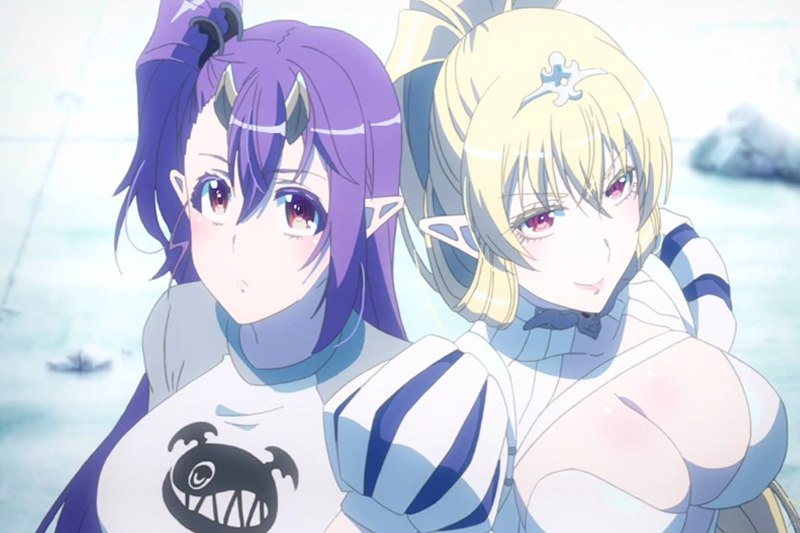 Heaven, hell, and earth are all governed by divine forces. Seven Mortal Sins offers enough fan service with visuals here and there. It tracks Lucifer after her failed revolution against the Lord's will. 
Upon being banished, she meets Leviathan. The aspiring demon lord and archangel decide to overthrow the seven sins and defeat Belial. Unfortunately, this attempt also fails to lead to her imprisonment.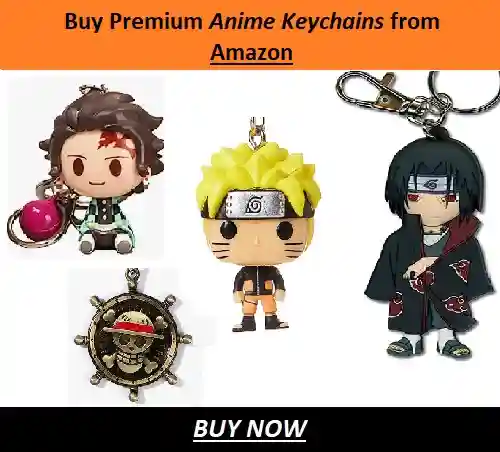 Lucifer must now make her way through hell as a demon lord to defeat the seven sins and undo the punishment.
IMDb Ratings: 5.2
Number of Episodes: 12
Genre: Ecchi, Fantasy
Studio: TNK, Artland
---
19) Valkyrie Drive: Mermaid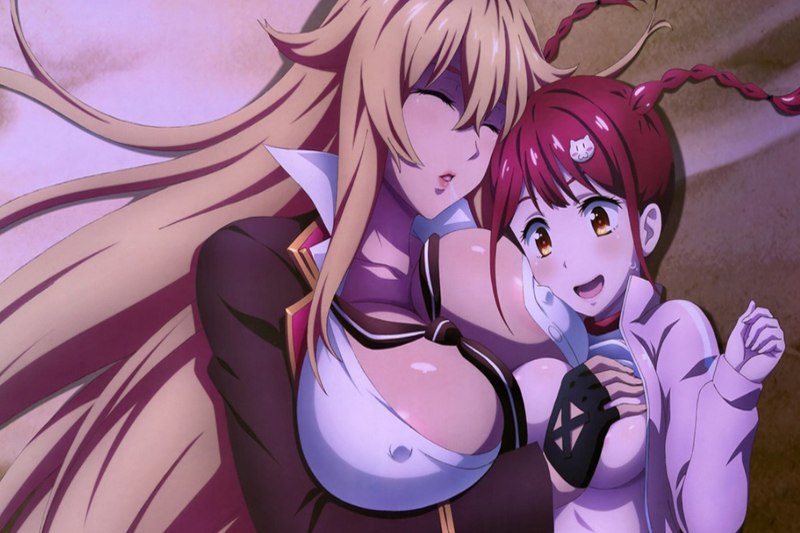 The epic combo of arousal and weapons. Valkyrie tells the tale of Mamori Tokonome, who gets kidnapped from school. She finds herself on an exotic island under attack from unknown assailants. Upon waking up, she finds Mirei Shikishima, who kisses her to unlock her transformation powers.
Mamori transforms into a cutlass after being kissed by Merei. It is revealed that she can transform into a weapon upon being aroused. The duo must fight their way through Mermaid Island using the power of arousal. 
IMDb Ratings:6.0
Number of Episodes: 12
Genre: Girl Love, Ecchi, Action
Studio: Arms
---
18) Kiss x Sis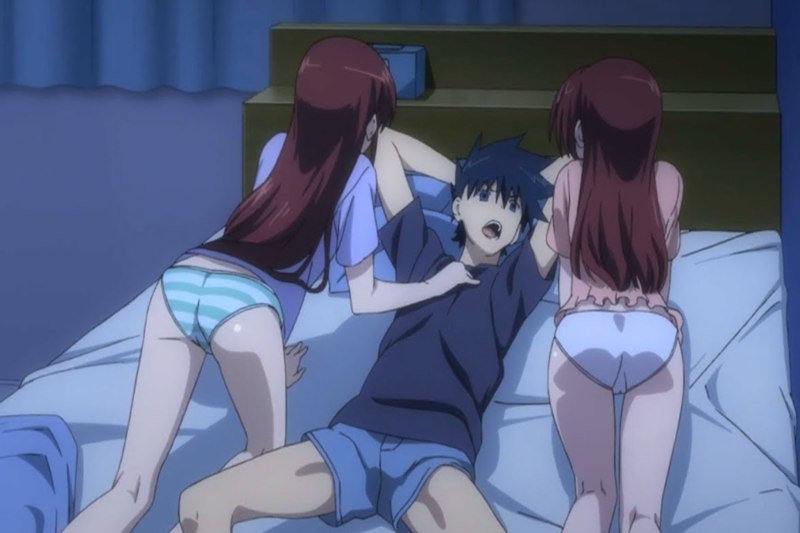 Kiss x Sis is infamous for its awkward situations and unimaginable relationships if there is a list of people who you shouldn't date. Keita Suminoe would end up dating half of the people on the list. He gains a stepmother and two elder sisters after his father remarries.
Keita and his sisters Riko and Ako have grown up together since kindergarten and start to fall in love with each other as they grow up. The older they grow, the more erotic their bond gets. This becomes even riskier when Keita gets enrolled in his sister's middle school.
Will Keita be able to survive his sisters' attempts to be his future wife?
IMDb Ratings: 6
Number of Episodes: 12
Genre: Romance, Ecchi, Comedy
Studio: feel.
---
17) My Girlfriend is a Gal
Junichi Hashiba confesses to Yukana Yame after being pranked by his friends. This results in her berating the hopeless virgin for such a pathetic confession. After being disgusted by his groveling and teasing him with her remarks, Yukane finally accepts the confession.
Junichi must now suppress his sexual urges and enjoy a new school life filled with women and trouble.
IMDb Ratings:

 6.1

Number of Episodes:

 10+OVA

Genre:

 Ecchi, Comedy

Studio:

 NAZ
---
16) Queen's Blade: The Exiled Virgin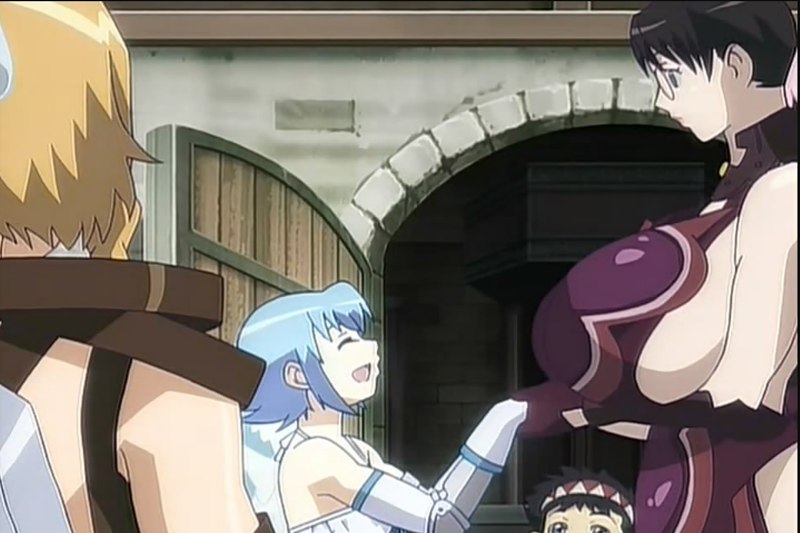 Leina Vance decides to compete in the tournament that chooses the kingdom's queen. Seeing that she must fight against strong opponents, she steals her will to win the title. But she loses due to her lack of experience.
While a defeat in this tournament might mean the end of one's life, she is saved by a powerful stranger. Much to her dismay, her savior has less than noble intentions and locks her up in a prison cell. Once she is freed, she must once again set out to prove her worth!
IMDb Ratings: 6.1
Number of Episodes: 12+12+6 OVA
Genre: Adventure, Action, Ecchi, Fantasy
Studio: Arms
---
15) Yosuga no Sora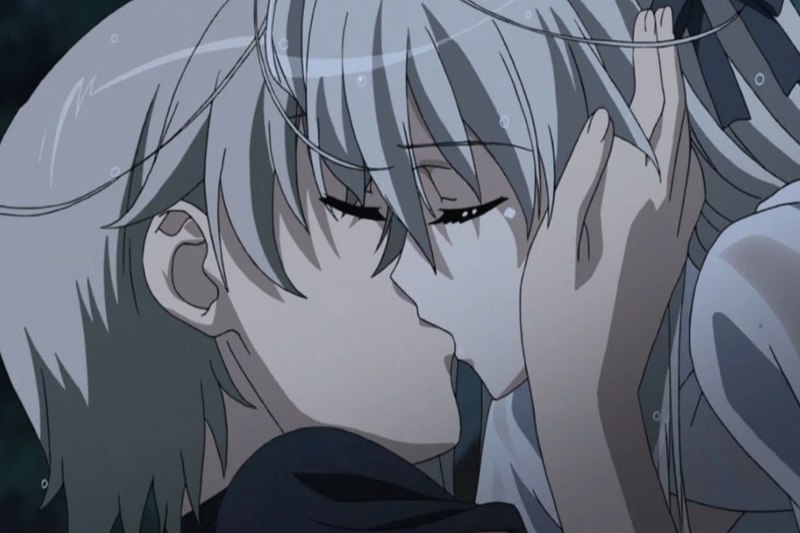 Yosuga no Sora: In Solitude, Where We Are Least Alone traces the lives of Haruka and Sora. The twins lost their parents in an accident, forcing them to return to their childhood home. Back in the quiet rural town
Now back at their childhood home, they must face the nostalgia together and relive their memories. The story takes a different turn when tier lives get filled with friendship and love, and lust.
IMDb Ratings: 6.2
Number of Episodes: 12
Genre: romance, drama ecchi
Studio: feel.
---
14) Why the Hell are you Here, Teacher!?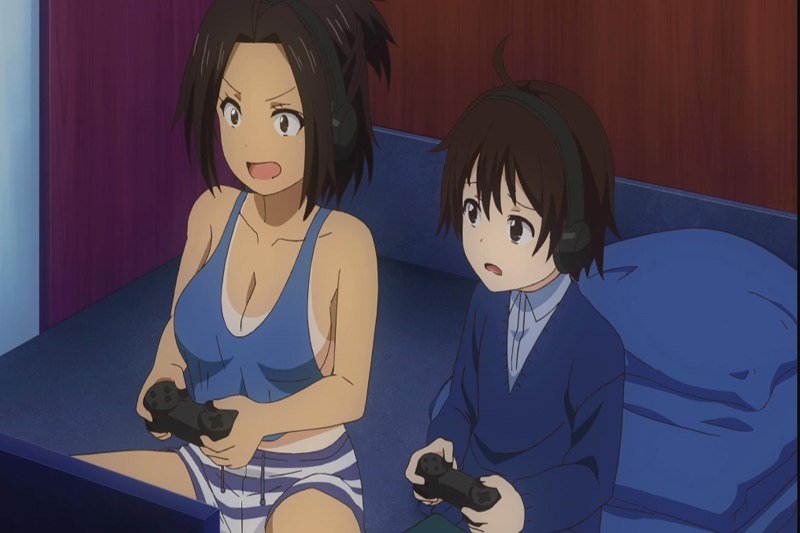 High school is a time filled with curiosity, love, crushes, and confessions. What would you do if the one you just shared an intimate moment with was your teacher? This anime answers just that question.
It traces the life of Ichirou Satou, who falls into quite luscious situations. This second-year high school student's life changes when he has a run-in with his Japanese language teacher. The situation turns scandalous when he runs into Kojima at the restroom and shares an intimate moment.
Will his life remain the same after this fantasy comes true??
IMDb Ratings: 6.3
Number of Episodes:12
Genre: Ecchi, Comedy
Studio: Tear Studio
---
13) Girls Bravo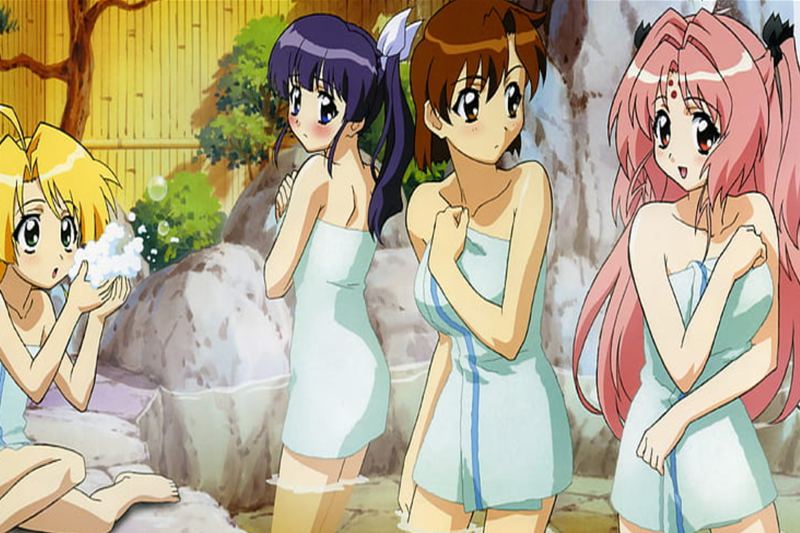 A shy protagonist is a common theme across lewd anime. What would you do if getting close to a woman resulted in you getting rashes? Life would lose all meaning, wouldn't it? Yukanari's life was just like this.
He had always been bullied due to his small size and developed a condition. The condition resulted in him breaking out with hives whenever a girl touched him or got too close. This got even tougher when he got transported to the Serien.
Seiren was a city mostly populated by women. This is where he came in contact with Miharu-chan. A woman whose touch doesn't affect him at all.
IMDb Ratings: 6.5
Number of Episodes:11+13
Genre: Ecchi, Comedy, Fantasy
Studio: AIC spirit
---
12) Sky Wizards Academy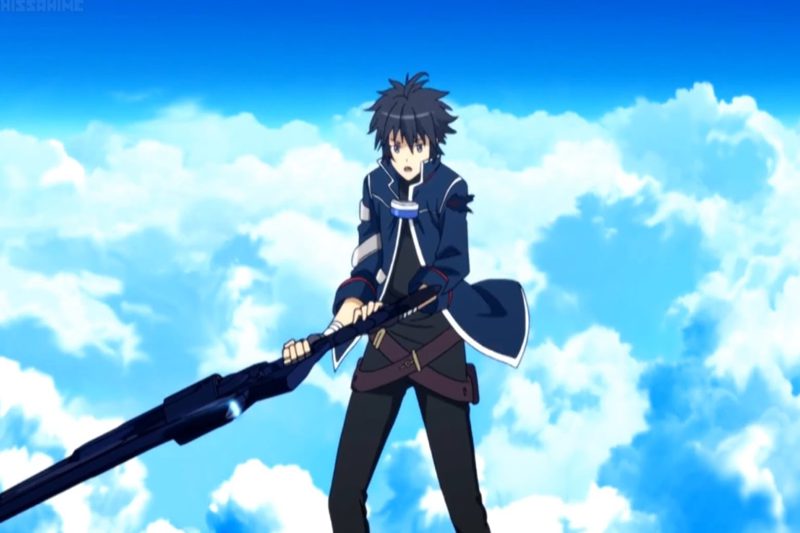 Long ago, humanity got overrun by armored insects. These magical insects massacred the people forcing them to move to float islands in the sky. Due to their magical nature, humans decided to raise wizards to fight them.
Black Master Swordsman Kanata Age is labeled a traitor for his actions. But he gets an opportunity to regain his fame by guiding team E601. Will he be able to survive the troubles of these three beautiful women??
IMDb Ratings: 6.5
Number of Episodes:12+OVA
Genre: ecchi, Drama, Fantasy
Studio: Diomedéa
---
11) Shinmai Maou in Testament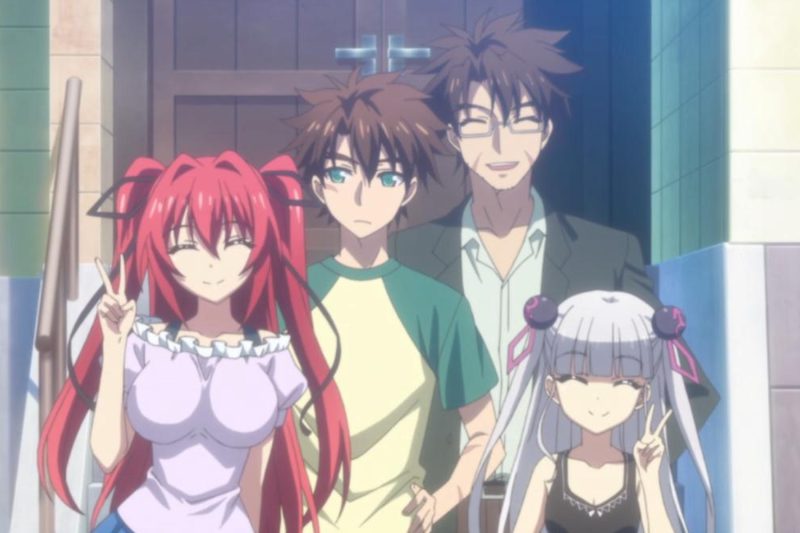 Basara Toujou's father drops a huge bomb on him. He was getting two stepsisters. This is made even worse when he runs into his Mio, his sister, to be in the washroom. What does one even do in such a situation?
He must now accept Mio and Maria as his new sisters. But everyone in this family has secrets. Basara and his dad had been exiled from the Hero village, and his sisters were demons. Not just any demon, but the daughter of the former demon lord and a succubus.
This calls for even more lewd situations when he is forced to enter into a master-servant with Mio to protect her. Basara must protect his new sisters from threats from heaven, hell, and earth.
If you are a fan of lewd anime with a lot of risky scenes and mind-boggling situations, this might just be the one for you.
IMDb Ratings: 6.6
Number of Episodes:12+10+3 OVA
Genre: ecchi, drama, fantasy, action, romance
Studio: Production IMS
---
10) Monster Musume: Everyday Life with Monster Girls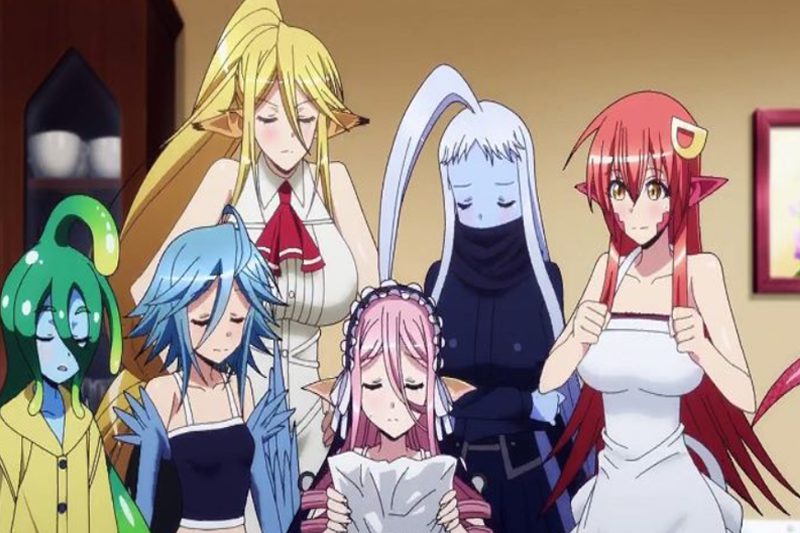 Everyday Life with Monster Girls has a huge fan following. This lewd anime took the fanbases by storm. Why does your waifu need to be a human? She can be a monster from a fantasy world. Monster Musume plays on this idea.
Japan bears the torch and becomes the first country to promote interspecies cohabitation. This interferes with Kimihito Kurusu's calm life when an incompetent agent Smith declares him a caretaker.
This interspecies exchange coordinator keeps dropping off new monster girls at Kurusu's house and adds to his ever-growing harem. This leads to risqué situations even when Kurusu decides to breathe. His quiet life gets filled with lust romance hungry women trying to marry him.
IMDb Ratings: 6.6
Number of Episodes:12+2 OVA+ONA
Genre: ecchi, fantasy, romance
Studio: Lerche
---
9) Freezing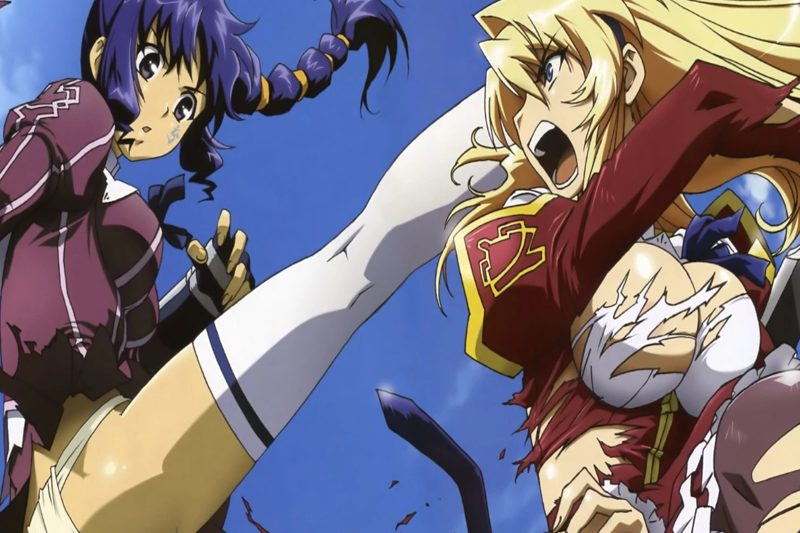 Far into the future, humanity is threatened by Novas. These aliens decide to eradicate the human race. Humanity decides to implant stigmata into young men and women to grant them superhuman strength.
These women are called Pandoras, and men are called Limiters who are trained at military academies to work together to face these threats. Kazuya Aoi finds himself in a twist of fate when he embraces Satellizer el Bridget believing her to be his dead sister.
Satellizer el Bridget who is known as the untouchable queen, doesn't discard his embrace and decides to take him on as her limiter. Can they survive the ongoing war?
IMDb Ratings: 6.8
Number of Episodes:12+12+12 OVA
Genre: ecchi, fantasy, romance, comedy
Studio: A.C.G.T
---
8) SHIMONETA: A Boring World Where the Concept of 'Dirty Jokes' Doesn't Exist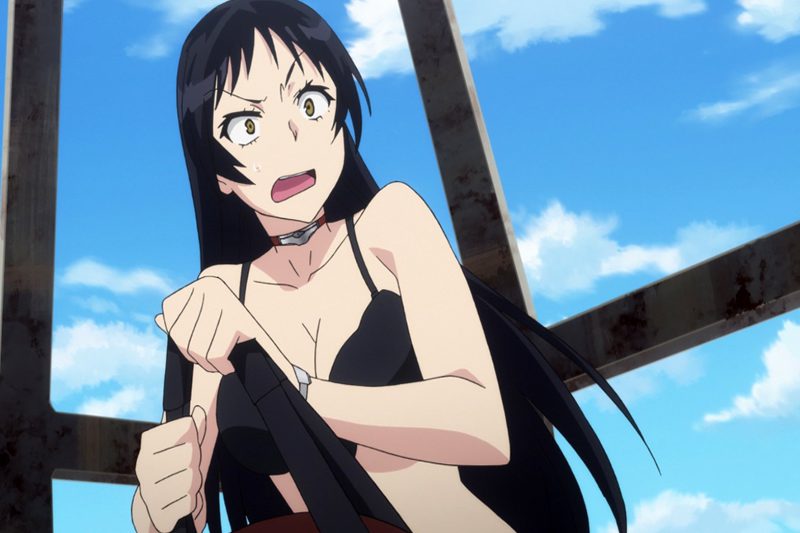 Japan has turned into a puritan state. They have decided to wipe out all obscene and immoral activities from society. How do they do this? They monitor citizens through special drives on their necks.
Tanukichi Okuma's father was a rebel who fought against these morality laws. Carrying this stigma on his shoulders, he enrolls in his childhood crush's school. He tries to get close to Anna Nishikinomiya, his childhood crush but falls prey to Ayame Kajou.
Vice president Ayame Kajou secretly fights against these obscenity laws as Blue Snow and spreads obscene material throughout the country. Tanukichi is forced to join his secret organization called Sox and spread these materials.
How will Tanukichi react when he finds out that SOX is targeting Anna?
IMDb Ratings: 7.0
Number of Episodes:12
Genre: ecchi, comedy
Studio: J.C.Staff
---
7) Seitokai Yakuindomo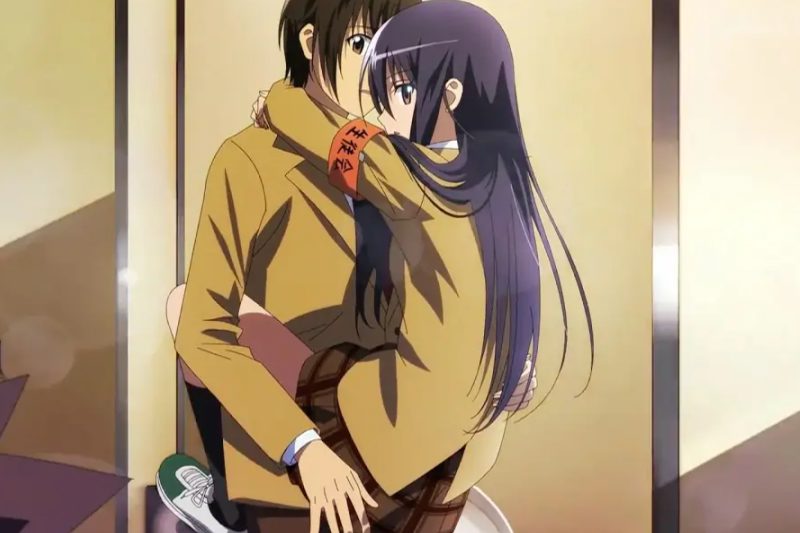 Takatoshi Tsuda enters Ousai Private Academy. His first day at this former all-girls school is interrupted by the student council president. What was his mistake? Untidy uniform!! The interruption doesn't just stop there.
The student council president decides to appoint him the Vice President in an attempt to include a male point of view in the group. Little does he know he is entering a group of oddballs. They may seem normal on the surface but are weirdos on the inside.
The president is a pervert who loves cracking; the secretary is just as risqué. The treasurer is extremely self-conscious. Will our boy last in this perverted group of girls??
IMDb Ratings: 7.1
Number of Episodes:13+8 OVA
Genre: Comedy
Studio: GoHands
---
6) Heaven's Lost Property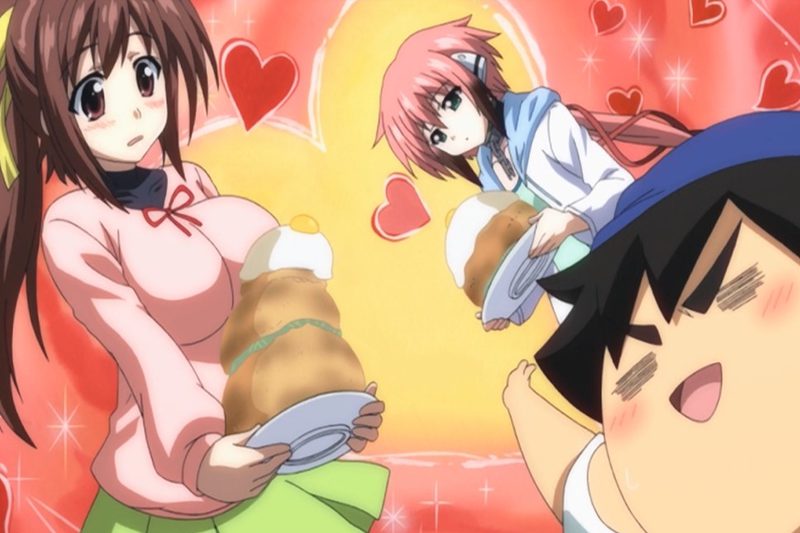 Nightmares of an angel plague, Tomoki Sakurai always finds himself waking up in tears, not knowing who she is. This makes Eishirou Sugata take pity on her childhood friend and decides to help him out.
Tomoki's life changes when a woman with wings drops out of the sky and declares him her master. Now he and the rest of the New World Discovery Club must try to find out her origin. But how will he do so with a big-breasted angel in his house?
While the show may be filled with perverted gags, it explores mature themes taking a dark turn at the end.
IMDb Ratings: 7.2
Number of Episodes:13+OVA+12+2 Movies
Genre: Comedy, ecchi, sci-fi , romance
Studio: AIC ASTA
---
5) High School of the Dead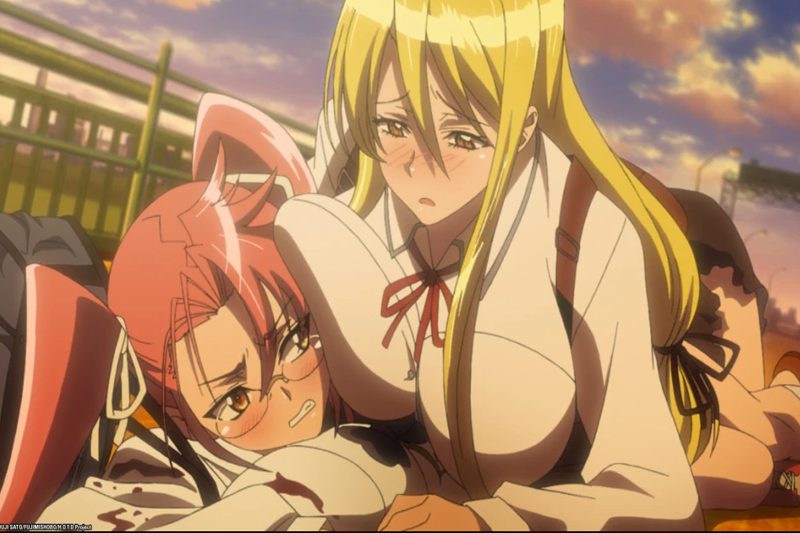 What would you do if you had to face a zombie apocalypse as a high school student? Gather a team of strangers and fight these zombies to survive. Hell yeah!! That's exactly what Takashi Kimuro does after killing his best friend, who had been bitten by a zombie.
He vows to protect his friend's girlfriend and ensure her survival. Takashi and Rei are joined by Saeko Busujima, Kouta Hirano, Saya Takagi, and Shizuka Marikawa as they fight through the hordes of undead, encountering one lewd situation after the other. You will find famous GIFs from this lewd anime littered throughout the net.
IMDb Ratings: 7.2
Number of Episodes:12+OVA
Genre: Comedy, ecchi, horror, supernatural
Studio: Madhouse
---
4) Ishuzoku Reviewers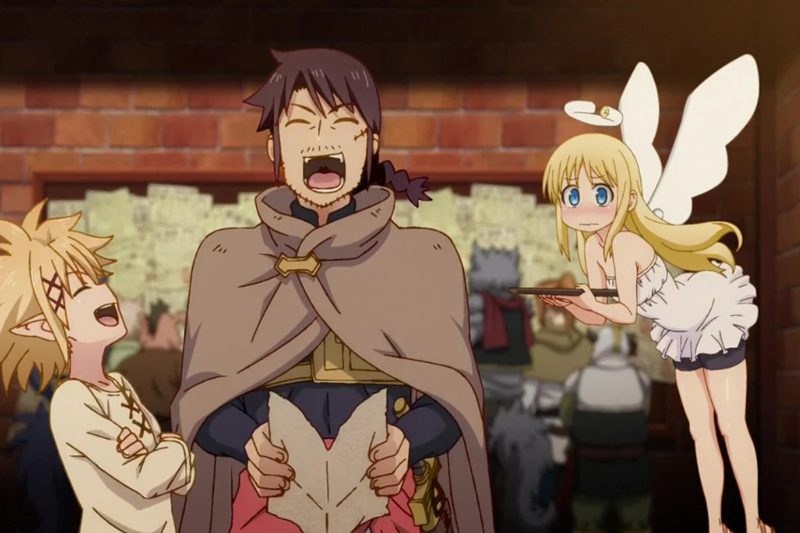 A fantasy world filled with beautiful specimens of each species. Such a world is bound to have a multitude of brothels. But how does one choose where to go? Who to spend the night with?
A group of perverted adventurers takes it upon themselves to review every brothel that exists. They must research and experience what every species has to give. Would you be willing to take up this job?
IMDb Ratings: 7.4
Number of Episodes:12
Genre: ecchi, fantasy, comedy
Studio: Passione
---
3) Prison School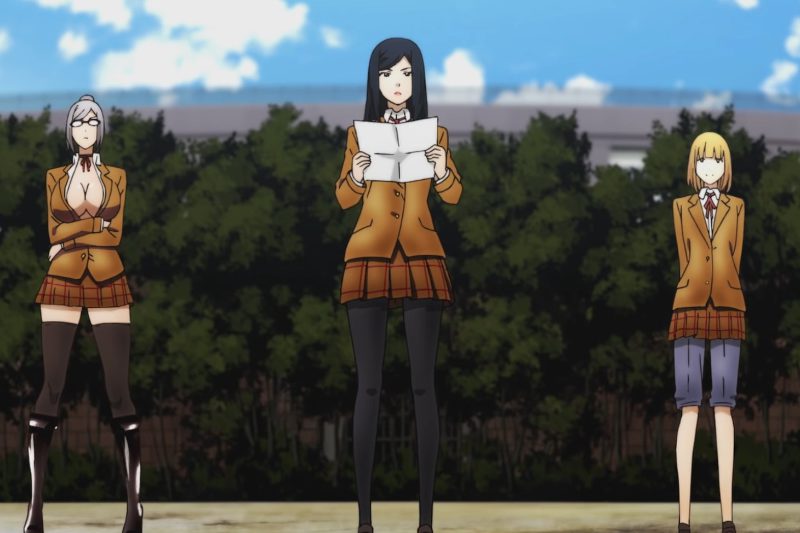 Hachimitsu Private Academy, an all-girls school known for its quality education and strict discipline, changed its rules to let boys in. This result is a highly skewed ratio of boys and girls when only five boys are selected.
This goes extremely wrong when the group decides to peep into the girl's bath. Their plan fails when the student council intervenes, and they land themselves in the school's prison. Will the perverted boys be able to survive this prison run by bountiful women?
IMDb Ratings: 7.6
Number of Episodes:12+OVA
Genre: ecchi, romance, comedy
Studio: J.C.Staff
---
2) High School DxD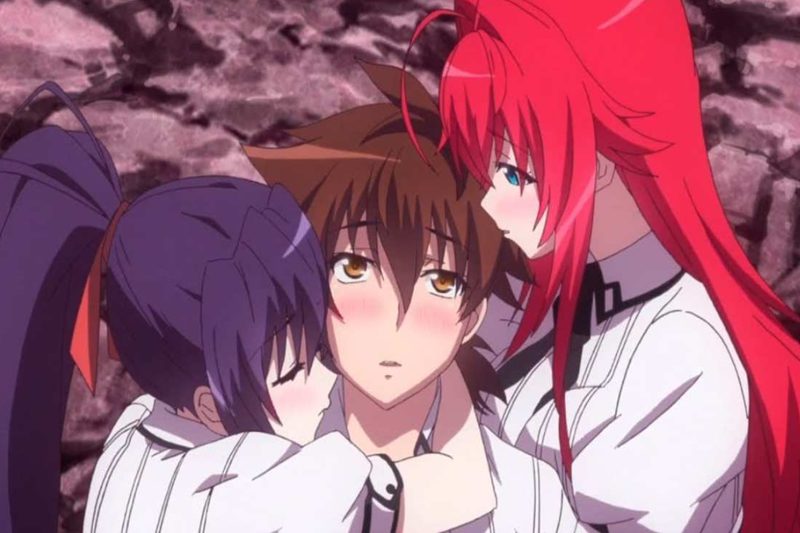 High School DxD is probably the most popular lewd anime on the list. This anime features waifus that dominate their fan bases. Rias Gremory, along with Akeno Himejima, has made a special place in the viewer's hearts.
The tales of Issei the Oppai dragon fighting various divine and demonic enemies have made this series extremely famous. The series has it all, love, betrayal, harem, and obscenity. It all starts with Issei being killed by his date for his booster gear. This throws him into a world filled with demons, angels, and fallen angels.
IMDb Ratings: 7.6
Number of Episodes:12+12+12+12+4 OVA
Genre: ecchi, romance, comedy, action, supernatural
Studio: TNK
---
1) Golden Boy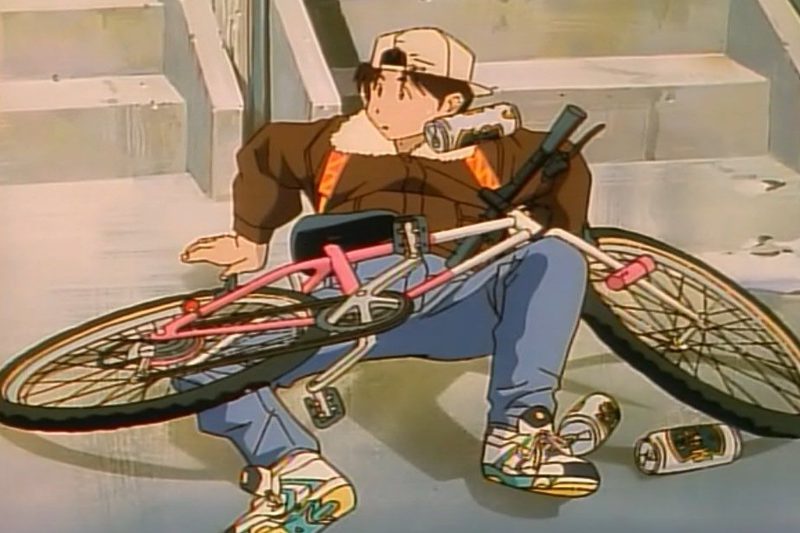 Golden Boy sits at the top of our list for lewd anime as a miniseries. It is a 6 part OVA series that traces the life of Kintarou Ooe. He rides his trusted bicycle, the Mikazuki 5, in an attempt to look for employment. This leads him to learn many life lessons. This ranges from political corruption to romancing a young woman.
The road ahead is never ending and filled with many beautiful women. Watch the life of Kintarou and experience a full and educational life.
IMDb Ratings: 8
Number of Episodes:6 OVA
Genre: ecchi, comedy, adventure
Studio: APPP
Here, we conclude our article on "Top 20 Uncensored Lewd Anime of All Time." We hope you like the post. We will be back with other interesting articles. Till then, stay healthy and tuned with us.
---
Do small things with great love.
Follow us on Twitter for more post updates.
Also Read: