Things have started to get heated up in One Piece. After the switching of sides by the Pleasures and Waiters, Luffy's allies have gained a considerable amount of new members. However, Boa Huang decided to tell everyone about Momonosuke's defeat in order to dampen their spirits. 
On the other side, Zeus' spirit came to reside in Nami's baton giving it new powers. This allowed Nami to take on Lady Ulti, who had grabbed Otama by her neck. Nami gave a new name to Zeus, who began to store electricity within him.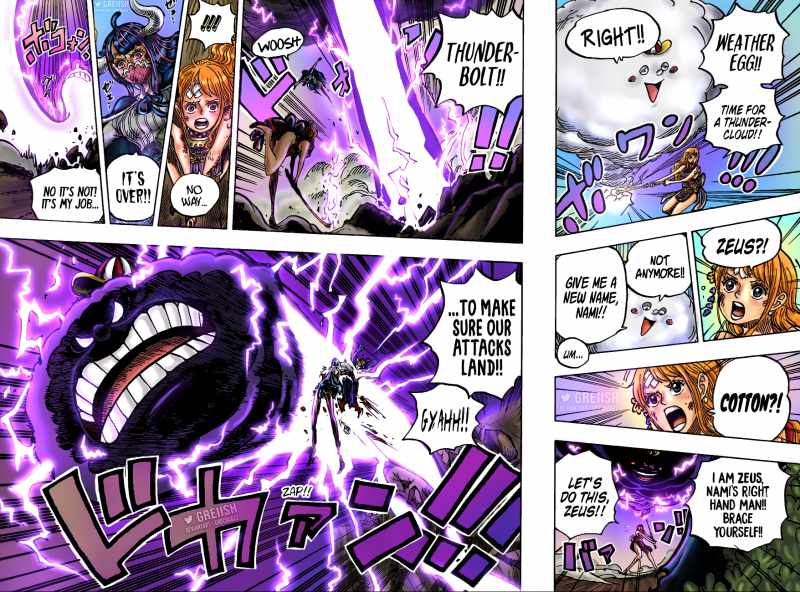 She then used Lightning Blast to defeat the second member of Tobi Roppo with a little help from Usopp's Green Star. Usopp then told Otama to communicate her message across Onigashima using Boa Huang. Otama's voice raised the spirits of the warriors and egged them to continue their fight.
In the meantime, the epic showdown between father and daughter was starting to take place. Kaido told Yamato that she couldn't protect the two people important to her, so she shouldn't think that she was capable enough to defeat him. 
She replied that she would sail to the sea with Luffy, and he was exactly the one Oden was waiting for. The chapter ended with a big clash between Kaidou and Yamato on the top of Onigashima.
One Piece Chapter 1017 Raw Scans & Spoilers-
The upcoming chapter of One Piece will cover the instructions that Tama will relay throughout Onigashima. It will also show us the current location of the remaining members of Luffy's team and their respective opponents. Chapter 1017 will be featured with the title of "Order".
Otama will transmit her order with the help of Boa Huang to everyone who has eaten her Dango.

As a result, they will become the allies of Samurai and switch their sides. This will give the Samurais a further boost in their numbers. 

Luffy will already have been rescued from the sea.
Queen will transform into his hybrid form and take on Sanji.
Chopper will start to feel the side-effects of the 30 minute Rumble Ball.
Jinbe will be busy fighting Who's Who.
We will come to know that Who's Who is a former member of CP9 with some special techniques.

Who's Who will transform into his hybrid form.

Apparently, Who's Who made a mistake 12 years ago and was imprisoned. But he was able to escape later from his captivity.

The error involved Akuma no Mi and the World Government.
The mistake made by Who's Who is related to his devil fruit or the powers of his Devil Fruit. Moreover, it has some deep link with the government.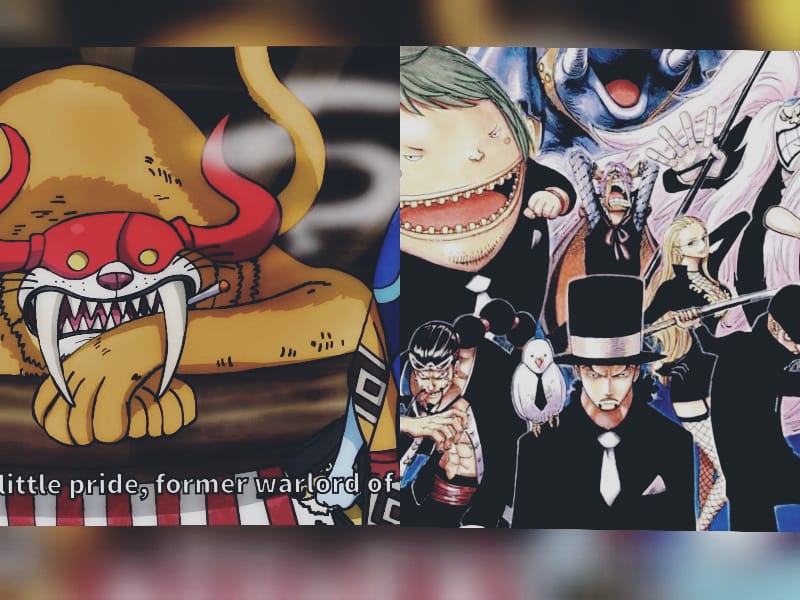 It is highly possible that Vegapunk was experimenting with the Devil Fruits and it led to some error which granted the user of a Devil Fruit to swim in contrary to its usual nature. Who's Who may have stolen that Devil Fruit and eaten it himself which led to his imprisonment.
Here we have inserted the link to the raw translation of One Piece Chapter 1017.  
---
One Piece Chapter 1017 Release Date-
According to Mangaplus Shueisha, the next chapter of One Piece is going to be released on June 27, 2021. A big mystery relating to the world government is going to be exposed in the next chapter. Naturally, fans can't wait to see what is in store for them.
Where to Read One Piece Chapter 1017-
Readers can download the Mangaplus app from the play store and view the latest chapters of One Piece. They can also visit the sites of Mangaplus Shueisha or Viz Media. Next week we will be back with a new set of spoilers. Till then, stay tuned.
---
Follow us on Twitter for more post updates.
Also Read-  
(2021) List of Best Soundtracks in One Piece Anime

One Piece: Top 20 Strongest Characters in Impel Down Arc Ranked

Top 20 Most Popular One Piece Characters in 2021 Ranked

(2021) Top 30 Strongest Living Characters in One Piece (Ranked)

Top 15+ Sexiest One Piece Characters (Female)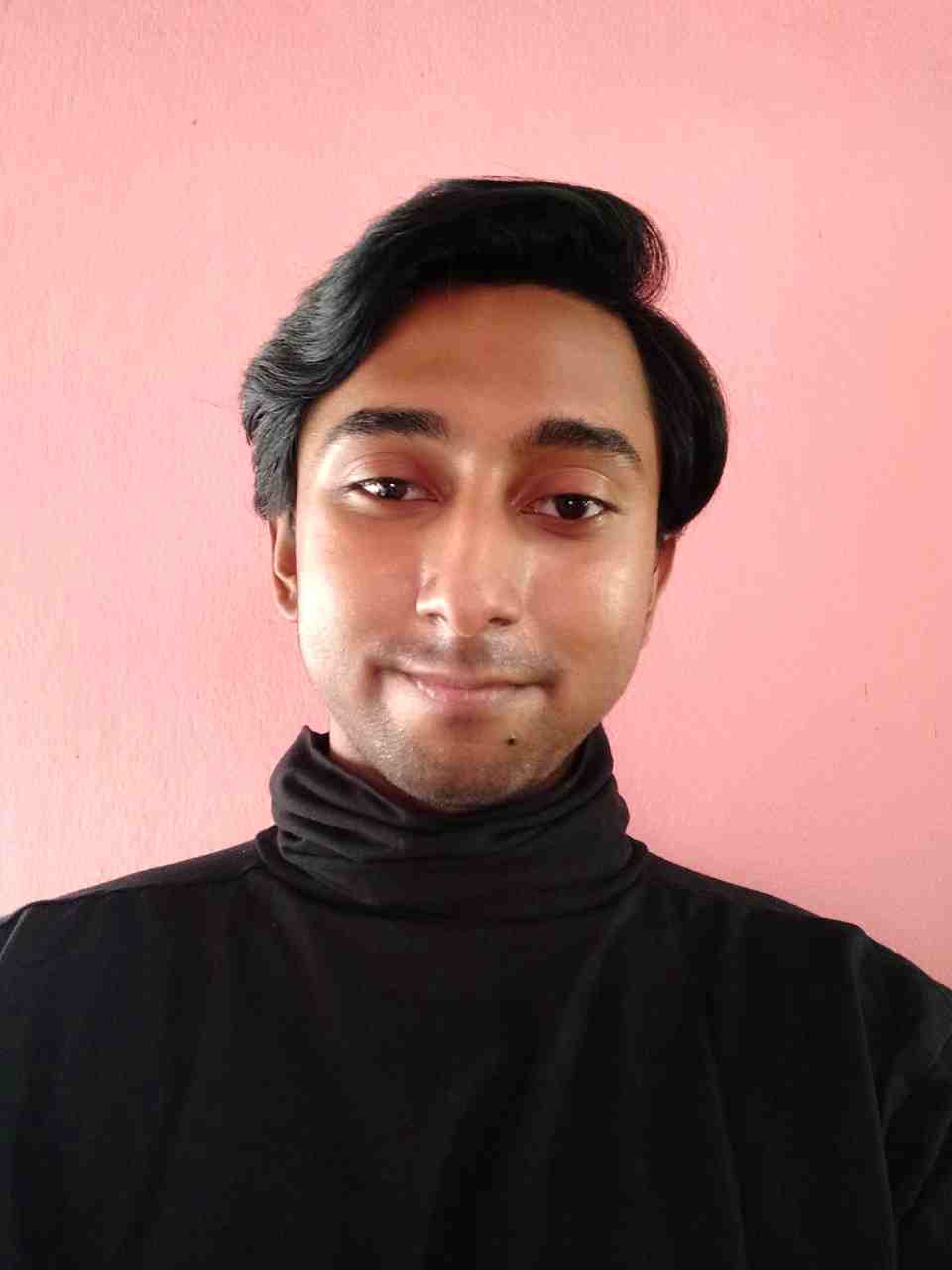 Life took a sudden turn for me when I finally decided to watch Kimi no nawa & Clannad. While both of them made me cry and introduced me to this vast world of anime. The Anime and Manga world is an escape for me from this complicated real world and serves as a relief. Being a content writer for OtakusNotes still feels like a dream and has been one of the best things to happen to me this year. It has been a productive distraction for me and I am loving every moment of it.