Last updated on January 24th, 2021 at 10:02 am
"Oh! My Konbu Midoru" manga series is scheduled to release in the upcoming Morning issue 7/2021 on January 14, 2021. This new series will be the sequel of the 30 years old manga "Oh! My Konbu." A classic retro manga is getting revived by the same writer and illustrator, Akimoto Yasuhi and Kamiya Takahiro respectively. The series first serialized from May 1991 to Sep 1994, lasting with 12 total volumes.
Read further for the new sequel "Oh! My Konbu Midoru" cover revealed recently and a little insight on the story setting.
"Oh! My Konbu Midoru" New Cover Revealed in Morning Issue 7/2021-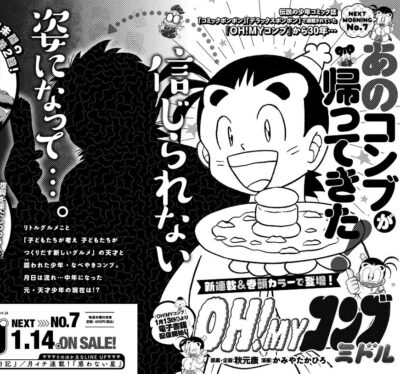 This is the new cover of Oh! My Konbu Midoru to be serialized in Morning issue 7/2021 on January 14, 2021. Previously the series was serialized in Bonbon Comics. The series was too old to be converted digitally, so only the volume bundles are available online.
The story follows a fifth-grader, Nabeyama Konbu, who is the son of a cook in a slice-of-life gourmet comedy that tries to add an element of adventure to slaving in the kitchen. Konbu helps his father solve problems in the world through the judicious use of seasonings, the right choice of menu, and the pleasing of fickle customers.
You can read, Oh! My Konbu Midoru as soon as it releases online digitally or when the volume bundles are released on online marketing sites. Further, you can watch the anime adaptation of the prequel series by buying the official DVDs. Subscribe to our page for more interesting updates on much popular manga. We will be back soon with more news and announcements regarding your favorite anime and manga series. Until then, stay tuned, stay hyped.
---
Follow us on Twitter for more post-updates.