Last updated on January 24th, 2021 at 10:46 am
Dr. Stone Season 4 Episode 1 will be aired in Tokyo, Japan tonight sharply at 10:30 PM JST. A special feature for the city attendees only. Soon the episode will also be released online worldwide after the broadcast in Japan. Read further for the broadcasting channel and more details on the first episode with a little insight into the story.
The first episode is called "STONE WARS BEGINNING," with a brief summary that says Gen will assist Senku with a top-secret mission to aid him and the others in the upcoming war against Tsukasa's Empire. It will be broadcasted on the Tokyo MX channel.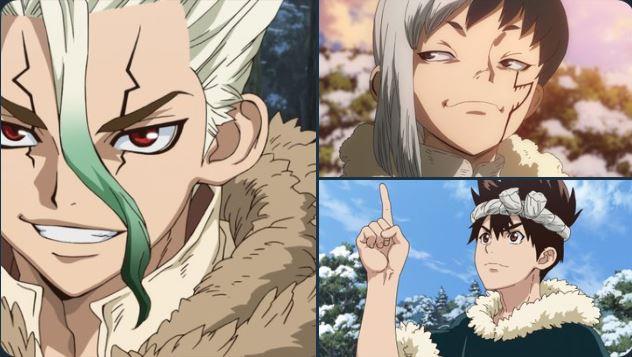 After five years of harboring unspoken feelings, high-schooler Taiju Ooki is finally ready to confess his love for Yuzuriha Ogawa. Just when Taiju begins his confession, however, a blinding green light strikes the Earth and petrifies mankind around the world, turning every single human into stone.
Several millennia later, Taiju awakens to find the modern world completely nonexistent, as nature has flourished in the years humanity stood still. Among a stone world of statues, Taiju encounters one other living human: his science-loving friend Senkuu, who has been active for a few months. Taiju learns that Senkuu has developed a grand scheme that is to launch the complete revival of civilization with science.
Taiju's brawn and Senkuu's brains combine to forge a formidable partnership, and they soon uncover a method to revive those petrified. However, Senkuu's master plan is threatened when his ideologies are challenged by those who awaken. All the while, the reason for mankind's petrification remains unknown.
You can watch the anime on Crunchyroll. The first episode will be releasing today, on January 14. We will be back with more news and facts on the popular manga and anime releases. Until then, stay tuned, stay hyped.
---
Follow us on Twitter for more post-updates.