Last updated on January 24th, 2021 at 10:37 am
Gintama: THE FINAL movie has overtaken the Kimetsu no Yaiba: The Mugen Train in terms of the recent weekend revenue of Box Office Japan. The movie was released on January 8, 2021. Hideaki Sorachi, the author of the series, also prepared self-drawn cards of Kamado Tanjiro and the Hashiras from the Kimetsu no Yaiba franchise for the theatergoers.
The Japan Box Office Weekend Estimates have revealed the top 8 movies and their revenues of January 9 & 10, 2021. Gintama: THE FINAL has surpassed Kimetsu no Yaiba: The Mugen Train by 4,000,000 yen. Read further for the whole list and their approximate revenues.
Japan Box Office Weekend (01/09-10) Estimates-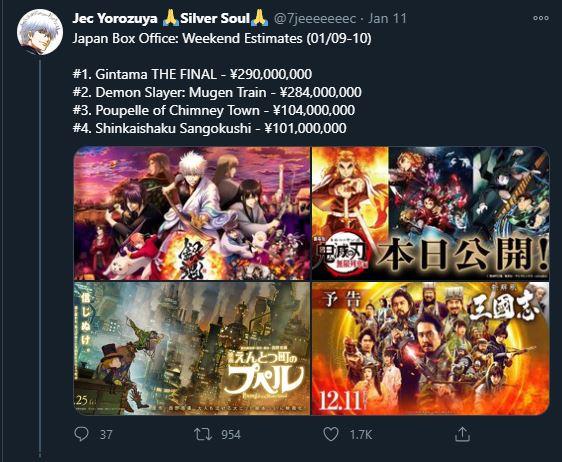 The hype for the last installment in the most popular satire, parody, history, and action series is legit real. The revenues do real justice to the storyline, which is lasting for more than 15 years. The Gintama franchise has released a previous movie with the same title as "The Final Movie," claiming to end the franchise, but then it was revealed to be a joke, and the series continued. Clearly, the level of humor of this series is way beyond the present times, literally 100 years from now, as by the story setting.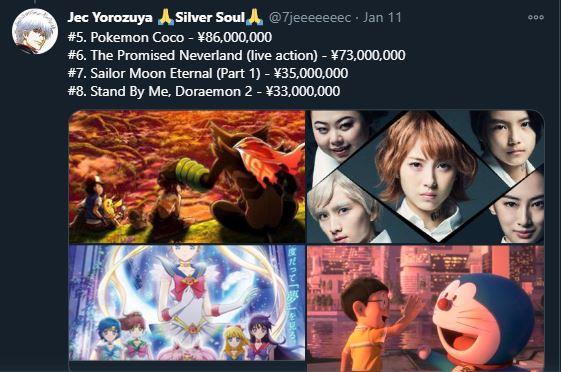 Kimetsu no Yaiba has also done a spectacular job of pertaining the second position in the list even after 3 months of its release. It is not too far for foreign viewers to experience online retail releases and DVDs. Even many live-action movies could not fare better against these anime movies.
You can watch Gintama all episodes and specials from Crunchyroll. You can also read the completed volumes from Viz.com. Subscribe to our page for more important announcements are release dates. We will be back with more news and updates on your favorite manga and anime. Until then, stay tuned, stay hyped.
---
Follow us on Twitter for more post-updates.