Last updated on January 24th, 2021 at 02:36 am
Jujutsu Kaisen has yet again proved its immense popularity and love by the fans, as it stands 2nd in the weekly most sold manga chart by Oricon. The sales chart is given for the latest manga released and sold in this particular week. So, the latest update on Jujutsu Kaisen was volume 14.
Even previously, Jujutsu Kaisen had attained spectacular feats, like having all its 14 volumes in the top 47 sold manga in November. Although the volumes had been released months ago, its ever-increasing popularity is gaining more and more sales. Its marvelous anime adaptation too played an important role in increasing its viewer count. Read further for the exact number of copies sold in this week and the Oricon's sales chart under consideration-
Oricon's Top 10 Weekly Manga Sales Chart-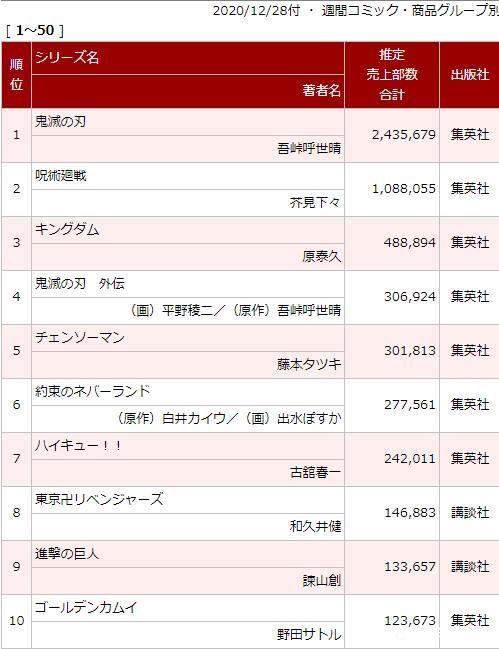 Jujutsu Kaisen Volume 14 ranked 2nd in the list after Kimetsu no Yaiba at the 1st place. It sold a whopping 1,088,055 copies in just one week. Further, it must have even more views on its digital copies. Although the number of copies seems to have a lot of gaps but the feat in itself is very great. Fans are appreciating the excellent performance and hurling down the comments section on Twitter and Reddit.
Further, Jujutsu Kaisen has become the most viewed TV show on Netflix Japan for the month of November. The ever increasing hype in the story is keeping up the craze built up by its anime. The publication had expected the sales numbers and further expected much better business onwards. You can too support them by buying digital copies.
You can read all chapters of Jujutsu Kaisen from Viz.com and other paid platforms. The chapters are released weekly without fail. Further, you can also watch its ongoing anime by MAPPA Studio from Crunchyroll or Funimation. We will be back soon with more news and updates on Jujutsu Kaisen and its performance. Until then, stay tuned, stay hyped.
---
Follow us on Twitter for more post-updates.