Last updated on January 24th, 2021 at 03:36 am
Jump GIGA 2021 had its winter issue cover launched recently. The upcoming series in the magazine are out to the public. One of the very old and popular manga are getting recontinued. A special illustration of Bakugo for Boku no Hero Academia Volume 29 is featured on the cover.
As we all know, Jump GIGA is a monthly sister magazine to Weekly Shonen Jump. The magazine publishes spin-offs from Weekly Shonen Jump, one-shots, and short serials along with bonus promotional material for currently running Jump series, such as posters, stickers, and bonus chapters. The upcoming winter issue is hinted to contain some Naruto spin-offs and special chapters for Sakamoto Days. Read further for the official winter issue cover and other detail of its contents.
Jump GIGA 2021 Winter Issue Cover-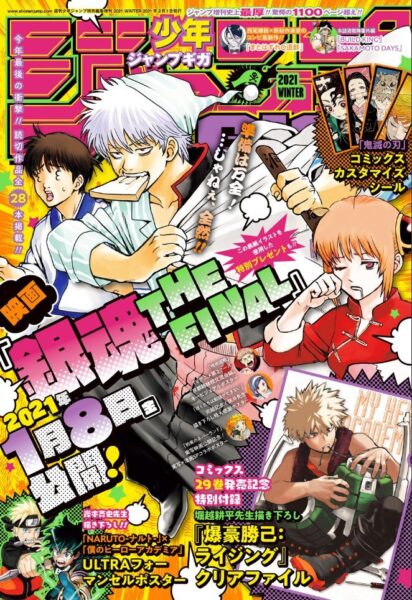 Jump GIGA 2021 winter issue will be the 21st installment of the magazine since its debut in early 2016. The upcoming winter issue is all set and ready, but the release date is not revealed yet. On that note, its cover mainly features the comic version of the upcoming Gintama THE FINAL movie. As we know that the movie is to release on January 8, 2021. The release of this winter issue won't be any sooner than the release of the movie.
The cover also reveals that there are some special illustrations of Bakugo for the 29th volume of Boku no Hero Academia. Yet again, it will cover a special of Kimetsu no Yaiba, as it is doing since the 2019 summer issue. Now that the number of issues of Jump GIGA has been limited to 4 per year, we can expect 3 more issues for the next year. You can subscribe to our page for more updates on that note.
Some particular chapters from Jump GIGA are featured in VIZ.com for popular titles like Kimetsu no Yaiba, Gintama, Naruto, Jujutsu Kaisen, and Boku no Hero Academia. Some manga like Jujutsu Kaisen started off in Jump GIGA and then transferred to Shonen Jump after getting popular. We will be back soon with more news and updates on your favorite series and their continuations. Until then, stay tuned, stay hyped.
---
Follow us on Twitter for more post-updates.