Last updated on January 24th, 2021 at 03:32 am
My Hero Academia Vol. 29 is open for pre-order on Apple Books. There they have revealed some Sample Inner Pages regarding the volume. Along with it, they have also revealed the chapters which have been included in the Volume. We had previously included the leaked Cover page of Bakugo taking a hand from a younger Deku, a lovely portrait.
Justifying that, the chapters included in this volume throw a torch at the character development phase of Bakugo. Growing up to that, the initial chapters will, of course, showcase the war between the students of class 1-A and the teachers with some heroes against Shigaraki and hordes of Nomu.  Read further for more information on the included chapters and page of contents, with translation.
My Hero Academia Volume 29 Table of Contents Page-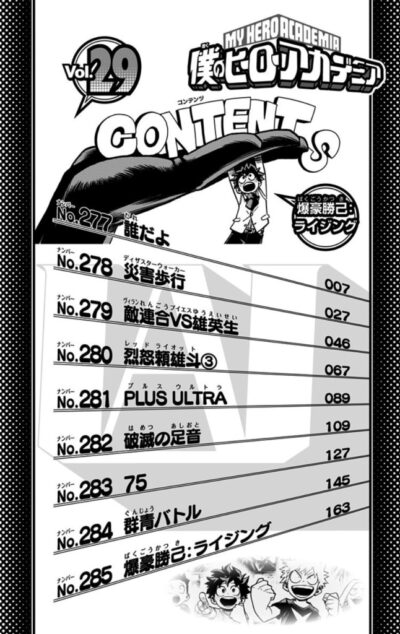 This is the 6th page of the volume, which included the table of contents. As you can see, 9 chapters have been included in this tonkobon this time. There is a total of 184 pages worth of content and the final illustration page at the end before the back cover page. In the top, it features Deku hanging from Mt. Lady's palm, saying, "Bakugou Katsuki: Rising." At the bottom, we can see the young images of Bakugo and Deku from their childhood, a classical flashback scene of them when they were aiming to join hero course highschools and become heroes someday. Following are the English translations of the included chapters.
Chapter 277 – "Who"…?
Chapter 278 – "Walking Disaster"
Chapter 279 – "League of Villains vs. U.A. Students"
Chapter 280 – "Red Riot"
Chapter 281 – "Plus Ultra"
Chapter 282 – "Footsteps of Destruction"
Chapter 283 – "75"
Chapter 284 – "Deep Blue Battle"
Chapter 285 – "Bakugo Katsuki: Rising"
You can read My Hero Academia chapters are Viz.com and buy these online volumes from Apple Books. Do read them from trusted sources only. We will be back soon with more news and updates on your favorite manga and anime releases. Until then, stay tuned, stay hyped.
---
Follow us on Twitter for more post-updates.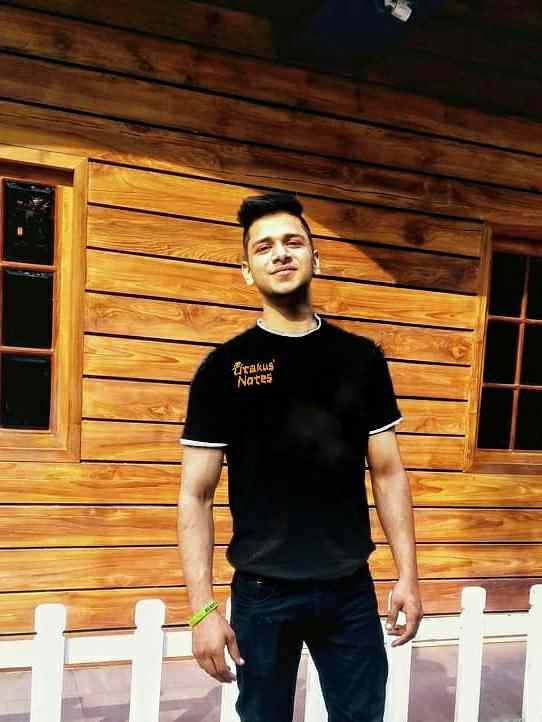 Sachin Kandwal is the newest member of the staff. And here in Otakus' Notes, he covers breaking stories of the Anime world. When he's not consuming content on Reddit, he can be seen exploring Bangalore city.