Last updated on January 24th, 2021 at 10:51 am
Weekly Shonen Jump Issue #7 Cover is out already. Senku is the main character on the cover, holding his latest invention in his hand. It clearly hints that some big moment is incoming in the Dr. Stone story soon. The cover has been released in high quality officially on Twitter. Read further for the cover and more details entitled to it.
Below, you will cover of the latest Weekly Shonen Jump issue. You can refer to the source link for more covers of the individual chapters. The contents of the titles and specials features in this issue have been posted already on our website. Refer to it to avoid missing any updates from this 7th issue.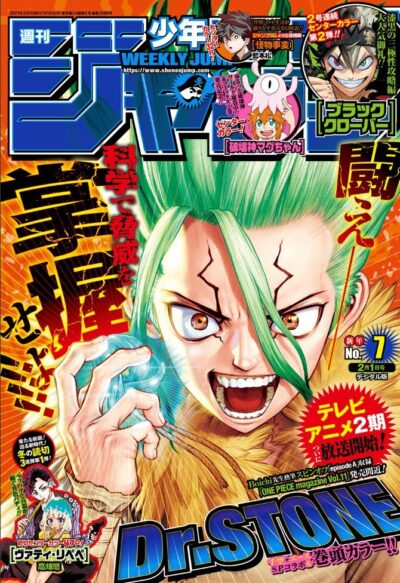 Going into the plot of Dr. Stone, after five years of harboring unspoken feelings, high-schooler Taiju Ooki is finally ready to confess his love for Yuzuriha Ogawa. Just when Taiju begins his confession, however, a blinding green light strikes the Earth and petrifies humanity around the world, turning every single human into stone.
Several millennia later, Taiju awakens to find the modern world completely nonexistent, as nature has flourished in the years humanity stood still. However, Senkuu's master plan is threatened when his ideologies are challenged by those who awaken. All the while, the reason for mankind's petrification remains unknown.
You can buy the physical copy as soon as it releases on the online bookselling sites. The contents of the chapters and specials are quite huge. You can even visit Viz.com for the individual chapters, and most of the specials are also featured there. Unless some one-shot content is included, you can read all the entries officially on the site.
Subscribe to our page for more interesting news and updates on your favorite manga and anime series. We will be back with more facts and announcements of the popular and upcoming titles. Until then, stay tuned, stay hyped.
---
Follow us on Twitter for more post-updates.