Last updated on January 24th, 2021 at 02:52 am
A very Happy New Hero's Year ahead for all the My Hero Academia fans. The production has made sure that all the die-hard fans have a wonderful year ahead, going Plus Ultra! by releasing a mass media scan of the upcoming events. No doubt a delicious line-up is scheduled for 2021 and has been compiled into a poster. We already know that Season 5 of the anime is coming soon, and even the third movie of the franchise is set to release. But that's not all, more interesting occasions have been planned. Read further for all the details in the mass media scan and their event dates.
My Hero Mass Media Scan: "Happy New Hero's Year" Details Explained-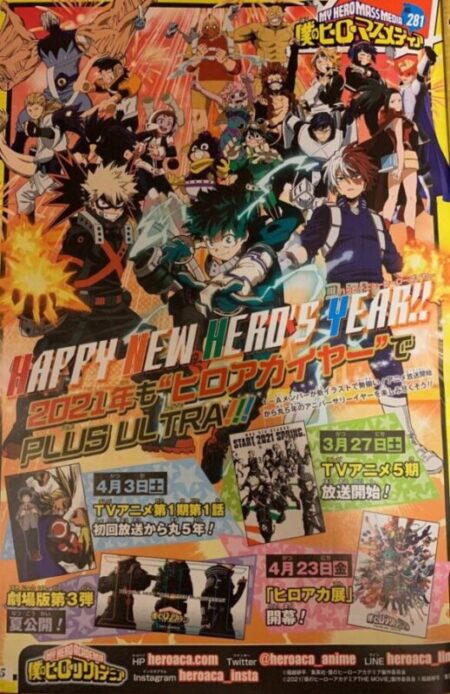 This is the My Hero Mass Media Scan: "Happy New Hero's Year," featuring the main 4 events of My Hero Academia for the upcoming year. Let us provide you the English translated details of the poster above-
My Hero Academia Season 5: March 27
Season 1 Fifth Anniversary: 3rd April
Exhibition: April 23
3rd Movie: Summer 2021
The first event of the year will be the most awaited season 5 of the anime, which is set to release on March 27, 2021. Shortly, April 3, 2021, will mark the 5th anniversary of the first season, which aired back on April 3, 2016. Then an exhibition is scheduled for April 23, 2021, which will be featuring special artworks and illustrations by the writer himself to be displayed solely on that occasion. Finally, in Summer 2021, the 3rd movie of the franchise will be releasing in Japan.
Following shortly in the USA and Canada with the English subbed version. Fans will have to wait another couple of months for the English dubbed and the digital version to come online. Nevertheless, the wait is always worth it while following My Hero Academia as it is gradually nearing its end, as commented by Hirokoshi before. Further, there will be more surprises for the fans to be announced gradually. Subscribe to our page and be updated on the latest announcements.
You can read all chapters of My Hero Academia at Viz.com and other paid platforms. You can also watch the anime adaptation from Crunchyroll. We will be back to you with more interesting news and updates on My Hero Academia manga and anime. Until then, stay tuned, stay hyped.
---
Follow us on Twitter for more post-updates.