Last updated on January 24th, 2021 at 09:55 am
Jujutsu Kaisen never ceases to amaze the crowd, its immense popularity has gained its special feature in a different but popular magazine named, Newtype: The Moving Pictures Magazine. The cover of the upcoming issue of Newtype magazine displays Itadori and Gojou in a sharp and sparky color illustration, that is seemingly taken from the anime counterpart.
Further, Jujutsu Kaisen has also become the highest sold manga on January 4 and 5 in Japan. Twitter is hurled with tons of positive commendation from the readers. The news was announced by the revelation of the Daily Shoseki Manga Sales. So, here we will be presenting to you the cover of the upcoming Newtype magazine featuring Itadori and Gojou.
Newtype: The Moving Pictures Magazine February Issue 2021 Cover-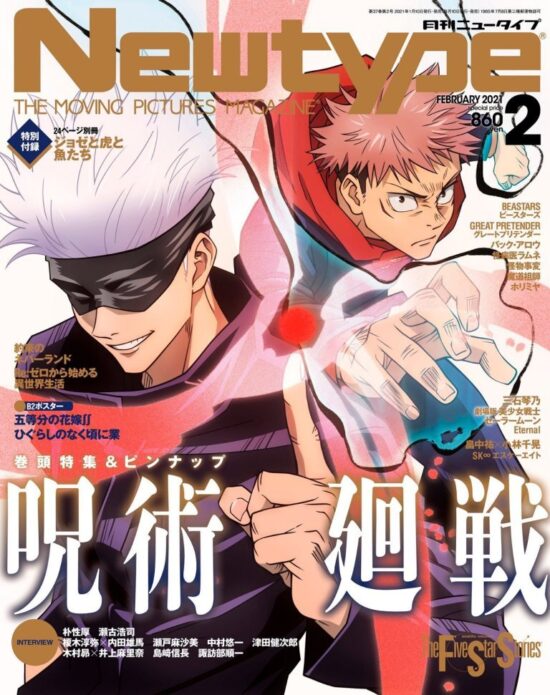 This is the revealed cover of the upcoming Newtype magazine February 2021 issue. You can see that the animation snaps of the protagonist and the invincible teacher of his, are featured in their coolest battle poses. Many other anime and manga titles have also been mentioned on the cover. This is a huge feat by the anime series of Jujutsu Kaisen.
This is the cover of the 14th and the latest volume of Jujutsu Kaisen. The Daily Shoseki Manga Sales depict that volume 14 has become the most sold manga for January 4 and 5. This proves that both the anime and manga series of Jujutsu Kaisen has been hugely accepted and liked by the fans.
These are the latest announcements regarding the spectacular feats by Jujutsu Kaisen anime and manga. Subscribe to our page for more continued news on the upcoming magazine issue and further achievements. We will be back soon with more interesting news and facts about your favorite anime and manga series. Until then, stay tuned, stay hyped.
---
Follow us on Twitter for more post-updates.