Last updated on January 24th, 2021 at 10:39 am
Jujutsu Kaisen never retaliates from proving its extreme popularity and acceptance by the fans all over the world. Yet again, it has achieved a spectacular milestone of reaching more than 20 million copies in circulation. Jujutsu Kaisen has released 14 complete volumes covering a huge deal of interesting plot and action.
Taking into consideration the immersive plot and the excellent battles with detailed power level distinctions, it proves its cut over the other competitor mangas. Read further for the official announcement by the Jujutsu Kaisen promotional Twitter page and a little insight into the story.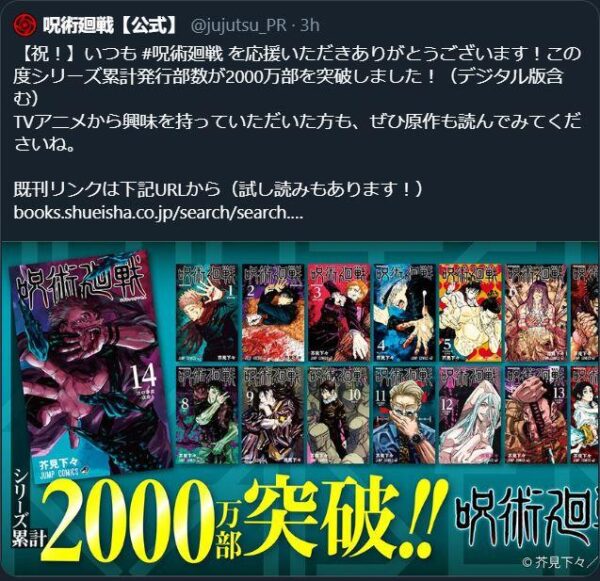 Idly indulging in baseless paranormal activities with the Occult Club, high schooler Yuuji Itadori spends his days at either the clubroom or the hospital, where he visits his bedridden grandfather. However, this leisurely lifestyle soon takes a turn for the strange when he unknowingly encounters a cursed item.
Triggering a chain of supernatural occurrences, Yuuji finds himself suddenly thrust into the world of Curses—dreadful beings formed from human malice and negativity, after swallowing the said item, revealed to be a finger belonging to the demon Sukuna Ryoumen, the "King of Curses."
Yuuji experiences first-hand the threat these Curses pose to society as he discovers his own newfound powers. Introduced to the Tokyo Metropolitan Jujutsu Technical High School, he begins to walk down a path from which he cannot return, the path of a Jujutsu sorcerer.
You can read all chapters of Jujutsu Kaisen from Viz.com and other paid platforms. The chapters are released weekly without fail. Further, you can also watch its ongoing anime by MAPPA Studio from Crunchyroll or Funimation. We will be back soon with more news and updates on Jujutsu Kaisen and its performance. Until then, stay tuned, stay hyped.
---
Follow us on Twitter for more post-updates.