Last updated on January 24th, 2021 at 10:47 am
Jujutsu Kaisen Volume 14 is still shining in the Japanese manga market as it again rises to the top of the Oricon's Top 50 Weekly chart. It ranked 1st in the list with 637 308 total sales for the week. Written and illustrated by Gege Akutami, the story has sure attracted a lot of attention by its spectacular story. Read further for the exact details and the snap of the list with the story insight.
Below, you can find the snap of the top 50 list of Oricon's Weekly Manga Sales Chart. It shows Jujutsu Kaisen at the top with 654,642 prints ready, but 637, 308 were sold. Still, it remained at the top since the beginning of the week. My Hero Academia Volume 29 came at the 3rd spot with 429,673 copies sold in the week.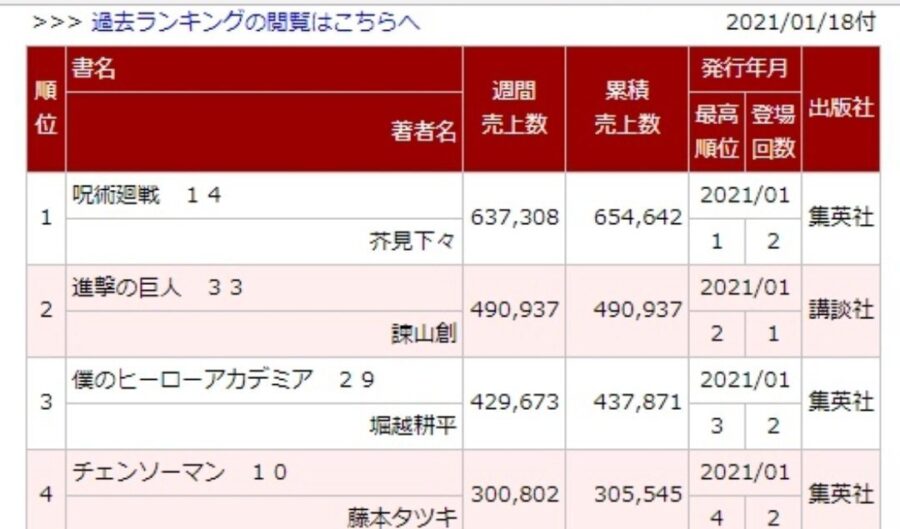 Idly indulging in baseless paranormal activities with the Occult Club, high schooler Yuuji Itadori spends his days at either the clubroom or the hospital, where he visits his bedridden grandfather. However, this leisurely lifestyle soon takes a turn for the strange when he unknowingly encounters a cursed item.
Triggering a chain of supernatural occurrences, Yuuji finds himself suddenly thrust into the world of Curses—dreadful beings formed from human malice and negativity, after swallowing the said item, revealed to be a finger belonging to the demon Sukuna Ryoumen, the "King of Curses."
Yuuji experiences first-hand the threat these Curses pose to society as he discovers his own newfound powers. Introduced to the Tokyo Metropolitan Jujutsu Technical High School, he begins to walk down a path from which he cannot return, the path of a Jujutsu sorcerer.
We will be back soon with more news and updates on Jujutsu Kaisen and its performance. Until then, stay tuned, stay hyped.
---
Follow us on Twitter for more post-updates.