Last updated on January 29th, 2022 at 09:00 pm
Jump Festa Online 2021 was conducted on December 19 and 20 recently. It was a huge success and was accepted heartfully by all the fans and viewers all over the world. The last show of the second day was the One Piece Super Stage Event, which featured a one-to-one talk with all the imminent voice actors in the series. The main attraction of the event was a special surprise for all the fans.
At the end of the Jump Festa Online 2021, fans were given a Special One Piece Virtual Boat Ride, which took us through the journeys and adventures of Mugiwara Ichimi so far. Viewers quoted it to be a very emotional experience to reminisce about the grand journey we have seen till now. Read further to find more details on the 'Virtual Boat Ride.'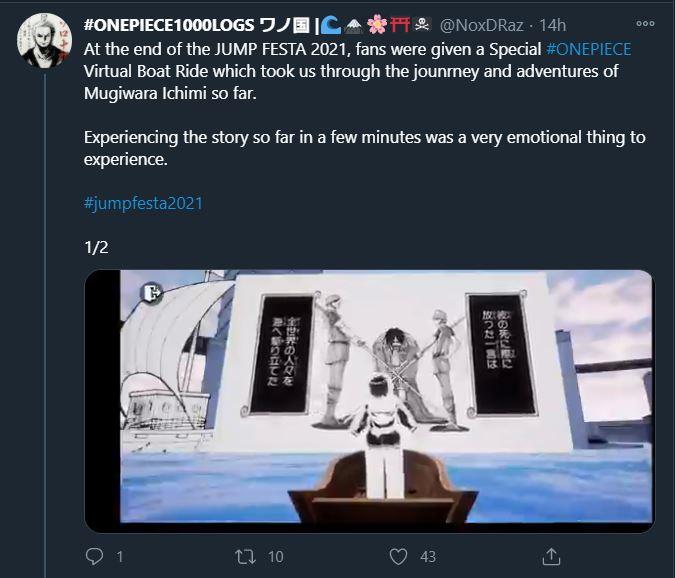 Millions of fans watched the event online on the official apps and YouTube channel. Jump Festa One Piece event started at 12:50 PM IST and ended in 2 hours. Although that didn't spell the end to the fan's delight as a special surprise was announced for all fans. This Virtual Boat Tour of watching a presentation of the long journey of One Piece in just a few minutes made by the production. This was also considered as a tribute to the upcoming 1000th chapter of One Piece.
You can follow this Twitter link to get a glimpse of the Virtual Tour. The tour started with the classic prologue narration of the punishment of Gol D Roger and the beginning of the 'Great Pirate Era.' A stream of excitement and goosebumps run through the fans. After that, the tour took them through all the popular manga panels of the systematic arcs.
It ended with the description of the current situation of the Straw Hat crew battling against Kaido. After the story journey, it also included some personal trial acting by the crew voice actors, just their famous dialogues on fans' requests. The ending part was made quite interactive and enjoyable for live viewers.
The Jump Festa 2021 lived up to its own reputation with tons of events and announcements. Sweet interactions with our beloved character voice actors. We will be back soon with more after-updates on Jump Festa 2021 for you. Until then, stay tuned, stay hyped.
---
Follow us on Twitter for more post-updates.