Last updated on January 24th, 2021 at 03:30 am
My Hero Academia was the first manga ever to be used to promote Marvel Studios during Avengers: Infinity War. Its superhero action genre has pleased people all over the world, gaining immense popularity. Jump Festa Online 2021 was conducted recently, on that occasion, BNHA had the biggest super stage event in it. Adding to it, the author of the series, Horikoshi, commented that the manga is nearing its conclusion soon. To commemorate its spectacular reign in sales.
Following that update, we are displaying the soaring graph of My Hero Academia all volumes sales weekly to date. We have also included the checkpoint sales attained by the manga. These are some highly impressive numbers, living up to the reputation of its versatile story.
My Hero Academia All Manga Volumes Sales Evolution Depiction-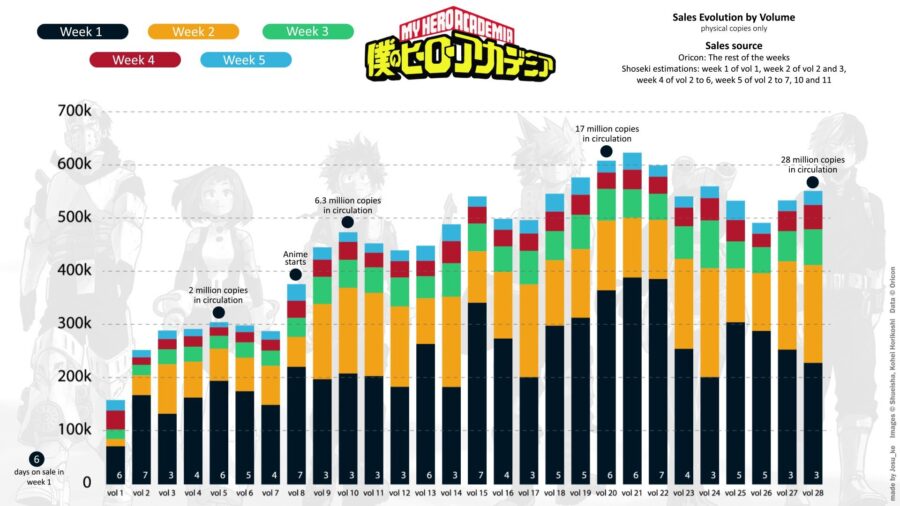 The graph is clearly depicting the sale for 5 weeks from the release of a volume. So you can see that the black part signifies the 1st-week sales, which are obviously high as compared to the rest of the weeks in other colors, above it.
Volume 1 was released on November 4, 2014. Its engrossing plot setting and exciting potential are quite evident from its jump in sales from the 2nd to 7th volume up to 2.6 million copies. Nearing volume 8, it got an anime adaptation, and the sales soared up to 6.3 million copies in total by the 10th volume. It was quite skeptical, going by the immense popularity of merchandise, toys, and video games.
The sales kept increasing every volume, and the total copies in circulation reached 17 million copies by the 21st volume. Although the sales didn't drop too low, we can see that it even didn't cross the mark, after this volume. In the latest sales of the 28th volume, the total copies till date reached a hefty 28 million copies.
You can read the manga online on Viz.com or watch its anime adaptation on Funimation and Crunchyroll. These graphical representations have been sourced from the Shoseki and the Oricon sales reports. That means the online copies are not included in it. Further, the viewership of this spectacular manga is way huge than these numbers here. We will be back soon with more interesting news and updates on My Hero Academia. Until then, stay tuned, stay hyped.
---
Follow us on Twitter for more post-updates.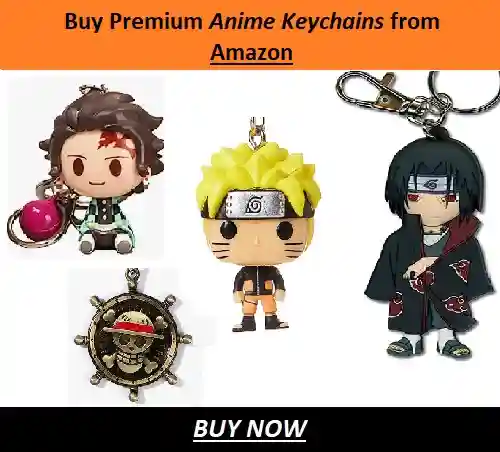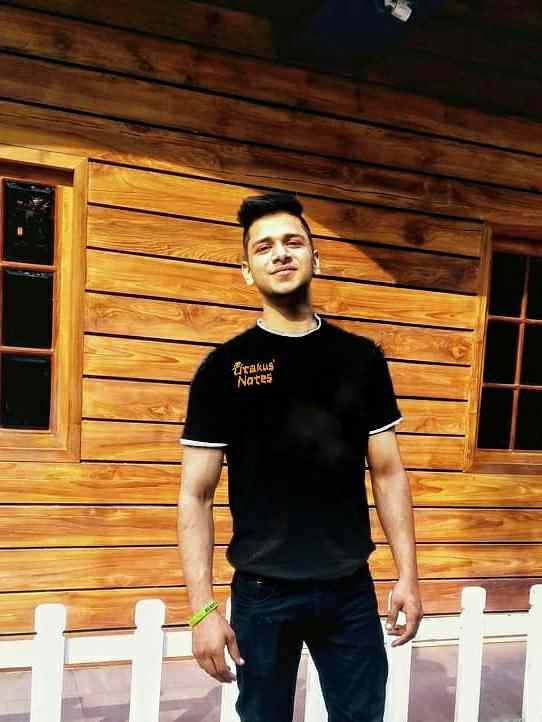 Sachin Kandwal is the newest member of the staff. And here in Otakus' Notes, he covers breaking stories of the Anime world. When he's not consuming content on Reddit, he can be seen exploring Bangalore city.