Last updated on January 24th, 2021 at 02:43 am
My Hero Academia Volume 29 has unveiled writer Horikoshi's official statement on the occasion of the upcoming "Exhibition" and "Third Movie." The comments were included as a public note by the writer in the latest installment of the series, Volume 29. He has expressed extreme gratitude to his team and beloved fans. Below we will attach the official scan and English translation of the above mentioned. The release date and other details of the upcoming Third Movie of My Hero Academia will also be entailed. Read further to know about them.
My Hero Academia Volume 29 Writer Hirokoshi Official Comments-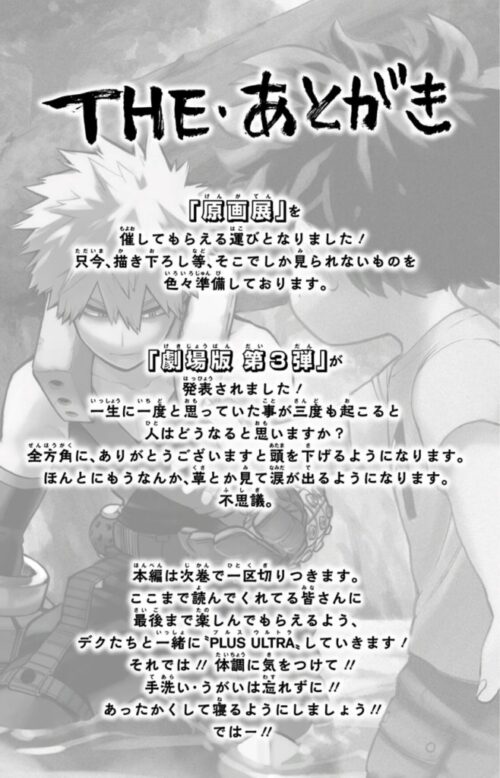 This is the original page from volume 29 containing the comments by Horikoshi. He has commented on the announcement of the upcoming Exhibition, Third Movie, and the ending of the ongoing arc. Refer to the below English translation to know the important revelations regarding the next volume and its story.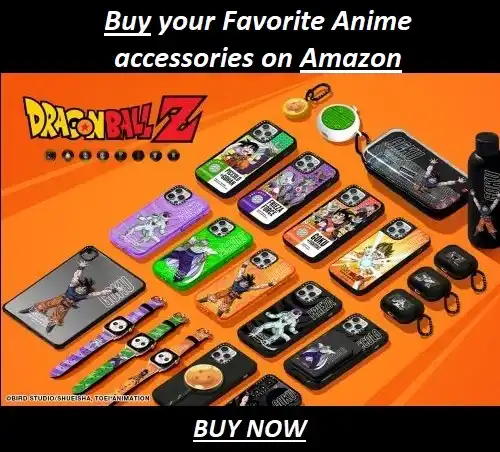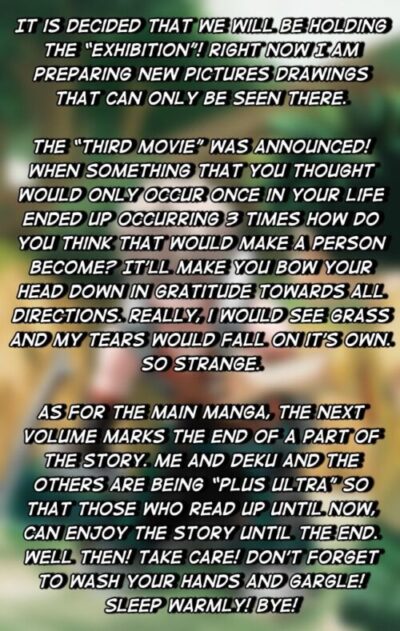 Horikoshi has revealed that he will be featuring special pictures and drawings to be displayed in the upcoming Exhibition only. The exhibition will be held to commemorate the popularity and profit of the ongoing sales and also to reveal important information regarding the upcoming third movie. The upcoming movie will be the third installment in the franchise and has been scheduled to release in Summer 2021. The production of the movies has started as announced in early November 2020.
Recently the expected dates for the theatrical release were also revealed to be in the summer of 2021 in Japan and in the following weeks for the USA and Canada. We will have to wait a little more for the English subbed and dubbed version of the movie to be sold digitally.
Finally, in the note, Horikoshi has also revealed the upcoming volume 30 will spell the end of this arc. He has also resolved to work harder and deliver more enjoyable content to us in the upcoming volumes. You can subscribe to our page for more updates on the upcoming volume and movie of My Hero Academia.
---
Follow us on Twitter for more post-updates.