Last updated on January 24th, 2021 at 10:37 am
Nanatsu no Taizai: Anger's Judgement is finally set and ready to release its first episode tomorrow on January 13, 2020. This is the 4th season installment in the series and has been very anticipated for a long. The airing dates were postponed due to the COVID-19 pandemic. Now, at last, we have the new season with new answers and revelations.
On January 6, 2021, a special episode was aired connecting the prequel movie "Wrath of the Gods" to the present season. The animation and story have been very satisfying to all the viewers. Unlike the previous season, we are getting high-tier animation by A-1 Pictures. So here we are presenting to you some of the cuts from the present season which are yet to come to give you an idea of what this season has to deliver.
Nanatsu no Tiazai: Anger's Judgement Season 4-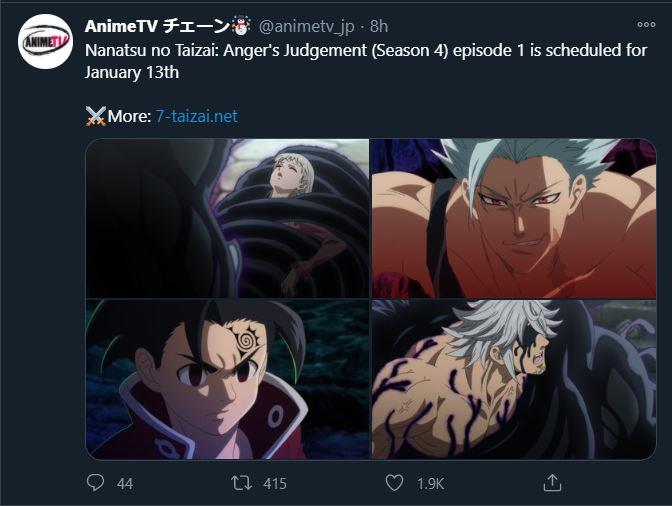 Episode 0 of season 4 has already aired and has shown some spectacular fight scenes and a preface to the first episode. A final brawl among the ten commandments under the Demon King vs. the Seven Deadly Sins is nearing. The answers to the cruel fate of Meliodas and Elizabeth of eternal rebirth will be sorted out. The end of this series is some of the most controversial topics in the otaku community, as the possibility of some main character's death is being surfaced.
The episodes will be released on Netflix legally as Nanatsu no Taizai season 5 as they regard the OVAs as season 4. You can watch the weekly episodes only in Japan. Further, the episodes are aired on all pirated sites.
Subscribe to our page for more recent announcements and details on Nanatsu no Taizai: Angers's Judgement. We will be back soon with more news and updates on your favorite anime and manga titles. Until then, stay tuned, stay hyped.
---
Follow us on Twitter for more post-updates.