Oricon's Yearly Sales ranking has been posted on Twitter by the Unofficial Twitter Account of Shōnen Jump News on February 17, 2021. As expected, Kimetsu no Yaiba has once again scored first place on the list, followed by the Kingdom series. Once again, One Piece has secured third place with 7,709,667 copies sold. 
Though Haikyuu!! has ended, it has still retained its popularity and achieved 4th place while Jujutsu kaisen has placed on the 5th position of the list. My Hero, Academia series, has attained 8th rank, and the ongoing hype for Attack on Titan has placed it on the 10th rank and sold about 6,003,589 copies.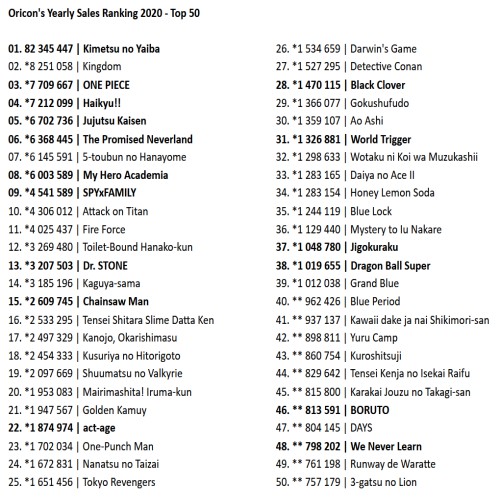 Both Dr. Stone and Chainsaw Man have achieved 14th and 15th rank, respectively, while popular superhero series One Punch placed on the 23rd rank. Other series like Black Clover and Kuroshitsuji also secured their place in the Top 50 list and obtained 28th and 43rd rank respectively.
Oricon Inc provides statistics and information on music and the music industry in Japan and Western music. They also provide sales rankings of music CDs, DVDs, electronic games, and other entertainment products based on weekly tabulations and are announced every Tuesday and published in Oricon Style by subsidiary Oricon Entertainment Inc.
---
Follow us on Twitter for more post-updates.