Last updated on May 15th, 2022 at 03:20 pm
Fall Anime 2020 have delivered us a plethora of cool and interesting characters. Among them, some were overpowered, over the cut handsome, or just impressively cool. Every character has their odds, but still, fans always end up choosing their best character of the season.
On that note, we are presenting the most voted male characters of fall 2020 conducted by Anime trending this week. We are showcasing this week's ranking chart specifically because this time, we have had some peculiar outcomes that were unexpected by the fans. More than 50 anime were new to the season and are going to end soon. Now that the fans had enough character introduction and personality clarification of nearly all characters. Let us discuss the final ranking chart for this week.
Top 10 Most Popular Male Characters This Week Fall 2020-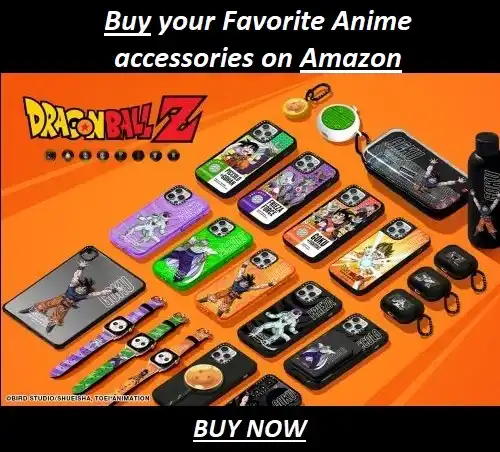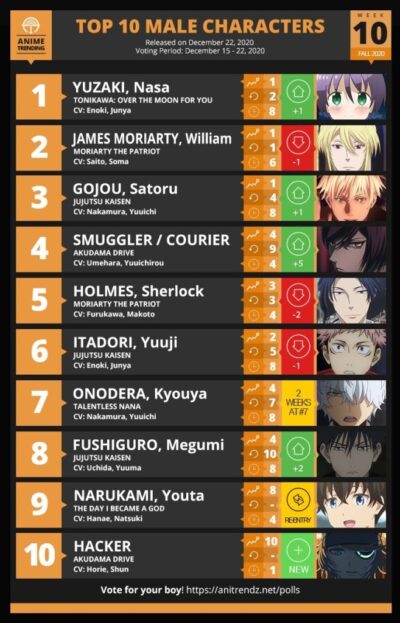 The 11th week is going on right now; after watching more than 10 episodes of each anime, viewers must have decided which character to frown upon. The one to make up to the top was our Yuzaki Nasa from Tonikaku Cawaii. He, of course, deserved this popularity for having a unique rom-com protagonist personality ever. He got married to his crush on the first episode itself. This occurrence shook the anime community completely. As the sweet story progressed deeper, he has finally been recognized as the most liked male character this season.
Both the antagonist and protagonist of Moriarty the Patriot have secured their places at the 2nd and 5th place, considering they are quite handsome and with wits. Fans are shocked at the slow growth of Gojou Satoru's rank at 3rd place this week. Talking about Jujutsu Kaisen, both the boys from the main trio have gained their places in the top 10 list and still growing. As the Courier and the Hacker had some cool featuring in the latest episodes of Akudama Drive, their ranks have grown to 4th and 10th rank, respectively.
The most bad-ass and invincible character of Talentless Nana, Onodera Kyouya, has maintained his position at 7th rank for two weeks. Equally popular and cool, Narukami Youta has gained his place in the list back after a week at 9th place. You can watch all these anime at Funimation and Crunchyroll. We will be back with more news and updates on anime soon. Until then, stay tuned, stay hyped.
---
Follow us on Twitter for more post-updates.