Last updated on August 24th, 2023 at 09:16 pm
Crunchyroll is the biggest anime platform in the world and has millions of viewers every day. The platform has seen a tremendous boost in viewers ever since the pandemic, attracting many audiences to anime.
The platform is straightforward to configure; however, some wonder whether it has movies besides anime. The answer is no, and unfortunately, the platform is strictly anime-based, but that might change in the future.
Does Crunchyroll have movies?
Anime has arguably taken over the world since the pandemic, and most platforms, such as Disney, Netflix, and others, have already introduced anime to their respective websites.
It is a generally known fact that Crunchyroll is the best platform to watch anime, and ever since the widespread increase in viewers, the site has also added games and manga to their site so that the viewer has more options.
Crunchyroll is the closest provider of anime from Japan; most of the anime released overseas goes through it and provides the episode with the fastest release in Japan.
The quality is also the best, and the subtitles are close to the actual sentence and conversation in the episode; most episodes available on pirated sites are translated poorly.
Now the issue arrives: Are they available to watch anything besides anime, such as Hollywood movies, web series, or any other cartoon movies on the platform?
Unfortunately, the website only has the availability of anime, and other things such as movies, web series, and other things are not available on the site.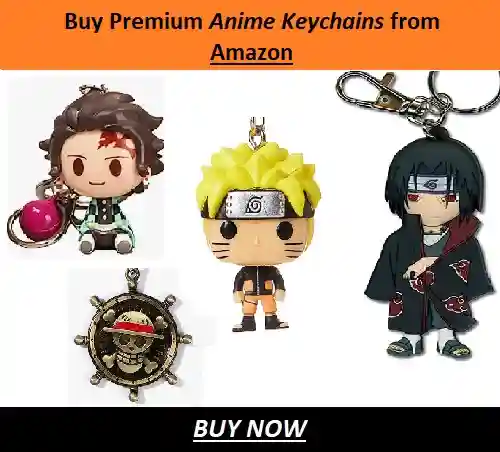 Popular Hollywood movies, many famous web series, and even cartoon films cannot be seen on Crunchyroll, and it looks like it will not change soon.
---
How to Watch Movies on Crunchyroll
In this section, we will discuss how to watch Movies on Crunchyroll and guide you step by step so that you can watch this fantastic series and understand how you start and go through Crunchyroll.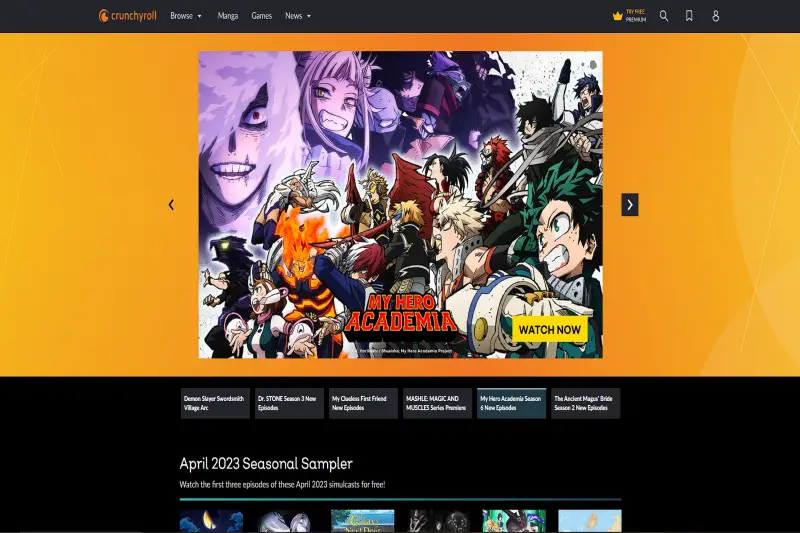 Open your preferred web browser, enter Crunchyroll, and register or log in to your account.
---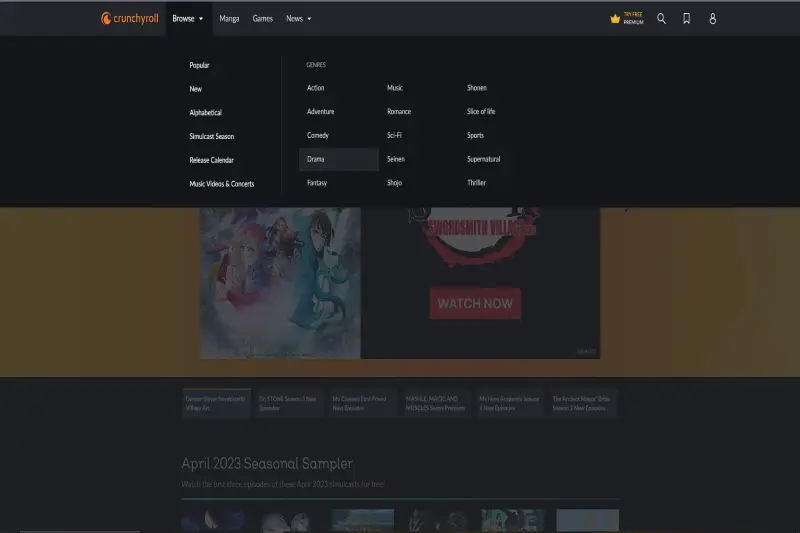 Click the browse dropdown and choose either popular or alphabetical.
---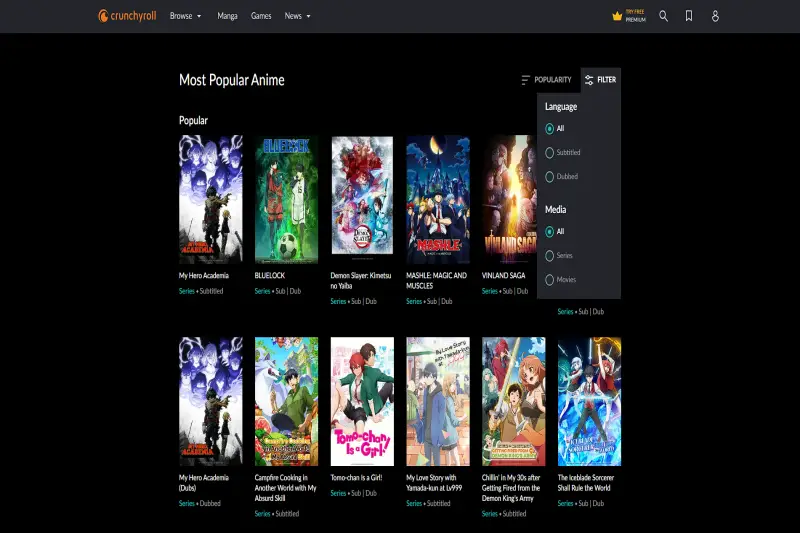 Then, on the right side, there is a filter icon where you can specify movies as a choice.
---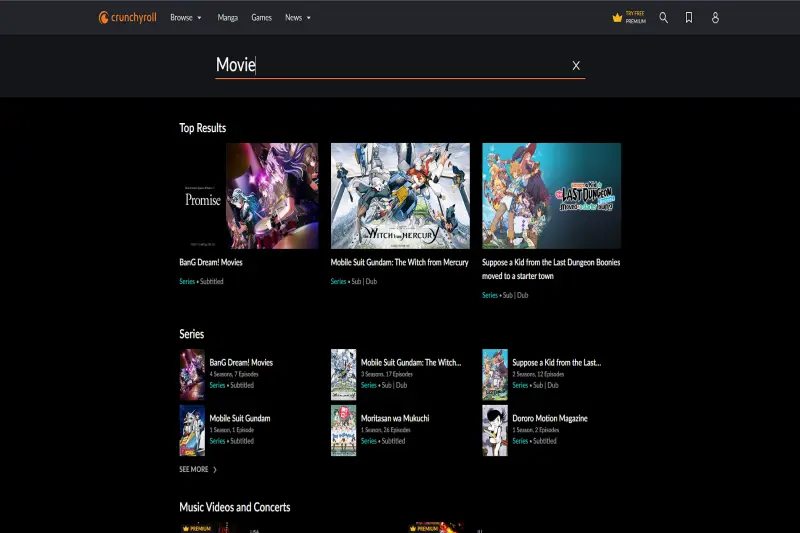 If all the other options do not work for you, type the movie's name, and the result will appear.
---
Some of the Best Movies on Crunchyroll
Crunchyroll is the primary source of movies and anime for fans outside of Japan, and to keep them happy, the organization has purchased the rights to some incredible movies that will engrave themselves in your memory forever once you watch them.
Here are some recommendations for some of the best movies on Crunchyroll.
1. Kimi no Na Wa.

2. Kimetsu no Yaiba Movie: Mugen Ressha-hen

3. Cardcaptor Sakura Movie 2: Fuuin Sareta Card

4. Bakemono no Ko

5. Cardcaptor Sakura: The Movie

6. Fullmetal Alchemist: The Conqueror of Shamballa
If you want to learn more about popular movies on Crunchyroll, we have already written a detailed article. You can read more about it here.
---
Conclusion
We all love watching anime and usually watch most of the series, but sometimes it is a good idea to take a break and watch some movies. However, there are many queries, such as how to watch, what the watch order is, etc.
Luckily, Crunchyroll is the most accessible platform to figure out, does not confuse the viewer, and is very well organized so that even a person who has never visited the website can understand the menu.
Recently, Talk of the Town had many movies earning slacks of cash and has helped tremendously increase the popularity of anime outside of Japan. Movies such as Your Name, Weathering with You, and Garden of Words are all fantastic movies that have contributed much to the community.
As technology keeps improving, the quality and animation of movies also improve. Watching episodes in your comfort zone is a perfect thing,, but the feel of the theater remains unmatched.
Now that anime has exploded in the world due to COVID, many countries that had previously ignored anime are making efforts so that people can understand and watch these masterpieces.
Crunchyroll is a platform that was initially created to watch episodes rather than movies, but in recent years,, there have been a lot of additions and increases in movies on the platform due to demand from fans.
Although it is an easy-to-understand platform for regular viewers, people who might have just discovered it face issues, such as the name and where to find movies.
In this article, we have covered everything you need to know about how to watch movies on Crunchyroll and provided a step-by-step guide to making the process even better and easier to understand.
---
Follow us on Twitter for more post-updates.
Also Read:
I am a first-year student pursuing Data Science and Artificial intelligence and have always been mesmerised by AI and wish to build one for my own in future. In my free time, I like to watch Romance Anime or read Seinen Manga.