Natural red hair might be rare in the real world but in the world of cartoons, there are plenty of characters who can be found sporting the fiery hair color. In some notable cases, it's the female characters who rock this hair color and today we'll be making a list of them. So, here are 20 female cartoon characters with red hair.
20 Female Cartoon Characters with Red Hair
1) Princess Ariel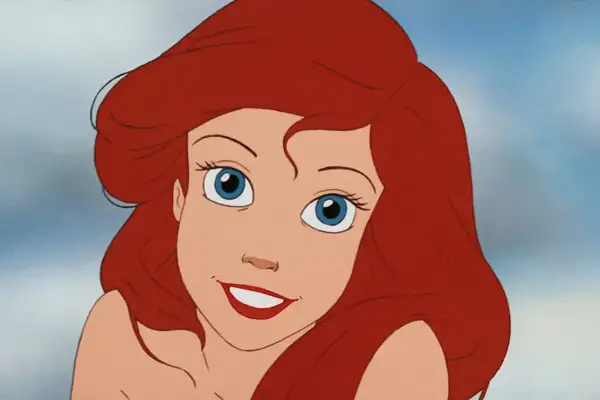 Cartoon: The Little Mermaid
Is there anybody who doesn't know of Princess Ariel? Yeah, thought so. The protagonist of Disney's iconic 1989 animated film The Little Princess, Ariel is a mermaid princess living deep within the sea and spending her days singing enchantingly and looking for things from the surface.
When she sees and falls in love with human prince Eric, Ariel trades her voice for a pair of human legs from the sea witch Ursula. It's not just Ariel's love story that is iconic, but also her fiery red hair that makes her a staple in pop culture.
---
2) Daphne Blake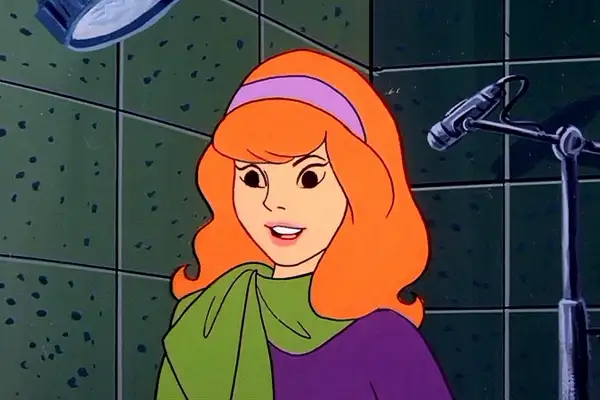 The prettiest and richest member of Mystery Inc. is the gorgeous Daphne Blake. She's a fashionista and the most popular girl in school. A hilarious part about Daphne's character is her penchant for getting into trouble, leading to her friends calling her "Danger-prone Daphne."
Towards the beginning when they are in junior high, Daphne is vainer and doesn't contribute much to the mysteries they find themselves thrown into. But as time goes on, she becomes more confident in her intelligence and her skills and learns karate and other self-defences.
---
3) Bloom
The Italian animated series Winx Club debuted in 2004 and instantly became a hit with little girls who loved to watch six beautiful fairies fighting evil villains. The series also hosts one of the most popular female cartoon characters with red hair: the protagonist, Bloom. At the beginning of the story, Bloom is an ordinary girl on Earth who meets a fairy named Stella on a school trip and goes to the famous fairy school Alfea at her advice.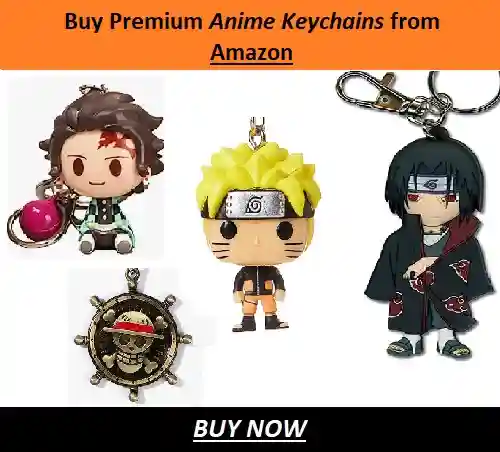 It is later revealed that Bloom is the biological daughter of King Oritel and Queen Marion of Domino and was sent to Earth to protect the sacred Dragon Flame after their planet was destroyed. Bloom later becomes the Fairy of the Dragon Flame.
---
4) Lucy Wilde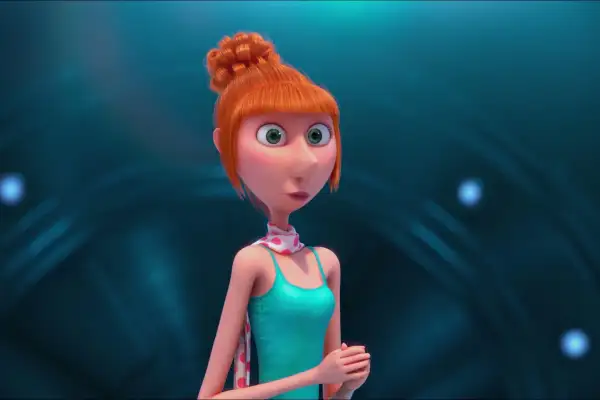 The love life of the newly redeemed supervillain Gru is looking bleak until Lucy Wilde comes crashing into his life. An agent of the Anti-Villain League, Lucy is sent to recruit Gru as a new agent for the League. Though Gru is initially uninterested, she manages to get him recruited.
As the duo works on their new mission, they spend more time together and fall in love. Lucy is perfect for Gru. Not only does she take his found family with loving open arms, but she also understands his interests and his quirky personality. They are a couple that makes us swoon.
---
5) Kim Possible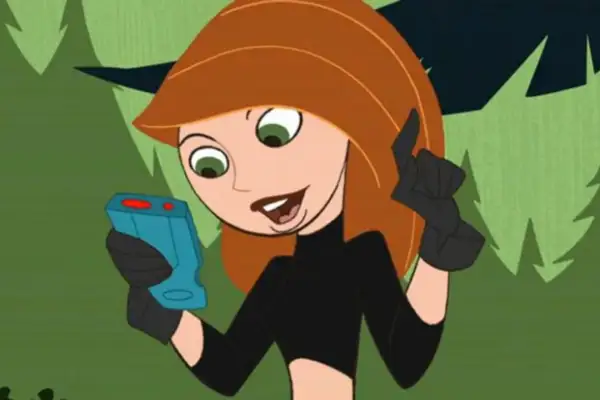 Kim Possible, the titular main character of the popular animated series, is so cool that we can almost call her freezing. She's a high school superhero living her days as a smart student while moonlighting as a vigilante kicking the butts of villains.
Kim is confident, talented, and kind, the entire package really. She's best friends with her childhood buddy and sidekick, Ron Stoppable, and eventually falls in love with him. Kim's fiery red hair is just as iconic as her cool fighting moves.
---
6) Candace Flynn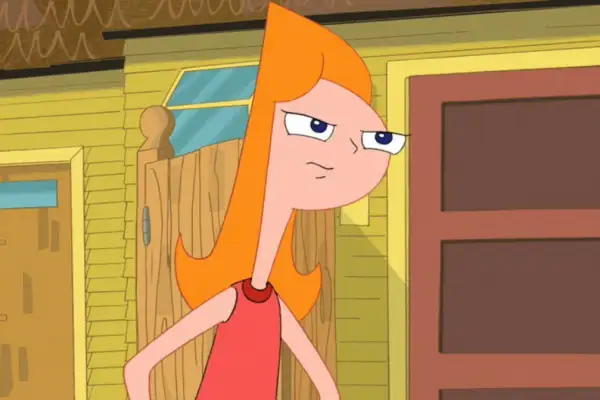 Cartoon: Phineas and Ferb
What sister hasn't tried to get her over-intelligent brothers in trouble with her parents? That's what sisters do! At least, that's what Candace thinks they do, though she'll agree that her brothers are far more annoying than any other brother on this planet.
Candace Flynn is the older sister of Phineas and step-sister of Ferb. She's a high school student with a massive crush on a classmate named Jeremy. Over the summer vacation, she has tried everything she can to get her mother to see the extravagant things Phineas and Ferb create, but to no success.
---
7) Princess Anna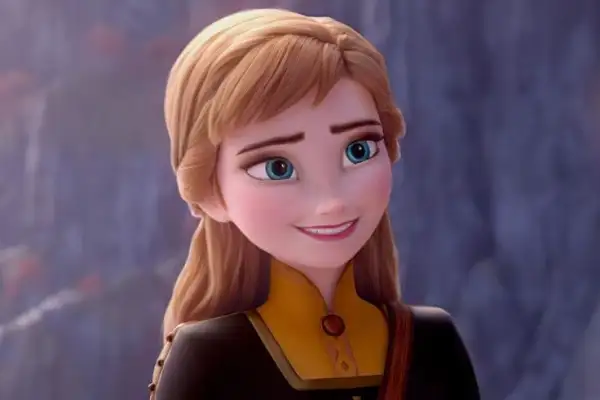 Disney's Frozen is such a huge hit that there are very few kids, and their parents, left who haven't seen the animated film. One of the protagonists of the movie is Princess Anna, the second princess of Arendelle and the younger sister of Elsa. The sisters were very close in their childhood but after Elsa accidentally hurt her, she distanced herself from her little sister.
After losing their parents and with Elsa shut in her room, Anna led a very lonely life until the day of the coronation. She's brave, selfless and determined. No wonder she's considered one of the most beloved female cartoon characters with red hair.
---
8) Gwen Tennyson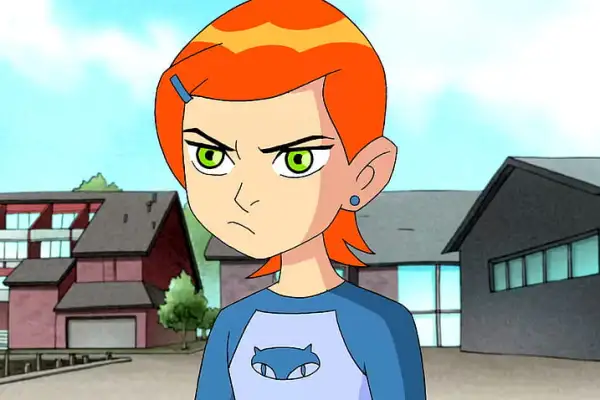 The award for the best cousin goes to none other than Gwen Tennyson from Ben 10. She's the cousin of our protagonist, Ben, and spends the summer vacation traveling in an RV with him and their grandpa, Max. In Ben 10, she's a snarky 10-year-old kid interested in magic who ends up becoming the Lucky Girl.
In the sequel series, it's revealed that Gwen's magical powers are actually a product of her true identity. She's an Anodite, a species of very powerful aliens. Along with Ben and her boyfriend, Kevin, she fights bad aliens and threats to protect Earth as a Plumber.
---
9) Jessica Rabbit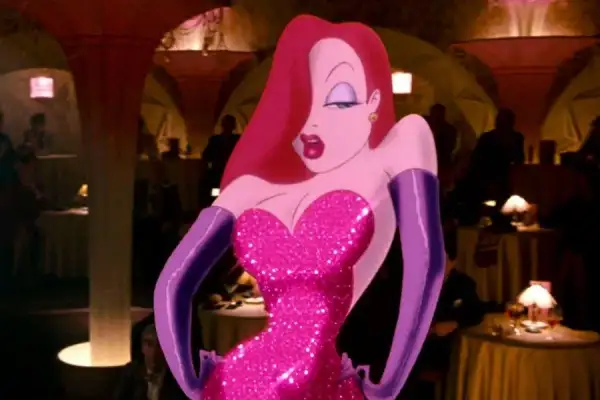 Cartoon: Who Framed Rodger Rabbit
Jessica Rabbit is not only one of the most iconic female cartoon characters with red hair but she's also one of the sexiest fictional characters of all time. Appearing in Disney's 1988 hybrid feature film, Who Framed Rodger Rabbit, Jessica is the wife of Rodger who works as a nightclub singer.
Jessica gets caught in an investigation when her anthropomorphic husband is framed for murder. Despite her sultry and detached demeanor, she's actually very loyal and selfless and loves her husband beyond anything. 
---
10) Helen Parr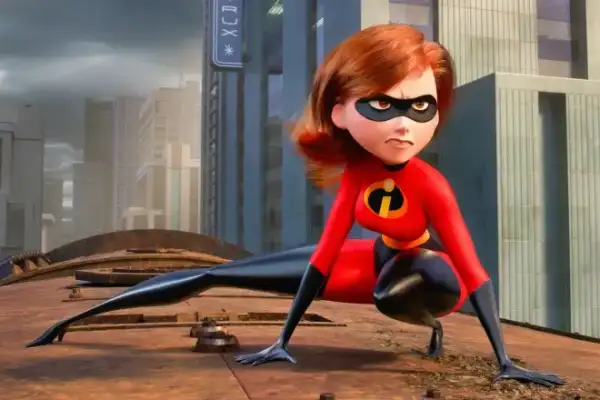 Being a mother is hard work and it's more so when you have to fight villains as a superhero. But if anyone can rock these two roles simultaneously, it's Helen Parr, also known as Elastigirl. Helen used to be a great superhero who fell in love and later married a fellow superhero, Mr. Incredible.
When all superheroes were made to go into hiding, she and her husband settled into a suburban life and had three children, all of whom were also born with superpowers. But when her husband fails to return home, she demonstrates why she's one of the best superheroes and female cartoon characters with red hair of all time.
---
11) Princess Fiona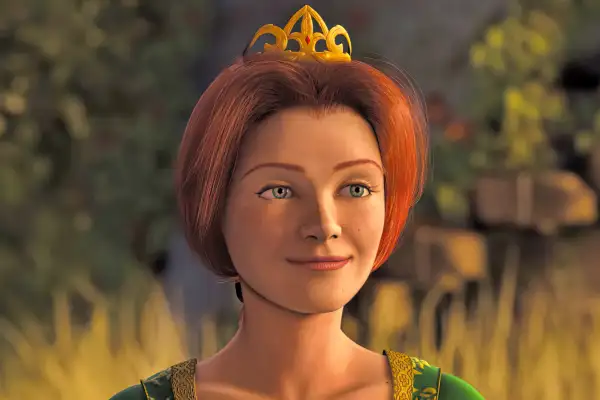 Shrek was a breath of fresh air from the typical fantasy stories about handsome princes and pretty swooning princesses. Turning every trope over its head, this movie has a disgusting and foul-natured ogre as its protagonist who sets out to rescue the beautiful Princess Fiona from the dragon who keeps her locked in a tower.
At the get-go, Princess Fiona appears as an ordinary fairy tale princess: enchantingly beautiful with the voice of an angel. It's revealed later that Fiona's curse turns her into an orge when the sun sets. Over the course of the movie, she gets over her disgust over being an ogre and falls in love with Shrek, becoming one of the best female cartoon characters with red hair in the process.
---
12) Wilma Flintstone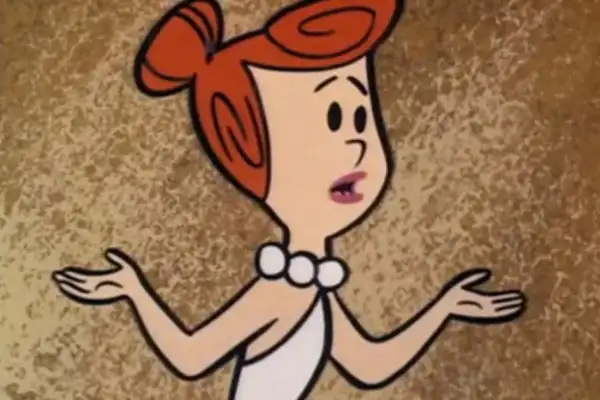 The Flintstones' gorgeous Wilma takes the 12th spot on our list of 20 female cartoon characters with red hair. Wilma is the wife of Fred Flintstone and the mother of their daughter, Pebbles. She's also best friends with their next-door neighbors, Betty and Barney Rubble.
Wilma might be a cavewoman but she's also drop-dead beautiful and has a fashion sense that'll put even models to shame. She's also very smart and level-headed which complements her husband's more erratic personality. Wilma is a gem that needs to be treasured.
---
13) Lois Griffin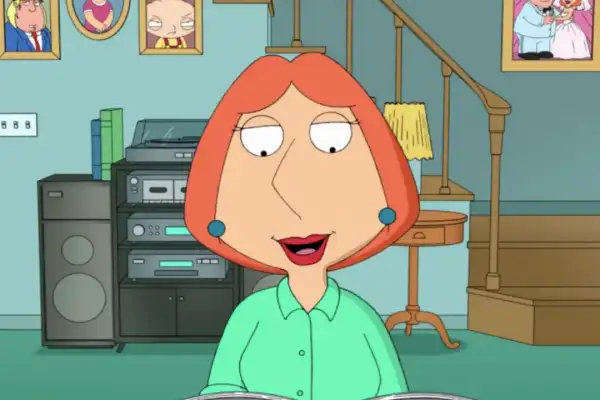 Lois Griffin from Family Guy is next on this list of female cartoon characters with red hair. She's Peter's wife and the mother of their three children, Meg, Chris, and Stewie. Like most characters in that cartoon, Lois is far from a good person. She has some very dark and toxic characteristics and her relationships with her husband and children are far from ideal.
But even so, she's an iconic character known for her dark jokes and some truly messed up situations. She has red hair styled in a bob and appears as an ordinary housewife.
---
14) Princess Merida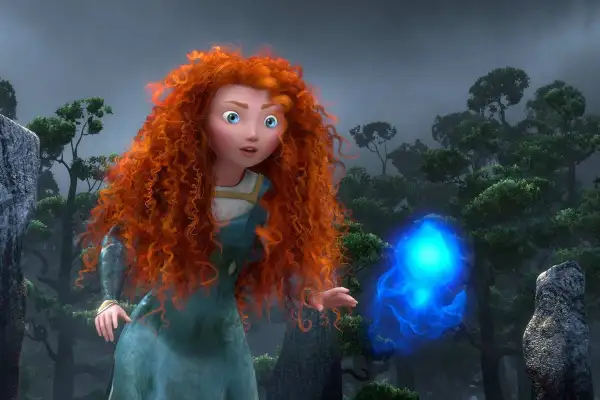 Disney princesses have come a long way since their days as the beautiful damsels in distress waiting for their prince. A good example of that is the protagonist of Disney's 2012 animated film, Brave. Merida is a Scottish princess born to King Fergus and Queen Elinor.
With fiery red wild curls and stubborn determination, Merida challenges the expectations of her position as the princess. Instead of smiling demurely at princes, she'd rather set out on her own adventure with her trusty bow and arrows with her. She's truly one of the best female cartoon characters with red hair in recent times.
---
15) Sally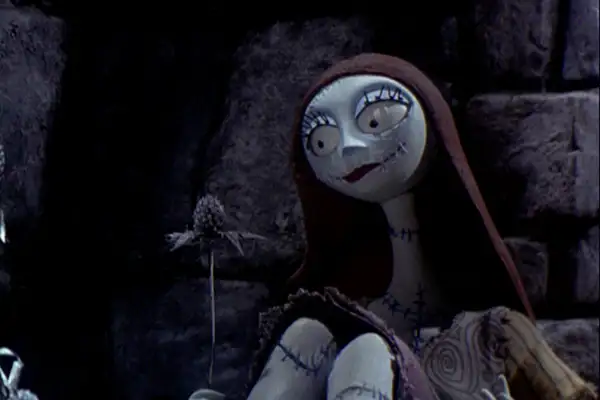 Cartoon: The Nightmare Before Christmas
Everything Tim Burton touches turns into gothic gold. Among the many wonderful films under his belt, his spooky animated film, The Nightmare Before Christmas, deserves a special mention. Full of memorable scenes and interesting characters, the animated movie is a masterpiece in its own right. Along with Jack Skellington, another breakout character in this movie is Sally.
A resident of Halloween Town, Sally is a ragdoll created by Dr. Finklestein. She's kind and gentle and very intelligent and has a crush on Jack. Sally is forever iconic for her long red hair and sewn-over features.
---
16) Anastasia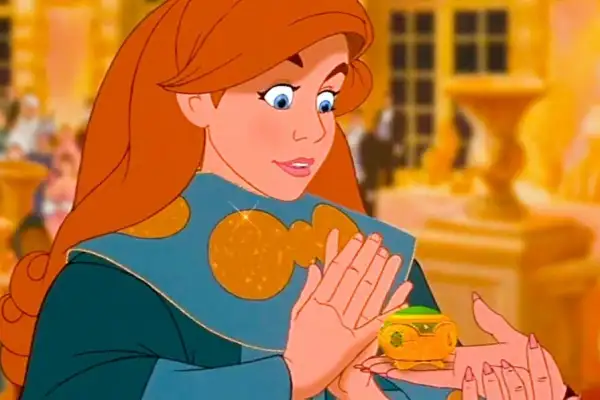 A truly wonderful and criminally underrated film that gets lost in the sheer number and glitz of Disney princess movies, Anastasia is the first animated feature from 20th Century Fox. It tells the story of the titular Princess Anastasia who is living her life as Anya, a common girl after losing her memories.
Her search for her family leads Anya to meet two conmen, Dimitri and Vlad, who promise to get her to her family but have plans of their own. The story is great and Anya is an endearing character who makes the viewers fall in love with her very easily.
---
17) Jean Grey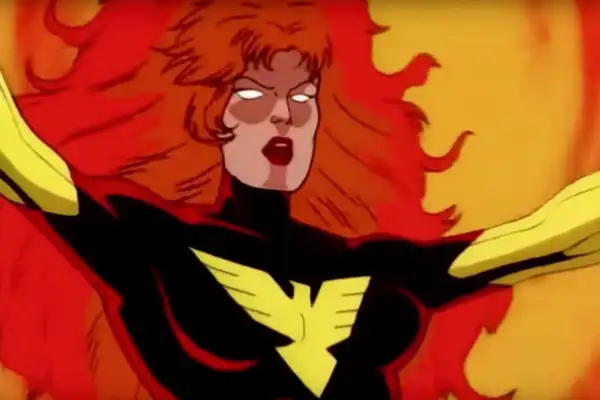 Both the X-Men animated series and the eponymous group of mutants have no shortage of popular and iconic characters but even among them, Jean Grey deserves a special spot. She not only is one of the most important members of the group but she also plays the series' strongest villain after being possessed by Phoenix.
Jean's mutation gives her the ability to telekinesis and telepathy. After Phoenix takes over her body, her powers grow several times stronger and she becomes one of the strongest characters in not only X-Men but in all of the Marvel universe.
---
18) Princess Giselle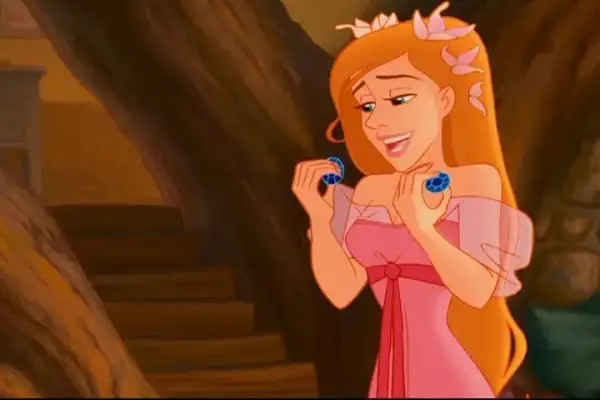 Unlike most other characters in this list, Princess Giselle has both a cartoon form and a living form in the same movie. Appearing in Disney's 2007 superhit, Enchanted, Giselle comes from the cartoon fairy tale world of Andalasia. In this cartoon world, she was the caricature of the perfect Disney princess, singing and dancing her days away with birds and animals accompanying her while she dreams of her Prince Charming.
Her life is turned upside down when she stumbles into the very un-fairy-tale-type real world. Here she meets divorce attorney Robert and his daughter Morgan and eventually falls in love with Robert.
---
19) Strawberry Shortcake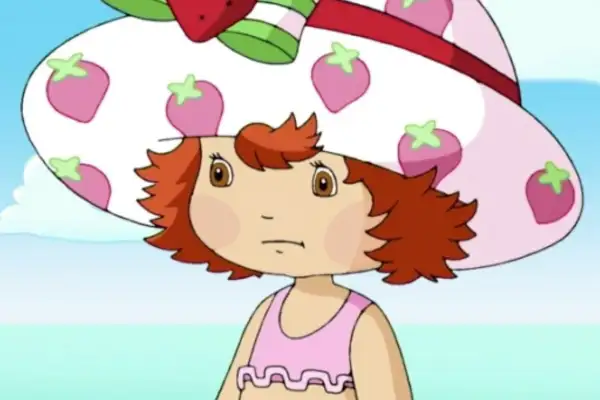 Cartoon: Strawberry Shortcake
The nineteenth spot on this list of female cartoon characters with red hair belongs to a beloved character from our childhood: Strawberry Shortcake. The red-haired little girl debuted in the 1980 animated series of the same name. She once again appears in the 2003 version of the story.
Strawberry Shortcake lives in a strawberry home with her sister: Apple Dumplin', her pet dog: Pupcake, and her cat: Custard. Energetic, happy-go-lucky, and friendly, this adorable cartoon character made our childhood all the more memorable.
---
20) Jessie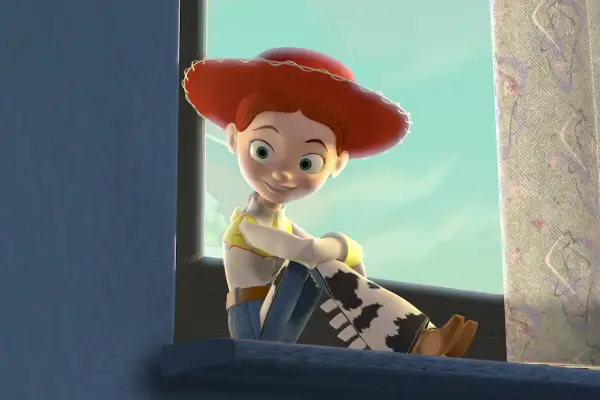 This fan-favorite character was introduced in Toy Story 2. Her heartbreaking backstory and her fun personality soon made her a darling of the fandom. Jessie is a Yodeling Cowgirl toy from the 1950s. She used to be a member of Woody's Roundup Gang and is the best friend of the toy horse, Bullseye.
Jessie was originally a toy of a little girl named Emily. The girl loved Jessie dearly and played with her all the time. But as she grew up, she lost interest in an old toy, pursuing things normal teenage girls do. This gave Jessie a fear of abandonment that stayed with her for a long time until she finally became a member of Andy's toy collection.
With the last entry, we end our list of 20 female cartoon characters with red hair. For more lists on cartoons and anime, check out Otakus' Notes.
---
Do small things with great love.
Follow us on Twitter for more updates.
Also Read
Anamika loves words and stories and putting them to pages. She also loves anime, manga, books, movies and everything fantasy. She has been a fan of anime since childhood and her admiration for it only grew with years. Her passion for writing is even more elevated by writing about the things she loves.