Last updated on July 18th, 2022 at 09:50 am
This post is updated based on new information. 
The latest chapter made a solid progression. With many other characters back in the light, we have much to expect from Jujutsu Kaisen Chapter 191 spoilers. The spoilers will give us an early hint to what's coming next. However, before that, let's sum up everything the chapter showed us.
The chapter starts by showing the aftermath of Hakari and Kashimo's fight. We see a chibi Panda wandering around as he comes across Haraki's severed hand.
With some suspense, we see Kashimo plop out of the sea after the steam blast. However, right when he is about to consider himself the winner, Hakari emerges from the sea, punching him back to reality.
Kashimo finally surrenders. However, Hakari offers him a deal instead. They talk about how Kashimo is saving his cursed technique to use on Sukuna as it is a single-use one. And all Kashimo wants is to fight Sukuna. Therefore, Kashimo agrees to side with Hakari in exchange for a duel with Sukuna.
Panda is quite shocked after taking in all this new information because this would mean Yuji will have to fight with Kashimo. Hakari discards Panda's concern by casually asserting that a Kouhai (Junior) has to obey/respect his Senpai's (Senior) wish.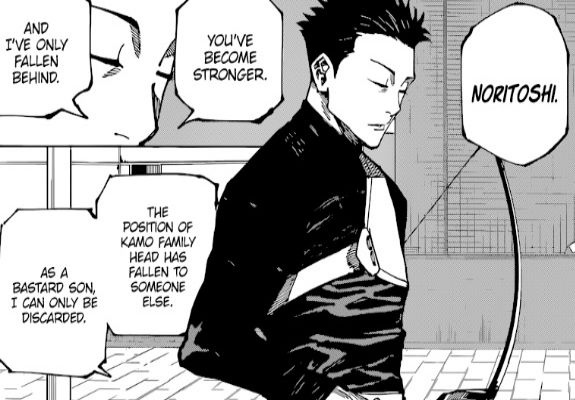 The scene cuts to where Charles has been waiting for Hakari. This is also where the announcement of a new rule being added to the game is made. The rule is that any player can now give as many points as they want to another player. They bicker about their fight hilariously until Nishimiya interrupts their banter.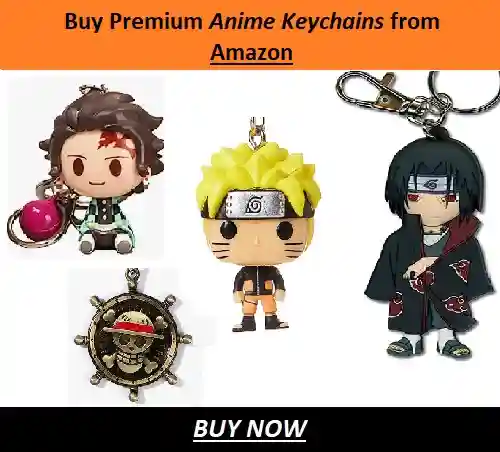 Hakari and Nishimiya discuss the priority of the rules that they need to add to the Culling Game. However, Hakari is shocked when Nishimiya tells him about how Maki can enter the colonies as per her wish and her new power-up.
The scene shifts to Sakurajima Colony, where we see Maki and Noritoshi with a completely new look and gear. On the other hand, we see Kogane introduce the Culling Game to an unknown Curse as it is about to enter the colony. The chapter ends here without giving us any more information.
---
The revelation of how Hakari manages to survive again: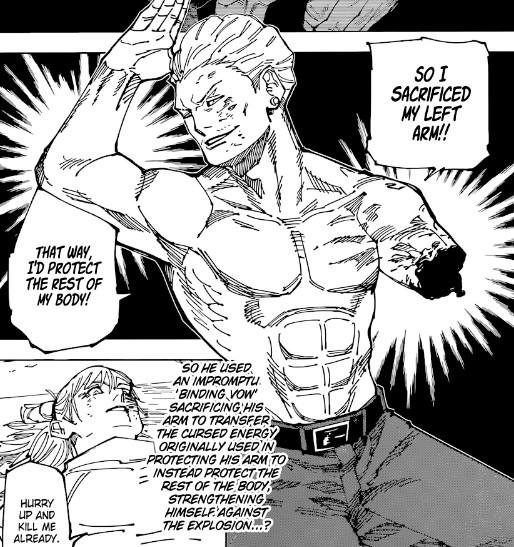 As a final move, Kashimo releases the cursed energy that he had been retaining. As the cursed energy seeps into the seawater, it is converted to thermal energy. This results in a steam explosion.
Kashimo uses this move to blow up Hakari's arm to prevent him from opening up his domain again, even if he survives the explosion. Because if he did so, it would have led to a probability change as hitting a sudden jackpot in time-reduction mode guarantees a probability change in the next round.
However, Hakari still sacrifices his arm and establishes an impromptu binding vow to protect his body instead. Therefore, Hakari survives the explosion unscathed, with only his arm missing.
---
Jujutsu Kaisen Chapter 191 Spoilers
Finally, the raw scans and spoilers of Jujutsu Kaisen Chapter 191 have surfaced. In the next chapter, we will see Maki in action against a new cursed spirit who is somewhat related to her past. So, let's discuss.
Jujutsu Kaisen Chapter 191 will release under the title "Sakurajima Colony 1." Editor's note on the first page: after the incident (Shibuya), at the Kamo family's estate!
A giant cursed spirit in the form of a caterpillar will aim at Maki and attack her with the supersonic technique. It will say, "ma- ma- hello, maki-chan!! did you know I've also crossed to this side?"

Naoya Zenin is reborn as a curse.
Noritoshi Jr 

will enter the head's room and meets 

Kenjaku

, who apologizes for Shino, "he's wandering 150 years in the past." The Kamo family conservatives are mostly marionettes, and they're all in Kenjaku's grasp now. And we will witness more discussion between Noritoshi Jr., Kenjaku and Shino. 
Here, we conclude with brief spoilers of Jujutsu Kaisen Chapter 191. Below we have attached the raw scans of the chapter.
---
Predictions:
With Maki and Noritoshi's fierce entry into the Sakurajima Colony, the plot will shift to them. We will see them fight off the unknown curse that has been introduced to us at the chapter's cliffhanger and many other players. This also suggests that the plot will focus on Sakurajima Colony with more revelations about Maki and Noritoshi.
Another revelation is about Kashimo's Cursed Technique. It turned out to be a single-use technique. This means that perhaps it is achieved through a binding vow rather than the nature of it. Regardless, we can only wait to find out.
Furthermore, it is clear that Charles and Kashimo transferred their points to Hakari. However, whether Charles will stick to Hakari is uncertain, considering their conversation. Also, it is still unclear who added the new rule to the game. Yuta, perhaps? Now there is a total of 10 rules.
Another detail to notice is that, since Hakari promised Kashimo a duel with Sukuna, we are sure to see him fight against Yuji. However, Gege loves to throw a lot of plot twists, so we might see Kashimo use his cursed technique in a different situation altogether.
---
Jujutsu Kaisen Chapter 191 Release Date
Chapter 191 will be out on July 18th, 2022, as per Viz Media. The chapter will release a day later than its schedule, i.e., on Monday. This means that we do not have any break next week. We won't have to wait any longer than required to see Maki and Kamo in action. With many of the characters back in action, the Culling Game becomes more interesting and exciting to anticipate.
---
Where to Read Jujutsu Kaisen Chapter 191
Jujutsu Kaisen is officially available to read on Viz Media and Mangaplus Shueisha. Viz allows you to read the latest chapters free of cost. But if you want access to all the chapters, you can download the Mangaplus Shueisha's app. Either way, both these sites let you read Chapter 190 currently. Therefore, rush to either of them and enjoy the chapter.
With that, we conclude our article. We have several other manga and anime that we regularly update the latest information on. Feel free to browse through and check them out.
Image Source: Viz Media
---
Do small things with great love.
Follow us on Twitter for more post-updates. 
Also Read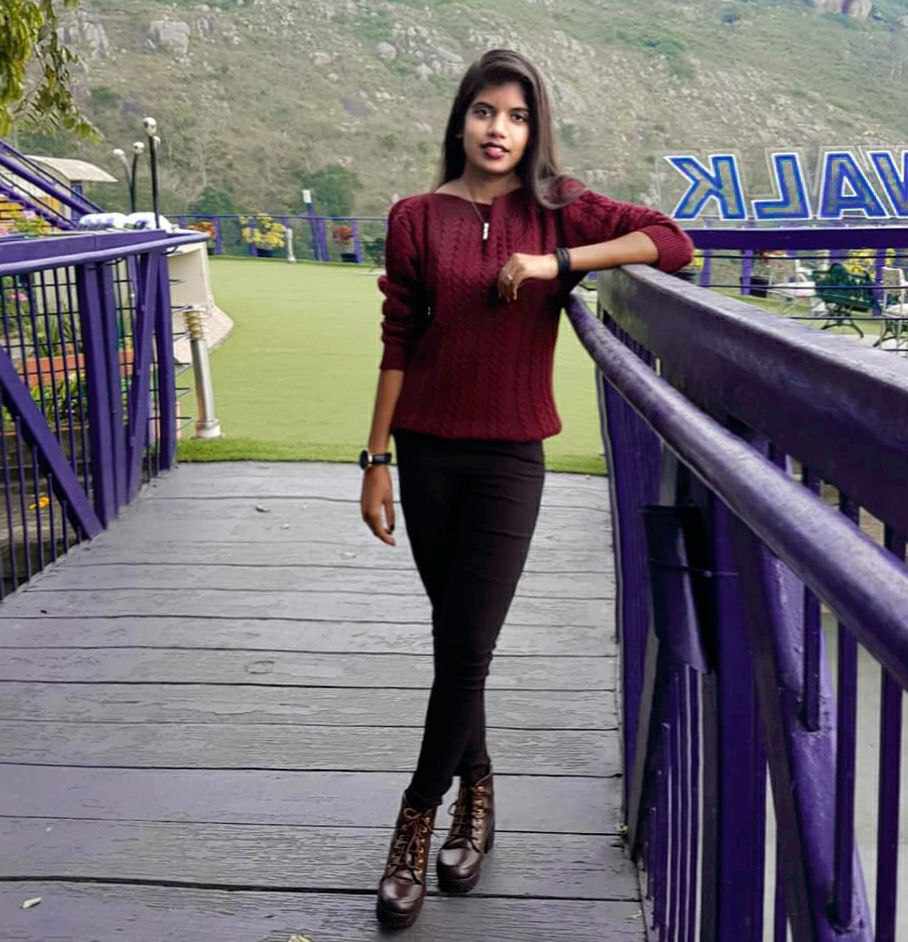 Starting off with love for medicine and plans for pursuing it, I found myself drawn to a mismatched career in Hospitality & Tourism. Little did I know that my passion and love for literature had always been by my side. Therefore, here I am now, sharing my words on multiple amazing platforms, one of which is Otakus Notes. What better way to put my abundance of love and knowledge of anime, manga, k-drama and webtoons, to use!