Last updated on September 12th, 2022 at 12:07 am
This post is updated based on new information.
Jujutsu Kaisen Chapter 196 focused entirely on Maki's development. Turns out the Sumo and Katana guys entered the scene to serve as a saving grace to Noritoshi and Maki. But now that Maki has had a breakthrough what about Noritoshi and the two new players? Will Gege kill them off, or will they stay for longer? Jujutsu Kaisen Chapter 197 spoilers can only tell. Because if it weren't for them breaking the flow of the battle, Maki and Noritoshi were done for.
The latest chapter was indeed important to break the flow of how things with Naoya were going. With Maki stepping to recover, Noritoshi was ready to throw his life on the line. He even had flashbacks of some important moments of his life.
But thanks to Daido and Miyo, Noritoshi and Maki will have that extra help they needed to defeat Maki; at least, that's how it looks so far. Chapter 196 is heavily focused on Miyo and Maki. Maki decides to enter his simple domain while contemplating Daido's words. Meanwhile, the Daido has completely overpowered Naoya.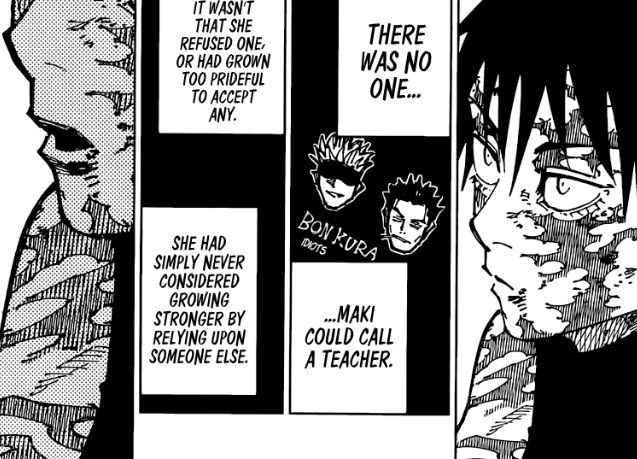 Inside Miyo's domain, Miyo easily defeats Maki in the Sumo match. However, Miyo had already sensed that Maki was much more powerful and could even overpower him. That's why he confronts her about why can't she concentrate and what's bothering her. But Maki didn't know the answer to that herself.
Maki never relied on anybody else to become stronger. Despite having teachers at Jujutsu High, she has always believed in doing everything on her own and being self-reliant. As the chapter reveals this information, Miyo senses that she is thinking about what Daido said, given her silence all this while.
Cutting off her chain of thoughts, he asks her to stand up and have another sumo match so that he explain to her better about this. As they continue the match, Miyo explains to her she has limited herself too much. She needs to let herself loose and experience what it's like to be free while fighting her opponents.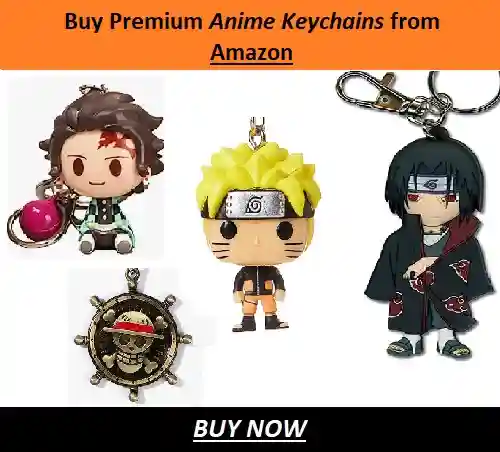 Thanks to his pov and sumo matches, Maki finally knows what to do next. We see her smiling after almost a decade. As she finishes her match with Miyo, she steps out of his simple domain to get back to the main fight. However, the chapter ends just when she's done healing herself.
Jujutsu Kaisen Chapter 197 spoilers
Finally, the spoilers and raw scans of Jujutsu Kaisen Chapter 197 are out. According to the spoilers, the next chapter will focus on Maki's awakening.
Jujutsu Kaisen

Chapter 197 will release under the title "Sakurajima Colony, Part 7." Editor's note: "through her match with Miyo, Maki is awakened!!

"
After having a good fight with Miyo, Maki

has awakened her limits. Naoya will sense this and keep raising his speed, but Maki will keep up.
Naoya will be surprised to see this because it's almost like she is now able to see

the air and can dodge attacks that change directions.
Naoya will advance for long-range attacks.

Noritoshi will tell everyone to prepare. Maki will think of her old self and how she has changed because of Mai.
Naoya, on the other hand, will attack Maki, but she will dodge. Now she can see the temperature and the density of the atmosphere around her. In this way, she can easily dodge Noaya's speed and

every attack.
Naoya will get angry and yell that this is pointless someone with no curse energy can dodge him in his cursed spirit form. On the other side, Miyo will hit him with a headbutt, and Daido will cut him in two parts. 
Naoya will be severely hurt and think of Maki as Toji. He will yell that he will be the one

standing on Toji's side.
In the end, from one half, Naoya in human form emerges and says he will be the one standing, "Domain Expansion."
Below we have attached the raw scans of Jujutsu Kaisen Chapter 197.
---
The latest chapter's cliffhanger confirms that Maki has fully healed herself both physically and mentally. Therefore, we will see it in action in the next chapter. But will she have new strategies or attacks that we haven't seen yet, or will she do something completely unexpected?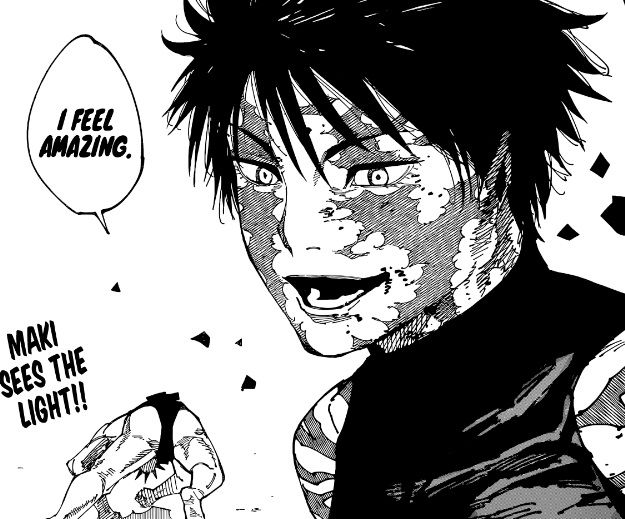 Apart from Maki, Noritoshi is in bad condition. After taking several direct hits from Naoya, he needs to strengthen his defense or come up with a new strategy to enhance his offense. As for Miyo and Daido, they turned out to be some nameless sorcerers from the past. Therefore, it won't be a surprise if Gege decides to let them go after this battle. It would be a shame to witness these characters being wasted, though.
However, for now, they are well-written and powerful characters who can dominate Naoya in the fight. So for the next chapter, we have an amazing fight to enjoy.
---
Jujutsu Kaisen Chapter 197 release date
Chapter 197 will be out on September 11th, 2022, i.e., on Sunday, as per the weekly schedule of the manga. However, you needn't wait any longer than required and check Chapter 197 as soon as it's available on the sites mentioned below.
---
Where to read Jujutsu Kaisen Chapter 197
Jujutsu Kaisen is officially available to read on Viz Media and Mangaplus Shueisha. Both sites allow you to read the three latest chapters of the manga free of cost. Therefore, they are the best sites to read Jujutsu Kaisen in the best quality and ad-free. Additionally, other private sites also offer manga to read in good quality, so you have enough options to choose from.
We will be back with more articles containing spoilers, release dates, and the latest information on various other manga and anime. Until then, stay tuned and check out some more interesting articles from us below.
---
Do small things with great love.
Follow us on Twitter for more post-updates. 
Also Read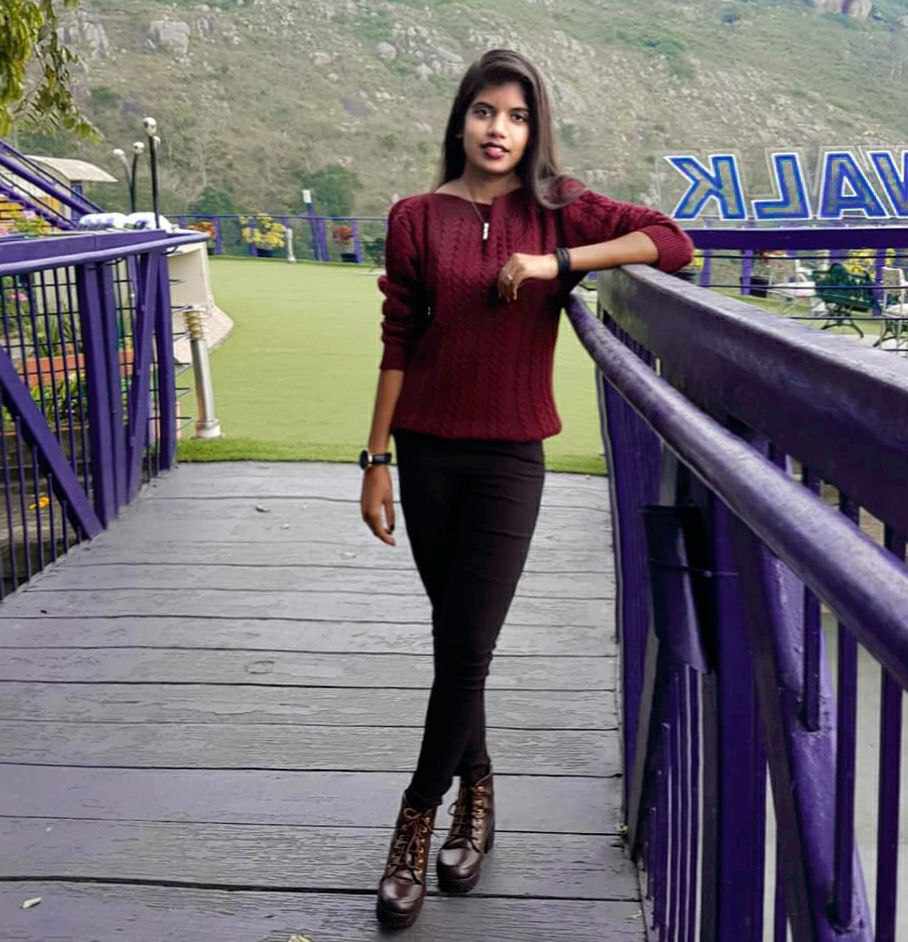 Starting off with love for medicine and plans for pursuing it, I found myself drawn to a mismatched career in Hospitality & Tourism. Little did I know that my passion and love for literature had always been by my side. Therefore, here I am now, sharing my words on multiple amazing platforms, one of which is Otakus Notes. What better way to put my abundance of love and knowledge of anime, manga, k-drama and webtoons, to use!