Last updated on November 8th, 2022 at 08:31 pm
The wait is over since My Hero Academia Chapter 372 spoilers have arrived. Although the current plot focuses on Shoji, Koda, and Spinner, there's again AFO behind the drastic change in Spinner. He prioritized Kurogiri's rescue since he was essential to his final plan. The previous chapter highlighted quite a few things:
Shoji's face was finally revealed clearly. The reason behind him always wearing a mask

also came to light.
Koda faced similar prejudice and harsh treatment from society because of her appearance. The two characters were paired in the fight quite cleverly in advance to serve as a breakpoint during the

main fight.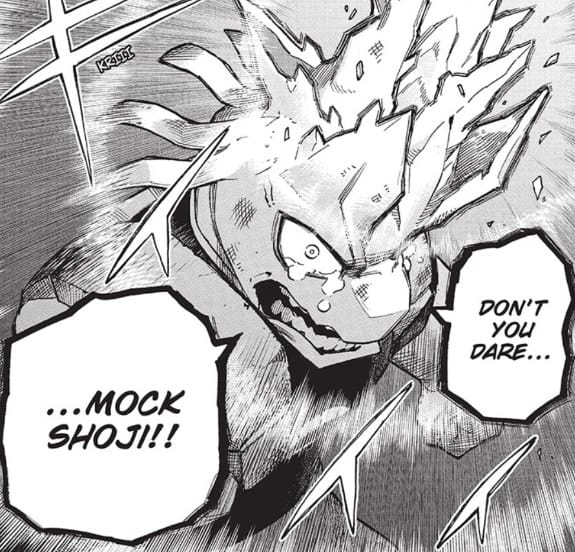 Shoji, Koda, and Spinner faced discrimination because of their appearance. Shoji has always worn a mask to hide most of his face, Koda was always insecure about her horn, and Spinner faced ridiculous comments

due to his appearance, especially his skin.
AFO granted a quirk, 

Scalemail

, to boost up Spinner's abilities so that he could rescue Kurogiri at all costs. This leads him to become extremely muscular and extremely driven.
The cliffhanger suggests Shoji and Koda's power up to turn the fight in their favor.
My Hero Academia Chapter 372 spoilers
Horikoshi indeed pairs his characters well to cleverly fit the cogs in place. Each diversion during any main fight mostly goes to show the growth of other characters, their development, and how they play an important role in contributing to the overall plot.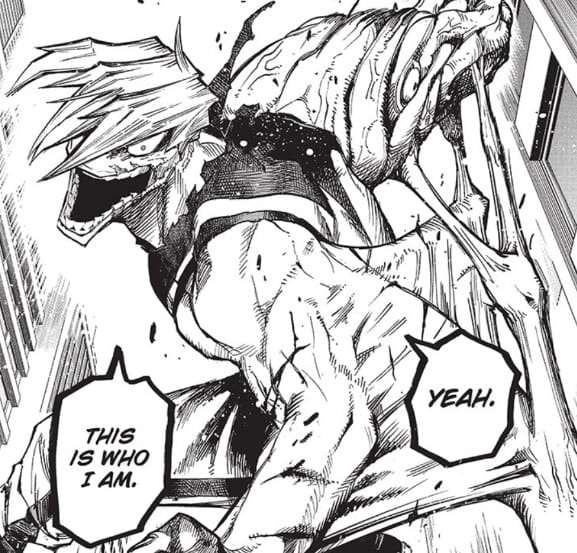 The title of Chapter 372 is "

Naked

," quite a befitting and interesting one since we will see the characters open their hearts and the hardships they've been through. Similarly, Shoji and Koda will accept who they are and proudly

continue to fight.
The spoilers reveal that the next chapter will entirely focus on Shoji and Koda's growth. Since the current chapter has wrapped up their backstory, there's only the battle left to fight. Koda, in particular, will have a power-up where she can successfully transmit her feelings to all the animals covering a large

area.
Shoji will counter Spinner with questions as he gets flashbacks of where he saved a little girl. However, the villagers mistake his good gesture and attack him, causing his face to distort. Since then, he always wore a

mask to hide his face.
Despite the collective attack of Shoji, Koda, and Present Mic, Spinner manages to break into the hospital. However, he is faced with the hospital staff interlocking their arms to create a barricade, a very motivating scene indeed.
However, Spinner isn't fazed and continues to march forward until he finally reaches where Kurogiri is kept. The chapter ends with Spinner and Mic marching toward Kurogiri as they yell his name.
---
My Hero Academia Chapter 372 release date
Like most of the manga released on Viz, My Hero Academia follows a weekly schedule as well. However, there is a break next. Therefore, Chapter 372 will be out on November 12th, 2022. Turns out we are back to seeing the growth and back story of other characters amidst the battle between Midoriya and Shigaraki. This time it is Koda and Shoji.
---
Where to read My Hero Academia Chapter 372
Given MHA's popularity, the manga is readily available on most of the official platforms to read and purchase. You can read the manga of Viz Media and Mangaplus by Shueisha. Both platforms have their own app too. Therefore, choose whichever mode of reading is comfortable for you.
They maintain a chapter schedule calendar and allow you to access most of the ongoing manga free of cost (three latest chapters). Additionally, plenty of private offers MHA to read as well.
Now that we have covered all the available spoilers of My Hero Academia Chapter 372, we shall conclude the article. We cover spoilers of various other popular anime and manga, so feel free to check them out.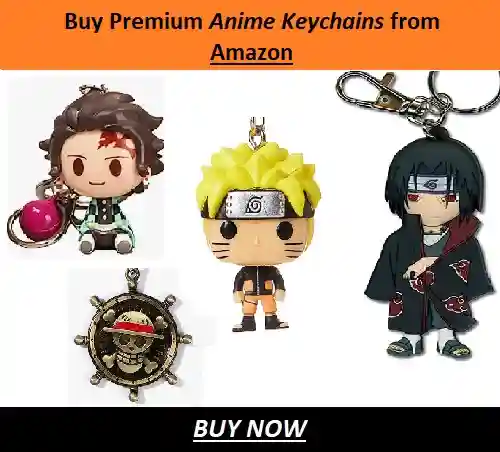 ---
Do small things with great love.
Follow us on Twitter for more post-updates. 
Also read-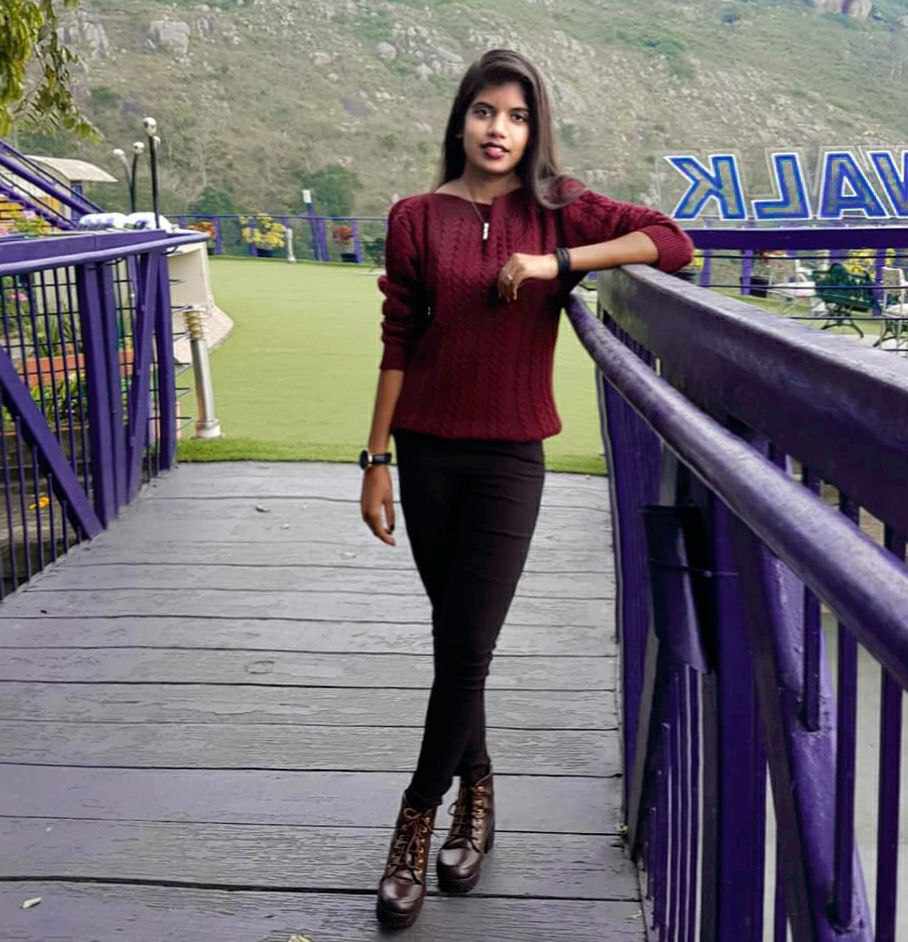 Starting off with love for medicine and plans for pursuing it, I found myself drawn to a mismatched career in Hospitality & Tourism. Little did I know that my passion and love for literature had always been by my side. Therefore, here I am now, sharing my words on multiple amazing platforms, one of which is Otakus Notes. What better way to put my abundance of love and knowledge of anime, manga, k-drama and webtoons, to use!