Anime aka Japanese animation are becoming quite popular all around the world. There are millions of anime fans and the numbers keep growing. There are thousands of different anime, but the problem lies around the fact that there are very few good sources from where people can watch and stream anime shows.
Recently a renowned anime streaming website called AniWatch has been taken offline. So, what exactly happened to it, and will it return? Today here in this post we will be going through the shutdown story of Aniwatch and also recommended some Aniwatch alternatives.
AniWatch Shuts Down –
On February 28th, messages started to circulate about the shutdown news of the AniWatch on different social media platforms.
When you will now visit the Aniwatch website it is not working now, and you will be greeted with a lengthy message about why AniWatch has been taken offline with the title "The time has arrived." Below is the complete official statement:
You can guess what we are going to say now, but don't worry, you are partially wrong.

In the past few months, Aniwatch has been struggling to keep up, mainly due to money problems and a few small server outages.
As of now, Aniwatch has reached its limits, and sadly, we can no longer provide this service like we used to.

The closure of our registrations back at the beginning of 2021 was one way to try to deal with this issue, but as you can see, our idea turned out to be a failure.

This is a hard decision to make for our entire staff as we built an amazing community, and we tried everything to keep this from happening, but we simply ran out of ideas.

We got a lot of suggestions saying that we should add ads. People said that they would rather have Aniwatch with ads than no Aniwatch at all.
While this certainly is a great point, it is something we won't resort to.

We did not create Aniwatch to fill the greed of privacy intruding companies.

Aniwatch's closure is not a definite decision. Our staff needs some time to figure things out.
However, while we figure things out, we can no longer be there for you.

As for the anime lists, we are currently working on an export feature.
More information about that in a few weeks.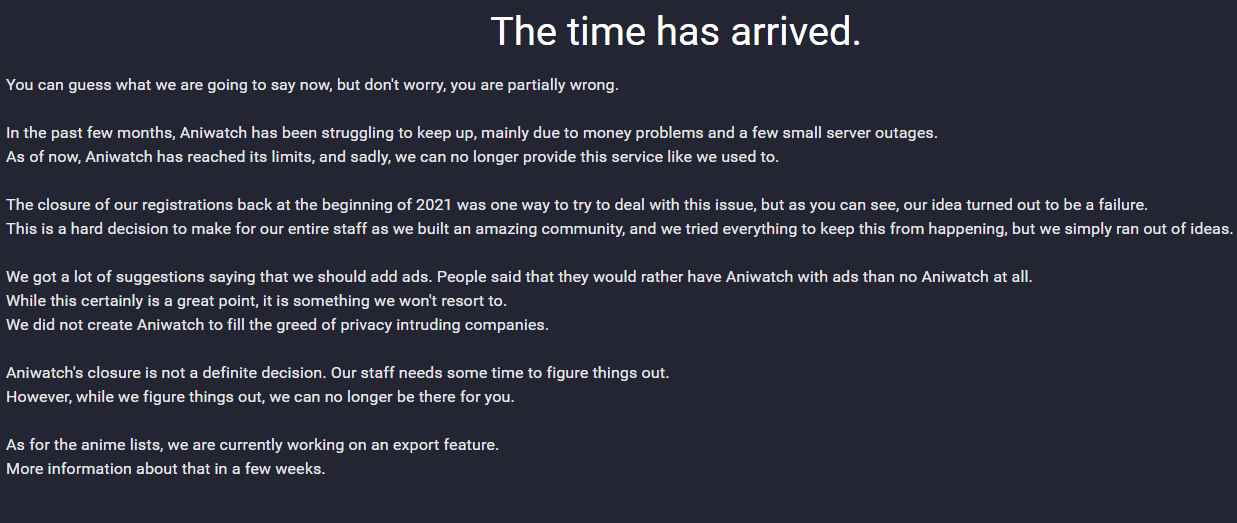 AniWatch Future: Will it return?
Well, there is no confirmation about the return of the Aniwatch, but there are chances that it could return in the future.
As per the 2nd, last paragraph of the official statement above "Aniwatch's closure is not a definite decision. Our staff needs some time to figure things out." There is a chance that AniWatch might arrive in the future. So, nothing can be said at this point. However, we hope for positive news from the Ani Watch in the future.
AniWatch officials have also issued a notice about the fake or phishing websites that might use the brand's name to entice its users. Below is the complete statement:
"Aniwatch.me is our one and only domain. Don't be fooled by websites or apps pretending to be us. You will find every information about our current situation right here on Aniwatch.me and NOWHERE ELSE." – Aniwatch
AniWatch Alternatives 2021 –
Well, as the Aniwatch has been taken offline and there are no words about its return. So, you might want to try out alternatives to AniWatch for streaming and watching your favorite anime shows. Below we have listed a few alternatives of AniWatch.me.
AniMixPlay
Simplyaweeb.com
AnimeTwist (twist.moe)
GoGoanime.so
KissAnime.ru.net
MasterAni.me
AnimeTribes
DubbedAnime
Animeheros
YugenAnime
Funanime
Animecrew
Animeowl.net
So, that's all for now folks. We will be updating this post as and when any news or other update about AniWatch arrives. Stay tuned!
---
Follow us on Twitter for more post-updates.
Also Read-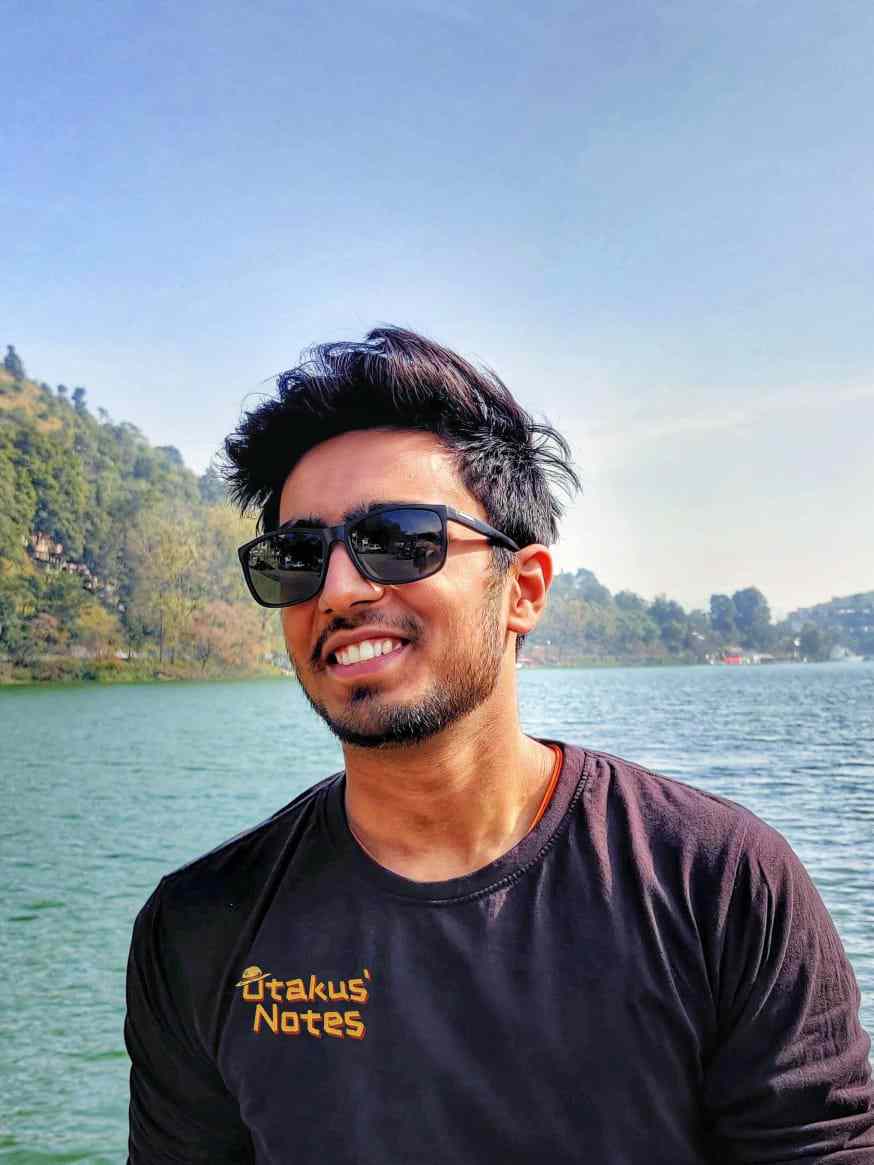 Engineering edified me dreams' propelling. And being an Otaku, a superlative dream of mine engulfs experiencing anime to its deepest quintessence and inditing my perspective towards it. Ultimately, anime blogging carved a path towards my desire and made me stand up to you.