This post is updated based on new information.
The genre of sports anime has been in the mix for a long time. However, they haven't been able to make a strong breakthrough among the other popular genres. Some of them, like Inazuma Eleven, Yuri on Ice and Captain Tsubasa, have made the cut but failed to reach the top and gain that massive popularity. Haikyuu has been the exception in this case, and this sports anime has seen itself rise through the ranks in recent years and gain a worldwide fanbase.
Haikyuu is a volleyball based series created by Haruichi Furudate. It follows the story of Shoyo Hinata as he goes along his journey of becoming the best spiker in the nation despite his short stature. Along with the series, we have seen Hinata's team take on many powerful opponents who have even managed to outwit them on multiple occasions. In this article, we are going to rank the top 20 best players in Haikyuu based on their skill level and game sense.
Top 20 Best Players in Haikyuu
20) Takeru Nakashima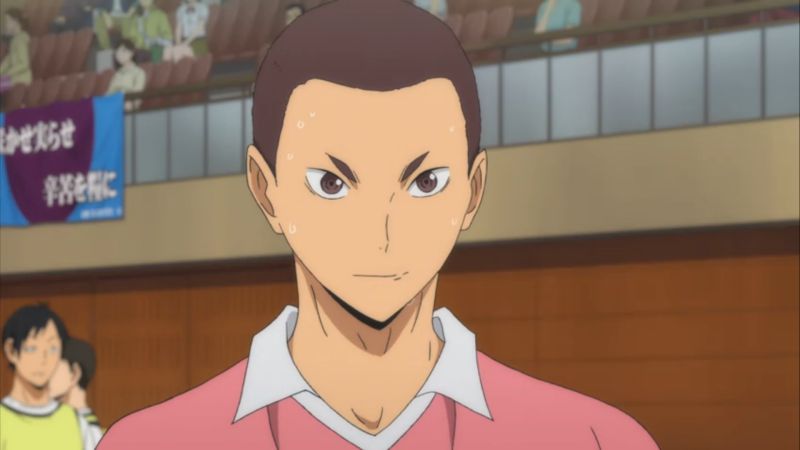 Takeru was a third-year student at Wakutani Minami and the captain of their volleyball team. His position in the team was that of an outside hitter, but he later switched to a libero after passing out of school. His best feature is his ability to change the angle at which he spikes the ball every time, leaving the blockers guessing. He can also bounce them off their hands and score easy points.
---
19) Tsutomu Goshiki
Goshiki played as a wing spiker for Shiratorizawa Academy. It wasn't easy for someone to play under the shadows of Ushijima Wakatoshi but he overcame that and was the next in line to become their team's ace which speaks volumes about Goshiki's talents as a player.
He could dominate his opponents with his powerful jump serve but his most powerful shot was his "super straight" spike.
---
18) Kei Tsukishima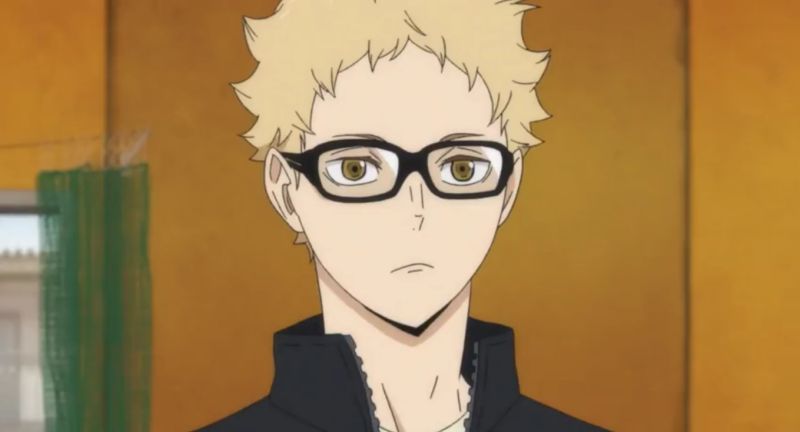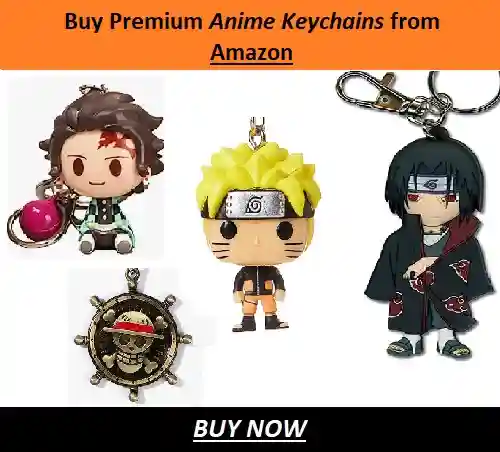 The first player from Karasuno Volleyball team to feature in this list is their humongous middle blocker Kei Tsukishima. From playing volleyball just as a sport to being completely immersed in it, Tsukishima came a long way and had one of the best character developments in the story.
He had an amazing game sense and could read the game perfectly. Along with his tall stature and tactical intellect he grew to be one of the best players in Haikyuu and was even able to block Ushijima's powerful spike.
---
17) Aone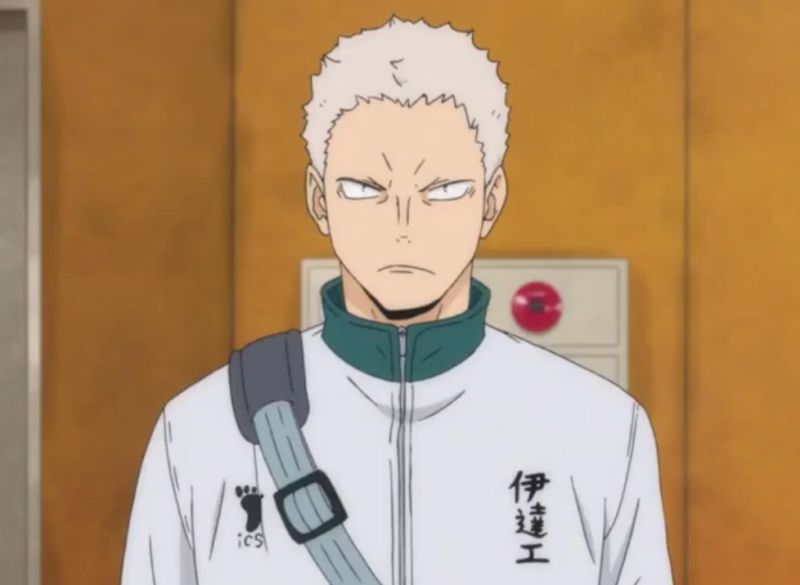 Aone was introduced in the initial parts of the series as a giant terrifying player who was almost impossible to get past. He used to play as a middle blocker for Date Tech and was one of the main players behind their "Iron Wall" defence.
His defensive capabilities were at the next level and spikers found it extremely hard to score against him. We further got an example of his ruthlessness when he made Karasuno's Asagi leave volleyball after failing to score even a single point against him.
---
16) Toshiro Heiwajima
The first libero to make an appearance in this list is Toshiro. He played for Schweiden Adlers which was a division 1 team in Japan's volleyball league.
Although we have seen very little of him he has proved his capabilities within that short period to make a place in this rankings. He denies his opponents from scoring quick points with his heightened reflexes and skilful agility.
---
15) Motoya Komori
Another libero follows Toshiro in this rankings in the form of Motoya Komori. Standing tall at 180cm he is the tallest in the series and one of the best in his roles.
He used to play for Itachiyama Institute who were the favourites to win the nationals. He is famous for his defensive skill set with receiving and setting being his two strong points.
---
14) Rintaro Suna
A middle blocker from Inarizaki High School makes his way into 14th place in this list. He is usually a quiet person who carefully analyzes the games before making his accurate moves to block the opponent ace's spikes and score important points for his team.
Despite being comparatively short as a middle blocker he made up for it with his sharp game sense and wide range spike.
---
13) Yudai Hyakuzawa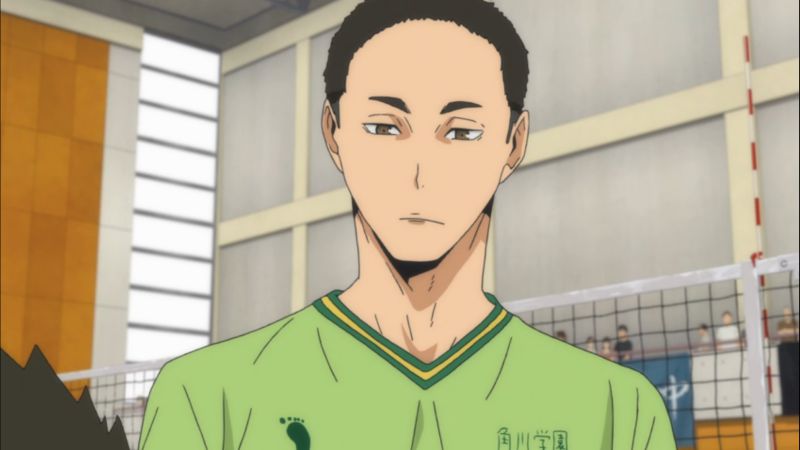 Yudai used to play as a wing spiker for Kakugawa High. However, with a height towering over 200 centimetres he was better suited to be an imposing middle blocker.
As a result, after passing out of school he became a middle blocker for Japan Railway Warriors. Although due to being new to volleyball he couldn't make complete use of his strength, he went about scoring through spikes and return serves.
---
12) Wakatsu Kiryu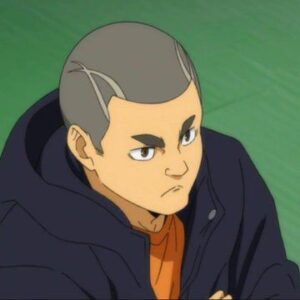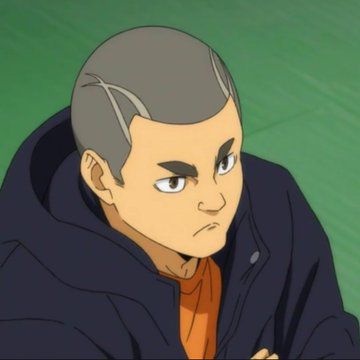 Kiryu was a third-year student at Mujinazaka High where he was the wing spiker for their volleyball team. In addition to this, he was also their ace and captain and one of the top 3 aces in the country like Wakatoshi.
He loves to over analyze the plays which is like a double-edged sword for him. In the case of gameplay, his incredibly powerful jump serve combined with his strong and skilled spike makes him a formidable opponent against any team.
---
11) Morisuke Yaku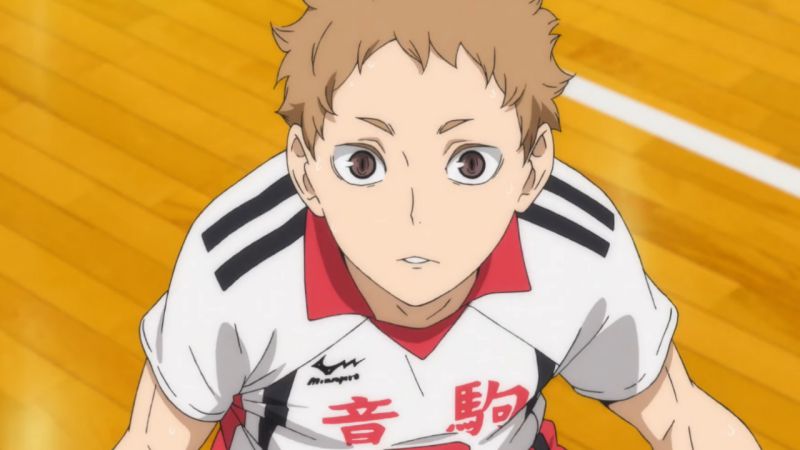 Morisuke used to play as a libero for Nekoma Volleyball Club. His swiftness and intelligence as a libero earned him a call up to the Japanese National Volleyball team.
Despite being a short-statured guy, he was quite athletic when it came to volleyball. His skills were similar to Nishinoya and he had a keen sense of receive. Although he was not a popular figure, his defensive prowess earned him the nickname of "Guardian" of Nekoma's defence.
---
10) Goa Hakuba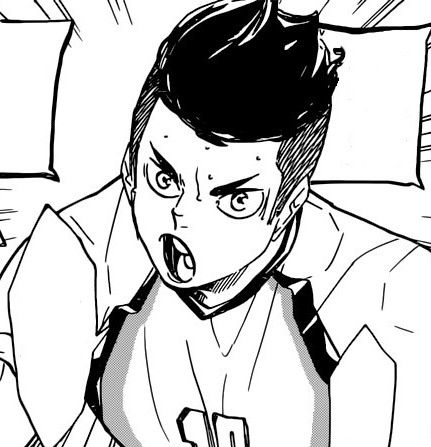 A towering Goa Hakuba takes the 10th spot in this list with an impressive height of 203.3 cm. Similar to Yudai he used to play as a wing spiker before switching to a middle blocker after passing out of school.
His advantage in terms of height makes him stand out against other players. As someone equally adept in offence and defence, Hakuba was one of the formidable players of Kamomedai who posed a big threat for Karasuno.
---
9) Aran Ojiro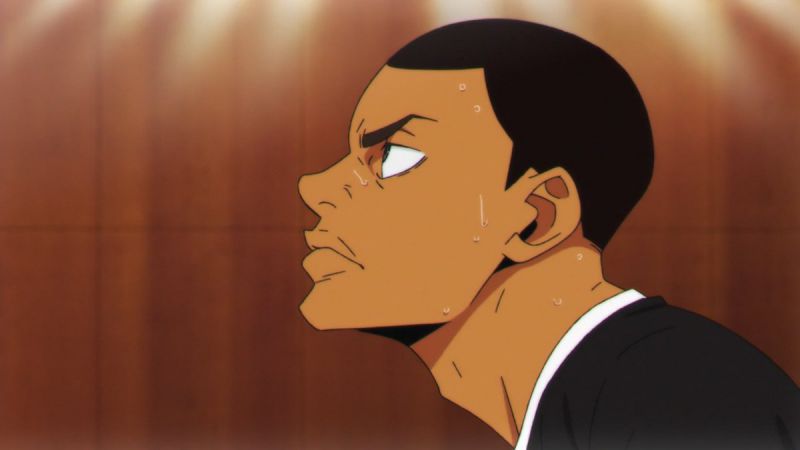 A third-year student at Inarizaki High School, Aran Ojiro was one of the top 5 aces in the country. With his powerful jump serves Ojiro is known to terrorise opposition defences and score service aces at will.
He can blast through a three-man defence with his brute strength which is quite similar to Ushijima. In addition to being such a fearsome attacker, Aran is also sorted with his defensive responsibilities as he can make receives even on difficult shots.
---
8) Korai Hoshumi
Hoshumi used to play as an ace for Kamomedai High Volleyball Team. Similar to Hinata, he overcame the disadvantage of his short height and grew into a highly-skilled player. With a strong build and calm presence on the court, he is known to react at lightning-fast speed to the serves of his opponents and score counterpoints.
Moreover, he has excellent all round skills with impressive serving, receiving, setting, blocking and spiking. This makes him a really versatile player who can play in a variety of positions.
---
7) Bokuto Kotaro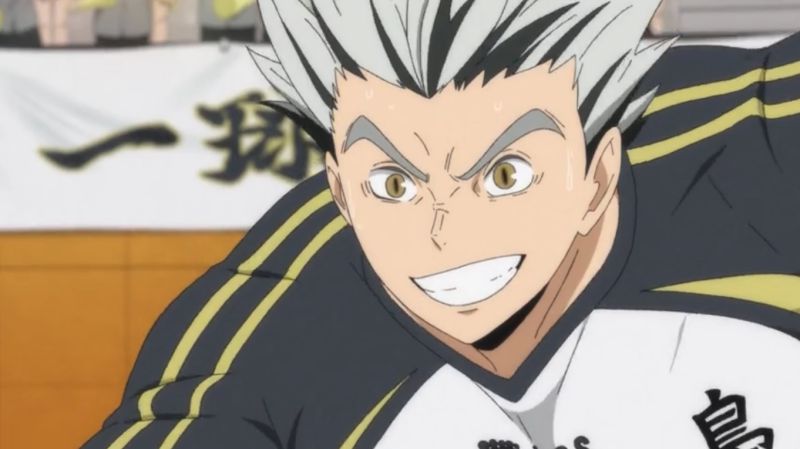 Bokuto was a third-year student at Fukurodani Academy along with being their volleyball team captain and ace. Bokuto was renowned as one of the top 5 aces in the country and just missing out on the top 3.
He has a laidback and cheerful personality which perfectly suits his playing style. His main asset was his cross spike but he later developed his straight spike to the point that opponents found it difficult to even touch it. In addition to this, he had a great serve and receive in his arsenal making him a complete player.
---
6) Shoyo Hinata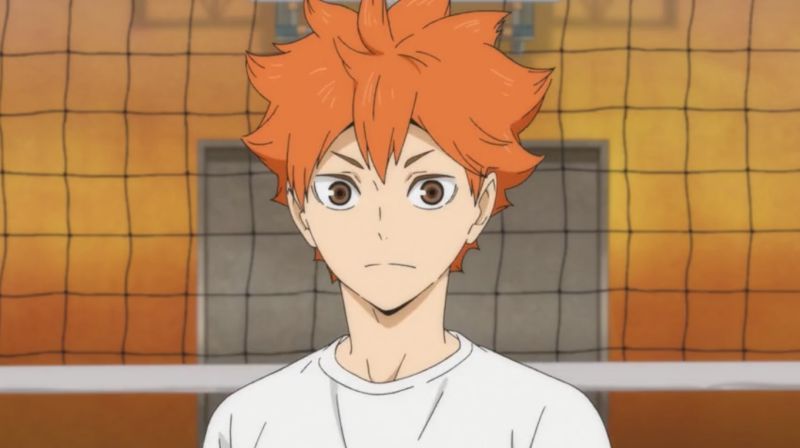 The protagonist of this story takes 6th place in the rankings and barely misses out on the top 5. Initially, Hinata used to struggle a lot due to his height but with an insane jumping ability and lightning reflexes, he has continued to surprise people throughout the series.
He even improved his overall game in the course of the story without focusing solely on his spiking abilities. Hinata's strongest asset is to be the ultimate decoy for his team due to his speed and agility which allows other players to score comfortably.
---
5) Atsumu Miya
Japan's best high school setter and server takes up 5th place in this rankings. Playing as a setter for Inarizaki High, he led his team on to many brilliant victories. He can provide perfect tosses for his team's ace which is a very difficult task.
His impressive abilities as a setter which is the most important position for any team makes him a formidable volleyball player. He can also co-ordinate well with his teammates and make them perform better than their usual self.
---
4) Kiyoomi Sakusa
The ace wing spiker for Itachiyaama institute occupies 4th place in the rankings. In spite of being only in the second year, he is among the top 3 aces in the nation while the other two are third years.
This speaks volumes about Sakusa as a player and his technical abilities as a spiker. He excels both in offence and defence with his heightened game sense and powerful jumping capabilities. His best asset is his flexible wrists that can add some unique spins to his spikes and serves.
---
3) Kageyama Tobio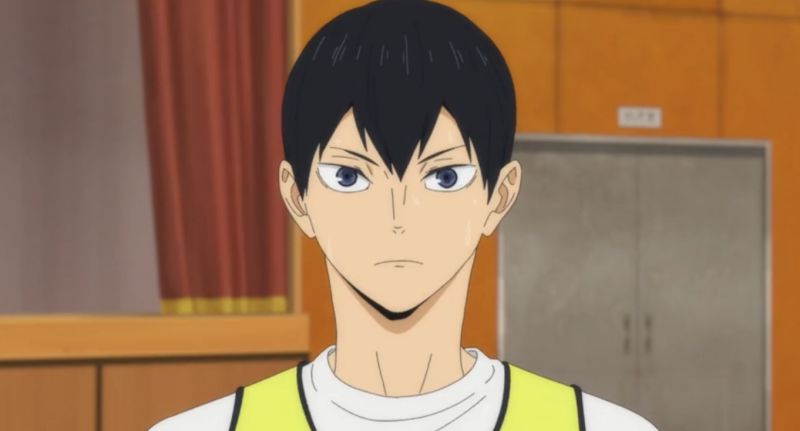 It is of no surprise to see the King of the Court Kageyama Tobio to be so high up on the list. Kageyama was a prodigy with a natural gift for volleyball. He is a technically gifted setter with an innate ability to make any spiker play to his full potential.
His best ability was his pinpoint tosses of the ball that made it easier for the spiker to hit it with full force. The way Kageyama combined with Hinata and improved his overall skill further establishes his talent and his excellent teamwork.
---
2) Ushijima Wakatoshi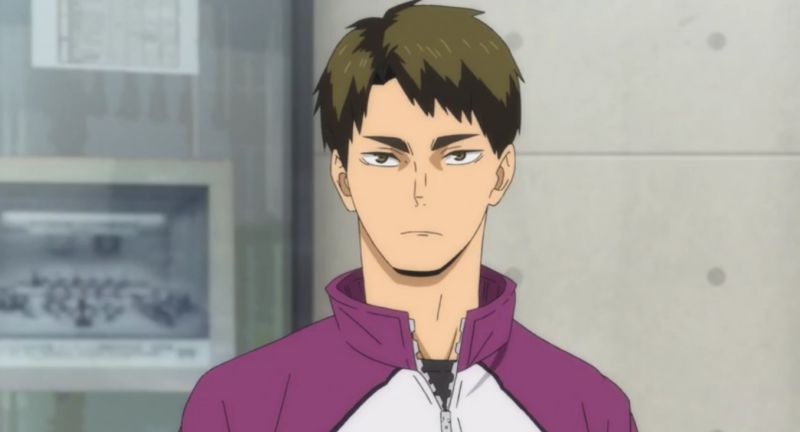 Wakatoshi was a third-year student in Shiratorizawa Academy. He was the best ace in Miyagi Prefecture and also one of the top three aces in the country. He had been shown as the most ferocious player since the initial stages.
He had the potential to carry his team to the top all by himself. With a large build, his best strength was the fact that he spiked the balls with his left hand. The sheer power in his shot and the direction of it left the opponent team confused and made scoring easy for Wakatoshi.
---
1) Oikawa Toru
The tactical master of this volleyball game, Oikawa Toru takes the number 1 spot in the rankings. He is famous throughout the country as the ace setter and even better than his fellow setters Kageyama and Atsumu.
He used to play as a setter for Aoba Johsai and was also their captain. Oikawa's game sense was one to envy as he was an expert in finding a weakness in his opposite team and target it continuously.
Although he was never considered a genius like Kageyama, his natural athletic ability and powerful jump serve were enough to make him the best player in the series. He used to analyze his opponents' plays and come up with a strategy quickly enough to disrupt their flow.
Must Read – (2021) Top 10 Best Haikyuu Ace Ranked
---
This concludes our rankings of the top 20 best players in Haikyuu. As the series is filled with talented players one above the other this list was quite difficult to make. Ushijima had the strongest case for the number 1 spot in the list but Oikawa's game sense and overall abilities keep him just ahead of Ushijima. We will be back soon with another top 20 article. Stay tuned with us till then.  
---
Follow us on Twitter for more post-updates. 
Also Read-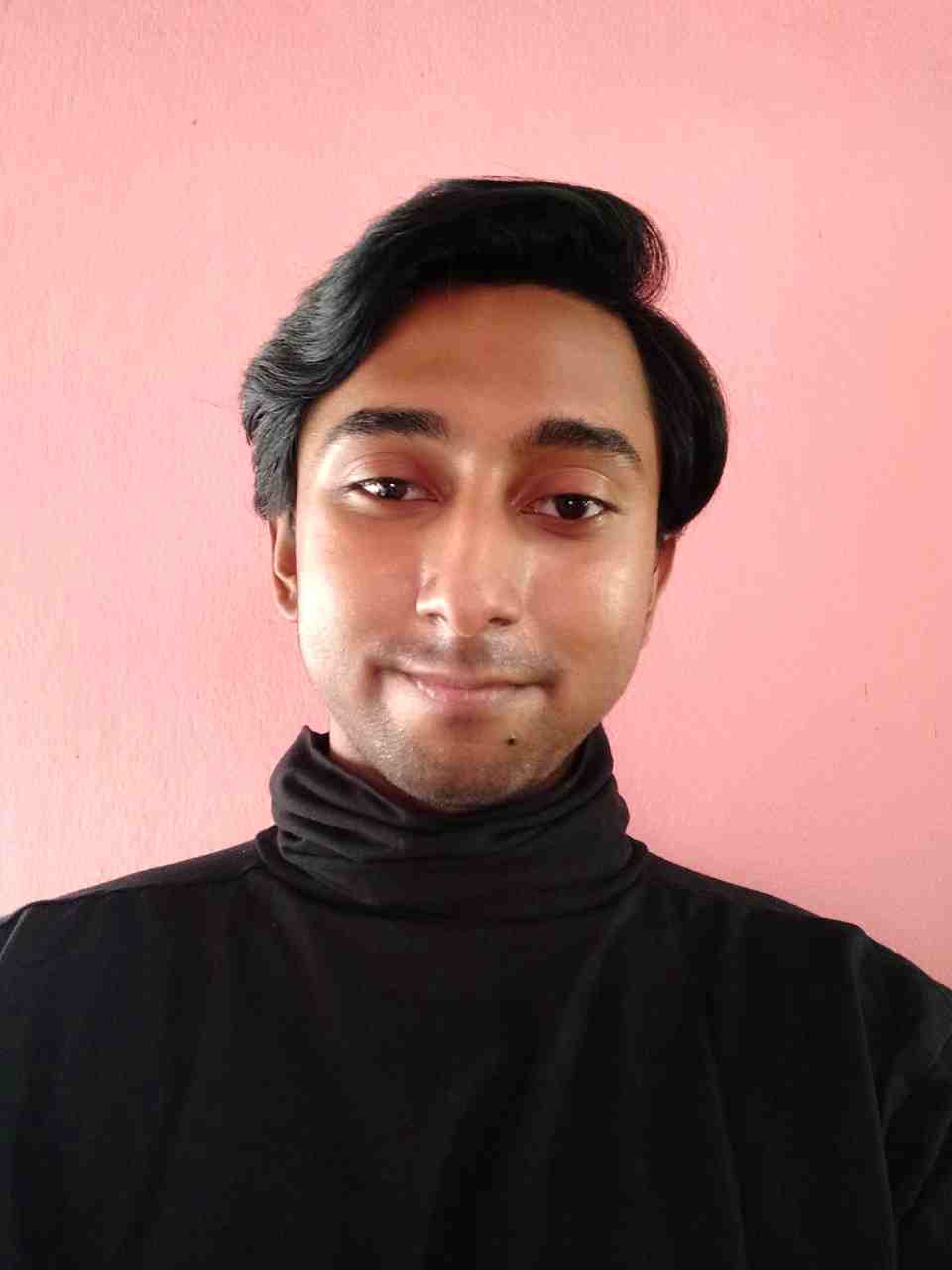 Life took a sudden turn for me when I finally decided to watch Kimi no nawa & Clannad. While both of them made me cry and introduced me to this vast world of anime. The Anime and Manga world is an escape for me from this complicated real world and serves as a relief. Being a content writer for OtakusNotes still feels like a dream and has been one of the best things to happen to me this year. It has been a productive distraction for me and I am loving every moment of it.