Fan service in anime can be a controversial topic. While some find them unnecessary, there are also some who enjoy that aspect of an anime. There are numerous anime of various genres which feature erotic and provocative scenes, and a lot of them are now available on different streaming services.
We've gathered 15 such anime with copious amounts of fan service and an interesting plot to go with it, which are now available on Hulu. We've ranked these anime based on their IMDb ratings. So, without further ado, let's take a look at 15 hot fan service anime on Hulu with interesting plots.
Fan Service Anime on Hulu
15) Monster Musume: Everyday Life with Monster Girls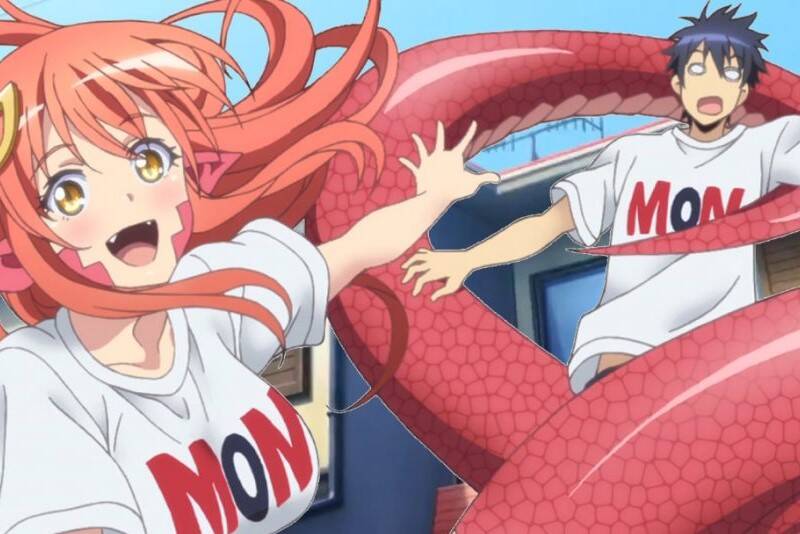 In a world where mythical creatures like mermaids, centaurs, harpies, and lamias exist and are known as "liminals", and their existence has been exposed to the general populace three years prior to the story.
High school student Kimihito Kuruse finds himself giving shelter to a liminal girl called Mila who has been left at his doorstep by mistake. Soon, he meets other liminal girls of different species and ends up with them living in his house.
IMDb Ratings: 6.6
No. of Episodes: 12
Genre: Comedy, Fantasy, Romance, Ecchi, Harem
Studio: Lerche
---
14) The Asterisk War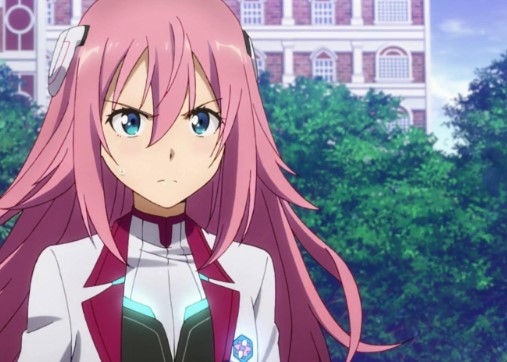 After an impact event named Invertia destroyed the majority of Earth's cities and caused humans to gain superpowers to become Genestella, six special academies participate in a battle tournament called Festa in a city called Rikka or Asterisk.
One such academy is the Seidoukan Academy, where the protagonist, Ayato Amagiri, ends up getting admission after he comes to the academy to search for his missing sister and gets into a fight with Julis-Alexia von Riessfeld, the princess of Lieseltania.
IMDb Ratings: 6.8
No. of Episodes: 24
Genre: Action, Comedy, Fantasy, Romance, Sci-Fi, Ecchi, Harem
Studio: A-1 Pictures
---
13) Aesthetica of a Rogue Hero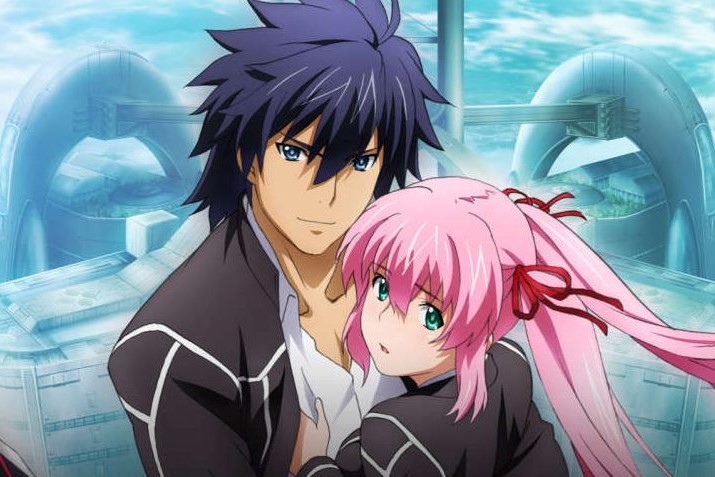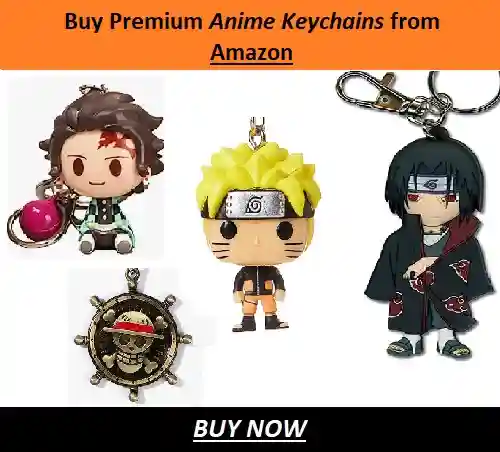 "Samon Effect" is a mysterious occurrence where young people from Earth are transported to a parallel magical world. Few people have returned from that world, but whoever did has kept their superpowers.
Akatsuki Ousawa is one such teenager who was transported to the magical world and came to be known as the "Rogue Hero." He returns to Earth with Miu, the daughter of the demon lord he defeated in battle.
The duo then enrolls in Babel, a school founded to train these super-powered individuals, but there are many things going on in Babel under the shadows.
IMDb Ratings: 6.9
No. of Episodes: 12 + 7 Specials
Genre: Action, Fantasy, Ecchi, Isekai
Studio: Arms
---
12) Is This A Zombie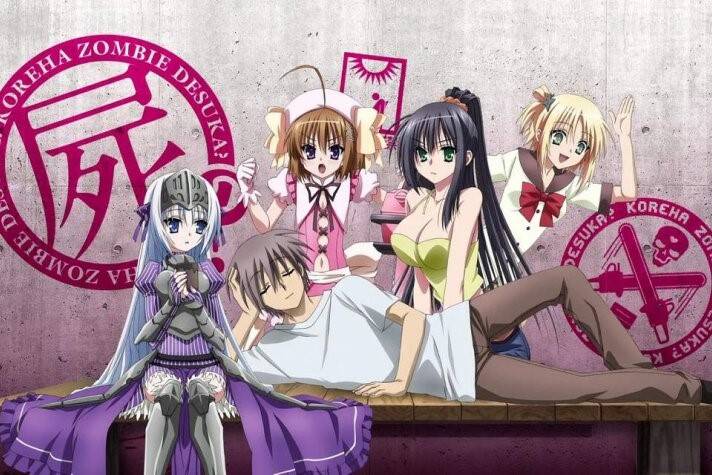 After getting murdered while investigating a suspicious house, Ayumu Aikawa is revived by a necromancer named Ecliwood Hellscythe, subsequently turning him into a zombie.
While hunting for his murderer, he ends up stealing powers from a magical girl called Haruna and is forced to become a magical girl himself and fight Megalo. Now, he lives in this absurd world, all the while trying to uncover the mystery of his death.
IMDb Ratings: 6.9
No. of Episodes: 22
Genre: Action, Comedy, Supernatural, Ecchi, Harem
Studio: Studio Deen
---
11) Rosario + Vampire
In Youkai Academy where all the students are monsters, and any human found on the school premise is to be executed.
Tsukune Aono, a teenager with horrible grades, enrolls in Youkai Academy without knowing its true nature and meets Moka Akashiya, the prettiest girl in the school. Instantly smitten by her, Tsukune is unaware of her being a vampire.
IMDb Ratings: 6.9
No. of Episodes: 26
Genre: Comedy, Fantasy, Romance, Ecchi
Studio: Gonzo
---
10) Date A Live
When a spatial quake, which is an earthquake of unknown origin, threatens to destroy Tengu City, Itsuka Shidou searches for his younger sister Kotori to ensure her safety but finds an unknown girl at the source of the quake.
The girl turns out to be a spirit and is hunted by an anti-spirit group while being protected by another group, led by Kotori, trying to save the spirits. Itsuka is drawn among all these by his sister and is forced to date the anti-spirit girls to charm them into harmlessness.
IMDb Ratings: 6.9
No. of Episodes: 46
Genre: Comedy, Romance, Sci-Fi. Ecchi, Harem
Studio: AIC PLUS+
---
9) Haganai: I Don't Have Many Friends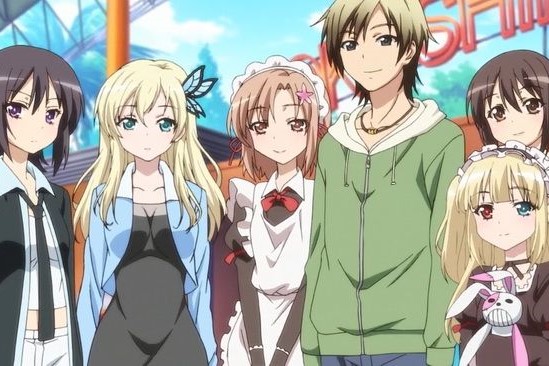 Loner teenager, Kodaka Hasegawa's hope of finally finding friends in his new school, is quickly extinguished when he is immediately labeled as a delinquent for his blond hair and scary expression.
Still a loner after a month in school, Kodaka finds another loner like himself: a girl named Yozora Mikazuki, whom he finds speaking to her imaginary friend in an empty classroom. In hopes of making friends, Kodaka and Yozora start the Neighbor's Club, which is soon joined by many new members.
IMDb Ratings: 7.0
No. of Episodes: 24
Genre: Comedy, Romance, Ecchi, Harem
Studio: AIC Build
---
8) Bokuben: We Never Learn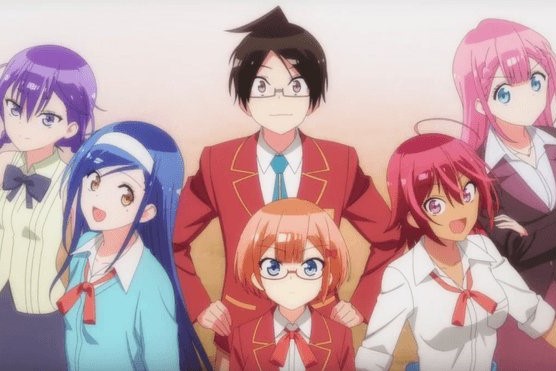 To secure a university scholarship, Nariyuki Yuiga tutors three genius girls, Rizu Ogata, Fumino Furuhashi, and Uruka Takemoto, on their worst subjects.
The girls slowly fall in love with Nariyuki while working on their academics together with him. They are eventually joined by Mafuyu Kirisu, a teacher, and Asumi Kominami, a national medical university aspirant.
IMDb Ratings: 7.0
No. of Episodes: 26
Genre: Comedy, Romance, Ecchi, Harem
Studio: Silver, Arvo Animation
---
7) Arifureta: From Commonplace to World's Strongest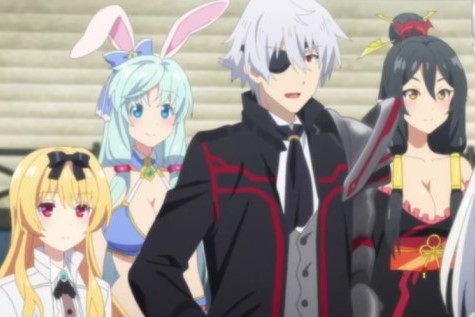 The life of Hajime Nagumo, a 17-years old otaku, is turned upside down when he and his classmates are transported to a magical world and given special powers.
Unlike his classmates, Hajima gains a harmless transmutation power and is mocked and betrayed, falling to the bottom of an abyss where he meets an imprisoned vampire, whom he names Yue, and attempts to escape from the abyss with her, all the while steadily becoming a powerful man.
IMDb Ratings: 7.1
No. of Episodes: 25
Genre: Action, Adventure, Fantasy, Ecchi, Harem, Isekai
Studio: asread, White Fox
---
6) Sekirei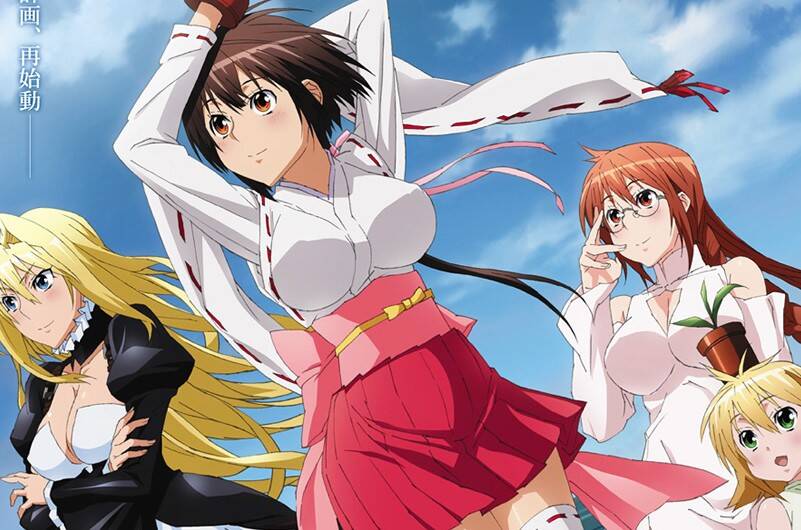 After failing the college entrance exam twice, Minato Sahashi's future looks bleak until one day, a beautiful woman named Musubi falls from the sky and kisses him.
Musubi is an extraterrestrial being called Sekirei with superpowers, and by kissing Minato, she awakens the latent powers in him, all the while dragging him into the turbulent world of Sekirei, where Minato is forced to fight against other Sekirei with his new partner.
IMDb Ratings: 7.3
No. of Episodes: 25
Genre: Action, Comedy, Ecchi, Harem
Studio: Seven Arcs
---
5) Highschool of the Dead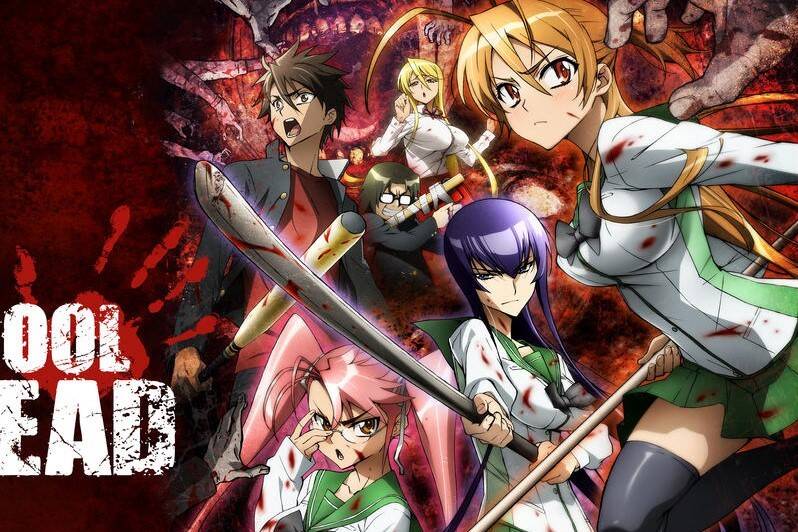 When the dead begin to rise again all over Japan and attack a high school, the lives of the students are thrown into chaos.
Takashi Kimura, a teenager, is forced to kill his best friend after the latter is bitten by a zombie and escapes into the fallen society with Rei Miyamoto, the girlfriend of Takashi's best friend. They are soon joined by others in their fight against the undead.
IMDb Ratings: 7.3
No. of Episodes: 12
Genre: Action, Horror, Supernatural, Ecchi
Studio: Madhouse
---
4) Danmachi: Is It Wrong to Pick Up Girls in a Dungeon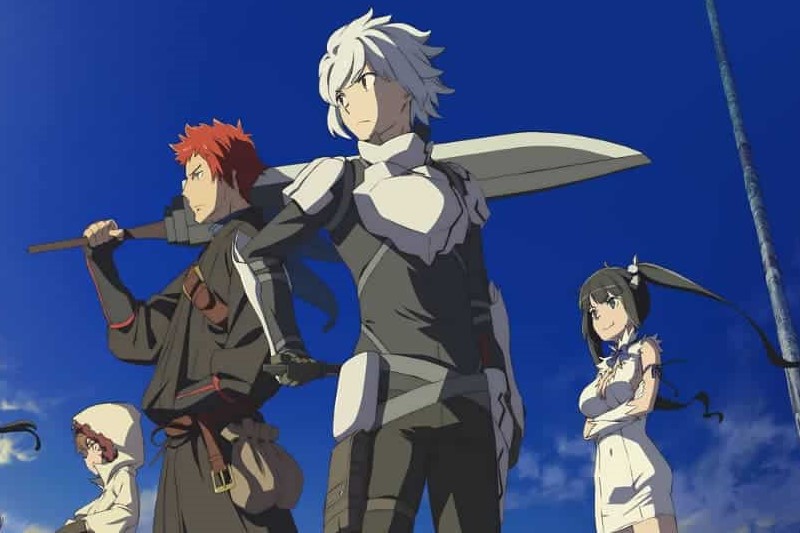 In the adventurer city of Orario, Sword Princess Ais Wallenstein and novice mage Lefiya Viridis, members of an adventurer guild called Loki Familia, travel to the Babel tower where dangerous monsters dwell.
The dungeon will bring both the girls closer to their dreams: Ais' dream of mastering her sword skills and Lefiya's dream of succeeding Riveria Ljos Alf, the strongest mage in the world.
IMDb Ratings: 7.4
No. of Episodes: 48
Genre: Action, Adventure, Fantasy
Studio: J.C.Staff
---
3) Prison School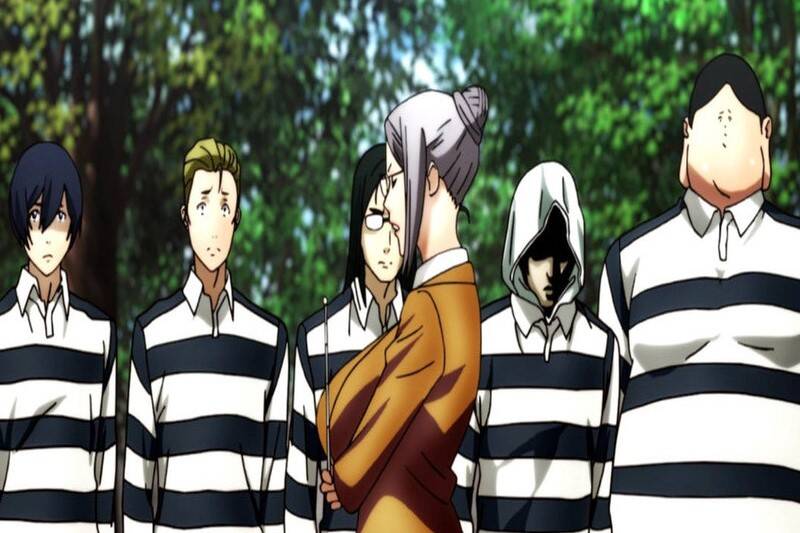 When a revision of rules enables boys now to enroll in Hachimitsu Private Academy, an all-girl school famous for its education and discipline, five boys are accepted for the first semester as students.
Unable to communicate with their female classmates, the boys try to peep into their bath, only to be taken and imprisoned for a month by the underground student council, thus beginning their journey in Prison School.
IMDb Ratings: 7.6
No. of Episodes: 12
Genre: Comedy, Romance, Ecchi
Studio: J.C.Staff
---
2) High School DxD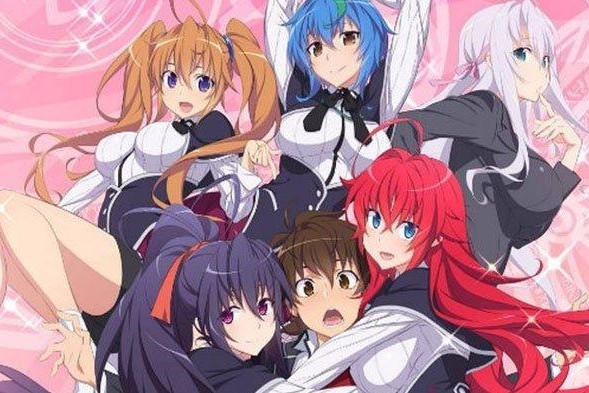 Perverted high school student Issei Hyoudou's dream comes true when a beautiful girl asks him on a date, only to be revealed as a fallen angel and killing him.
He is revived by Rias Gremory, his beautiful upperclassman who is actually a devil, to be her servant, and is recruited into their school's Occult Research Club. Now Issei must train to become stronger while being surrounded by beautiful women with whom he often finds himself in risque positions.
IMDb Ratings: 7.6
No. of Episodes: 48
Genre: Comedy, Romance, Supernatural, Ecchi, Harem
Studio: TNK
---
1) Kill la Kill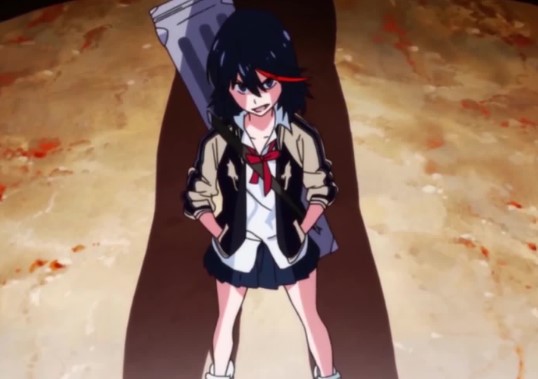 Ryuuko Matoi is searching for his father's killer with only one lead: the missing half of Scissor Blade, an invention of his. In her search, Ryuko comes to Honnouji Academy, which is ruled by the student council president, Satsuki Kiryuuin, with her underlings called the Elite Force.
This force gives Goku Uniforms, special costumes which grant the wearers superpower, by Satsuki. After being defeated by them, Ryuuko finds a special costume for herself called Senketsu, which awakens after coming in contact with her blood.
IMDb Ratings: 7.9
No. of Episodes: 24
Genre: Action, Comedy, Ecchi
Studio: Trigger
Plots are the most important aspect of an anime, and they serve as the most attractive quality of the show. The fan service in these certainly doesn't hurt, either. With this, we conclude our article of 15 hot fan service anime on Hulu with interesting plots.
---
Do small things with great love.
Follow us on Twitter for more post updates.
Also Read:
Anamika loves words and stories and putting them to pages. She also loves anime, manga, books, movies and everything fantasy. She has been a fan of anime since childhood and her admiration for it only grew with years. Her passion for writing is even more elevated by writing about the things she loves.