Last updated on January 4th, 2023 at 12:35 am
Natsuki Takaya's Fruits Basket is a slice-of-life anime that tells us the story of an orphaned and homeless girl Tohru Honda when she accidentally discovers Kyo, Yuki, and Shigure's house in the middle of the woods. Tohru learns that they belong to the Sohma family. The thirteen family members were possessed by the Chinese Zodiac animals, making it a curse.
Tohru becomes the key to breaking their decade-old curse. Various mysteries about the Sohma family unfold with the introduction of the more exciting and twisted members.
Fruits Basket was first published in 1998 and ran till 2006. After touching the hearts of many fans, the manga was adapted into anime series in 2001 with 26 episodes. It also inspired Takaya to create sequel series called Fruits Basket Another in September 2015 and a spin-off series called The Three Musketeers Arc in April 2019.
Due to Fruits Basket's undying popularity, the anime was re-booted. It had three seasons in total and aired from April 2019 till June 2021. After getting such consistent and quality content about this tremendously loved anime, we couldn't help but bring you this list of Top 10 Best Fruits Basket female characters, ranked and discussed.
10) Mitsuru (Shigure's editor)-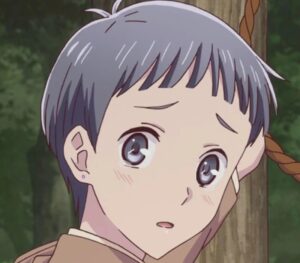 Age – not mentioned
Mitsuru is one of the best Fruits Basket female characters. She was introduced as Shigure Sohma's editor. She is a hardworking young woman with severe anxiety issues.
Even her first entry in the series showed her screaming and begging Shigure to come outside of his house and handover the manuscript; otherwise, she would obliterate herself.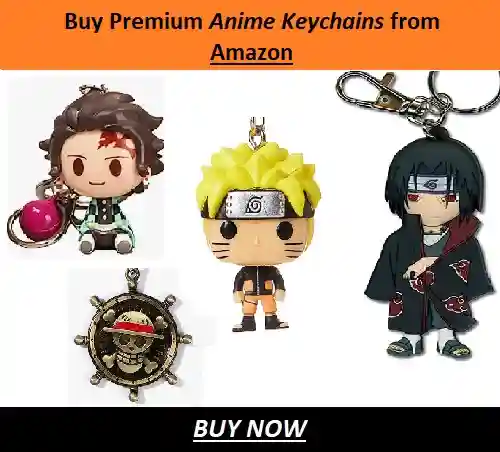 She is a significant source of entertainment and tease to Shigure and the audience. She was so done with her job and life due to Shigure's constant pranks that she was suicidal.
While she is shown to be nervous and fidgety, she is well aware of her flaws. She is determined to work hard and eventually find her purpose in life.
She is also shown to be a polite and caring person throughout the series. She is definitely the necessary character to add comedy and freshness to the Fruits Basket series.
---
9) Mayuko Shiraki (Tohru's Homeroom Teacher)-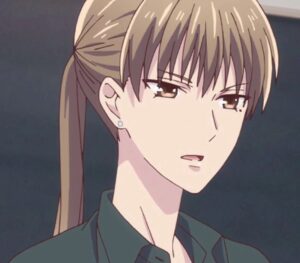 Age- 26~27
Mayuko Shiraki is shown to be a single young woman in her mid-20s with a bold, humorous and headstrong personality. She is Tohru, Kyo and Yuki's homeroom teacher.
She is shown to be a teacher who deeply cares about her students and always guides them, despite her blunt attitude. She also had some past connections with the Sohmas.
She was best friends with Kana, who was in love with Hatori Sohma. However, due to the Sohma family's curse and pressure, Hatori had to erase Kana's memory and cut ties with her. All this while, Mayuko hid her feelings for him for the sake of her best friend, which is pretty tragic.
It requires a lot of mental strength to go through this. Fans admired her mature and righteous personality.
---
8) Machi Kuragi (Treasurer of the student council)-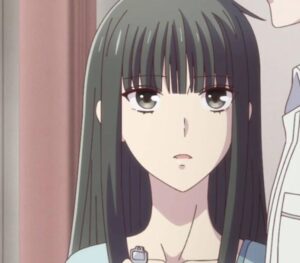 Age-16~17
Machi Kuragi is shown as an average teenage girl who sorrows from a harsh concussion due to her family issues. She is an emotionally detached, quiet, and stern girl who rarely spoke or expressed herself. Her eyes were portrayed to be lifeless, and she hated anything or anyone that was "too perfect."
Her concussion comes from her mother constantly abusing her mentally to be perfect and excel in everything. Regardless, she was perceptive and could see through many things that others couldn't.
That's why she was the only one who didn't see Yuki Sohma, the heartthrob and prince of their school, as someone special like everybody else did. She found him lonely and sad, instead which was actually the case.
This unbothered behavior of hers caught Yuki's attention, and he tried to befriend her.
Her journey of healing from her trauma and coming out of her shell with the help of Yuki is really remarkable and heart-touching. She eventually falls for Yuki, and they end up getting married later in the manga!
---
7) Kyoko Honda (Tohru's mother)-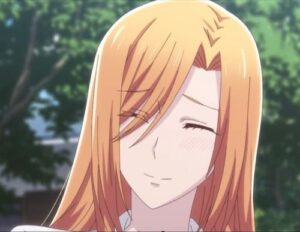 Age-33 (at the time of death)
Kyoko Honda is another tragic character in Fruits Basket. Despite being raised in a tainted household by self-centered and un-loving parents, she was a hard-working and loving mother to Tohru.
She taught her many things that shaped Tohru's positive, wise, and virtuous outlook towards life and people. Sadly, we only get to see Kyoko in flashbacks of Tohru's memories about her and a picture of her that Tohru treasures more than anything.
Kyoko is shown to have died during a car accident after a few years of her husband's demise, making Tohru a homeless orphan. Tohru mentioned multiple times during the series that her mother is the most important person in her life.
---
6) Kisa Sohma-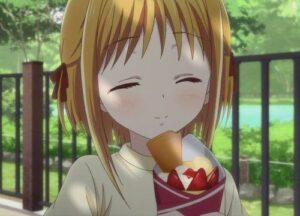 Age – 12~14
Kisa Sohma is the Tiger of the Chinese Zodiac of the Sohma family. She was bullied throughout her schooling years due to her golden hair, which was a side effect of the Zodiac curse.
This led her to develop trust issues and an inability to express herself. She became shy, introverted, and a quiet girl who was scared to even speak.
She is eventually helped by Tohru's kindness and acceptance which made her gradually come out of her shell, gain confidence and move on from her past trauma. Her character development is heart-touching and would make you shed some tears.
---
5) Kagura Sohma-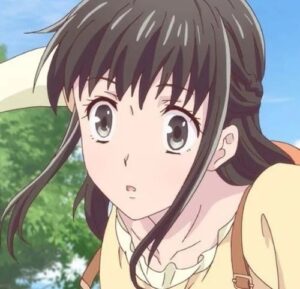 Age-18
Kagura Sohma is the Boar of the Chinese Zodiac of the Sohma family. She had a sad and lonely childhood due to the constant fights between her parents. The only person she confided in was Kyo Sohma.
She is shown to be the sweet, polite, and bright but immature girl who can turn destructive and fierce within seconds if triggered. She always had a hard time expressing and controlling her emotions which even led to beating up Kyo the second she found him away from herself due to her obsession with him.
She eventually realizes her issues and gives up Kyo when she understands that Tohru is the one whom he truly loves. She moves on from her past, and her personality softens towards the end of the series.
---
4) Saki Hanajima-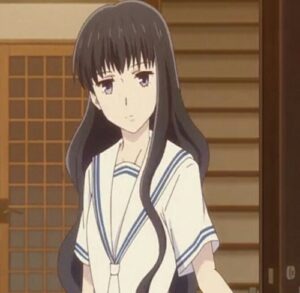 Age-16
Saki Hanajima is one of the two best friends of Tohru. She's your typical spooky, dressed in a black and mysterious teenage girl who is scary to everybody else. She is shown to be almost a psychic who can sense people's "waves and energies." She uses this ability to shield Tohru from the harm of other students.
Like most Fruits Basket characters, Saki also had a troubled past that shaped her personality to be scary, self-destructive, and dark. She often punished herself for every little thing that happened in her life.
Again, Tohru and Arisa helped her breakthrough of her self-harming and traumatized personality. She became an extremely caring and protective best friend to Tohru and also to Arisa.
---
3) Arisa Uotani-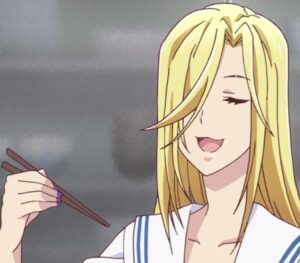 Age- 16
Arisa Uotani is the second best friend of Tohru, who cared about her more than even herself. She is shown to be a tall, cool, fun-loving, and bold teenage girl. She met Kyoko and Tohru during her middle school.
They helped her deal with her anger issues and violent behavior; that's why she's been very close with Kyoko and Tohru.
She and their other best friend, Saki Hanajima, swore on Kyoko's grave that they would protect, care for, and love Tohru. She was often shown to jump in head first, ready to fight if she sensed that Tohru was being bothered.
Her character was admirable and depicted everything that a true best friend should be. Her personality also added a lot of funny moments in the series.
---
2) Isuzu Sohma-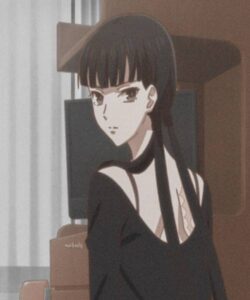 Age- ~17
Isuzu Sohma is considered one of the best female characters in Fruits Basket. She is the Horse of the Chinese Zodiac of the Sohma family.
She is shown to be a stubborn, blunt, and highly independent woman who could break people with her words. She had iron-clad walls built around and never let anybody in.
She was determined to break the Zodiac curse all by herself to go back to the love of her life, Hatsuharu Sohma. She despises kind-hearted and gentle people like Tohru because she finds them gullible, weak, and a burden to themselves.
This was because of her trauma and abuse from her parents, who treated her like a burden and eventually abandoned her.
Even though she hated it, she eventually broke down and opened up to Tohru. Over time, she moves on from her traumatic past, more so after the curse is finally broken and she can live a happy life with Hatsuharu. Her character development is well written and realistic.
---
1) Tohru Honda-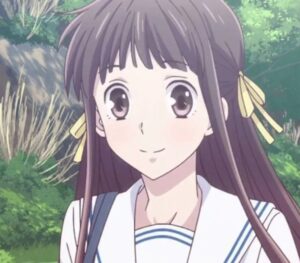 Age-16
Tohru Honda is one of the best Fruits Basket female characters. She, being the main protagonist of the series, is the glue that connects the entire plot together.
Her highly kind, loving, caring, and accepting personality healed most of the characters in the series. She proved that love and kindness are never weak, and it's an essential part of life that all of us need.
Despite her gentle and mature personality, she was a really hard-working and mentally strong teenage girl who never gave up hope no matter how hard her life got.
Note: The ages of some of the characters in this list are predicted considering various other pieces of information gathered from the manga due to lack of data.
Fruits Basket, without a doubt, is very touching and one of the most loved manga in the community. It brought us different kinds of trauma that many people go through in their lives.
With extremely well-written, engaging, and twisted characters, it was indeed a great experience to witness them healing from their trauma and their journey of self-discovery, self-love, and acceptance with lots of hilarious moments!
We hope our list of Top 10 Best Fruits Basket female characters satisfied you to an impressive extent! Fruits Basket is available to watch on many platforms to watch on like Netflix, Funimation, Crunchyroll, and Hulu.
The manga is also available to read on Yen Press, ComiXology, Book Walker, Mangaowl, etc. We will be back with another post. Till then stay tuned with us and read the articles below.
---
Do small things with great love. 
Follow us on Twitter for more updates.
Also Read-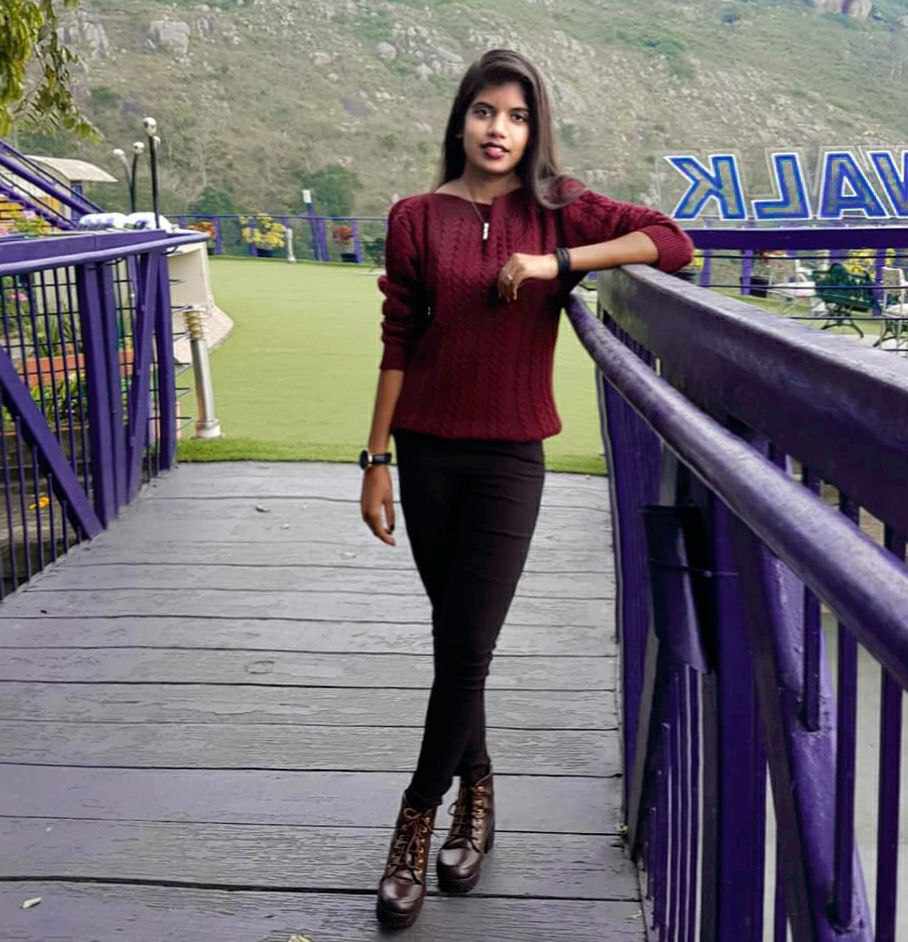 Starting off with love for medicine and plans for pursuing it, I found myself drawn to a mismatched career in Hospitality & Tourism. Little did I know that my passion and love for literature had always been by my side. Therefore, here I am now, sharing my words on multiple amazing platforms, one of which is Otakus Notes. What better way to put my abundance of love and knowledge of anime, manga, k-drama and webtoons, to use!