Last updated on August 24th, 2023 at 12:00 pm
Anyone who has played football will probably understand the difficulties the keeper faces; whenever a team scores a goal, everybody remembers the player who scored, but nobody mentions the keeper who kept them alive in the game.
Blue Lock is a place where you cannot survive unless you want to beat anyone and score goals, even if it comes at the expense of your team losing the match; this is the thinking that has been instilled in the player's mind.
Gagamaru was a part of Team Z during Stage 1 and did manage to score some goals, but he did not stand out much in everything else. However, Ego Jinpachi noticed his abilities and changed his position to keeper.
In the U20 vs. Blue Lock, most of the viewers believe Isagi to be the MVP, while others argue it was Rin, and some say it was Sai, but the true MVP was Gagamaru, who played the most important match of his life as a keeper and put on a show for the viewers.
Gagamaru's performance shocked everyone since nobody expected him to be the best goalkeeper on the field, even though he did not have much practice as he was always a striker.
Blue Lock is a manga series written by Muneyuki Kaneshiro; Yusuke Nomura does the illustrations for the series. The series began its publication in 2018; Chapter 215 was the latest edition, and Chapter 216 is about to be released soon.
Gagamaru (Blue Lock): Wiki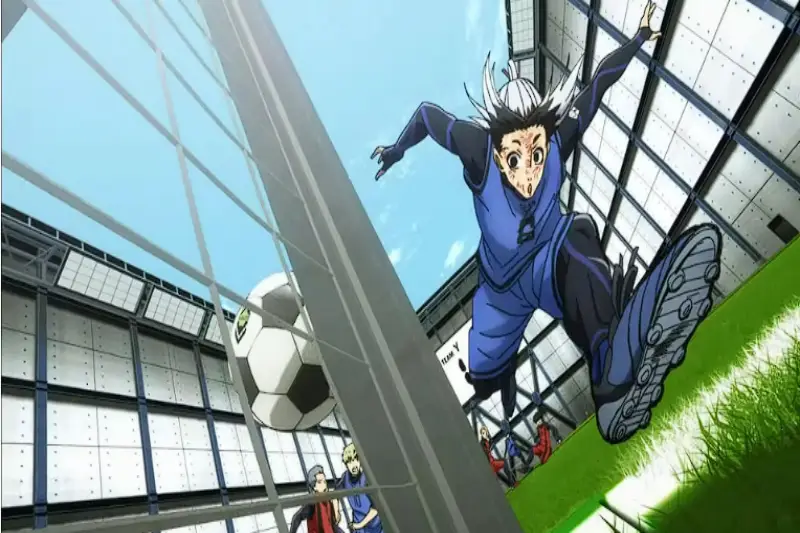 Japanese Name:
我牙丸 吟
Age:
17
Height:
191 cm
Position:
Goalkeeper
Abilities:
Spring-Like Body

Reaction

Flexibility

Hair Color:
Black and Silver
Eye Color:
Black
Voice Actor:
Shugo Nakamura
Birthday :
January 2
Current team:
Bastard München
Gagamaru Gin is the current Blue Lock's starting goalkeeper and the only one in the program capable of doing a decent job. Since everyone in the program is bred to score goals, there will always be issues regarding team formation.
However, Gagamaru was arguably the best player on the pitch during U20 vs. Blue Lock and made saves that the opponents and everyone admired; indeed, it was one hell of a performance from a player in Blue Lock.
Gagamaru is the tallest player in Blue Lock, with Shido being second; he grew up in the wild and did not fear anything except god. It is believed that he can destroy anyone in a 1v1 fight.
He is also the keeper of Bastard München in the Neo-Egoist league. He performed exceptionally well in the match against Manshine City, making astonishing saves and even stopping the world's second-best player.
While living in the mountains, he once fought with a bear and defeated him, and now he has his skin as a trophy at his house in the forest.
---
Gagamaru (Blue Lock): Abilities
1) Spring-Like Body
Spring-like BodyFor any goalkeeper, the most crucial thing is his body's condition; for Gagamaru, this is not an issue. This is because he has the most spring-like body of all the members in the Blue Lock program.
It was the main reason he was selected as the goalkeeper for upcoming matches. His ability to reach high-end top corners is the best in the blue lock, making him the best pick for the goalkeeper position.
---
2) Explosive Reaction
His spring-like body allows him to make explosive reactions to stop powerful and curving shots, but it also stops shots entirely out of his sight. This ability was the only reason that the Blue Lock team was able to fight against the U20.
It is a combination of the super reflex, which allows him to see the aim point of the ball, and the ultra reflex, which moves his body tremendously fast and is based on his instinct.
---
3) Flexibility
This is the most dangerous weapon in his arsenal, allowing him to adjust his body to the ball's course and make crucial saves.
It was used when Sae shot the ball towards the top left, but suddenly, it dropped and looked like a goal, but Gagamaru could reach it and stop it. He can also use a scorpion kick, a complicated move to pull through as a football player.
---
Facts about Gagamaru Gin
Gagamaru was brought up in Wakayama Prefecture and spent most of his time in the forest, with which he developed a close bond.

Unlike most other players, he was a late bloomer and started playing football at 12; due to his body attributes honed by mother nature, it took him no time to adjust to the sport.

Gareth Bale is the idol of Gagamaru, and he wishes to become like him. Bale was speedy and agile despite being taller, and he wished to improve and become a better player than Bale.

During the break, he listens to music; his favorite type of music is Southern All-Stars, and he listens to it while consuming his food or taking a bath, which helps him feel refreshed.

There are only a handful of things Gagamaru does not like, and the most hated item is the store-bought Bento, which he despises. He loves to eat with his hand, which allows him to feel the taste.

Whenever he returns home, he believes the best way to spend a holiday would be to meditate in a bamboo grove and speak to mountain animals. It helps him get fresh air, which is in short supply.

His favorite animal is a mountain bear; surprisingly, he has fought one, beaten it, and made a coat out of his skin, which he wears whenever he goes camping in the forest. The cuts on his left ear are from a bear attack.
Conclusion:
If your favorite player is Gagamaru Gin and you want information about him, this article is sufficient. It added to the knowledge about the player you previously had.
Gagamaru has risen to popularity after continuously showing his loyalty to Isagi and dropping 10/10 performances in the Neo-Egoist league.
---
Do small things with great love.
Follow us on Twitter for more post updates.
Also Read:
I am a first-year student pursuing Data Science and Artificial intelligence and have always been mesmerised by AI and wish to build one for my own in future. In my free time, I like to watch Romance Anime or read Seinen Manga.