Last updated on February 20th, 2023 at 10:51 am
Kingdom's new chapter will be released shortly, as we already have the fan translations of the chapter. To start things, we can expect to see the ending of this war by Kingdom Chapter 748.
Commander Jyoukaryuu rapidly approaches Riboku's position and meets Commander Kohakukou's force along the way. This leads to a battle between Kanki and Riboku.
Kanki knows he is short on time, and he valiantly attacks Riboku. Then, we also get to see Maron in battle analyzing every kind of situation as he gets a message from Ogiko.
Riboku looks very close to his death due to his injuries, but he somehow manages to fend off Kanki's soldiers. Ba Fuuji tries to come to Riboku's help as Koku'Ou is slowly advancing toward Riboku.
The Ringyoku vs. Futei fight continues, as there is no clear winner, and neither will give up. Ba Fuuji keeps on moving toward Riboku regardless of the enemy attacks, even if he keeps getting wounded.
Right at this moment, everyone watches the armies of Commander Jyoukaryuu and Kohakukou's approaching. The soldiers already think that victory is on their side and all is lost for Shin. Kanki gives a very serious look, as he needs to finish the war right here and now.
Kingdom Chapter 748 Spoilers & Raw Scans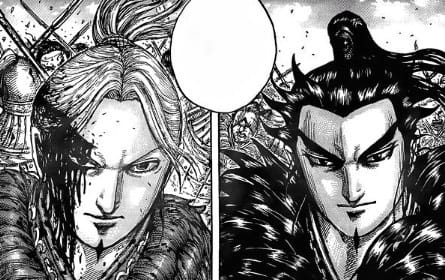 The armies already arrive, and Kaine is shouting in joy after witnessing this situation. Koku'Ou still fights in her bad shape and gets injured by a soldier, anddies.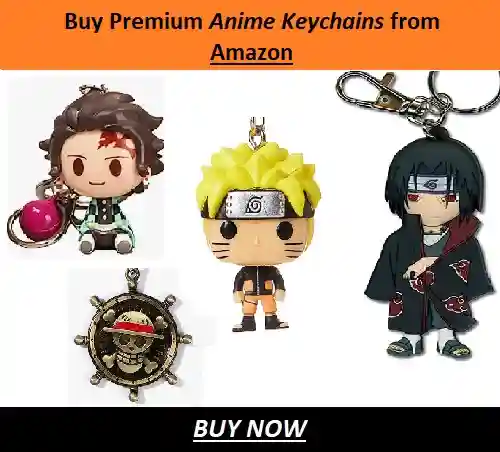 While Ringyoku witnesses these unfortunate events, Zenou goes on to clash with Jyoukaryuu. Jyoukaryuu easily defends Zenou's attack and kills him with one fatal blow.
Kohakukou comes to Riboku's help and asks if he could get the honor of finishing off Kanki. Ringyoku silently tries to slip past this mess, and Futei helps Kanki.
Soldiers approach Shin to say that Kanki's surprise attack has failed, and he is surrounded by Riboku's armies. Karyoten tells Shin not to lose faith and that Kanki still might be planning something. Karyoten tells Shin to withdraw, as this would be best for him. Amid this conversation, Ogiko delivers Kanki's message to Shin.
Kanki had already predicted that this might be a possible situation and knew Shin would try to rush and save him. He says that he wishes for Shin to retreat in case his surprise attack fails or if he is surrounded by Riboku's army.
Ogiko takes the Six Great Generals wing necklace to Shin in hopes that he might understand Kanki's message. Neither Shin nor Maron are satisfied with the conclusion of this war after these many losses.
Maron says that he will surely kill Riboku one day and starts to withdraw after rounding off some soldiers. Shin also hesitantly and reluctantly orders his army to retreat as we see the end of the war.
You can read the raw scans and full spoilers from the reddit panel attached below.
---
Kingdom Chapter 748 Release Date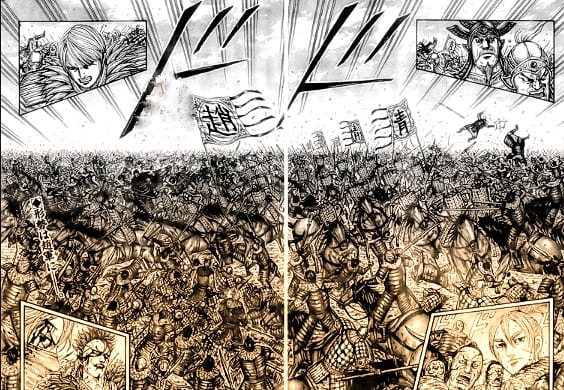 The manga is now not on a break, and we can expect regular updates. Kingdom Chapter 748 will now be dropping on 17th February.
The raw scans should generally release a few days before the release of the chapter. We will be updating this article after the raw scans get released, so make sure to check this article again.
With this, we conclude our article on Kingdom Chapter 748 Spoilers-Prediction and Release Date. We also follow many other manga series, so make sure to check us out in your free time.
---
Do small things with great love.
Follow us on Twitter for more post updates.
Also Read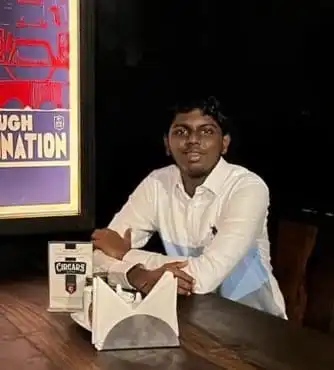 Eswar Keshav is an ardent anime fan for more than a decade. Along with this, he also has been following anime and manga updates for years. He is also enthusiastic and passionate when it comes to writing about his favorite things. Combining his love for writing and his love for anime and manga, his articles speak of his love for the genre.