Last updated on August 9th, 2022 at 12:04 am
This post is updated based on new information.
We finally got another glimpse of struggling Shimura Tenko, not just Shigaraki Tomura. However, by the end, the spotlight completely shifted to Tamaki. But before we get to see his grand move, the chapter ends. Therefore, My Hero Academia Chapter 362 spoilers are on their way to tell us more. Before we discuss more spoilers, let's sum up what the new chapter told us.
The chapter begins with a glimpse into Shigaraki's consciousness. We see his childhood memories provoked due to Mirio's words. His true self, Tenko, recalls two of his childhood friends, Mi and Tomo.
He remembers how they complimented him. He also remembers that Tomo would always look forward to their walks. After these memories surface from deep within his conscious, he shouts at Togata that he indeed has real friends.
This catches Togata off-guard, and him being the nice guy he is, he immediately apologies to Shigaraki. Togata gets flooded away right after this due to Shigaraki's evolving form.
Togata then analyses the situation. He discovers that Shigaraki's main body is way more challenging than his infinite tentacles. Even the first layer of his skin was tough enough against their attacks.
On the other hand, we hear All for One's vestige struggling to assimilate Shigaraki fully. He deduces that he has successfully assimilated Shigaraki and All for One. But there is one more vestige that he can't entirely surpass. This is the real Shigaraki, Shimura Tenko, who is still intact deep into Shigaraki's subconscious. AFO shakes this off and decides that he can no longer drag out the merging and must hurry.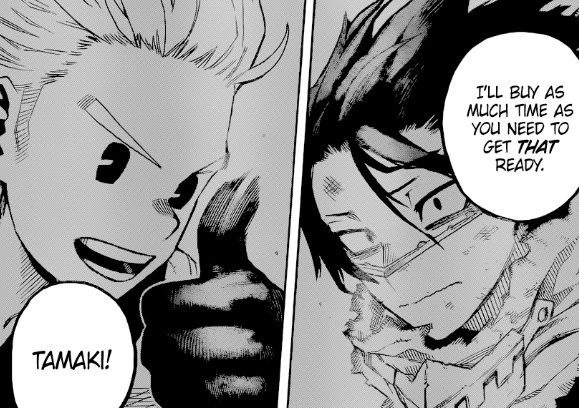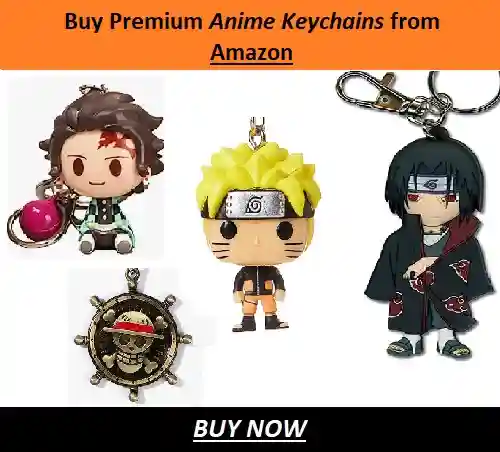 Now back to the physical world, Shigaraki ignores Togata and heads toward Bakugo and Jeanist. He says that he cannot waste more time fighting someone who is only fighting him to buy time. With Togata's distraction failing, he recalls what the main objective of their plan is.
He recalls that it is up to Hado and Tamaki to land a powerful attack that will slow Shigaraki down. His main goal is to buy as much time as possible until Tamaki gets his secret move ready. Following this, the focus shifts to Jeanist, who takes charge to protect Bakugo from Shigaraki. Hado and Togata attack him as well.
Amidst this cut-throat fight, we also get a glimpse of Hado's memories of Togata and Tamaki. She remembers how they both accepted her despite everyone else shaming her and how Tamaki and Togata were the first to reach out to her.
She feels grateful to know them and to have lived her life beside them. Hado expresses her confidence and trust in Togata and Tamaki as she lands an attack on Shigaraki.
The panels following this scenario show that Cornucopia's true potential can be brought out when combined with Hado's energy. Togata and Hado both put their faith in Tamaki and call out to him using his hero name, "Suneater." They both agree that Tamaki is the only one who can help them surpass Shigaraki.
However, the chapter ends here before we see Tamaki unleash the secret move that he has been preparing for all this time.
My Hero Academia Chapter 362 Spoilers
Finally, the spoilers and the raw scans of My Hero Academia Chapter 362 have surfaced. The chapter will once again concentrate on Bakugou. The title of the next chapter is "Light Fades to Rain."
Tamaki will shoot a laser named "Hybrid: Plasma Cannon." It will be one of the biggest special techniques in the whole series.
But still, it will not be enough to hurt Shigaraki/AFO. He will ask Tamaki if he really thinks prime All Might would be lost from such an attack. Everyone will seem to lose, but then Bakugou will stand up.
He will move insanely fast that even Shigaraki can't keep up. His pupils have the Cluster explosion effects. He will awaken his quirk, and now he can produce explosions from his whole body.
On the other hand, Bakugou will think to himself, "can I still keep up with you, Izuku?

"
AFO will not understand why he's feeling uneasy against Bakugou. But then he will remember the 2nd user of OFA.
Suddenly, Bakugou will see himself in a white space, facing All Might's aura.
The Big 3 and Miriko will rush towards AFO and decide to land a blow at him simultaneously, but something terrible will happen.
Bakugou's heart will stop, and he will lay on the ground (in his mind, all he thinks is to sign his All Might card). In the last panel, we will see there is blood on Bakugou's face, and he is lying down on his All Might card.
Here are the spoilers of My Hero Academia Chapter 362. Below we have attached the detailed spoilers with raw scans.
---
Predictions:
Horikoshi is again planning to give the spotlight to a student. But as far as he saw the current, all of them always end up with life-threatening injuries and get sidelined right after.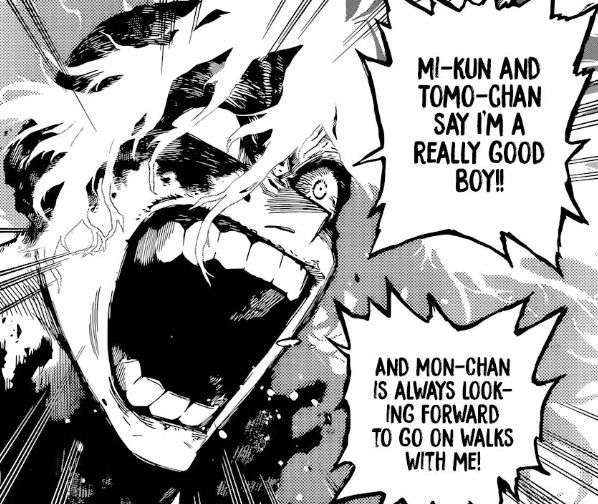 Nevertheless, their shining moments are always a treat to read. It is now Tamaki's moment to shine and showcase his true potential. The next chapter will be stolen by him, hopefully turning the fight in their favor.
As for Jeanist and Bakugo, they remain away from the battleground even if Shigaraki won't leave them alone. He even exposed Togata's motive to buy time by distracting him.
However, looking at the last panel of the chapter, Tamaki seems to be ready with his big move. Hado and Togata must support him as much as they can. So the next chapter will truly capture the Big 3's teamwork and respect for each other.
Another major confirmation we got is that Tenko is still there. Although buried somewhere deep in Shigaraki's consciousness, Tenko still has enough hold to stop AFO from completely taking charge. Perhaps there is still hope for Shigaraki.
Considering this revelation, it is likely that Midoriya would somehow get through Shagaraki when they finally fight. But for now, there is no news of Midoriya or who approached him on his way.
We shall wait for the next chapter to tell us more and confirm our predictions and theories.
---
My Hero Academia Chapter 362 Release Date
Chapter 358 will be out on August 7th, 2022, as per Shueisha. So, the next chapter is on time, and we don't have any break next week. Based on the cliffhanger, we will see the powerful side of Tamaki, and the spotlight will be on him.
---
Where to read My Hero Academia Chapter 362
My Hero Academia took the world by storm when the anime was out. The series immediately gained popularity and became one of the mainstream shounen series. The anime even dominated the genre gathering a massive fan following.
So, those who encountered MHA through anime immediately rushed to read the manga. Luckily, both the official publishing platforms, Viz Media and Shueisha, offer manga to read.
The latest chapters are accessible free of cost. Therefore, look no further and rush to these sites to read My Hero Academia if you haven't already. The best part about these sites is that they allow you to read the latest chapter free of cost in top-quality.
So, it is best to create an account, add your favorite manga to your reading list and read the latest chapters the day they are out.
We shall conclude the article here, now that we have covered everything about My Hero Academia Chapter 362 spoilers, raw scans, and release date. If you wish to gain more of the latest information on other manga, anime, webtoons, or series, browse through our blogs and check out some interesting articles.
Image Source: Viz Media
---
Do small things with great love. 
Follow us on Twitter for more updates.
Also Read-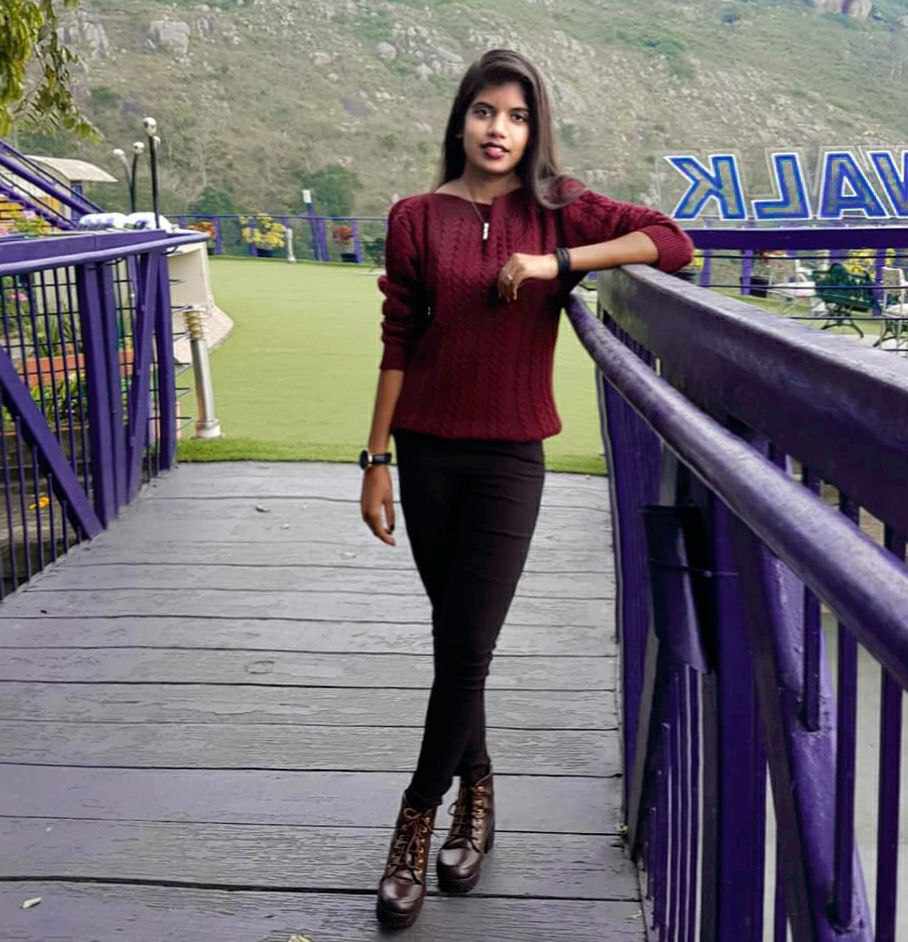 Starting off with love for medicine and plans for pursuing it, I found myself drawn to a mismatched career in Hospitality & Tourism. Little did I know that my passion and love for literature had always been by my side. Therefore, here I am now, sharing my words on multiple amazing platforms, one of which is Otakus Notes. What better way to put my abundance of love and knowledge of anime, manga, k-drama and webtoons, to use!