Last updated on May 15th, 2022 at 03:18 pm
One Punch Man is one of the current popular superhero series and ongoing. Initially, created as a webcomic franchise by ONE but was later turned into a manga series, illustrated by Yusuke Murata. Since June 2012, it has been published on Shueisha's Tonari no Young Jump website. It was also broadcasted as an anime series on the TV Tokyo channel in October 2015.
This manga is one of those series that has easily captured viewers' and readers' attention and earned a place in their list with its fascinating action scenes, eccentric yet unique individuals, compact storyline, and sudden inclusion of humor in unconventional situations. And in this post, we will discuss the top 20 strongest attacks from the series and rank them accordingly.
Top 20 Strongest Attacks in One Punch Man Ranked –
20) Superalloy Double Bazooka –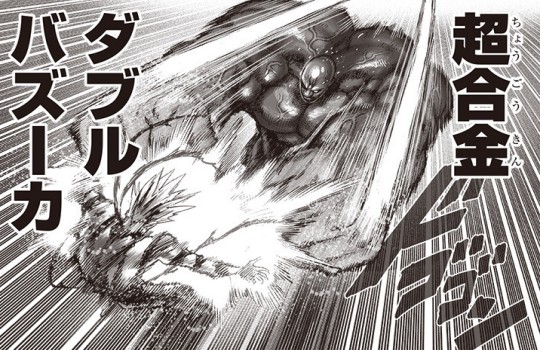 It's a variant and also more powerful than the Superalloy Bazooka attack. While executing this attack, Superalloy Darkshine performs a powerful two-fisted punch which creates a more strong damaging impact than normal punches. He first used this attack against Garou which hit both of Garou's shoulders and knocked him back. Hence, we have placed it in the 20th position.
---
19. Vibration Dark ☆ Angel ☆ Rush –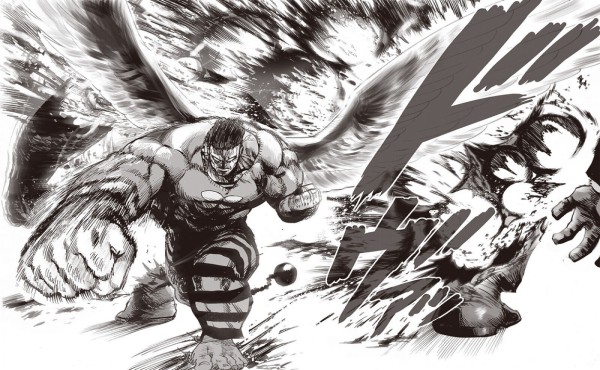 It is a combination of Dark ☆ Angel ☆ Rush and Vibration ☆ Angel attacks and performed by Puri-Puri Prisoner where he rushes and leaps at his opponent while using his body's osculations through his fists to bolster powerful punches. He first used this attack to eliminate Baquma and later to damage the fusion of Psykos and Orochi. Therefore, it has been ranked in the 19th position.
---
18. Millennium Emperor Nova –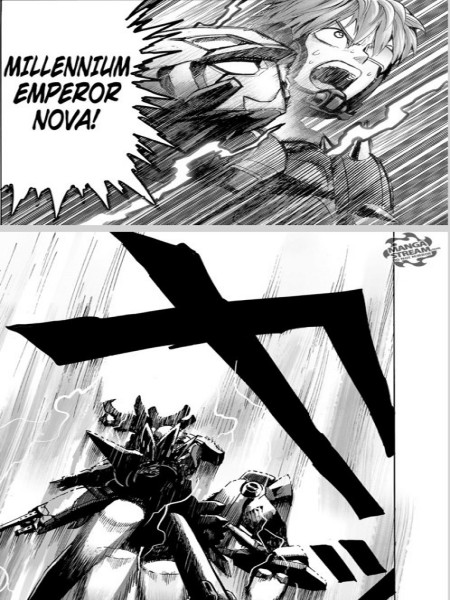 This attack was first seen in Chapter 99 of the series and is the ultimate technique of the Brave Giant, a powerful robot created by the Child Emperor. He performed this attack against Phoenix Man to save Waganma and also to strike the villain by blasting him into the sky with a massive laser. Though using this final attack shuts down the robot. For this reason, it has been ranked in the 18th position.
---
This offensive type attack was first used against Genos by Sonic, but the outcome of it is uncertain as he was saved in Saitama time so, it has been ranked on the 17th position of the list. While performing this technique Sonic reaches a hypersonic speed and creates ten afterimages that attack the opponent simultaneously. 
---
16. High-Speed Jet Streams –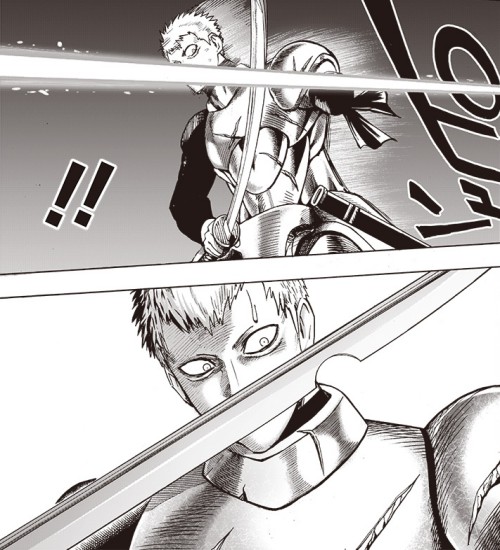 This attack was performed by Evil Natural Water, a Dragon-Level Threat under the Monster Association. The monster fires devastating high-speed jets of water in an instant which are significantly faster than bullets. Even heroes possessing superhuman speed and reflexes like Iaian, Bushidrill, and Okamaitachi had trouble dealing with it. It easily pierced through Iaian's katana as well as pierced Tongara's highly durable armor. So, it has been placed in the 16th rank and below Flashy Slash.
---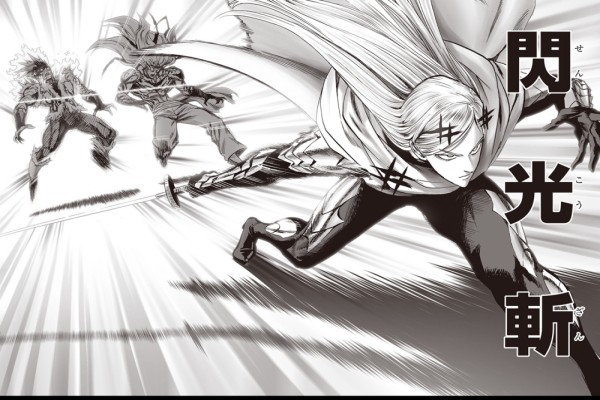 It is the ultimate attack of Flashy Flash where he dashes at his opponent at unimaginable speed and slashes them before they even have the time to react. Furthermore, this technique can be used to cut his opponents in half or decapitate them. He used this attack against ninja-turned monsters like Hellfire Flame and Gale Wind. Also before Saitama, no one was ever able to dodge it. Hence, we have placed it in the 15th position.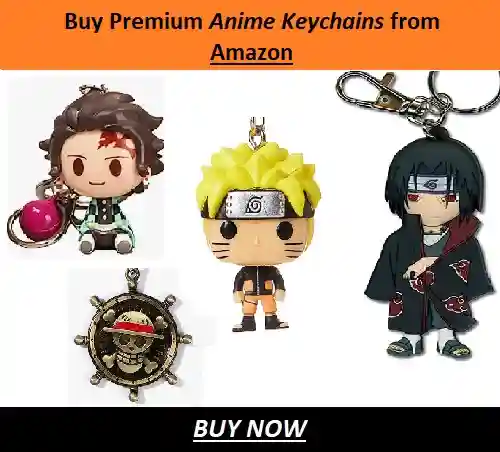 ---
14. Atomic Beeline Slash –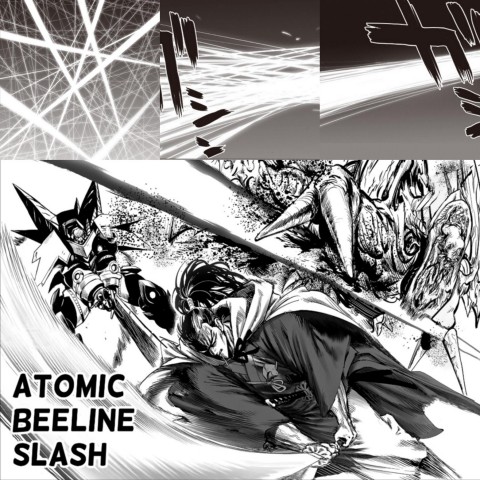 This is one of the powerful techniques performed by Atomic Samurai where he does numerous slashes similar to the Atomic Slash technique but converges them into a single point slash with his sword in an overhead strike, slicing his opponent. It was first used against the fusion of Psykos and Orochi. Therefore, it has taken the 14th rank on the list.
---
13. Energy Projection by Overgrown Rover –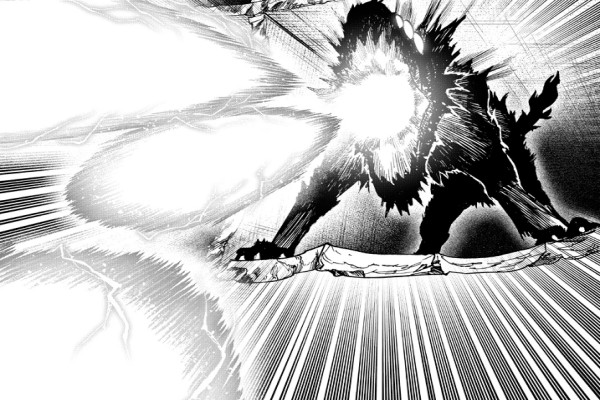 It is a powerful attack launched by Overgrown Rover, a Dragon-level Threat, where it fires destructive energy bursts in rapid succession from its mouth, and these blasts are capable of incinerate stone, city blocks, and even destroyed several floors of the Monster Association Headquarter. It has been placed in the 13th position as it easily eliminated two Demon-level monsters in a single shot and severely injured Garou.
---
12. Super Feline Retribution –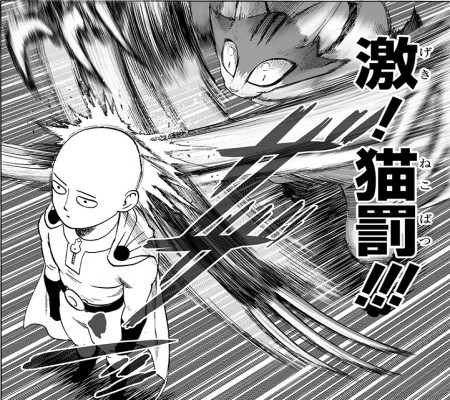 This attack was performed by Nyan, a Dragon-level being, and is the powerful and refined form of Feline Retribution attack. He used it first against Saitama. While doing this technique, he sents out several razor-sharped wind pressure blasts from his claws that can cut buildings apart, but much faster and on a larger scale. So, it takes the 12th position among other attacks.
---
11. True Spiral Incineration Cannon –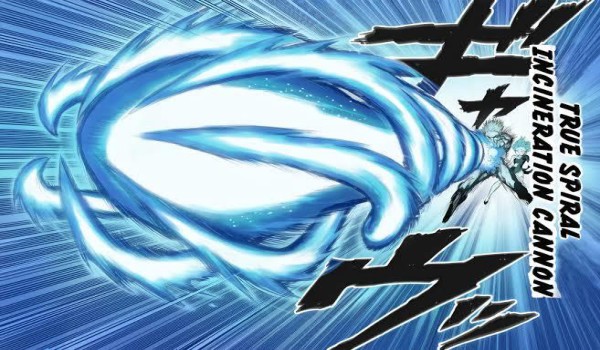 As suggested by its name, it is a variation of Spiral Incineration Cannon where Genos utilizes his ten-second time limit. While performing this attack, he uses more energy than usual by firing the incinerating blast directly from the core but it is a one-time attack as he runs out of energy after using it. It was first used against the fusion of Psykos and Orochi. Hence, placed above 11th rank but below 10th rank.
---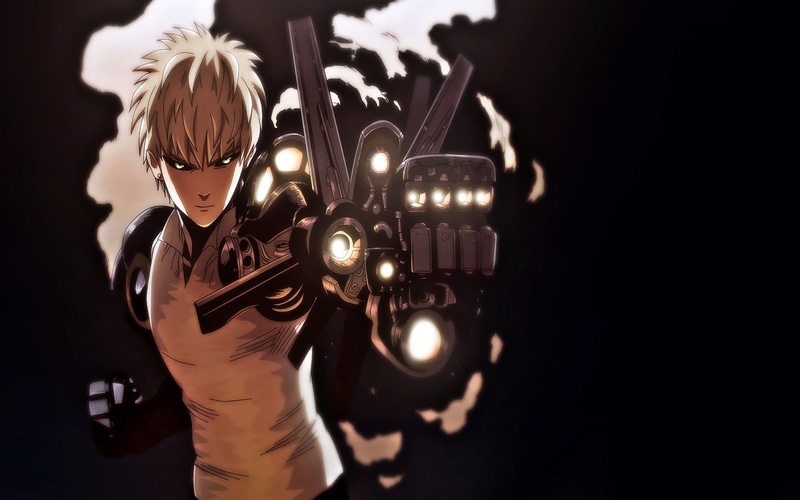 Must Read: Top 10 Most Powerful Attacks in One Punch Man Anime Ranked
---
10. Whirlwind Water Stream: Roaring Aura Sky Ripping Fist –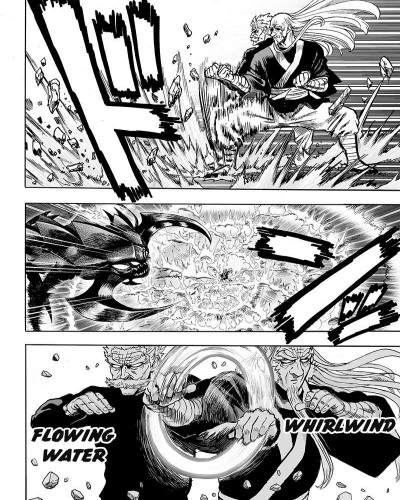 This attack was performed by Bang and Bomb together by combining their respective martial arts, i.e., Bomb's Whirlwind Iron Cutting Fist and Bang's  Water Stream Rock Smashing Fist against Elder Centipede. Both of them strike their opponent simultaneously while doing their martial arts. Though it couldn't finish off the monster, it was able to push back and destroy its carapace. As it is one of the powerful attacks hence takes the 10th position.
---
9. Whirlwind Water Stream: Cross Fang Dragon Slayer Fist –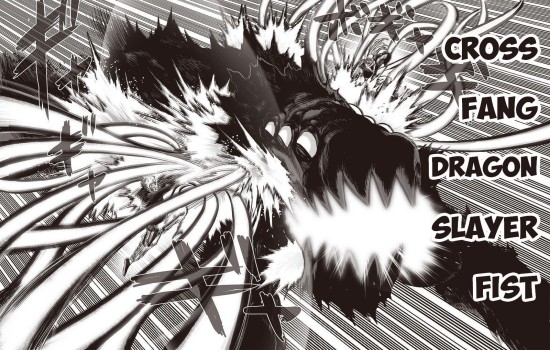 This attack is even more powerful than the Whirlwind Water Stream: Roaring Aura Sky Ripping Fist and is also a combination of martial arts of Bang and Bomb. Both perform extremely powerful strikes at their opponent with their respective martial arts during combat. It was first used against Overgrown Rover and was powerful enough to subdue it. Hence, been placed on the 9th rank.
---
8. Monster Calamity God Slayer Fist –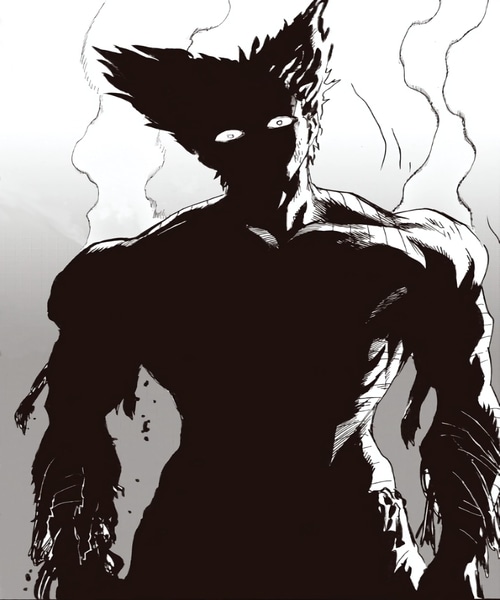 It is the ultimate powerful attack of Awakened Garou and he first used it against Saitama. This attack was powerful enough to make Saitama use two-handed consecutive punches and remark it as impressive. He also easily deflected the S-Class hero Atomic Samurai's Atomic Slash, a technique that performs 100 slashes in a single second. Garou combines all the attacks he learned through his combats and combines them to create a single most powerful technique and even claims it to be a God-level Threat. As it prompted Saitama to participate in the fight and can easily subdue other S-Class heroes, it's been ranked as 8th on the list.
---
7. Energy Projection by Orochi –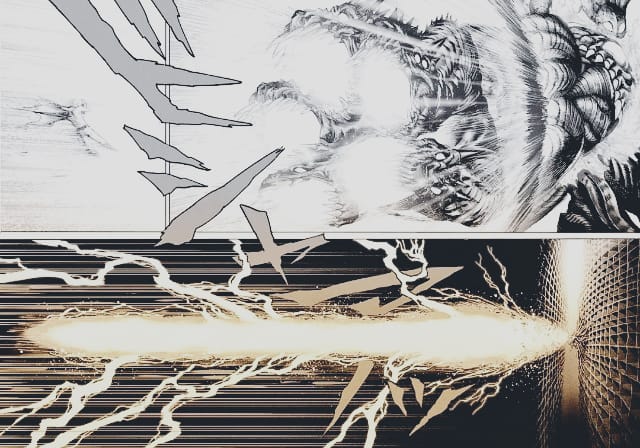 Monster King Orochi's one of the most powerful attacks where he utilizes his dragons to shoot potent beams of energy. Also capable of using his dragons to unify the energy blasts into a single energy beam, and these beams are strong enough to destroy many buildings and also raise the terrain several hundred meters. He used it against both Saitama and Tatsumaki and was even able to slightly enter through Tatsumaki's defenses. Hence, it ranks as 7th. 
---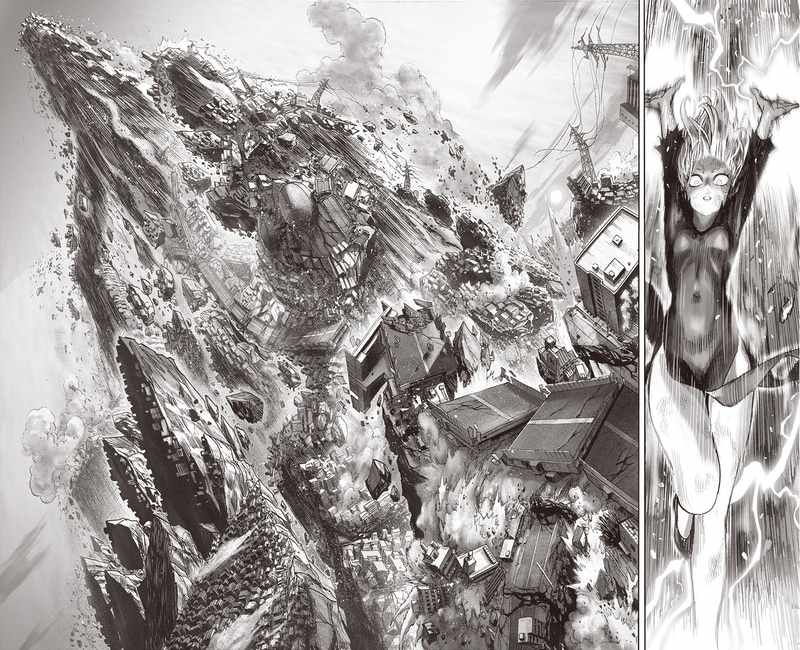 Without a doubt, Tatsumaki is the most powerful esper in the series as she was able to stop powerful bombardment attacks from Boro's ship and also deflected them back at the ship. According to manga illustrator Yusuke Murata, Tatsumaki can lift the entirety of Z-City and in her battle against Psykos, she easily withstood her gravity 300 times ability. She lifted the entire Monster Association from the underground while simultaneously protecting other heroes inside the facility. Later, she easily deflected powerful energy attacks from the fusion monster of Orochi and Psykos as well as restrained and destroyed the monster. Without a doubt, it ranks as in the 6th position if not above or below.
---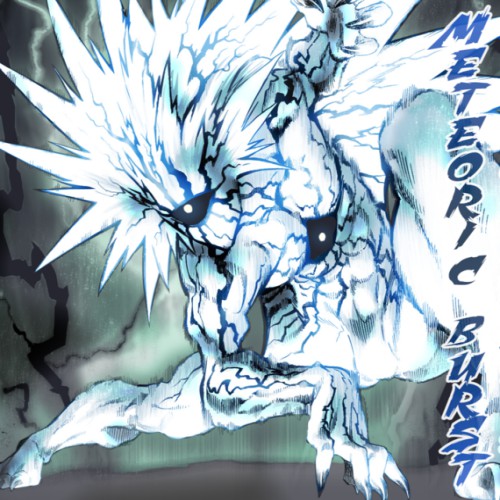 Another one of the powerful attacks from Boros and also his trump card which he uses when he wishes to quickly settle combats. He used this attack against Saitama and easily sent him to the moon by merely kicking. This attack further augments his power and speed beyond normal limits and also changes his appearance. It utilizes his latent energy which puts an immense burden on him and also shortens his lifespan. Hence, we have placed it above 6th position but below 4th position.
---
4. Consecutive Normal Punches –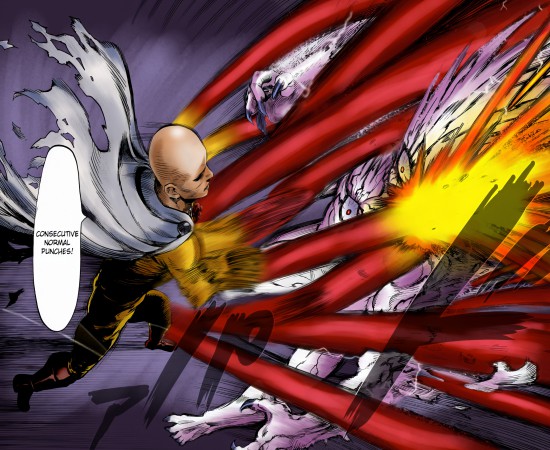 This list will not be complete without the inclusion of this attack and as suggested by its name, it is a variant of Saitama's normal punches but is powerful than his single normal punch. Saitama uses his right hand to launch barrages of quick punches which are strong enough to blow his opponent into pieces. He first used it against Boros but he was able to overcome it by using his intense regenerative ability. So, it has been ranked in 4th place.
---
3. Energy Projection by Psykos & Orochi –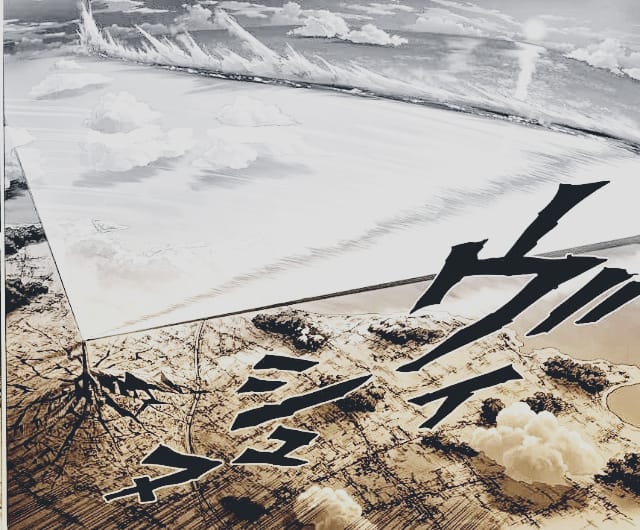 Another one of the potent energy attacks of the fusion monster, i.e., the fusion of Orochi and Psykos and is capable of cutting through the Earth's surface as it passes through. The energy beams were so powerful that they easily overwhelmed Genos' Thunder Drill Cannon, an attack speculated to destroy a huge meteor in one shot. Hence, it has been ranked as 3rd as it has the potential to cut through any planet.
---
2. Collapsing Star Roaring Cannon –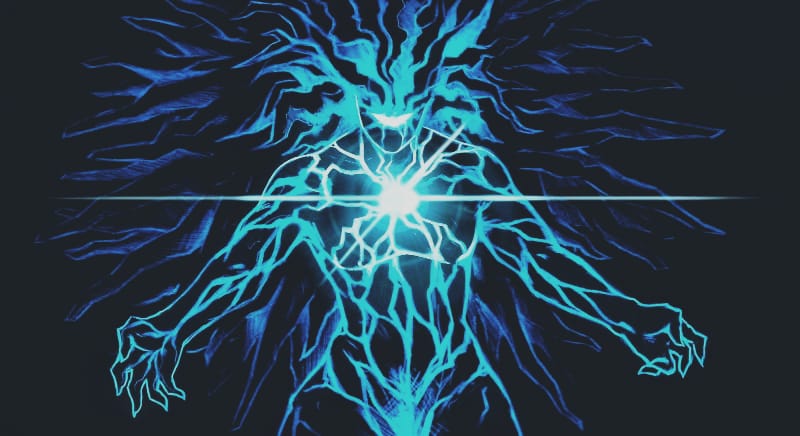 Collapsing Star Roaring Cannon is the final attack of Boros which he used against Saitama when his trump card, i.e., Meteoric Burst failed to crush Saitama. He concentrates and releases his latent energy from his mouth in the form of the Golden Beam in the desired range. And this attack falls under the category of God-level threat and according to Boros, it has the potential to easily destroy the crust of an entire planet. Hence, it has been placed in the 2nd position on the list but below 1st place.
---
Strongest Attack in One Punch Man –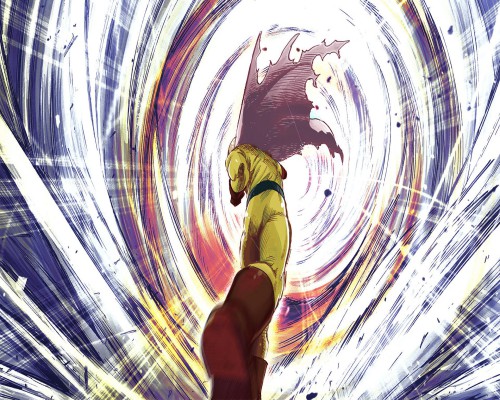 Saitama used this technique to stop Boros' Collapsing Star Roaring Cannon, a beam capable of wiping out the crust of an entire planet and is the ultimate powerful attack of his which can destroy any opponent in an instant. The shockwave resulting from the impact parted the clouds on a global scale, as well as deliver the final fatal blow to Boros which defeated him in a minute. But the full extent and outcome of it are uncertain as it was not used directly against any opponent. And according to Boros, Saitama didn't even use his full potential in his punch. So without a doubt, it ranks 1st on the list.
The rankings have been done based on our research and speculations, so let us know your thoughts down below in the comment section. The ongoing One Punch Man series follows Saitama who seeks to fight a worthy opponent after growing bored from lack of challenges and currently has a total of 142 chapters. Read the series on VIZ Media and watch on Crunchyroll. We will be back with more posts like this. Till then stay tuned and stay hyped.
---
Follow us on Twitter for more post-updates.
Also Read-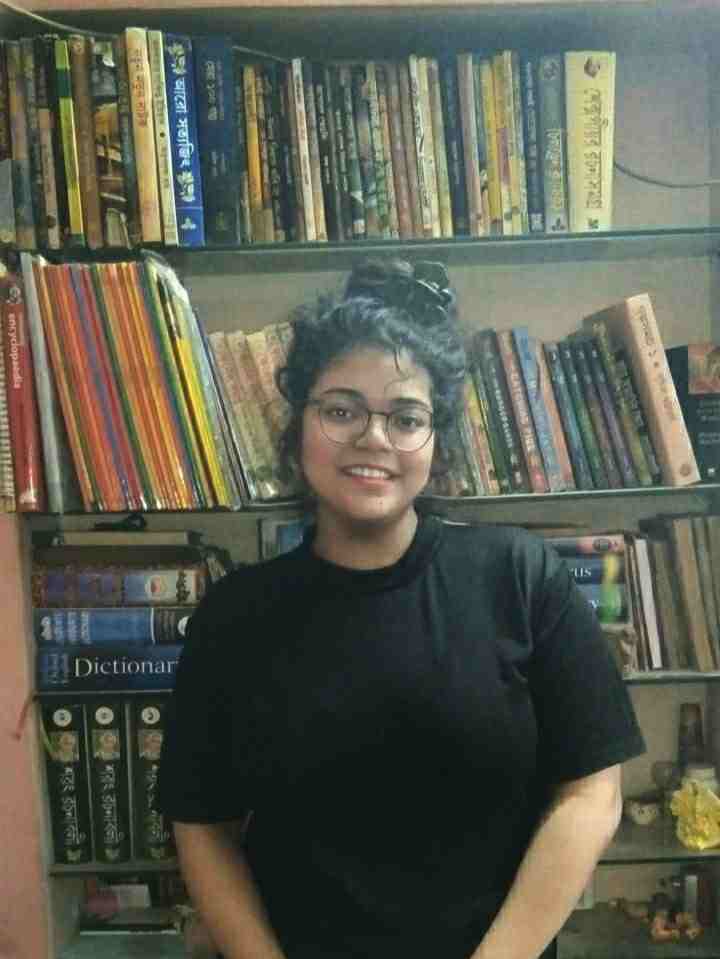 Namrata is a nature lover and frequently spends their time making elaborate plans of settling near the banks of Manasarovar lake with their best friend. If not, then they can be found reading mangas, books, comics, or science journals. Quite interested in science and will start talking about its endless theories if given the opportunity.