Last updated on May 15th, 2022 at 03:13 pm
Romance is the ever-popular genre but the Comedy genre in anime series has always been and is favored by countless numbers of people irrespective of their ages. There are various shows with the right amount of touches of humor, sometimes abrupt humor in serious situations, or seeing our favorite characters struggle in their daily lives gives us a sudden boost of Dopamine.
Fans watch these shows to experience comedic scenes and new refreshing senses of humor. And in this post, we will discuss the 30 best comedy anime and rank them according to the scores/ratings given by myanimelist. So, without further delay let's get into it.
Top 30 Best Comedy Anime of All Time –
30. Yuusha ni Narenakatta Ore wa Shibushibu Shuushoku wo Ketsui Shimashita –
Rating – 6.89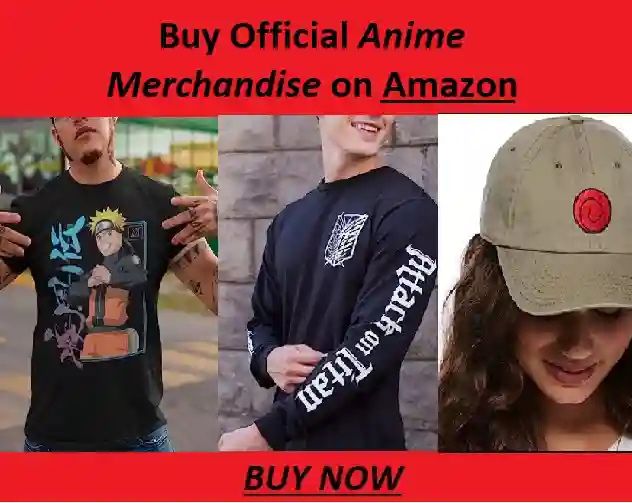 Plot – Raul Chaser, an ex-participant in the Hero Training Program, returns reluctantly to work at a small electronics store called Magic Shop Leon after the Demon King was defeated. But soon his day-to-day boring life came to an end when the daughter, Fino Bloodstone, of the later Demon King came as a new hire and he was handed the responsibility of training this eccentric new employee. 
Total Number Of Episodes – 12
Source – Crunchyroll
---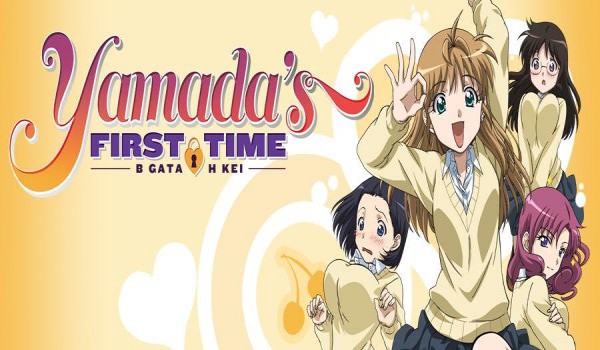 Rating – 6.93
Plot – The story revolves around a high school student named Yamada who has set a peculiar goal in her life to achieve due to her insecurities. She is inexperienced in both relationships and men, yet after a fateful encounter with the shy and average Takashi, she decides to seduce and take his first time. But what happens when she starts to enjoy their time spent together?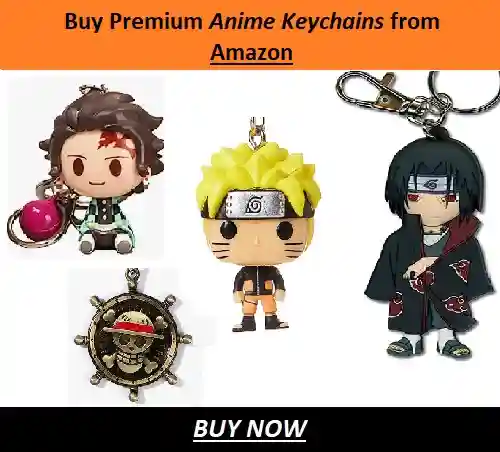 Total Number Of Episodes – 12
Source – Crunchyroll
---
28. OreImo/Ore no Imouto ga Konnani Kawaii Wake ga Nai –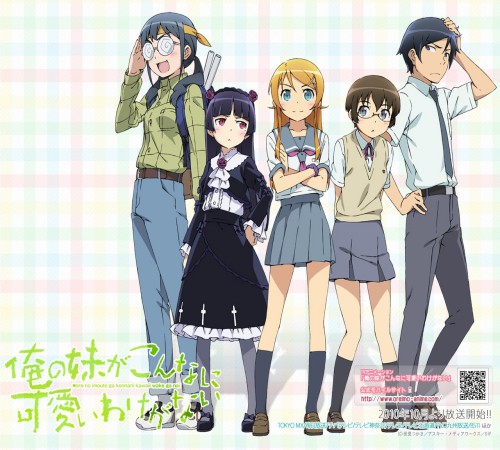 Rating – 7.09
Plot – Kirino Kousaka is the embodiment of a perfect student with perfect scores and equal stunning looks. She along with her best friend, Ayase, works as a professional model and is hiding a deep secret from everyone. Chaos ensues when her brother, Kyousuke, stumbles on her secret life.
Total Number Of Episodes – 12
Source – Crunchyroll
---
27. Mangaka San to Assistant San  –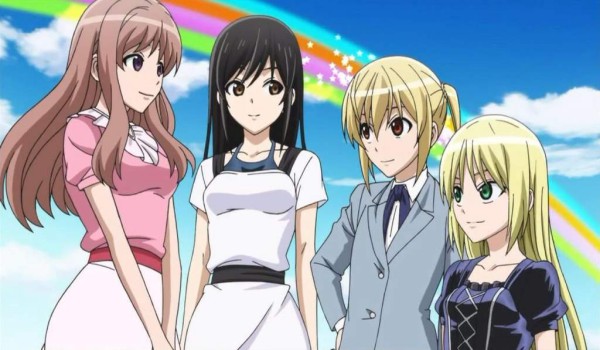 Rating – 7.17
Plot – Yuuki Aito is a perverted manga artist who has oftentimes has deranged thoughts which makes his numerous female artists harbor negative feelings towards him. Even so, he has a kind and generous side that comes out rarely, and this dual nature of his confuses his assistants. 
Total Number Of Episodes – 12
Source – Crunchyroll
---
26. Nyan Koi! (Rating – 7.19) –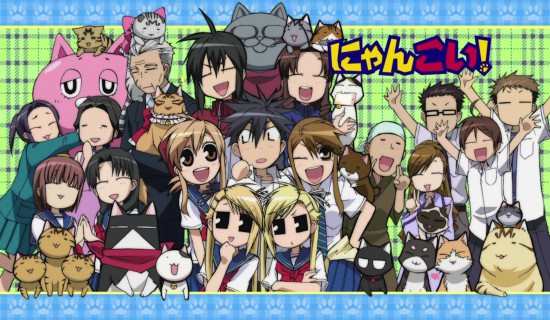 Rating – 7.19
Plot – The plot of this anime revolves around Junpei Kousaka who is a normal high school student and has an allergy to cats. But, unfortunately for him, he is surrounded by cat lovers like his family members and even his crush Mizuno. One day, after breaking the head of a cat deity statue he got cursed which enabled him to understand cat speech. Now with the guidance of his cat Nyamsus, he has to complete 100 good deeds to lift the curse otherwise he will turn into one.
Total Number Of Episodes – 12
Source – Crunchyroll
---
25. Hentai Ouji to Warawanai Neko –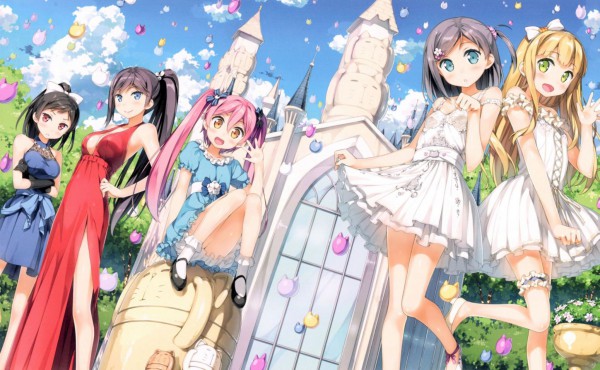 Rating – 7.23
Plot – Youto Yokodera has a strange wish, i.e., to be seen as a pervert but his perverted actions are frequently misinterpreted as good intentions by others. Finally, fed up with it he prays to a local cat deity to make others see his true nature but unfortunately, each wish comes at a price.
Total Number Of Episodes – 12
Source – Crunchyroll 
---
24. My Mental Choices Are Completely Interfering With My School Romantic Comedy –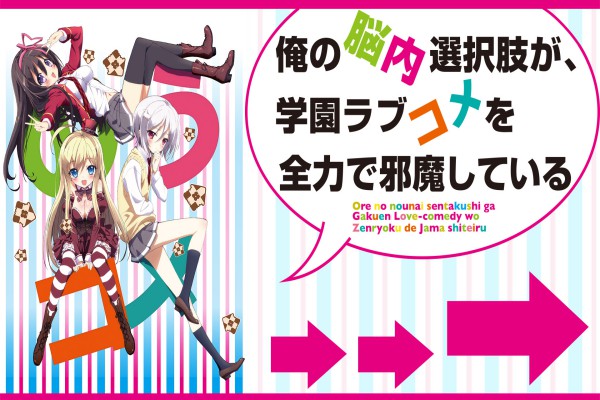 Rating – 7.25
Plot – Meet Kanade Amakusa who lives on with a ridiculous curse, "Absolute Choice", a system upon him by an unknown force that forces him to make a mental selection. This happens mostly in public places and the choices are always rude. Just when he thought his doomed days can't go any further, his decision makes a girl drop from the sky, along with various hysterically hellish choices.
Total Number Of Episodes – 10
Source – Crunchyroll
---
Rating – 7.28
Plot – What happens when one is tasked with an eccentric job in a faraway land? Meet the protagonist, Shinichi Kanou, a shut-in otaku who applies for a job to escape his secluded life but along the way gets kidnapped and transported to a fantasy world- the Eldant Empire. And gets tasked by the Japanese government to spread otaku culture across that realm and has the support of Princess Petralka of the Eldant Empire. 
Total Number Of Episodes – 12
Source – Crunchyroll
---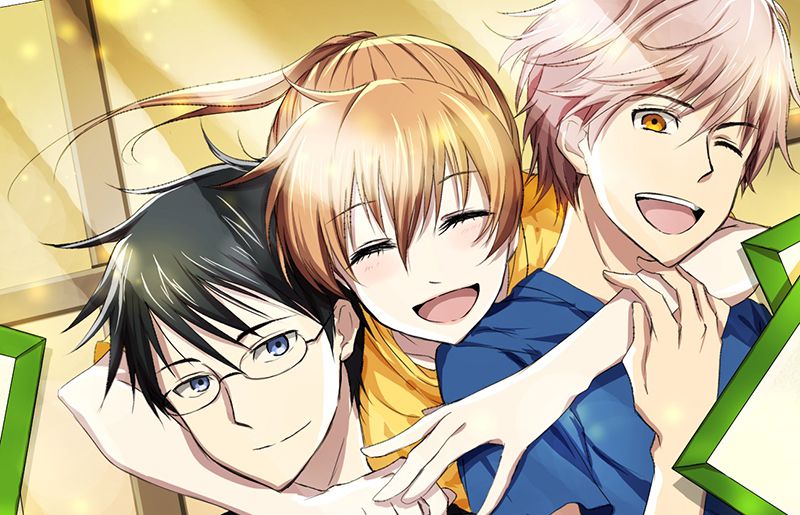 Must Read- Top 6 Love Triangle Anime of all Time
---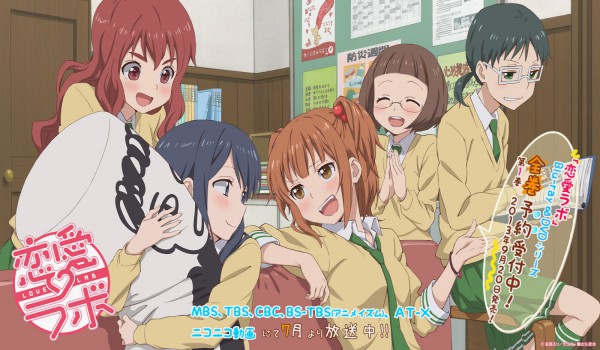 Rating – 7.35
Plot – Natsuo Maki is the student council president at the Fujisaki Girls Academy and has the reputation of being perfect and graceful but what happens when her classmate, Riko, discovers her practicing kissing technique on a pillow. Join Natsuo and Riko on their love research named "Love Lab" to experience the essentials of romance and loads of laughter. 
Total Number Of Episodes – 13
Source – Crunchyroll
---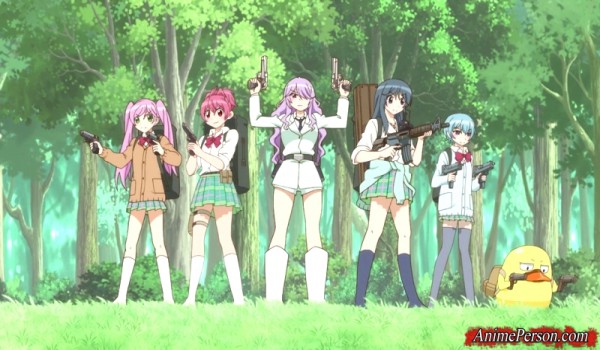 Rating – 7.37
Plot – Momoka Sonokawa is a normal high school girl and one day encounters a pervert on a train but gets saved by a girl named Miou only to get arrested later for possessing firearms. Later, Momoka follows her and gets captured by Miou and is forced to join the school's Survival Game Club. From then her normal life gets upside down, will she make it to the graduation?
Total Number Of Episodes – 12
Source – Crunchyroll
---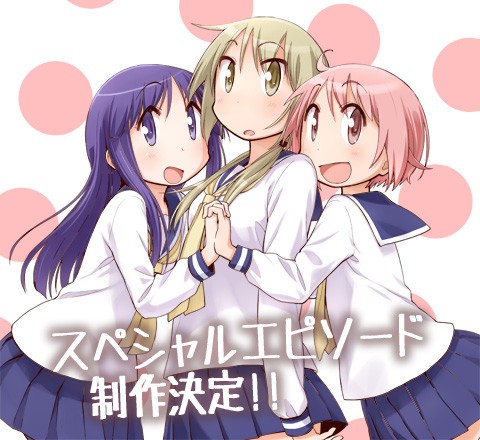 Rating – 7.38
Plot – The story of this anime revolves around three high school girls named Yuzuko, Yukari, and Yui who join their school's Data Processing Club. The three of them form an odd relationship and their every interaction brings forth laughter even in the most mundane events.
Total Number Of Episodes – 12
Source – Crunchyroll
---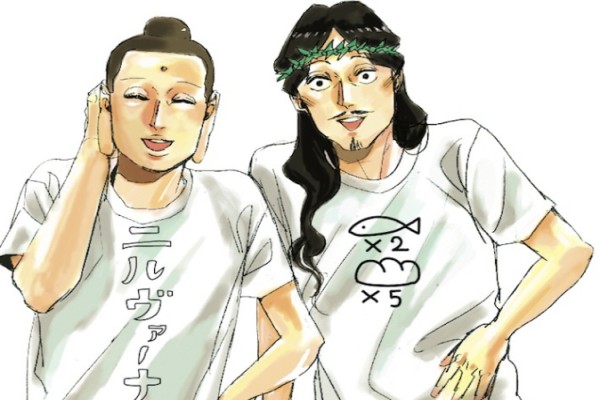 Rating – 7.51
Plot – Comedy ensues when gods of two different religions decide to take a vacation. Jesus Christ and Gautama Buddha are living together as roommates in a Tokyo apartment and attempt to hide their identities while understanding the modern society in Japan. 
Total Number Of Episodes – 2 (OVA)
Source – 9anime
---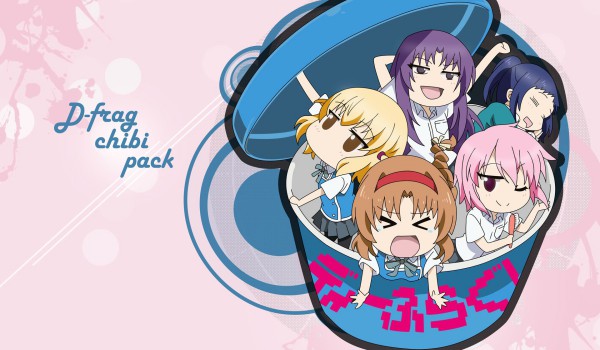 Rating – 7.57
Plot – Kenji Kazama along with his close friends are wannabe delinquents and are trying to make a name for themselves at Fujuo Academy. One day, the gang puts out a fire in the Game Development Club but instead of getting thanked they get cornered by the eccentric club members, and Kazama gets coerced into joining the club. Through their constant shenanigans and his desperate attempt to escape, he realizes that he is enjoying his time with them.
Total Number Of Episodes – 12
Source – Funimation
---
17. Seitokai Yakuindomo –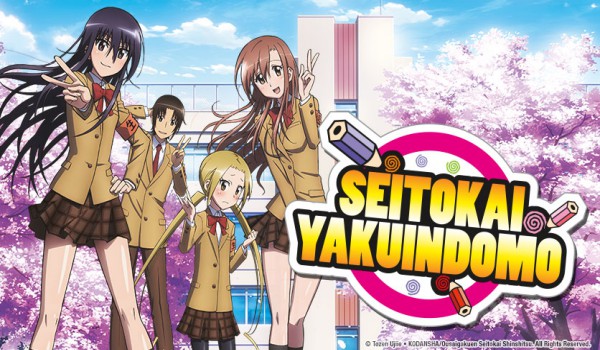 Rating – 7.60
Plot – On the first day of school Takatoshi Tsuda gets called out for his untidy uniform as well as gets appointed as the vice president, by the student council president Shino Amakusa, for his point of view to accommodate the arrival of new male students. But soon he realizes the members of the council are strange and he must work through their nonstop sexual humor and insanity. 
Total Number Of Episodes – 13
Source – Crunchyroll
---
16. Arakawa Under The Bridge –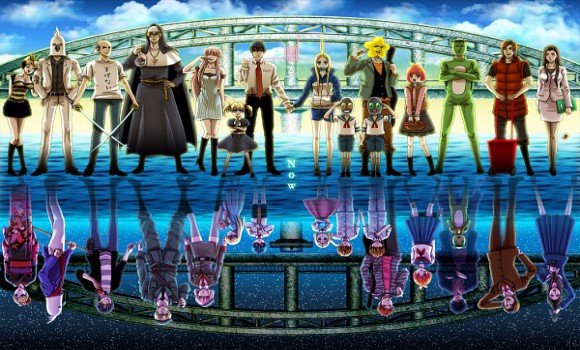 Rating – 7.60
Plot – Kou Ichinomiya is the son of a wealthy businessman who believes in debtless and elite life. But one day he ends up getting his life owed to a stranger after getting saved from drowning by the said stranger. The stranger, a homeless girl named Nino, lives in a cardboard box under the Arakawa Bridge and asks him to be her boyfriend in repayment. Thus, forced out of his comfortable home his new life starts under the bridge.
Total Number Of Episodes – 13
Source – Crunchyroll
---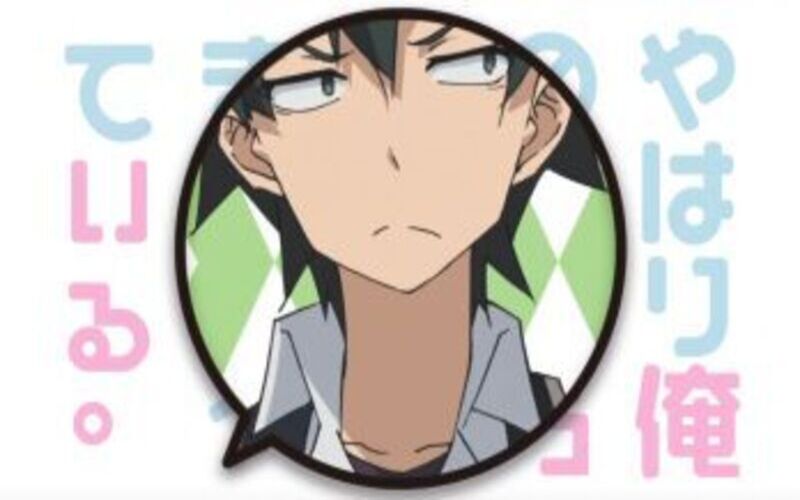 Must Read: Top 30 Romance Anime Shows of all time with Happy Ending
---
15. Demi-chan Wa Kataritai/ Interviews With Monster Girls –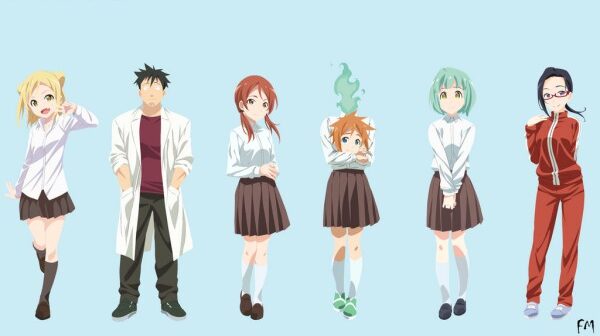 Rating – 7.61
Plot – The story of this anime follows Tetsuo Takahashi's daily life in Shibasaki High School who is anything but your average everyday instructor. He has a fascination with "Ajin", commonly known as "Demi", and wants to know more about them. Along the journey with his three Demi students, he meets his fellow teacher Sakie Satou, a succubus. To fulfill his aim to learn more about them, he conducts casual interviews with them and strengthens his bond with them but soon finds out they are not as unusual as he initially believed.
Total Number Of Episodes – 12
Source – Crunchyroll, Funimation
---
14. Wagnaria!!/ Working!! –
Rating – 7.69
Plot – Souta Takanashi ends up getting recruited by childlike Popura Taneshima to work in Wagnaria, a family restaurant located in Hokkaido, due to his love for small, cute things, and inability to turn them down. While working for her he makes acquaintances with the rest of the colleagues and especially finds joy when doting on Popura which only fuels her complex over how young she looks. Follow him and his co-workers to experience their non-stop antics, shenanigans, and hilarity.  
Total Number Of Episodes – 13
Source – Crunchyroll
---
13. Bokura Wa Minna Kawai-sou/ The Kawai Complex Guide to Manors and Hostel Behavior –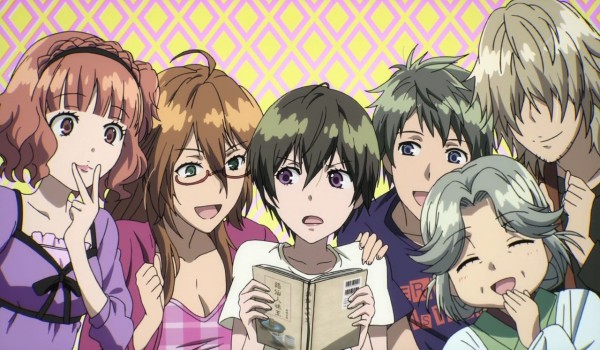 Rating – 7.71
Plot – Kazunari Usa is your average high school freshman who starts to live at his new boarding house due to his parents working in a different area. Excited for his new independent life hopes for a normal life without dealing with any strange people. But the various tenants at his new boarding house are anything but normal. Even his new roommate also turns out to be a pervert and shocked with their lack of decency he decides to leave his new residence. On his way out he runs into his senior, Ritsu Kawai, and slowly falls in love and all the while causing various hilarious situations.
Total Number Of Episodes – 12
Source – Crunchyroll
---
12. Binbougami ga!/ Good Luck Girl –
Rating – 7.72
Plot – While Ichiko Sakura is blessed with good fortune having everything she wanted including wealth, intelligence, beauty, on other hand, Momiji Binboda is cursed with misfortune, such as cast on her arm and a cardboard box as a home under a bridge. Eventually, both their lives collide with each other and she learns the secret behind Sakura's fortune. Momiji gets tasked with stopping her and stealing her fortune and hilarious insanity starts as Ichiko's quiet life gets chaotic with daily battles for her fortune.
Total Number Of Episodes – 13
Source – Crunchyroll
---
11. Panty & Stocking with Garterbelt –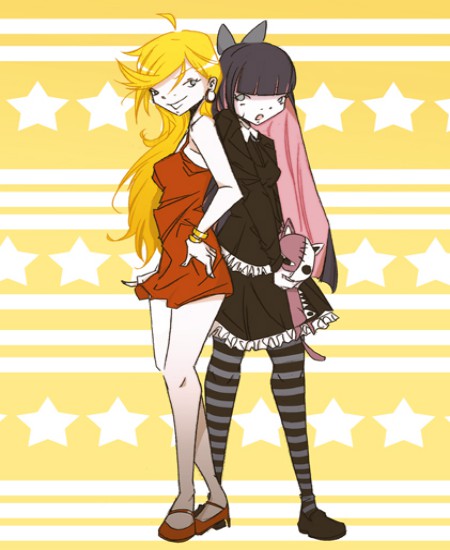 Rating – 7.72
Plot – Panty, and Stocking are "Anarchy Sisters" who have been kicked out of heaven for their mishave. They must earn their way back, under the leadership of a priest named Garterbelt, by defeating ghosts in Daten City by transforming their lingerie into weapons to finish the spirits. Neither of them takes their job seriously and would rather spend their time doing their odd hobbies. Follow their journey as they defeat ghosts and get side-tracked with other things.
Total Number Of Episodes – 13
Source – Crunchyroll
---
10. Jinrui Wa Suitai Shimashita/ Humanity Has Declined –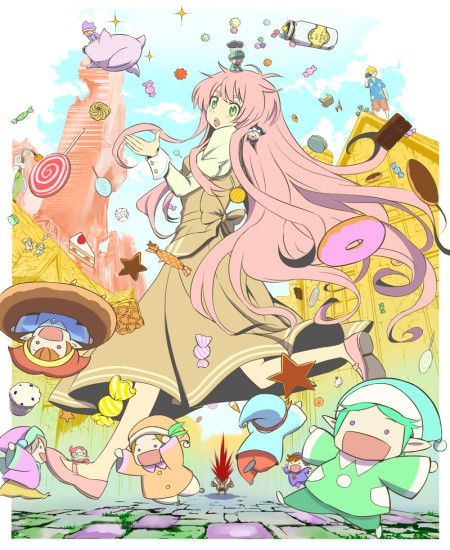 Rating – 7.78
Plot – The story revolves around a young girl in a post-apocalyptic world where she gets designated as an official United Nations arbitrator and has been tasked to maintain a link between mankind and fairies. Her initial thought about the task being easy gets broken when disasters created by the oblivious fairies in their pursuit of candy get out of hand.
Total Number Of Episodes – 12
Source – Crunchyroll
---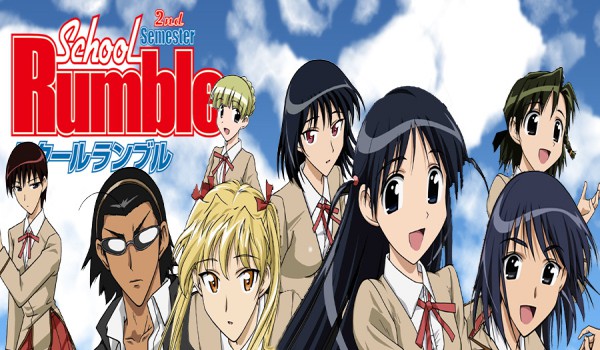 Rating – 7.93
Plot – Tenma Tsukamoto and Kenji Harima are the protagonists in this anime series where Tenma is on a mission to confess her love to the one she likes while Kenji is unable to confess his love to the one he loves. Along the way, both of them discover love is not easy as they had initially thought, especially when misunderstandings further complicate their plight. 
Total Number Of Episodes – 26
Source – Crunchyroll, Funimation
---
8. Sakigake!! Cromartie Koukou/ Cromartie High School –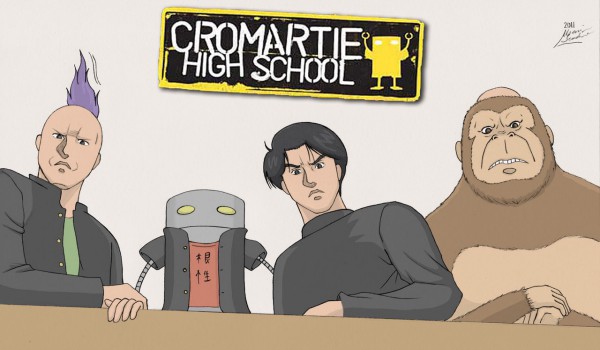 Rating – 7.93
Plot – Takashi Kamiyama is your typical average high school student who is polite and with an above-average IQ. But ends up enrolling himself at the Cromartie High School, infamous for its resident delinquents, for unknown reasons. Join Takashi on his quest to make his school earn a reputation while classmates are hell-bent on creating chaos. 
Total Number Of Episodes – 26
Source – Crunchyroll
---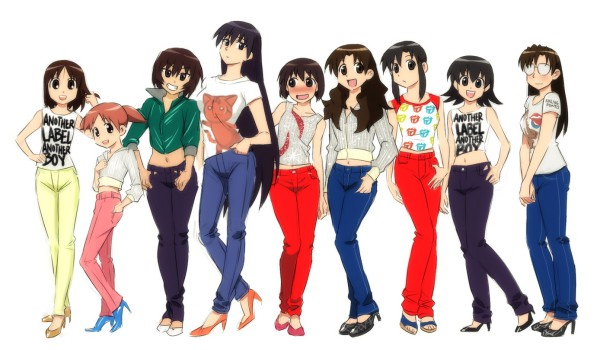 Rating – 7.97
Plot – Meet Chiyo Mihama, a tiny 10-year old academic prodigy with a love for homemade cooking and dolls as she begins her new high school life. All the while meeting eccentric classmates in Yukari-sensei's homeroom class, even her teacher would hijack a student's bike to avoid being late. Together they will experience school life filled with many adventures, absurd surreality, and constant laughter. 
Total Number Of Episodes – 26
Source – Crunchyroll
---
6. Sakura-sou no Pet na Kanojo/ The Pet Girl of Sakurasou –
Rating – 8.18
Plot – Based on the light novel series of the same name, Sorata Kanda moves into Suimei High School's infamous Sakura Hall, a dorm, and eventually meets the dorm's eccentric residents. Taking his friend, Nanami's advice he eventually decides to find new owners for the cats so that he can change dorms. However, changes his decision when he forms a bond with Mashiro Shiina and triggers changes in the lives around them. 
Total Number Of Episodes – 24
Source – Crunchyroll
---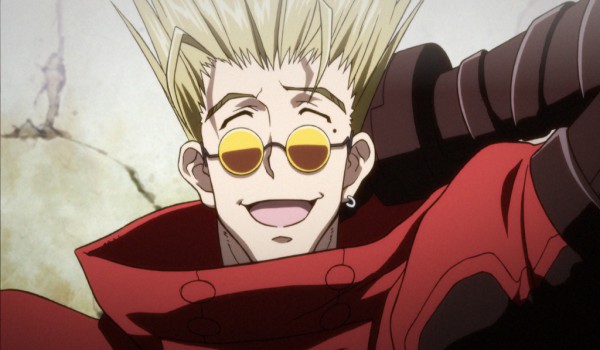 Rating – 8.23
Plot – Vash the Stampede is the man with a $$60,000,000,000 bounty on his head. Even gained a title, "The Humanoid Typhoon" for his merciless nature in defeating and is even rumored to leave behind a trail of death and destruction wherever he goes. But in reality, he is a huge softie who avoids violence and claims to have never taken a life. Follow Vash's crazy odd attitude as he travels through the wasteland of the planet Gunsmoke, all the while followed by two insurance agents who attempt to minimize his impact on the public. 
Total Number Of Episodes – 26
Source – Funimation
---
4. Danshi Koukousei no Nichijou/ Daily Lives of High School Boys –
Rating – 8.27
Plot – The plot revolves around three close comrades namely Hidenori, Tadakuni, and Yoshitake, and their everyday lives are filled with giant robots, true love, and passionate drama…only in their imagination. But who said daily mundane life can't be interesting, follow these three comrades as they reenact intricate RPG or romantic encounters on the riverbank, all the while bringing laughter and hysterical relatable situations.
Total Number Of Episodes – 12
Source – Crunchyroll
---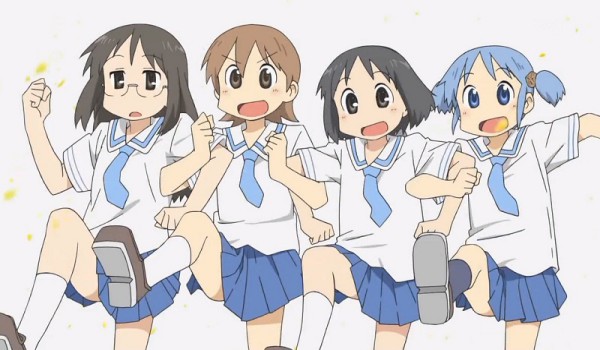 Rating – 8.47
Plot – The story focuses on the daily antics of a trio of high school and childhood friends namely Mio Naganohara, Yuuko Aioi, and Mai Minakami. Soon their quiet lives get involved with a young genius, Hakase Shinonome, their robot caretaker Nano, and their talking cat named Sakamoto. The six of them together along with the people around them experience both the calmness of ordinary lives as well as the hilarity of the absurdness.
Total Number Of Episodes – 26
Source – Crunchyroll
---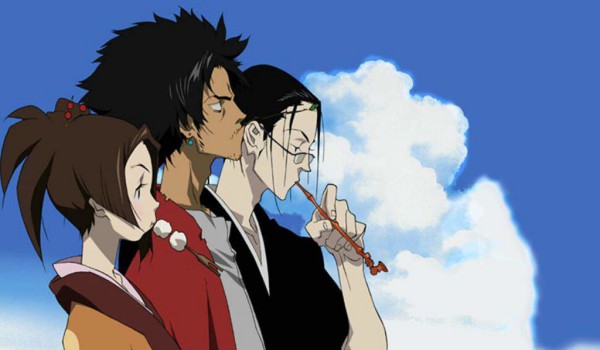 Rating – 8.50
Plot – The story of this anime series begins with Fuu Kasumi, a young yet clumsy waitress, who gets harassed after spilling tea over one of her customers. To protect herself she hires another samurai named Mugen, who quickly defeats them with his wild breakdancing fighting technique but ends up picking a fight with an unwilling ronin named jin. During their fight, they end up destroying the entire shop as well as eliminating the local magistrate's son. Fuu saves them after they get captured for their fault and recruits them as her bodyguards and the trio embarks on a journey to a mysterious warrior. 
Total Number Of Episodes – 26
Source – Crunchyroll, Funimation
---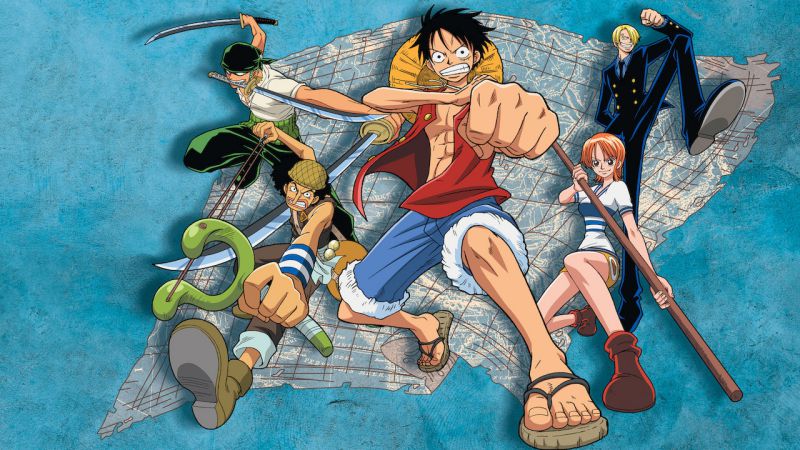 Rating – 8.53
Plot – Ever popular series revolves around Monkey D. Luffy, the protagonist of the series, whose dream is to find the greatest treasure named "One Piece" and become the "Pirate King", all the while recruiting eccentric people as his crew and meeting unique characters. Unlike the popular persona of a wicked and toothless pirate, Luffy's for being a pirate is a simple one, i.e., to experience an exciting adventure and to follow the footsteps of his childhood hero, Gol D. Roger. It is an adventure fantasy anime with a lot of comedy. It is one of the most favorite anime of all time that's why we have placed it on Number 1. 
Total Number Of Episodes – 967 & ongoing
Source – Crunchyroll, Funimation
---
Special Mention-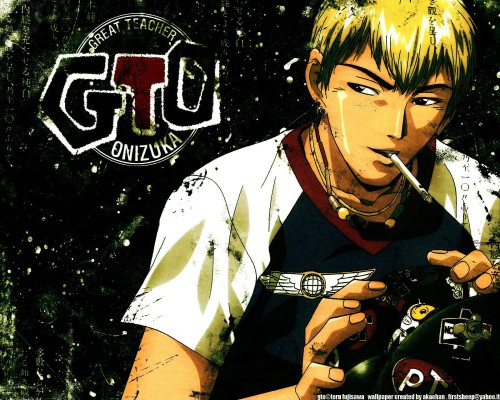 Rating – 8.70
Plot – Meet 22-year-old Eikichi Onizuka, ex-leader of a biker gang, who has a dream to become the greatest teacher in all of Japan so that he can have a teenage wife in old age. His passion lands him a job as the homeroom teacher of Class 3-4 at the prestigious Holy Forest Academy where unbeknownst to him the students use psychological warfare to make every new teacher leave school. But, Onizuka isn't your average teacher and is ready for any challenge. Follow him as he treads through his daily life as a teacher all the while helping his students to become the better aspect of themselves. 
Total Number Of Episodes -43
Source – Crunchyroll
With this, our post comes to an end. There are other comedy animes but this list was done based on our research and their ratings. We will be back with more posts like this, till then stay tuned and stay hyped.
---
Follow us on Twitter for more post-updates.
Also Read: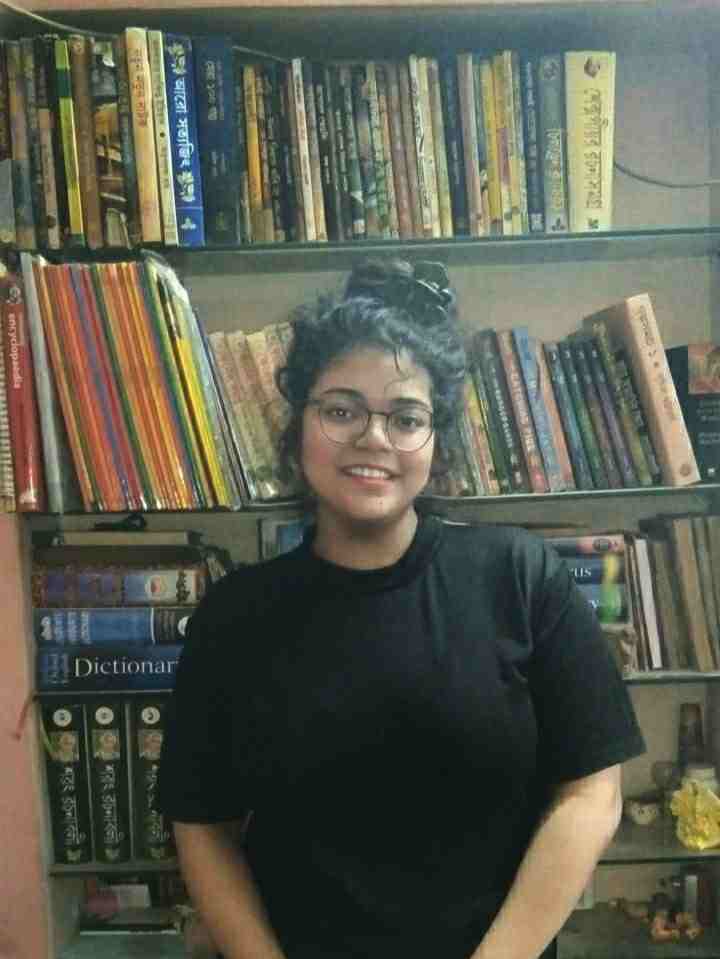 Namrata is a nature lover and frequently spends their time making elaborate plans of settling near the banks of Manasarovar lake with their best friend. If not, then they can be found reading mangas, books, comics, or science journals. Quite interested in science and will start talking about its endless theories if given the opportunity.