Whenever any anime series makes its debut, becomes very hyped, and rapidly grows in popularity, you first want to meet its hottest female character. This is because you are always looking for a beautiful female character to add to our waifu list.
As we all know, Zom 100: Bucket List of the Dead became more popular with each passing day and had just released two episodes. So let's get ready to meet Beatrix Amerhauser in Zom 100, who will soon make her debut in the series.
Manga fans already know very well about Beatrix's hotness and lovable personality. Now it's time for you to know everything about Beatrix Amerhauser in Zom 100, such as her past, role, hometown, and other facts.
Note: Before moving forward, let us remind you that this post contains major spoilers from the Zom 100 manga series.
Beatrix Amerhauser: Wiki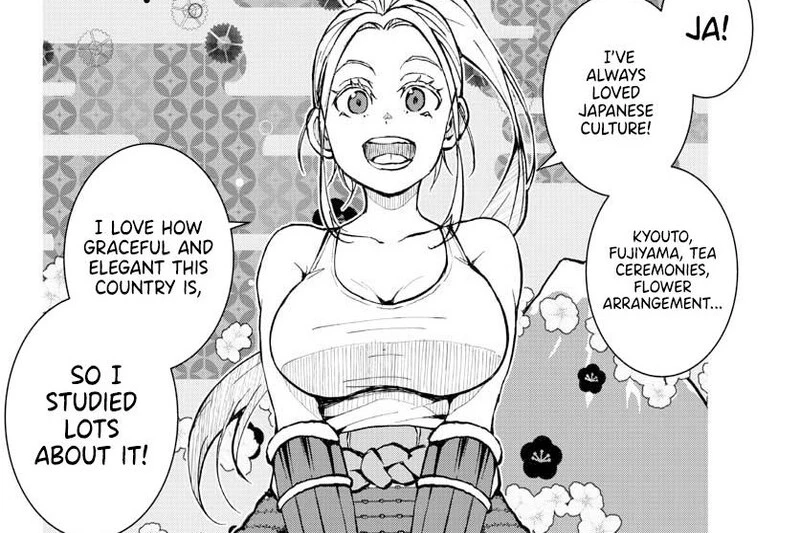 | | |
| --- | --- |
| Name | Beatrix Amerhauser |
| Age | 21 |
| Eye Color | Blue/ Green |
| Hair Color | Blonde/ Yellow |
| Ability  | Incredible Swordsmanship, Weapon Master, |
| Status | Alive |
I. Past:
Beatrix Amerhauser is one of the sexiest as well as best characters in Zom 100. Her sexiest figure, blonde hair, and blue eyes are key reasons for her hotness. Her kind and friendly behavior makes her a very easy-to-approach person who everyone wants to become friends with.
Before being trapped in the zombie apocalypse in Japan, Beatrix lived in Germany with her family. Despite being born in Germany, a European Country, Beatrix is very obsessed with Japan, an Asian country, and its beautiful cultures.
As a result, she began reading about Japanese history, cultures, traditions, festivals, and foods. Moreover, she also learned to write, read, and speak the Japanese language before she graduated.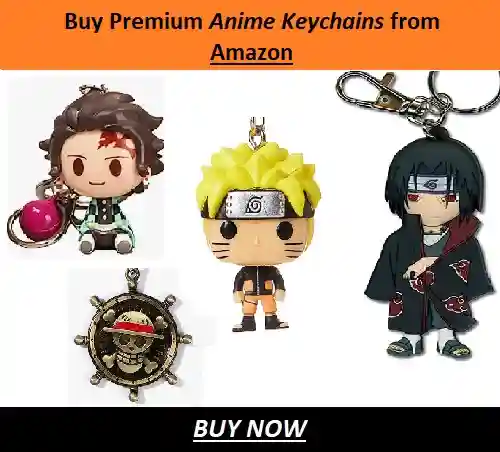 While reading about Japanese food, she found Sushi to be the most tasteful food in Japan and wished to try it once in her life. Now she finally graduates and departs on an adventurous trip to explore the entire country of Japan.
---
II. Role: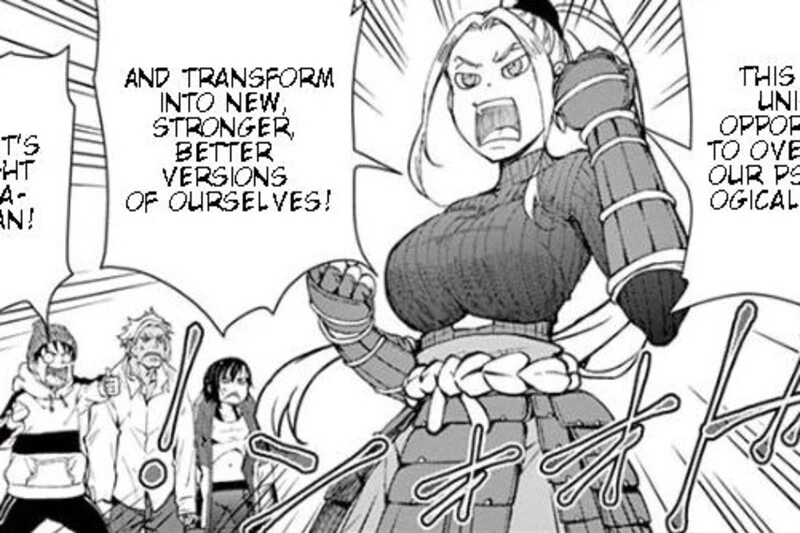 When Beatrix enjoys her trip to Japan, she is unintentionally trapped in Tokyo under the zombie Apocalypse. However, she isn't afraid of zombies; rather, she decides to keep exploring Japan.
She finally decided to eat the tastiest Sushi in Japan from the last surviving sushi chef. Now she embarks on a thrilling adventure to find him and will collect all the food materials that are used in making sushi.
One day, while delivering the fish to prepare sushi, she is suddenly attacked by a zombie and eventually meets Akira's group. They all provide their best support to Beatrix in delivering fish.
That's why she immediately joined their group after seeing their good teamwork and bond with each other. On the other hand, Beatrix also adds some of her wishes to the Bucket list that she completes with the help of Akira's group.
Some of her wishes include living in a castle, carving a Buddha statue, restoring a beautiful Japanese scene, and many more.
---
III. Parents and Hometown:
Beatrix Amerhauser was born in Germany, where she lived with her family. Her family have not featured yet in the series and were just mentioned by Beatrix herself. This is because they are not the important figures in the series.
However, it seems like her parents are quite wealthy, which is why they can afford a higher university for her. Moreover, they also helped her go on a trip to Japan.
---
IV. Relationships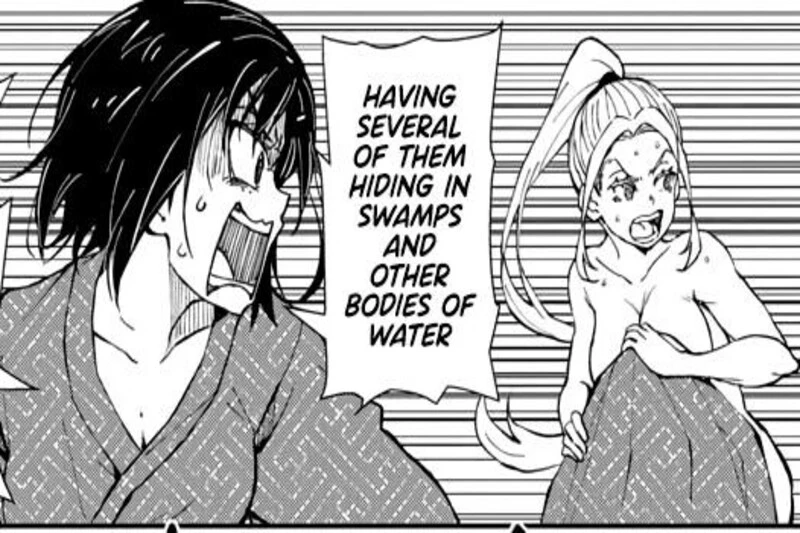 1) Akira Tendou
Beatrix first meets Akira when she is about to deliver the meat for preparing Sushi. She is very impressed to see Akira's unique perspective on the zombie apocalypse. As a result, she also adds some of her wishes to the bucket list and will join Akira's adventure in completing it.
---
2) Kenichirou Ryuuzaki
Beatrix enjoys Ryuuzaki and Akira's company, such as eating food and hanging out together. Moreover, she has not hesitated to take a bath with them in a hot spring.
She believes there is no problem for women to take baths together with men because, in earlier days, people often did the same for medicinal purposes. However, she doesn't like Ryuuzaki's perverted behavior towards her, especially when he told her to wear a Bikini dress during club time.
---
3) Shizuka Mikazuki
Shizuka is the only girl in Akira's group other than Beatrix, so it is very obvious why they both became close friends. Even though Beatrix herself has exceptional fighting skills, she is still shocked to see Shizuka's fighting style. She is now enjoying the best moments of her life along with Shizuka and others.
---
V. Other Facts
Beatrix Amerhauser is the sexiest character in Zom 100, blessed with an attractive curvaceous figure and beautiful long blonde hair.

She usually wears samurai armor and also wields two swords at a time.
Aside from her exceptional swordsmanship skills, she is also very skilled at using other weaponry skills, such as archery and pike.
Even though she is an outgoing girl, she doesn't like anyone's perverted behavior towards her, whether it be Kenichiro or Takemina.
---
Conclusion
That's it for the post! We hope you have found everything about Beatrix Amerhauser in Zom 100: Bucket List of the Dead. Due to her hottest look and incredible fighting skills, she succeeded in leaving an indelible impression on fans' hearts. Now it's very interesting to see: Does she get the same response from anime fans as she gets from manga fans?
---
Do small things with great love.
Follow us on Twitter for more post updates.
Also Read:
I am Sahil Khan and I was born in Dhanbad and raised in New Delhi, India. I am currently pursuing my graduation while also pursuing my passion for writing about anime. This is because I have been an otaku since I was 7 and writing about anime helps me overcome my stress while also honing my writing skills. Aside from writing, I am a filmmaker and an actor.