Last updated on November 24th, 2023 at 11:12 am
In the middle of the Egghead Arc, One Piece is currently focusing on the backstory of Bartholomew Kuma and Jewelry Bonney. As with every backstory in One Piece, it is heartbreaking and beautifully written and provides a lot of information on some major characters. With the new chapter about to drop, let's look at One Piece Chapter 1099 brief spoilers and raw scans:
One Piece Chapter 1099 Brief Spoilers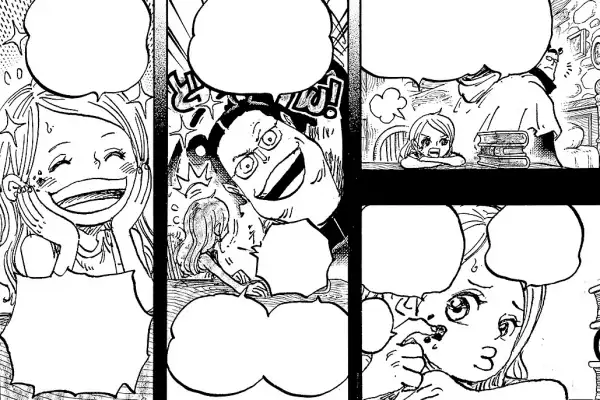 The spoilers of One Piece Chapter 1099 are provided by ScotchInformer on X. The title of the chapter is "Peace Lover" or "Pacifist". 
The chapter continues from the last chapter, with King Bekori returning to the Sorbet Kingdom and the citizens asking Kuma for help. As it turns out, Bekori has the support of the World Government to rule the Sorbet Kingdom and has returned with lots of soldiers with him.

Kuma fights the soldiers and singlehandedly defeats them all. The people of the Sorbet Kingdom request Kuma to be the next king even though he doesn't want to. To appease them, Kuma becomes the king of the Sorbet Kingdom in name only, while someone else actually rules the kingdom.

Elsewhere, Bonney somehow gets her hands on the Toshi Toshi no Mi and accidentally eats it.

Even after being defeated, Bekori survives and begins to spread rumors about Kuma being a "tyrant." When he attacks the Sorbet Kingdom again, Kuma defeats him once again.

After this incident, Kuma starts a pirate crew and is still infamous in the world by the epithet "Tyrant."
When Dragon informs Kuma that the world's greatest scientist, Vegapunk, is at Egghead Island, Kuma goes to the island with Bonney. 
When they arrive, Vegapunk is busy with the Clone Troopers Project. Kuma agrees to be the prototype for the project in exchange for Vegapunk curing Bonney for free.
When Kuma says that he's someone who just wants peace, Vegapunk decides the name the project "Pacifista," which is the same word as "peace lover" or "pacifist" in Japanese. 
While all these are happening, Saint Jaygarcia Saturn is eavesdropping on their conversation.
---
One Piece Chapter 1099 Raw Scans
Yes or No , do you think Dragon is coming to Egghead ? pic.twitter.com/lsBy0gzj4V

— Pew (رضوان) (@pewpiece) November 23, 2023
Do you realize how disgustingly evil you need to be in order for Kuma, the kindest character we have seen in the entire series, to make a face like THIS? pic.twitter.com/tdaJWS8IUz

— Logy Dogy ☀️ (@dogy_logy) November 23, 2023
everyone mixing up bonney and conney was funny af#ONEPIECE1099 pic.twitter.com/QjunEbvOIX

— Dub (@dubOPPF) November 23, 2023
---
One Piece Chapter 1099 Release Date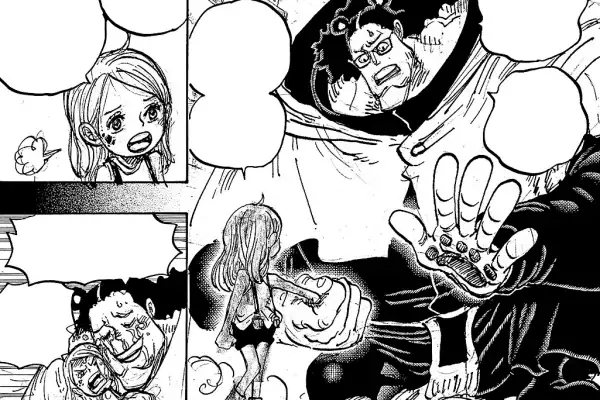 After the break last week, One Piece Chapter 1099 will be released on Sunday, November 26, 2023. In different parts of the world, the release time for the upcoming chapter will be different because of the time difference between the time zones. For the convenience of our readers, we've included a schedule of the release time of One Piece Chapter 1099 in various time zones:
Pacific Standard Time: 7 AM, Sunday, November 26, 2023
Eastern Standard Time: 10 AM, Sunday, November 26, 2023
Greenwich Mean Time: 3 PM, Sunday, November 26, 2023
Central European Time: 4 PM, Sunday, November 26, 2023
Indian Standard Time: 8.30 PM, Sunday, November 26, 2023
Philippine Standard Time: 11 PM, Sunday, November 26, 2023
Japanese Standard Time: 12 AM, Monday, November 27, 2023
Australia Central Standard Time: 12.30 AM, Monday, November 27, 2023
The chapter can be found on Shueisha's official platforms, Manga Plus and Viz Media, from the official release date. 
According to the spoilers, there will be no break next week, so, Chapter 1100 will be released on December 3, 2023. It's a milestone for One Piece and we can expect a killer chapter from Eiichiro Oda for the occasion. Also, don't forget to visit Otakus' Notes to get more exciting content on One Piece.
---
Do small things with great love.
Follow us on Twitter for more post updates.
Also Read:
Anamika loves words and stories and putting them to pages. She also loves anime, manga, books, movies and everything fantasy. She has been a fan of anime since childhood and her admiration for it only grew with years. Her passion for writing is even more elevated by writing about the things she loves.