Last updated on May 9th, 2023 at 12:24 pm
Blue Lock Chapter 217 has been giving us more information as to how Ubers is manipulating the field in their favor. Isagi was caught off guard by their attack strategy, as he couldn't stop Barou's goal.
Now that Uber's new strategy was figured out by Isagi, they might be switching gears and changing the way they play. The same trick would not work twice as Kaiser and Isagi would be easily able to launch a counter-attack in case the same happens.
Blue Lock Chapter 217 Spoilers & Raw Scans
Barou had just tied the score with a marvelous goal, that no one saw coming. He used his team's coordination perfectly to strike in at the right moment when Gagamaru couldn't see the ball.
Barou questions Isagi and asks if that's all he got.
Isagi keeps playing this scenario in his mind from the start.
Ubers starts by stealing the ball from Isagi and then proceeded to attack very fastly.
He further understands that this kind of highly coordinated and fast play cannot be achieved without practice.
Isagi also knows that this is Uber's true strength and Barou had also developed new abilities.
Barou had aimed for the timing when Gagamaru couldn't look at the ball and then took his shot.
Barou had earned Predator Eye ability, to improve his timing, and this is a different kind of evolution compared to Isagi.
Ness is pretty frustrated, that he wasn't able to do much on the attack or the defense side.
Kaiser is trying to calm him down so that they get a winning chance.
He says that if they can shut down Lorenzo, they could win, Ness also agrees with Kaiser's opinions.
Kurona approaches Isagi and thinks that Uber might have many more strategies planned too.
Isagi knows that these tactics will be easily able to crush BM.
Yukimuya also joins in to get an answer, and Isagi still thinks that Noa's instructions for winning 1vs1 will only be their chance at victory.
The match restarts and we see Ness in possession of the ball.
Ness and Kaiser are already trying to stop Lorenzo from moving too much.
Ness says that he will go to midfield, and will try to spread it into three different areas.
He knows that attack on the front line is still the issue, as their combo attack can now only go to the front line.
He is fully motivated to make Kaiser score a goal with this opportunity he has.
Lorenzo tries going in for a 1v1 with Kaiser, but Kaiser utilizes Ness to steal the ball.
Ness kicks the ball toward Kaiser, but Aryu is ready for this and headbutts the ball.
Igaguri and Hiori are shocked at the sheer amount of simulation Ubers did to even count in for this scenario.
The ball comes in Ness's direction, but Lorenzo easily steals the ball.
Hiori thinks that Uber's launching a counter-attack at this point will close off the match for BM.
Right at that moment, Isagi is ready to steal the ball from Lorenzo.
Isagi could foresee this play of Ness getting blocked, Aryu's defense, and this loose ball.
On top of this, he thinks that his meta vision is better for finding the cracks in Uber's defense.
But, Niko appears to kick the ball out of bounds.
It is a throw-in for BM, and Isagi thinks that this is an out-of-character play for Ubers.
Niko says that he has the same brain and eyes as Isagi, and Isagi thinks that Niko might have achieved meta vision too.
---
Blue Lock Chapter 217 Release Date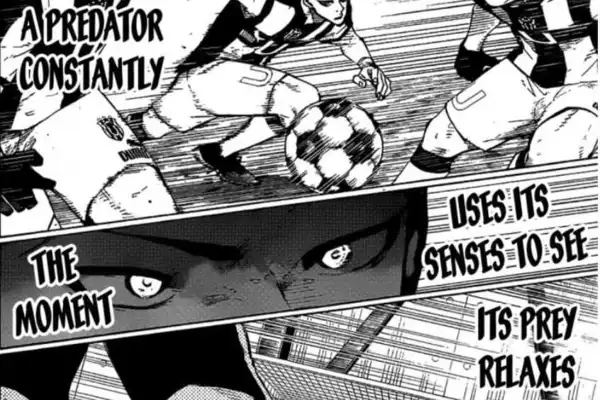 Blue Lock Chapter 217 should release on May 8th. Since the raw scans and full spoilers have already been released, the chapter will also be released soon.
Blue Lock Chapter 218 is titled Game Changer. This might show how either Niko changes the game for his team while slowly closing the gap between him and Isagi in terms of abilities.
With this, we shall end our article on Blue Lock Chapter 217 Spoilers & Raw Scans. For more Blue Lock manga updates and many other manga updates, make sure to check our other posts here.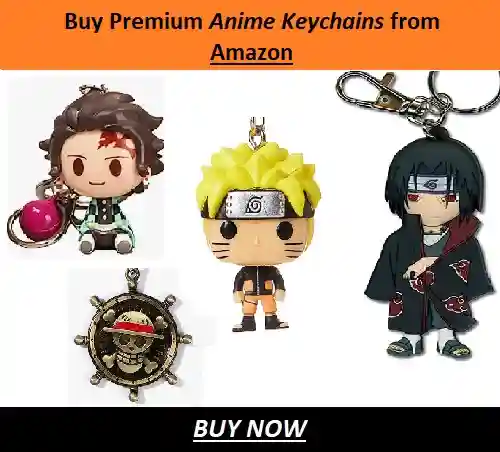 ---
Do small things with great love.
Follow us on Twitter for more post updates.
Also Read: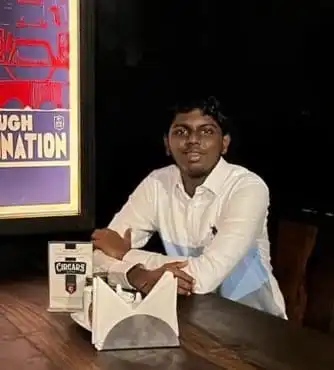 Eswar Keshav is an ardent anime fan for more than a decade. Along with this, he also has been following anime and manga updates for years. He is also enthusiastic and passionate when it comes to writing about his favorite things. Combining his love for writing and his love for anime and manga, his articles speak of his love for the genre.