Jujutsu Kaisen Chapter 233 spoilers have been released, and we have an exciting fight now. Sukuna vs Gojo fight had been going at an incredible pace since the previous chapter.
Just when Gojo thought that he had defeated Sukuna, Mahoraga managed to land a last-minute counter and took Gojo entirely by surprise. This small counter may change the outcome of the whole fight now.
Jujutsu Kaisen Chapter 233 Spoilers & Raw Scans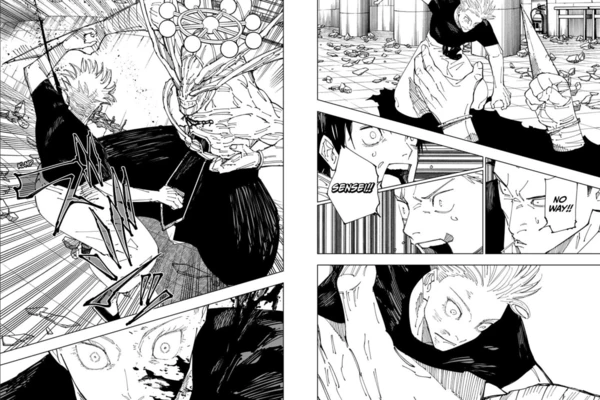 The fight continues in this chapter, as we see that both Gojo and Sukuna are fighting on equal terms now. 
Yuuji thinks that Sukuna and Gojou are on even footing now, and Gojo also has his healing techniques. 

However, Shoko notices that Gojo's healing is getting slower, and his output for the Reverse Cursed Techniques is decreasing. 

The situation should be the same for Sukuna, too, as he received damage to his brain. 

Everyone here is now thinking that Gojo might lose now, including Gojo himself. 

The Mahoraga and Gojo fight keeps continuing. 

Gojo uses most of his spells and notices that Black Flash is the most effective. 

He tries to break down the mechanisms of Mahoraga and Sukuna's attacks to find a weak spot. 

It has become a 2vs1 and Gojo barely manages to keep up. 
Mahoraga had already adapted to Gojo's untouchability, and now Sukuna has access to more resources and Shikigami. 
But he also knows Mahoraga will take time adapting to his Red technique. 

Gojo is thinking of saving some of his techniques for now. 

Sukuna says it is now a 3vs1 after using his Nue Totality and Chimera Beast Agito spells. 
Gojo uses red again but sees that effect is also weakening, along with the output. 

He understands that Mahoraga adapts gradually instead of at a 0-100 pace. 

Gojo now only has one shot at defeating Mahoraga with his new move. 

Sukuna will also be aware of it, which might become more challenging for Gojo. 

But Gojo doesn't have any other option than to unleash this move. 

He unleashes his Unlimited Hollow Technique and smiles as if he won the battle. 

It's the first time Gojo has been pushed to such an extent in the series. 

We are also getting impatient to see the victor of this most-hyped battle in the history of Jujutsu Kaisen. 

Knowing Gojo, he could deal much damage with his move. 

He would also have something else planned in mind, which would let him win against Sukuna. 

How would Sukuna answer to Gojo now? Let's wait till the next chapter to know. 
That's how sukuna literally looks 😭 #JJK233 #JJKSpoilers pic.twitter.com/0BZDVyicgw

— Kaisen (@kaixsen) August 23, 2023
satoru genuinely looks so cool in these panels like oh my goodness forgive me if i post them a couple more times pic.twitter.com/bgtvIizGWG

— angela ☆ (@artdiseasee) August 23, 2023
my cutie patootie angel cake #jjk233 pic.twitter.com/WoxLHMCksm

— mango 🦐 (@gojouify) August 23, 2023
JJK CHAPTER 233 😚 kaekae to the rescue
"Black flash reaches megumi : he rises to the surface and says -> "Sensei..please finish him off"#JJK233 pic.twitter.com/mJ19L0o0Q7

— Kae ☆ (@SUGURVS) August 23, 2023
---
Jujutsu Kaisen Chapter 233 Release Date
Jujutsu Kaisen Chapter 223 should release on August 27th. The release date of the chapter is according to schedule since the raw scans and spoilers have also been released.
This chapter keeps on increasing our hype for the next couple of chapters to see who the winner of this fated battle would be. Since Gojo said he could defeat Sukuna in the initial chapters, we have been waiting for this fight.
These are all of the spoilers released on Jujutsu Kaisen Chapter 223. Check some of our other similar Jujutsu Kaisen articles over here.
---
Do small things with great love.
Follows us on Twitter for more updates.
Also Read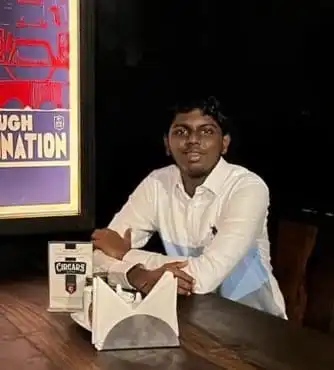 Eswar Keshav is an ardent anime fan for more than a decade. Along with this, he also has been following anime and manga updates for years. He is also enthusiastic and passionate when it comes to writing about his favorite things. Combining his love for writing and his love for anime and manga, his articles speak of his love for the genre.