Last updated on August 1st, 2022 at 03:29 pm
This post is updated based on new informations.
After a couple of weeks of hiatus, One Piece finally released its Chapter 1054. No wonder the chapter was top-notch. It not only revealed knowledge of some of the greatest mysteries but also showed Shanks in multiple panels after so many years. However, his sketch in the dialogue, "Let's claim the One Piece," gives goosebumps, and it surfaces many new theories regarding him. So, what will happen in One Piece Chapter 1055? Let's discuss this in our spoiler article.
The last chapter begins with a fight between Admiral Aramaki and Scabbards. Aramaki unveiled the true potential of his Wood-Wood Logia Fruit. He also revealed his motive for apprehending Monkey D. Luffy. He is confident enough to take down anyone who comes in his way. He thinks that Luffy is some ordinary 19 years old kid who allied with strong people to take down Kaido, and he can easily capture him. However, Momonosuke and Yamato arrived on time.
After that, the story shifted toward Red Hair Pirates, who are on the shores of Wano. They were so excited to meet Luffy and others. But Shanks is planning something different. First, he desires to take down Bartolomeo. Those who don't know, let us explain the reason behind this.
The front page of One Piece Chapter 875 illustrates Bartolomeo burning down Red Hair flags in Shanks' territory and replacing it with Straw Hat flags. It makes Shanks inferior, and what happens to people who believe and put trust in Red Hair Pirates. Therefore, it's a compulsion for Red Hair Pirates to take necessary action in this event. Below is the image.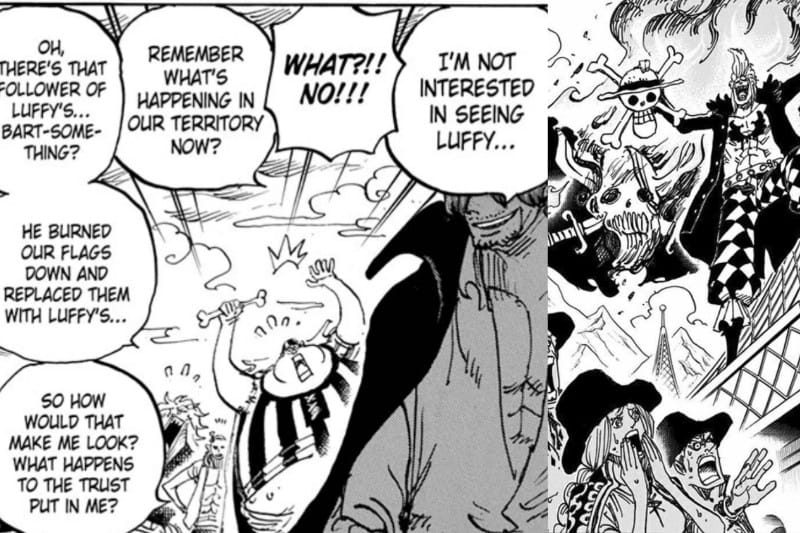 In contrast, Luffy has promised all his allies that he will assist them with any consequences. So, will it lead to a fight between Luffy and Shanks? No one expected that Barto's devoted nature would cause something like that. Moreover, Shanks mysteriously ended his conversation with Beck by saying, "Let's claim the One Piece."
The next half of the chapter showed the rise of another Emperor, the Flame Emperor, Sabo. The world government showed everyone that Sabo had eliminated Nefeltari Cobra, a descendant of one of the 20 founders of the World Government, and this news has made him a hero in the One Piece world. He is now even more popular than the leader of the revolutionary, Dragon.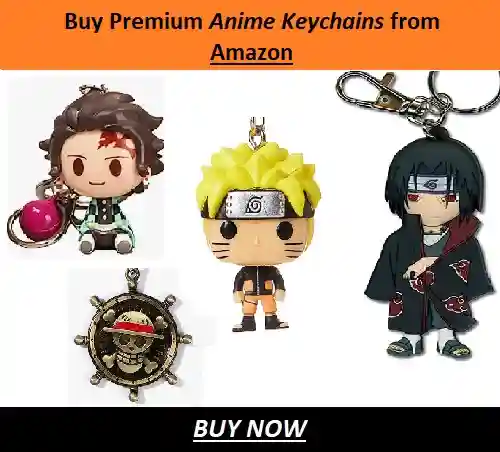 In addition, Sabo and other revolutionaries were engaged in the fight with Admiral Fujitora and Ryokogyu, but in the end, they successfully escaped Kuma. Now it makes sense why Fujitora was covered in the bandages when he was going to capture one of the Warlords. Also, Princess Vivi is missing from the Reverie. Everything is in chaos, and now Akainu, the Fleet Admiral, has to take the lead.
---
Must Read: One Piece: All Swords and their Users
---
One Piece Chapter 1055 Spoilers
Finally, the full spoilers of One Piece Chapter 1055 are out. The next chapter will begin with the title, "New Era." It will focus on the new generation and the beginning of the new era.
In the previous chapter, Momonosuke stops Yamato because he wants to save

Wano Kuni alone because that's his duty.
Momonosuke will finally figure out how to use Bolo Breath, and with the use of one single

Bolo Breath, he heavily injures Ryokugyu. But Ryokugyu will also be ready for Round 2.
Ryokogyu will give up after sensing 

Shanks' Conqueror Haki

.

He will realize that the

 Red Hair Pirates

 are near.
The chapter will begin with 

Sukiyaki

, who will take 

Robin

 and 

Law

 to the depths where the

 Road Poneglyph

is. It is hidden in the old Wanokuni. He will explain to them how the current Wanokuni was

built.
In the end, Luffy and others will sense Shanks' Haki going throughout Wano. According to the spoilers, it is not confirmed who is with Luffy that can sense Shanks' Haki. And Kid will not appear in the chapter. 
Below, we have attached the full spoilers of One Piece Chapter 1055 confirmed by Redon.
---
Predictions
The next chapter will begin with the continuation of the combat between Momonosuke and Admiral Aramaki. Momonosuke commanded everyone not to interfere in the fight. It means we will witness some exciting techniques from both ends.
Momo knows that to save his country and people, he has to become stronger. It will be difficult for Aramaki to keep up with him because, in terms of every aspect, Momo has the advantage.
On the other hand, one Japanese fan surfaced new information from the last chapter. As you can see, the sake in front of Shanks (during the conversation with Beck) has something written on it. The post indicates that the big letters are "Number 5," and the smaller letters say "Sake Number 67." So, what does it means?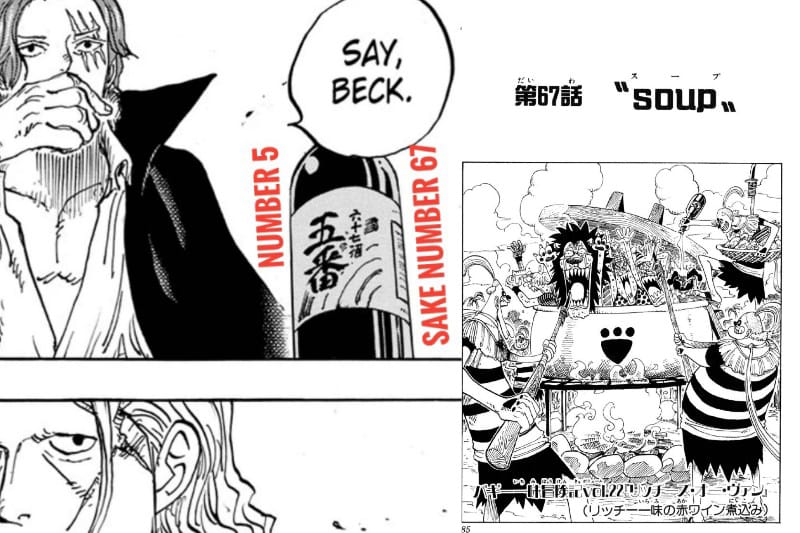 The cover panel of One Piece Chapter 67 illustrates a drawing of the Buggy Pirates being boiled in a pot, similar to Oden and Red Scabbards. Is it a foreshadowing, or does Oda sensei just surfaces some random numbers for theorists?
Shanks' dialogue, "Let's claim the One Piece," in a mysterious way raises many questions. First of all, the sentence means that he wants to claim the One Piece and become the next Pirate King. If that's so, why was he wandering in the sea for this long? Is he waiting for Luffy? If yes, then why?
Some fans predict that Shanks need Luffy to reach the final island, and somehow, he may be the villain. His main goal is to rule or take over the World Government, and to achieve this; he needs Monkey D. Luffy. Shanks is one of the most mysterious characters in the One Piece series, and no one knows what's his ultimate goal.
---
Must Read: One Piece Film: Red Spoilers (Shanks and Uta's Story)
---
One Piece Chapter 1055 Release Date
According to the official Shueisha, One Piece Chapter 1055 will release this week on Sunday, i.e., on July 31, 2022. The confirmed spoilers will release in the next two or three days. It will be exciting to witness the conclusion of the fight between Aramaki and Momonosuke.
---
Where to Read One Piece Chapter 1055
Fans can read One Piece Chapter 1055 officially only on Mangaplus Shueisha and Viz Media on July 31, 2022. The raw scans of the new chapter with rough translation will surface on July 28, 2022. We will be back once we get the confirmed spoilers. Till then, stay tuned with us.
---
Do small things with great love.
Follows us on Twitter for more updates.
Also Read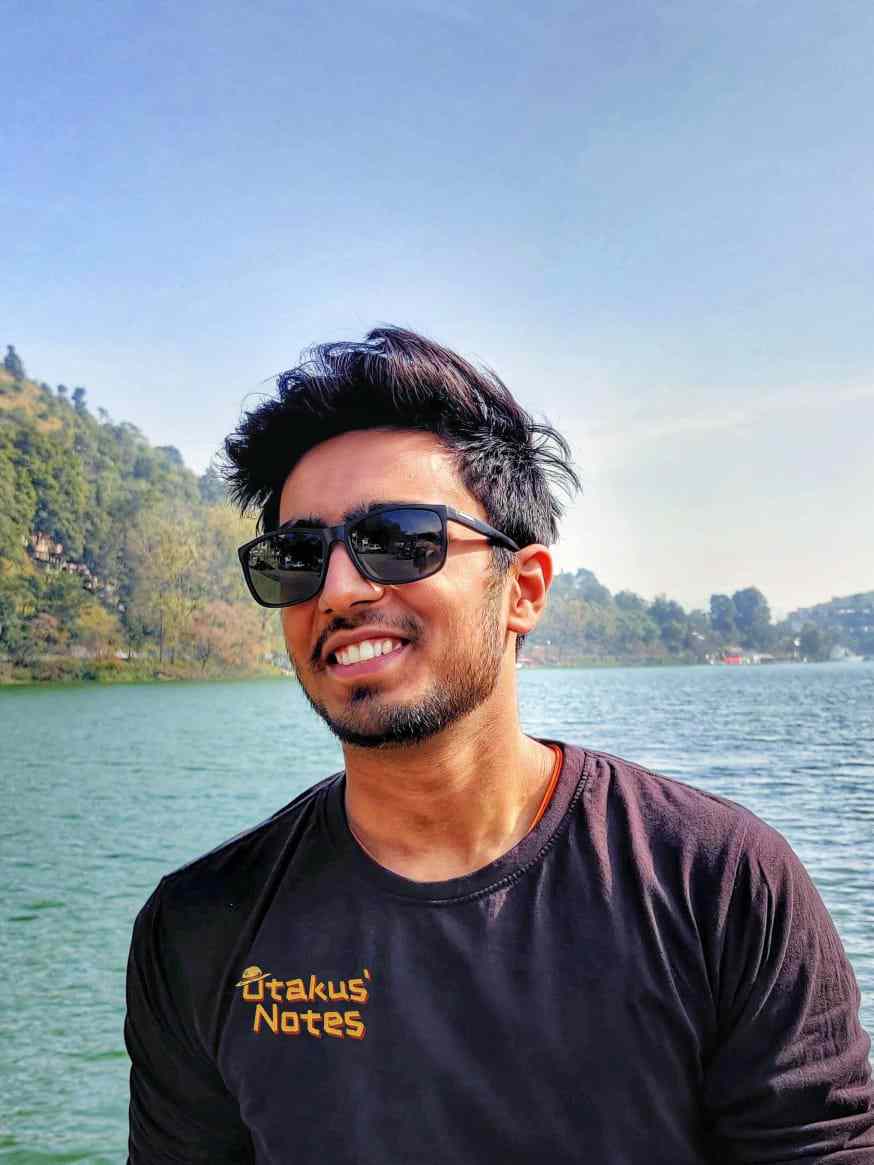 Engineering edified me dreams' propelling. And being an Otaku, a superlative dream of mine engulfs experiencing anime to its deepest quintessence and inditing my perspective towards it. Ultimately, anime blogging carved a path towards my desire and made me stand up to you.