Last updated on September 14th, 2023 at 10:08 am
Recently, One Punch Man Chapter 170 was released, showing the aftermath of the Monster Association arc. According to Viz Media, the last chapter was One Punch man Chapter 168 in official English translation. As you can directly compare the front page of both official and unofficial One Punch Man front page. Viz Media considered two chapters under one number due to the sudden change in the story by Murata and ONE.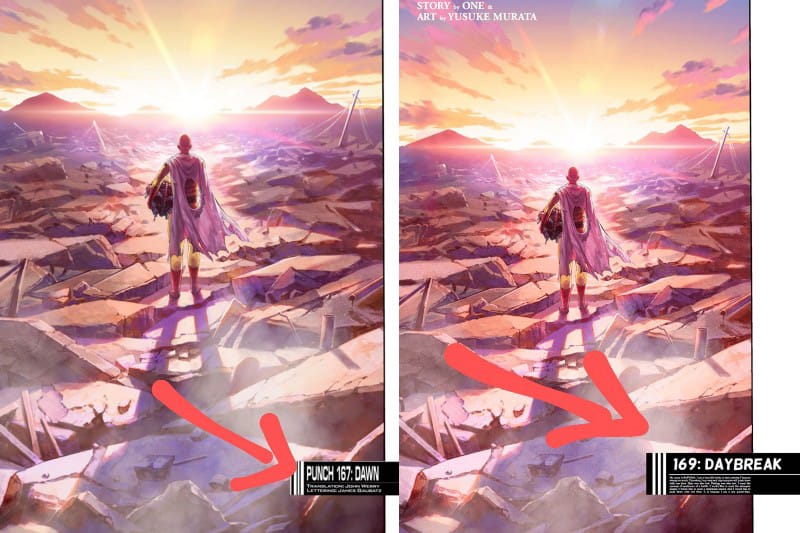 However, many unofficial websites mentioned the change in the story as two different chapters. That's why it leads to the mismatch of the chapter numbers. We hope it clears many fans' doubts.
Now, back to the last chapter. It unveiled the current situation of Garou, Bang, Tareo, Saitama, Genos, and the Hero organization. As expected, Saitama's last punch not only removes the Godly powers but also eliminates every Monsterification part from Garou's body. That punch from Jupiter's Saitama was very powerful, and Garou was lucky to survive it. But he has forgotten every technique that he learned after his Monsterification.
It means currently, Garou is on the same level when he defeated Death Gatling and his team. But he remembers every fight he combated after becoming Monster (except Jupiter Fight against Saitama).
He mentioned the names of the ones he fought after turning into a monster: Bang, Bomb, Flash, Blast, and Saitama. It's lovely to witness that from now like Bang and King, he will also acknowledge Saitama's strength. Also, if you notice, Garou has named them based on their power and desired to surpass them in order.
Moreover, Bang also surfaced that he has been feeling quite good since Metal Knight performed the complete body maintenance on us. It gives us a glimpse of what happened after Metal Knight's appearance.
Just After the Battle:
In the last-to-last chapter, we witnessed that Garou took advantage of Bang, Saitama, and King and flew away from the battle after being defeated. And then Metal Knight arrived with thousands of drones and ships to suppress the nuclear attack and remove the radio-active fallout. He also tested every hero and decontaminated radioactive poising. So, in our opinion, every hero must undergo his treatment except for Garou and Saitama because they don't need it. Dr. Kuseno treated them and provided Genos with a new body.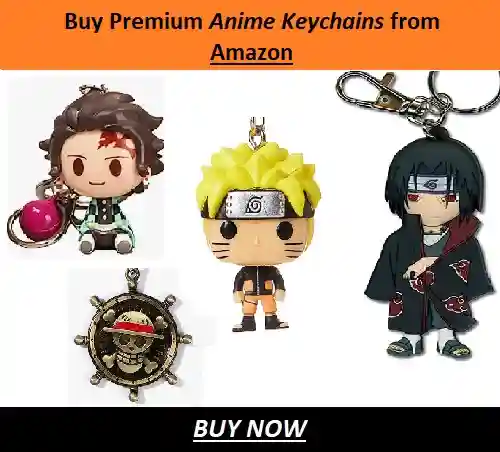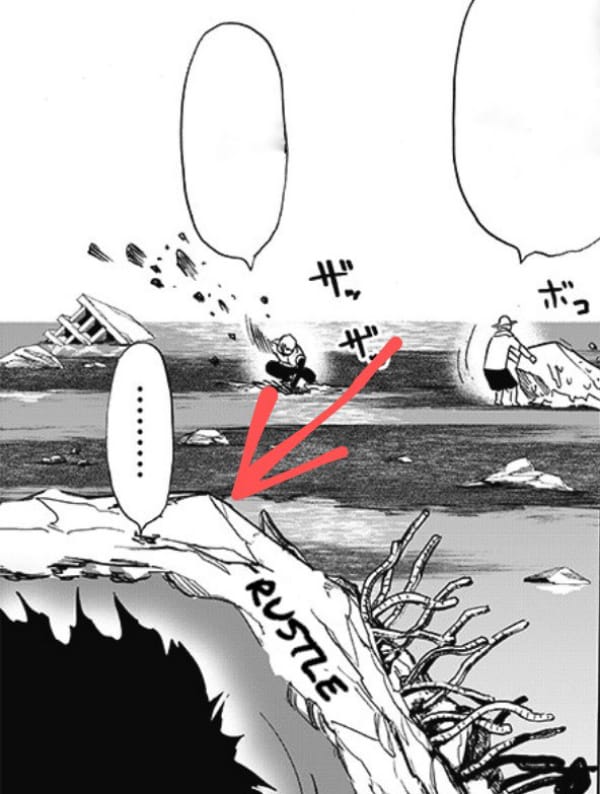 In the last chapter, they both were digging in the contaminated zone from his home. However, many fans would not have noticed that someone else is also present there along with them. So, who is there; Zombieman, Suiryu, or some monster like Rover? Many fans estimate that its Rover and it has arrived to become Saitama's pet.
Latest News regarding One Punch Man manga:
Before proceeding into fans' prediction, let's inform you of two latest news regarding the One Punch Man manga series.
First, One Punch Man manga series is on break for a month. It means we will not get any chapters for a month.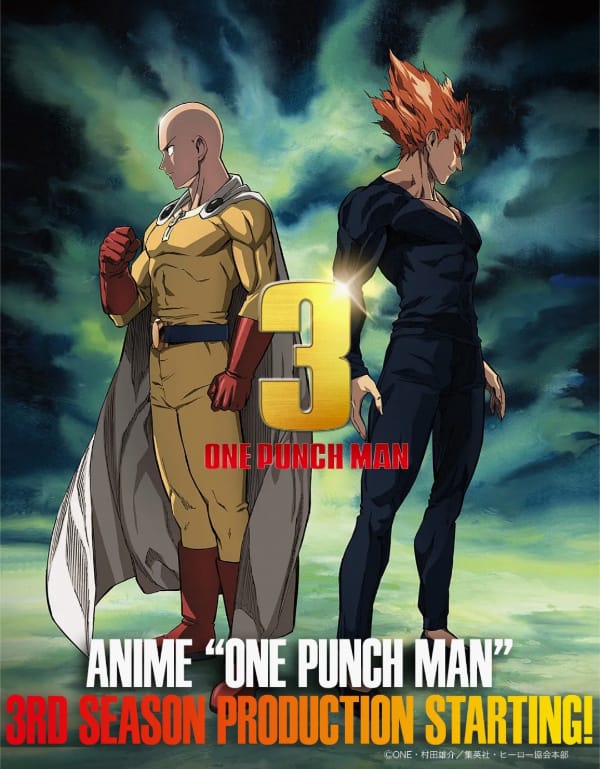 Second is the announcement of One Punch Man Season 3. The production of One Punch Man Season 3 anime has begun. However, the animation studio and the release date are yet to be revealed.
---
Must Read: Saitama vs God in One Punch Man: Is Saitama stronger than God?
---
One Punch Man Chapter 171 Spoilers | Chapter 169 (Viz Media)
One Punch Man has begun the new arc showing the aftermath of the final battle with monsters. Now it is confirmed that monsters have been entirely eradicated from the Earth. However, the ending unveiled the rise of the new enemy, i.e., God.
Also, the series showed God's presence on the moon during the battle between Saitama and Garou. Moreover, the role of Blast showed that there is a war going on in the multiverse. Hence, there is a high probability that the upcoming events will be related to God or the multiverse.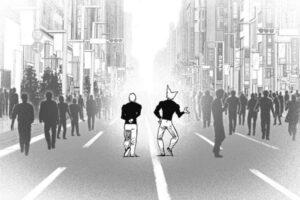 Now Garou is on his journey to becoming stronger with Bang and is also aware of Saitama's strength. The ones who know about Saitama are Genos, Bang, Bomb, King, Garou, Flashy Flash, Suiryu, and Fubuki. It will be interesting to witness them present at Saitama's home for training.
Now, like Bang, Garou, and Flashy Flash will also arrive on a regular basis to meet him, and like Genos, Suiryu will also request Saitama to make him his disciple. Hence, the following chapters of OPM will display all these circumstances.
---
One Punch Man Chapter 171 Release Date | Chapter 169 (Viz Media)
As it is officially mentioned that One Punch Man manga is on hiatus for a month. Therefore, One Punch Man Chapter 171 | Chapter 169 (officially) will release next month on September 18, 2022, i.e., on Sunday. Now, Murata and ONE are taking a break after working continuously on this arc.
---
Where to read One Punch Man Chapter 171
The manga is officially available on ONE's site. So, it's best to read it there and support the artist. Additionally, the manga is also officially available on Viz Media and Shueisha.
You can read the latest chapters of the manga free of cost on these two sites. Therefore, if you regularly follow up on the new releases, these two sites are the best. They also announce the release dates and post the schedule calendar of most of the manga.
With that, we conclude our article. We will be back with another article on One Punch Man's latest chapter after it's out. Meanwhile, feel free to browse through and check out some more interesting articles.
---
Do small things with great love.
Follow us on Twitter for more post updates.
Also Read,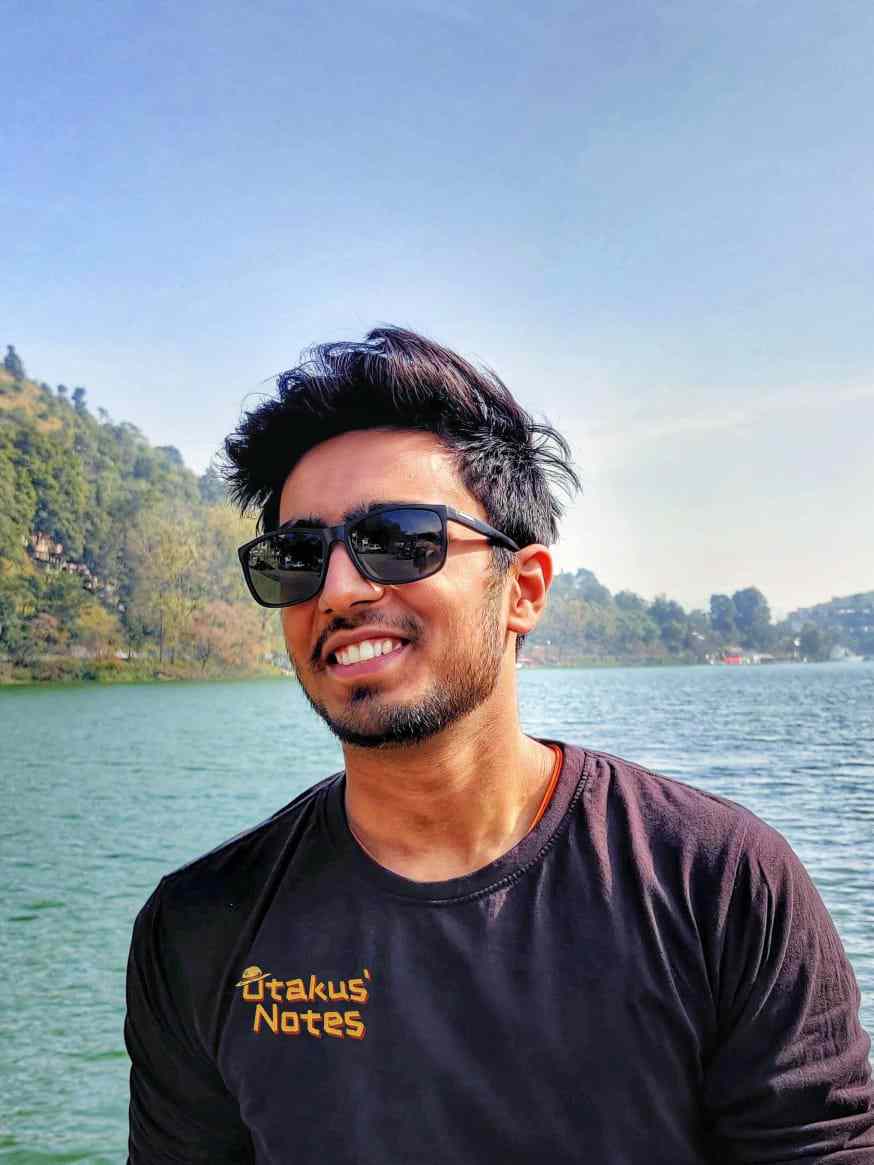 Engineering edified me dreams' propelling. And being an Otaku, a superlative dream of mine engulfs experiencing anime to its deepest quintessence and inditing my perspective towards it. Ultimately, anime blogging carved a path towards my desire and made me stand up to you.