Last updated on January 24th, 2021 at 10:32 am
Undead Unluck Line Stickers Campaign was organized recently, now the most-awaited results are out. The rankings have surfaced and reveal the top 5 characters, which have been voted the highest. All these 5 characters will get an original sticker drawn by Yoshifumi Tozuka, the author himself.
The results were announced recently on the official Twitter page of Undead Unluck with the exact votes secured by the top 5 characters. Although irrespective of the vote differences, all five characters will be featured as stickers for sale as manga merchandise. Read further for the official announcement poster with a little insight on the manga.
Undead Unluck's Line Stickers Campaign Results-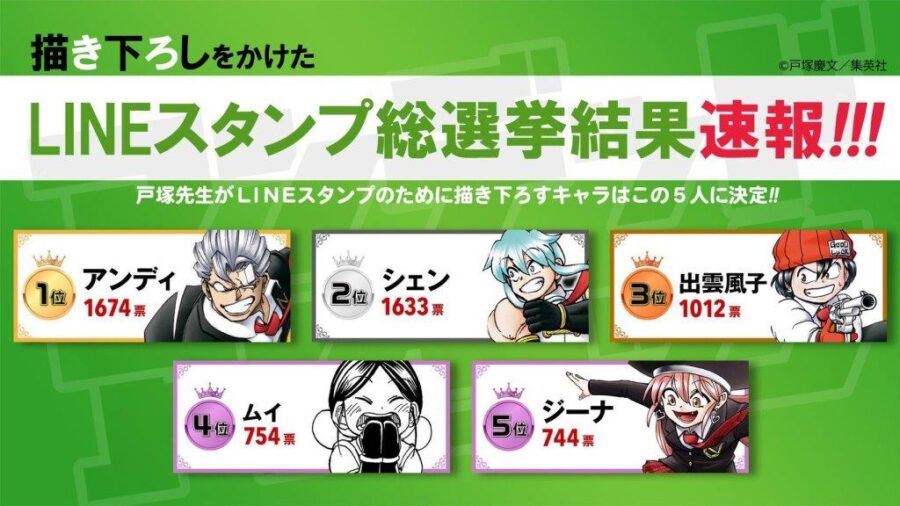 1st rank- Andy
2nd rank- Shen
3rd rank – Fuuko
4th rank- Mui
5th rank- Gina
Undead Unluck is a supernatural action manga by Yoshifumi Tozuka that started serializing in the Shonen Jump on January 20, 2020. To date, it has become 46 chapters strong with 4 volumes already. With new refreshing characters still adding up to the scene, the story is nowhere near the end. By winning first place in the "Next-Generation Manga" Award 2020, it has shown a lot of promise and potential and consecutively been accepted by the otaku community widely.
Fuuko is an UNLUCKY girl that causes bad luck to anyone she touches. As she prepares to face her death, Andy, an UNDEAD who desperately wants to die appears before her! Realizing her potential, he decides to use Fuuko's power to gives himself a permanent death, but then, a certain organization goes after them.
Subscribe to our page for news and announcements of the most popular manga and anime. We will be back soon with more updates on your favorite titles. Until then, stay tuned, stay hyped.
---
Follow us on Twitter for more post-updates.