AnimeZone was a perfect anime app for android users. Within a short interval of time, it gained popularity exponentially. Not only it provided anime episodes for free, but also, with its content variety and streaming quality, it was an absolute lifesaver. Whether it was for dubbed or for subbed episodes, fulfillment of every demand was made available.
Just having this app installed on your android, you would have been able to keep track of all the news surrounding your favorite anime and manga. And catching up with anime in lockdown had been a more leisurely journey with AnimeZone.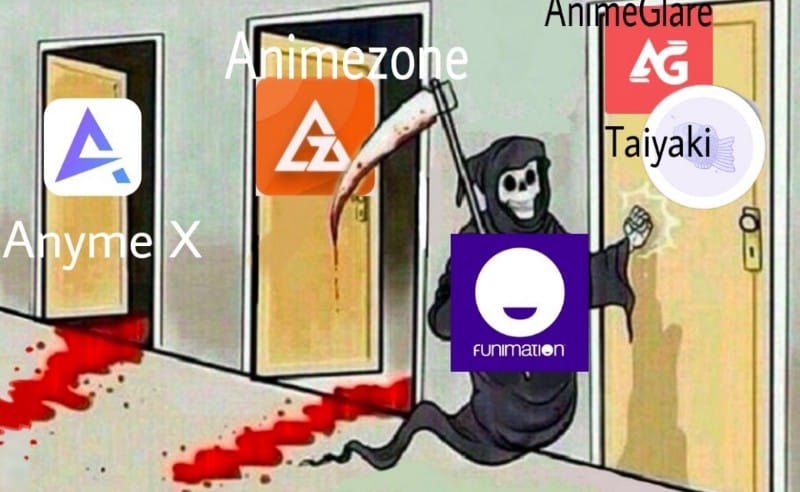 But these rejoice and triumph soon came to an end when it was announced that AnimeZone would shut down, and the app stopped functioning a few months ago.
According to the notice shared by the app developers, it was caused by the copyright strike from Funimation. In mid-April, the app stopped responding, and all the users were disheartened.
One of the best apps to watch animes on, and for free, let's look at all of AnimeZone's good properties that we miss and the disadvantages it had.
AnimeZone Advantages –
Free Download-

 The app allowed the users to download the anime episodes for free and in reasonably high

quality.
Ad-Free-

 It even provided ad-free streaming, so the users did not have to go through the trouble of bearing with the

ads.
High-Quality stream 360, 480, 720p-

 And most importantly, one could watch anime episodes in high quality and have the option to choose from 360, 480, and

720p.
Availability-

 Moreover, it was easily available and accessible to download using any web browser. And anyone could watch animes on it from anywhere.
AnimeZone Disadvantages –
AnimeZones's disadvantages could vary from user to user.
Since the app uses links for every episode, one might find it slow and inconvenient to go from one episode to the next.
Overall, the developers had done a tremendously good job by actively updating it, with new improvements, from time to time. But then again, once Funimation takes action, nothing of such sort survives for long. Still, we can all acknowledge how AnimeZone was one of the best attempts done for anime apps.
---
Must Read- AniWatch Not Working: AniWatch Shuts Down, Will it return? : AniWatch alternatives
---
Top 5 Best Anime Apps like AnimeZone-
Since AnimeZone was closed down, the anime watchers have made every possible effort to find its best alternatives. So, if you are looking for app destinations like AnimeZone, where you can once again comfortably binge-watch on animes, here is a list of our  Top 5  recommended applications, on which you can count on;
5) KATSU by Orion –
A very provisional pick for you can be KATSU by Orion anime. It may provide you with the services you are looking for. Its features are free, and it allows you to watch anime and download their site modules for free. It is currently available with only v1.0.
How to Download Katsu apk-
Step 1- Write katsu anime apk download on Google
Step 2- Visit KATSU by Orion Anime for Android – APK Pure
https://m.apkpure.com/katsu-by-orion-anime/com.helper_apps.best_app.orion_anime.katsu_anime
Step 3- Download KATSU apk
Step 4- From settings, enable the apk install on your android device
Step 5- Install it and enjoy
---
4) AnimeFox –
Another option that you can try is AnimeFox. Given that it is considerably easier to download since you can find it in Play Store, the app works well. Except for the only major inconvenience you will face is that it is not ad-free.
How to Download AnimeFox-
Step 1- Open Google Play Store
https://play.google.com/store/apps/details?id=xyz.gl.animetl
Step 2- Search 'AnimeFox'.
Step 3- Install it.
---
AniMixPlay, another substitution for AnimeZone, can help you keep track of your anime watchlist and watch the episodes. This app is the app version of the AniMixPlay website, about which many of you may be aware.
Hence using this app would be like accessing the website from your android more conveniently. Also, using the app will require a login to continue. Unlike the native apps, it is a PWA.
How to Download AniMixPlay-
Step 1- Google Play Store
Step 2- Install, sign in and start using the app.
---
AnimeLove 2.0 is the second most recommended app on our list. The only drawback you can experience while using it is ads. Although some of the initial episodes of animes are free to watch, after that you'll have to unlock the rest of the episodes by watching the ads. This aside, it's a very good app to watch animes in high quality.
How to Download AnimeLove 2.0: 
Step 1- Find it on Google Play Store.
Step 2- Install it, sign in and it'll be ready to use.
---
1) AnimeXStream –
The top best alternative for AnimeZone that we recommend to you is AnimeXStream. Although the app is still on its way to get more feature updates, it still works absolutely fine. And you can comfortably watch your desirable animes on it ad-free. It also does not require login to function. Currently, its new beta v0.2.5 is available for use.
How to download AnimeXStream:
Step 1- Open Github.
Step 2- Search AnimeXStream.
Step 3- Click on download.
Step 4- Select your download link from the v0.2.5 section and install the app.
https://github.com/mukul500/AnimeXStream/releases
Here we bring our list of recommendations to a close and hope that it was helpful for you. May the list serve its purpose and any of these above mentioned apps work out for you.
---
Do small things with great love.
Follow us on Twitter for more post updates.
Also Read-
Top 10+ Best Anime on VRV Ranked (Currently Running)

How to use Tachiyomi? Best Extensions and Safety

Manga Reading App Tachiyomi v0.11.1 Released (Download now)

Animefever Shuts Down: Here are Top 10 Best Animefever Alternatives

4anime Shuts Down: Here are Top 10 Best 4anime Alternatives (2021)