Last updated on November 23rd, 2023 at 02:37 pm
The anime world is limitless, and we're just living in it. It has all types of anime, blending various genres to deliver unique and epic stories. One such genre is Yaoi, aka Boys Love. So, get ready to know about some of the top gay anime on Crunchyroll. 
The anime featuring this genre has millions of fujoshi and fudanshi admiring them and are constantly looking for more. Therefore, we have prepared a list of the top 25 best gay/BL anime on Crunchyroll; you can say Yaoi anime that you must watch right away, or you'll be missing out big time.
Note: We have based our list on Crunchyroll US. So, you'll need to check if the anime is available in your region.
Top 25 Best Gay Anime on Crunchyroll
25) Gakuen Heaven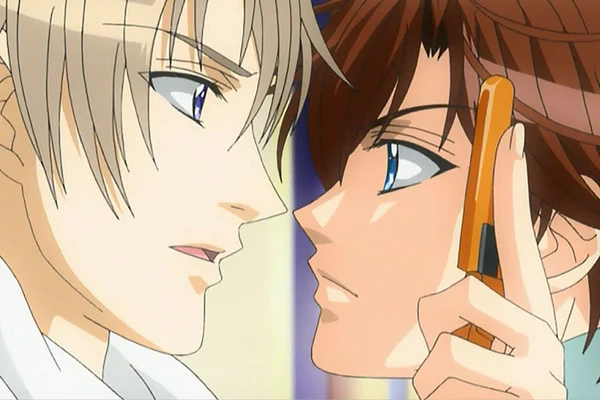 This series follows the story of an average guy called Itou Keita. Surprisingly, he receives an institution from the prestigious Bell Liberty Academy, even if he doesn't have any special talents.
Itou is very perplexed about this but tries hard to fit in with the school. He makes special relationships with most of the guys at school, but he cares more about Kazuki Endou, his classmate.
How will things change for Itou now that he is pulled into the world of BL and handsome guys?
IMDB Ratings: 5.9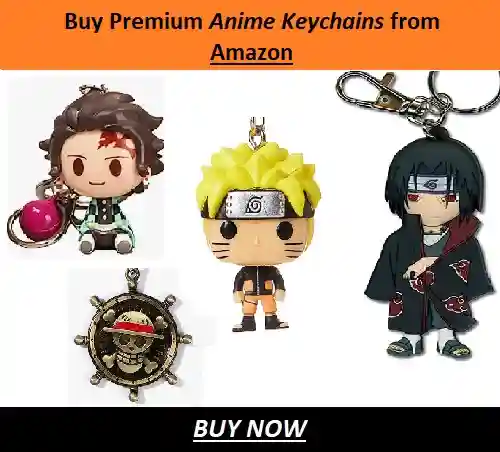 Number of episodes: 13
---
24) The Night Beyond the Tricornered Window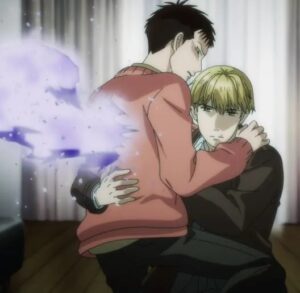 Written by Tomoko Yamashita, the anime aired in 2021. The story features a blend of supernatural, mystery, and yaoi as its central theme. If you love a suspenseful plot with ghosts, exorcisms, and necromancy elements, this anime is it.
The plot features Kosuke Mikado, a young man with the ability to see ghosts all his life. Working as a book clerk, Kosuke encounters a stoic and bold exorcist, Rihito Hiyakawa, one day. Rihito discovers that he can easily see and exorcise ghosts if he enters Kosuke's body. Therefore, he insists he becomes his assistant.
This is a useful opportunity for Kosuke as he is terrified of seeing ghosts all the time, so working with Rihito might help him deal with his ability. Therefore, the two began working closely and end up establishing a strong bond with each other, which leads to the beginning of their romance.
IMDB Ratings: 6.0 
Number of episodes: 12
---
23) Fairy Ranmaru
Written by Masakazu Hishida, this short anime series is highly underrated. If you love a good plot, dank humor, and beautiful characters, do not miss out on this Yaoi anime on Crunchyroll. The story has supernatural, a slice of life, and action as its dominating genre and aired in 2021.
The plot narrates the story of 5 fairies who disguise themselves as high school boys to fulfill a mission on Earth. Their world requires positive emotions to sustain, so they must collect "attachment" from humans as they heal their hearts.
But while doing so, they need permission to "steal their hearts" as payment for their services. Therefore, they encounter lots of people at their high school, and the result of that is a story filled with romance and passion.
IMDB Ratings: 6.1
Number of episodes: 12
---
22) The Highschool Life of a Fudanshi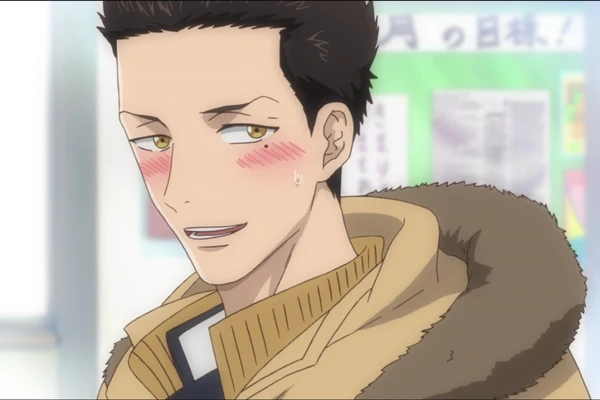 Ryou Sakaguchi is almost a normal Highschool guy, except that he is a fudanshi, and loves BL manga. However, he is yet to find friends, who share some of the similar interests as him.
Soon enough, he finds other friends, who also love talking about BL manga. How will Ryou's behavior now change, now that he met with other fujoshi and fudanshi? Can Ryou understand the reason behind him liking BL manga?
IMDB Ratings: 6.3
Number of episodes: 12
---
21) Merman in my Tub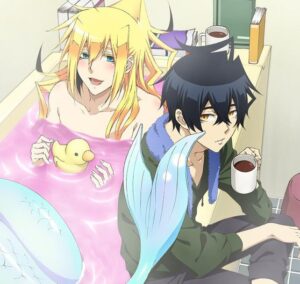 Written by Itokichi, the anime adaption aired in 2014 and has short episodes. Despite the anime being old, the animation and art style is good, so you cannot miss out on this Yaoi anime on Crunchyroll. The main themes of this series are comedy, a slice of life, and course, yaoi.
The plot narrates the story of Tatsumi, an average high school living a busy life. One day, he saves a stunningly handsome merman, Wakasa, who is on the verge of dehydration by a river. Tatsumi allows him to move into his bathtub and eventually gets used to having him around.
Watch the two give us hilarious moments while also some heart-warming romance. If you love a short BL series with an enjoyable plot, this anime is it.
IMDB Ratings: 6.5
Number of episodes: 13
---
20) This Boy Is a Professional Wizard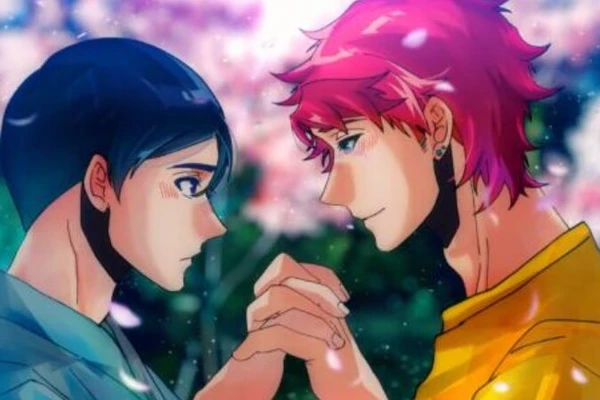 If you are looking for a short and simple gay anime on Crunchyroll, then this is the series for you. The series follows the beautiful love story of Chiharu and Toyohi, spanning the course of 4 episodes.
However, there are still many challenges and tests of love, both of them have to go through. Will they be able to cross all of it and make their relationship a reality? Watch the series to find out.
IMDB Ratings: 6.8
Number of episodes: 4
---
19) Loveless
Written by Yun Koga, the anime adaption aired in 2005 and has one season so far. The striking feature of this Yaoi anime is that it follows the kemonomimi theme and an initial age gap between the MCs.
Therefore, all the characters have cat-like features such as tails and ears. The main genre of this series is mystery, supernatural, and romance.
The plot focuses on a 12-year-old boy, Ritsuka Aoyagi, who is mourning the loss of his older murdered two years ago. Ritsuka runs into a mysterious 20-year-old man, Soubi Agatsuma, who claims to be his brother's friend.
As Ritsuka digs deep into his brother's stuff, he discovers that his brother was Saoubi's pair fighting against a shady organization, Septimal Moon. Ritsuka must now become Soubi's pair to fight the battle against Septimal Moon using spells and newly introduced supernatural elements.
IMDB Ratings: 6.8
Number of episodes: 12
---
18) Yes, No, or Maybe?
Based on a light novel by Michi Ichiho, this anime movie premiered in 2020. The story features Josei, Yaoi, and slice of life as its main genre. The story revolves around a popular TV host, Kei Kunieda harboring a secret. He runs into a motion animator, Ushio Tzusuki, who injures himself thanks to a careless biker.
But the twist here is that the situation forces him to take care of Ushio until he recovers. Therefore, Kei must hide his identity as a popular TV host as well as protect his secret all the time while he is with Ushio.
As the two grow fond of each other, Ushio grows to love Kei for who he is while Kei is desperately trying to hide his secret. Watch the two accept themselves and each other as their feelings grow stronger.
IMDB Ratings: 6.8
Number of episodes: 53 minutes
---
17) The Betrayal Knows my Name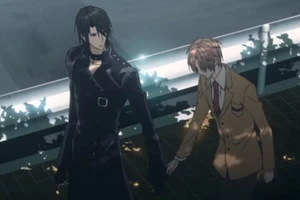 Yuki Sakurai was an orphan, but he had a weird power to look into a person's memories and feelings after touching them. He also receives death threats, but some people care about him.
On a certain day, a mysterious man rescues him, and Yuki starts remembering his forgotten past and what he wants to do now. How will Yuki change once his purpose of living has been made clear to him?
IMDB Ratings: 6.8
Number of episodes: 24
---
16) Super Lovers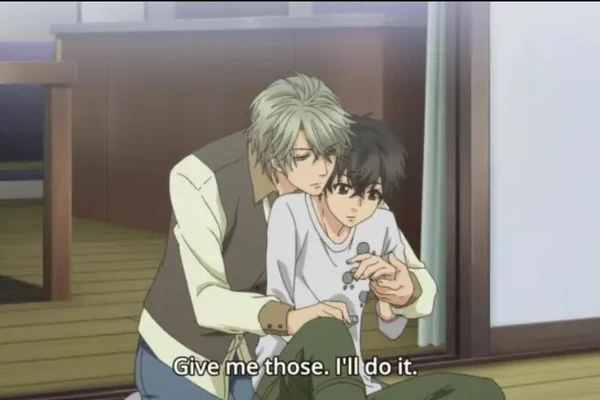 Haru Kaidou had returned to Canada, after knowing that his mother passed away. However, he also gets to know, that he has an adoptive brother named Ren Kaidou to take care of now.
Throughout the series, we get to see their relationship bloom. But, tragedy strikes soon for Haru, and he forgets all of his memories. He had even forgotten the promise that he made to Ren.
Now, it is up to Ren, to make sure that Haru gets back to normal again. Will Ren be able to make Haru remember everything or not, is the rest of the story. This is the example of the perfect gay anime on Crunchyroll.
IMDB Ratings: 6.9
Number of episodes: 22
---
15) Kamigami no Asobi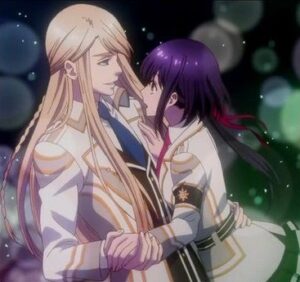 Kamigami no Asobi is an anime adaption of an otome game, Play of Gods. The game is also based on the visual novel series by Nippon Ichi Software and Broccoli. The anime aired in 2014 and has one season so far. The plot has shounen ai, action, reverse harem, and supernatural as the primary genre.
The plot revolves around Yui Kusanagi, who discovers a mystery in his father's shrine. This sword teleports her into a world filled with gods based on Greek Mythology.
Yui must now navigate through this world to spread love and compassion and save the weakening bonds between humans and gods. The story features multiple couples, so you're in for all kinds of romance and relationships.
IMDB Ratings: 7.0
Number of episodes: 12
---
14) The Stranger by the Shore
If you haven't watched this beautiful Yaoi movie on Crunchyroll, rush there right now. The Stranger by the Shore perfectly captures loneliness, grief, and isolation faced by all of us at some point in our lives.
The plot features a romance between an openly gay novelist, Shun Hashimoto, and a high school boy Mio Chibana, mourning the loss of his parents. Shun's parents disowned him when he came out to them, and therefore, he is living in a quiet seaside neighborhood in Okinawa.
The two meet amidst the calming sound of waves and soon bond over their hardships. However, like in every story, their peace turns to tragedy when Mio leaves the city to pursue further education.
Mio only asks one favor from Shun as he promises to return, and that is to wait for him. So, will they finally meet again, or will they simply drift apart, leaving their feelings unrequited? You must watch the movie to find out.
IMDB Ratings: 7.1
Number of episodes: 59 minutes
---
13) Gravitation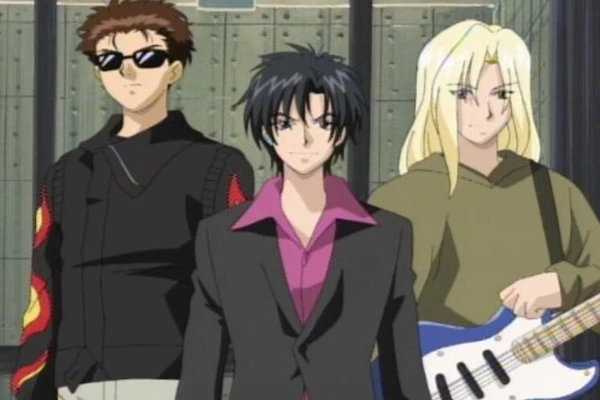 Since childhood, Shuichi had only thought of becoming a pop idol, just like Ryuichi Sakuma and wanted to create a band like Nittle Grasper. Shuichi and his friend Hiro created a band called Bad Luck, and they even landed a major recording session.
However, fate has something different in store for Shuichi as he loses his inspiration to write a new song. One day, when Shuichi was practising late at night, he met Eiri Yuki, a famous novelist.
The famous Eiri Yuki says that Shuichi has no talent, further enraging the latter. How will Shuichi answer back to the novelist and the Major Recording Label with his lyrics now?
IMDB Ratings: 7.2
Number of episodes: 13
---
12) Hybrid Child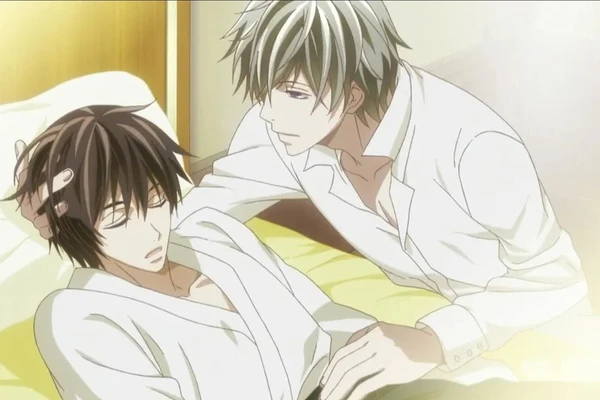 Kuroda was a skilled craftsman who created artificial humans called Hybrid Childs, nothing like robots. These specific humans can feel emotions, and their personalities are changed depending on the love you show them.
Moving forward, we follow the life of Kotarou Izumi, the youngest heir of the Izumi family. However, everything changes when he brings Hazuki, an abandoned Hybrid Child, to his household.
They have to overcome all of their obstacles, while their love for each other keeps growing as we also get to know more secrets about the age span of a Hybrid Child.
IMDB Ratings: 7.3
Number of episodes: 4
---
11) Dakaichi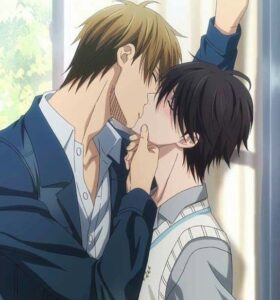 Written by Hashigo Sakurabi, Daikachi aired in 2018 and has one season and a movie as of now. The plot features Yaoi, rom-com, and slapstick as its main theme. Produced by none other than studio Cloverworks, Daikachi is must watch Yaoi anime on Crunchyroll.
The plot narrates a hilarious and heart-fluttering romance between two rival actors, Takato Saijo and Junta Azumaya. The twist here is that Takato has been the "sexiest man of the year" for five years until Junta replaces him, even if he is a newbie.
Another twist is that Takato sees Junta as his rival, but Junta is deeply in love with him. Watch the two actors entangle with each other as they take their sweet time realizing their true feelings.
IMDB Ratings: 7.3
Number of episodes: 13
---
10) Love Stage!!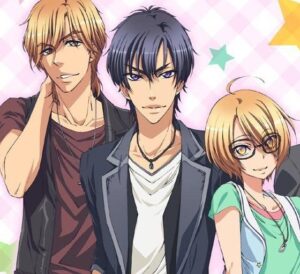 Written by Michiko Yokote, the series aired in 2014 and has one season so far produced by studio JC Staff. In addition to that, the series also has one OVA and a live-action film. The story features romance, comedy, and Yaoi as its core genre.
Since the series is on is quite old, the art style is almost vintage, with a warm color palette and sharp character design. The story revolves around Izumi Sena, a young aspiring mangaka.
Thanks to his entire family being in the Entertainment industry, he ends up with the same actor he shot a commercial with a few years ago- Ryouma Ichijou.
Now the twist here is that Ryouma has been in love with Izumi ever since he first met him. Another twist is that, due to Izumi's androgynous features, Ryouma mistakes him to be a beautiful girl.
To make it worse, Izumi desperately tries to hide his identity since he embarrassingly messed up the shoot the first time and ends up doing the same even now. As the plot progresses, Ryouma continues to love him even after discovering Izumi's gender.
IMDB Ratings: 7.3
Number of episodes: 10
---
9) No. 6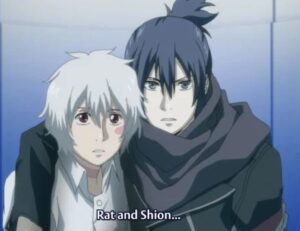 Written by Atsuko Asano, the anime adaption aired in 2011 and has one season so far. The story features mystery, sci-fi, dystopian, and Yaoi as its main genre. The plot is engaging and has a unique blend of the genre. You should check out this Yaoi anime on Crunchyroll.
The story is set in a dystopian era where the elite and poor live next to each other but are separated by a massive wall. Shion is a boy raised in the elite and privileged part of the city.
He takes an interest in a mysterious boy who probably belongs to the other part of the city and offers him shelter. Despite not knowing anything about him, Shion soon forms a bond with him amidst various dangers and mysteries lurking over them.
IMDB Ratings: 7.4
Number of episodes: 11
---
8) Spirit Pact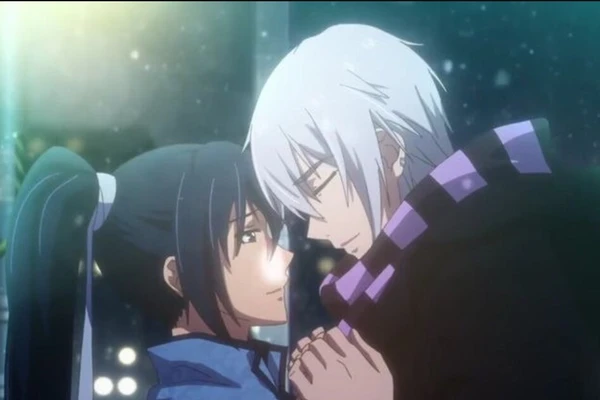 After meeting with a mysterious man, You Touka finds himself dead, the following morning. He is turned into a spirit and is approached by the same man that he had met yesterday.
He was Tanmoku Kai, who gave him a chance to Touka to become his shadow spirit and protect him. Throughout their journey, they learn that their relationship cannot simply be summarized in a pact. They also get to realize special feelings they have for one another, in the course of their journey.
IMDB Ratings: 7.5
Number of episodes: 22
---
7) Sekaichi Hatsukoi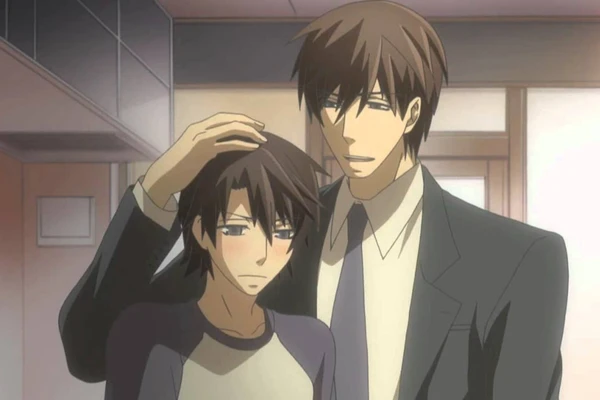 Ever remembered the feeling of falling in love for the first time? This anime exactly makes us remember the same feeling but in a Yaoi format. Ritsu Onodera had always had a crush on Masamune Takano, and they were also in a relationship during high school.
However, their relationship soon broke up, and Ritsu was deeply hurt by it. Fast forward a few years, and Ritsu now finds himself working under Takano. How will this affect his work performance now, that Takano is once again trying to get into a relationship with Ritsu?
This anime tries something different, which is loved by the audience. And according to the IMDB scores, it is also one of the best and top gay anime on Crunchyroll.
IMDB Ratings: 7.6
Number of episodes: 24
---
6) Junjo Romantica
Written by Shungiku Nakamura, Junjo Romantica is one of the classic BL series that aired in 2008. Since the series is quite old, the art style features a sharp, thin, and long character design with a non-vibrant color palette. But the series is still popular to this day and adored by many.
The plot features three couples connected by some means, such as friends, acquaintances, or siblings. The main couple Misaki Takahashi and Akihiko Usami start off the story. Misaki is an average high school boy who one day encounters his older brother with a famous novelist, Akihiko, in an awkward situation.
But since Akihiko is friends with his older brother, he was around frequently and somehow ended up becoming his tutor. Misaki then finds out about all the BL novels written by Akihiko and doesn't know how to be with him.
Watch the two become closer as they discover more of each other personalities and eventually develop feelings. Meanwhile, the stories of the other couples are also shown simultaneously.
Due to its recurring themes and the realistic relationship portrayal, this anime is ranked on a 5th place in the top gay anime on Crunchyroll.
IMDB Ratings: 7.7
Number of episodes: 24 (2 seasons)
---
5) Sasaki and Miyano
Written by Sho Harusono, Sasaki and Miyano aired in 2016 and only has one season as of now. The manga as well is short and has 9 volumes. Therefore, if you're looking for a short and fantastic bl to watch, this anime is it.
The plot features a romance between a high school delinquent, Sasaki, and his junior, who is secretly a fudanshi. Miyano tries to live his life peacefully and enjoy BL comics and books until he ends up at the wrong place, at the wrong time.
And that's how he manages to pique Sasaki's interest. With his interest piqued, Sasaki uses every opportunity to enter Miyano's secretive and peaceful life to get closer to him.
IMDB Ratings: 7.7
Number of episodes: 12
---
4) GIVEN The Movie 
Given The movie is created by studio Lerche and became as much of a massive hit as the anime. So, we couldn't just leave it off our list. Therefore, if you have already watched the anime, do not miss out on this amazing movie that serves as an ending arc for this popular Yaoi anime on Crunchyroll.
The plot focuses more on the other band members, Nakayama Haruki, Kaji Akihiko, and Murata Ugetsu. It shows us what happens after they advance to the Countdown-fes Amateur Contest alongside Murata and Akihiko's relationship. It also covers the character development of Mafuyu and Ritsuka.
IMDB Ratings: 7.7
Number of episodes: 59 minutes
---
3) Doukyusei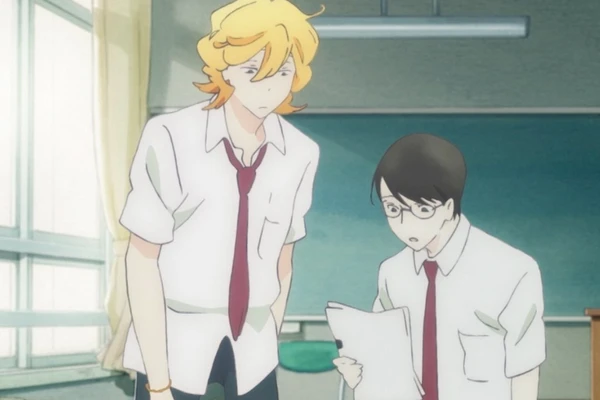 Doukyusei, or Classmates, is a short movie focusing on two characters, Hikaru and Rihito. Hikaru is a very carefree rock band player who doesn't want to consider the future.
Rihito is the polar opposite of him and is an honour student who cares about his grades too much. They soon meet each other due to unexpected situations, and Hikaru ends up helping Rihito.
How will their relationship change now that both Rihito and Hikaru are getting closer to each other while helping others?
IMDB Ratings: 7.7
Number of episodes: 1hr
---
2) Given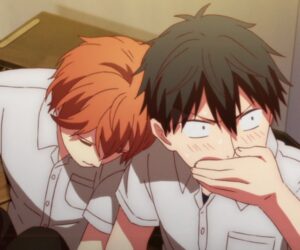 Given is written and illustrated by Natsuki Kizu. The anime become a massive hit due to amazing OSTs, well-written characters, and romance. If you haven't watched this amazing Yaoi anime on Crunchyroll, you're missing out big time.
The plot revolves around Ritsuka Uenoyama, who falls in love with Mafuyu Sato's voice. Since Ritsuka himself is in a band, he recruits Mafuyu as a vocalist, completing his band.
Therefore, they debut as "Given." But the story is filled with heart-breaking and heart-warming romance at the same. The plot narrates the painful and tragic situations that the characters deal with when it comes to their feelings.
This is a universally loved and appreciated anime, and is the reason why it is the top 2 gay anime on Crunchyroll.
IMDB Ratings: 8.3
Number of episodes: 11
---
1) Yuri!!! on Ice
Written by Sayo Yamamoto, Yuri on Ice is an award-winning anime series featuring epic OSTs and animation. You absolutely cannot miss out on this amazing Yaoi anime on Crunchyroll. The plot features sports and yaoi as its main genre. The series features amazingly choreographed and unique routines by all the figure skaters.
The plot focuses on Yuri Katsuki, a 23-year-old figure skater who puts his promising career on hold after losing a few matches. But when he casually performed a routine by his idol, the famous Russian figure skater Victor Nikiforov in his hometown, his video went viral.
So much so that it reaches Victor, and he decides to coach him at any cost. But that is not the only reason he is determined to visit him. When they begin their journey together as figure skaters, they eventually develop feelings for each other.
IMDB Ratings: 8.3
Number of episodes: 13
So now that we have reached number one on our list, we will conclude the article here. These are some of top 25 gay anime on Crunchyroll, ranked on IMDB ratings. So, feel free to browse through and enjoy some more articles below.
Image Source | Crunchyroll
---
Do small things with great love.
Follow us on Twitter for more post updates.
Also Read: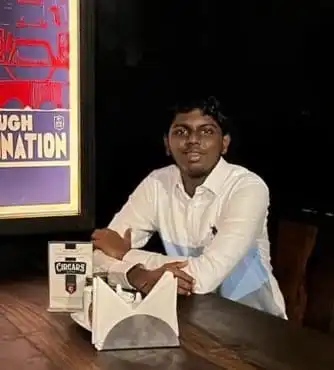 Eswar Keshav is an ardent anime fan for more than a decade. Along with this, he also has been following anime and manga updates for years. He is also enthusiastic and passionate when it comes to writing about his favorite things. Combining his love for writing and his love for anime and manga, his articles speak of his love for the genre.