Last updated on January 27th, 2022 at 11:20 pm
Today we bring to you an article on the Top 10+ Cutest Demon Slayer Couples Ranked. And with the series soon releasing its second season, we're going to have to be prepared for the end. 
The Demon Slayer series has given us a whole plethora of characters with great chemistry with each other. And so, it's obvious that fans would want to ship them together.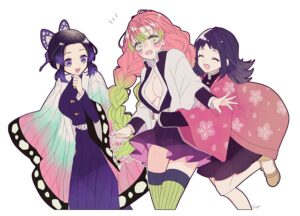 And so, if you need a list of the couples shipped in the series, we've got you covered. So without any further ado, let's get into our listing of the Top 10+ Cutest Demon Slayer Couples Ranked.
Warning Spoilers Alert: Fans are requested to note that this article includes manga spoilers.
Top 10+ Cutest Demon Slayer Couples-
11. Kagaya Ubuyashiki x Amane Ubuyashiki –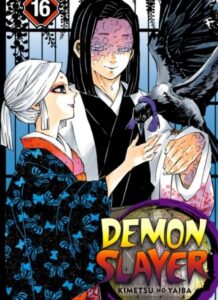 The Ubuyashiki couple is one of the few couples that have partners who resemble each other entirely. Both partners are quiet, strict, and supportive of each other. 
While Amane is a devoted and supportive wife, Kagaya is a gentle yet strong-willed person. The marriage between the two was decided by a priest due to his health issues but was only accepted by Kagaya under one condition. 
He insisted that he would only marry Amane if she decided to care for him out of her own will. This is presumably why the tragic end of theirs, which displayed devotion and unity through all spheres of life, was sad. 
However, the couple was interesting enough to land up on our list of the Top 10+ Cutest Demon Slayer Couples.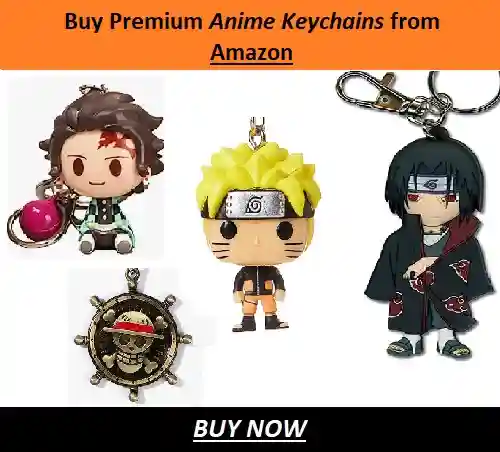 ---
10. Muzan Kibutsuji x Rui Kibutsuji –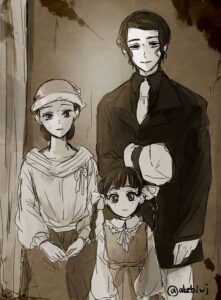 Although the relationship between Muzan and Rui was reasonably odd, they managed to make it work. While Muzan played the doting husband and helpful father, Rui was the softer partner. 
They predominantly exude a picture-perfect white picket fence partner combination. But since we don't have much information on them, we place them at number 10 on the list of our favorite Demon Slayer couples.
---
9. Tengen Uzui x Makio x Hinatsuru x Suma –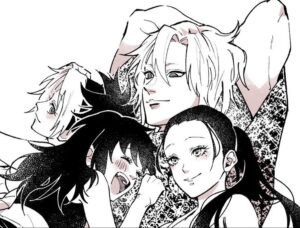 Tengen and his wives are irreplaceable parts of each other's lives. Being of a shinobi background all of them are extremely skilled and therefore can easily support each other. 
Moreover, Tengen is an incredibly caring husband and often emphasizes the importance of his wives' lives over completing their mission. Despite this going against their teachings and their values, the fact that he values their lives more than the mission is proof of a very healthy relationship. 
Further, the four of them have incredible bonding chemistry and can easily balance out each other.
---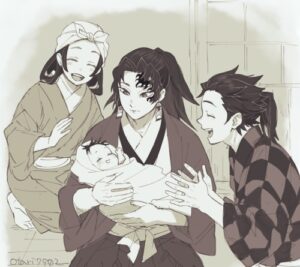 Sumiyoshi and Suyako are the parents of Sumire and the ancestors of the Kamado family. After the two married, they led a fairly happy life that was surrounded by laughter and understanding. 
This is probably because of Sumiyoshi's generosity and Suyako's happy, chatty demeanor. The two fit together better than a puzzle and thus are one of the cutest couples Demon Slayer has to offer.
---
7. Shinjuro Rengoku x Ruka Rengoku –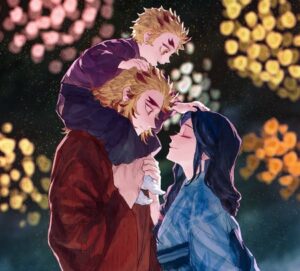 Shinjuro is the former Flame Hashira and was married to Ruka, who was a calligraphy teacher. Somehow the two are equal parts of chaos and calm. 
While Shinjuro was more of a tsundere with a temper, Ruka is better described as a very calm and collected lady. However, the two most definitely loved each other.
This was to the point that he turned into an alcoholic and gave up the Hashira position as he was unable to cope with her death. 
---
6. Yoriichi Tsugikuni x Uta –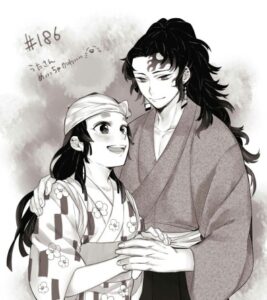 Considering Yoriichi's past, Uta was the first person he met after leaving home. After he moved in with her, it was clear that the two had many contrasting personalities but managed to complete each other as a part of a whole. 
As she filled his days of silence with new music, it was only natural that they married 10 years later. Unfortunately, after a while, Uta and his unborn child were crushed by a demon. 
And since then, Yoriichi was left with an obvious hole in his life which was visible even years after.
---
5. Inosuke Hashibara x Aoi Kanzaki-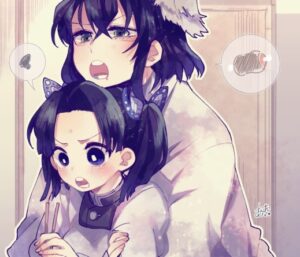 Inosuke and Aoi initially met in the Butterfly Mansion multiple times for their training. However, the actual relationship may have blossomed as early as soon after the Entertainment District Arc. 
Their relationship mainly consists of Aoi's calm and caring side and Inosuke's impulsive tendencies. So after reading the manga, we can't deny that they do make an adorable Kimetsu no Yaiba couple that's canon.
---
4. Tanjiro Kamado x Kanao Tsuyuri –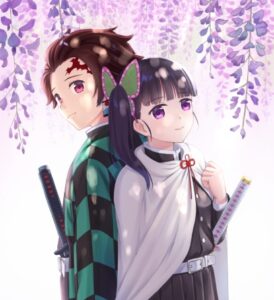 This is one of the sweetest couple Demon Slayer has to offer, especially since Tanjiro is extremely loveable. The creators probably had us shipping them soon after their interaction with the training games. 
In case you don't remember which part we're referring to, it refers to the strong-smelling tea exercise between Kanao and our 3 favorites. But then again, literally, every interaction after had us by the neck. 
And with their level of growth and understanding, we're that this relationship too is canon.
---
3. Giyuu Tomioka x Shinobu Kocho –
If you've watched the series, you must've thought that this pairing was perfect for the adoptive parents of the Kamado siblings. The relationship between them is enjoyable and always filled with playful yet honestly funny banter. 
What's unique about this is that Giyu doesn't have this type of relationship with any other Hashira. And Shinobu, on the other hand, lets her true colors show when around Giyu only. And if that isn't the cutest thing ever, what even is?
---
2. Obanai Iguro x Mitsuri Kanroji –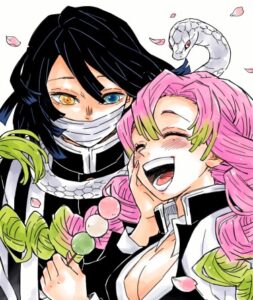 The relationship between Obanai and Mitsuri was one of the most tragic only because the two were not granted a proper opportunity to express their feelings. It was clear that the two were in love with each other but were always held back by themselves. 
Further, their relationship was based on acceptance for each other in every shape and form, and that is probably why watching the end felt like a stake to the heart.
---
1. Zenitsu Agatsuma x Nezuko Kamado –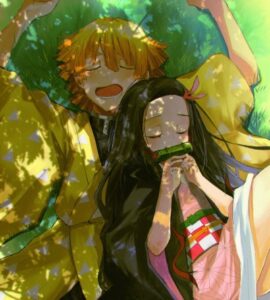 This pairing has got to be one of the best Demons Slayer couples. While Zenitsu had a love at first sight situation, Nezuko took a while to warm up to him. 
And the manga ending surely did satisfy its fans with multiple cute moments between the two. The two have a unique relationship especially considering their personalities neither overlap nor contrast each other. 
So it would be safe to assume that so far, this is Demons Slayer's best and cutest couple.
---
Must Read – Demon Slayer: Upper Moon 6 Daki & Gyutaro: History & Power Explanation
---
With this we conclude the article on the top 10+ cutest Demon Slayer couples Ranked. We hope with the added it to your shipping list or convinced you that some characters are meant to be together.
So until we're back with another article like this one on the Top 10+ Cutest Demon Slayer Couples Ranked, stay safe, tuned, and hyped for our other upcoming ones.
---
Follow us on Twitter for more post updates.
Also Read-
(2021) Top 15 Strongest Demon Slayers in Corps Ranked

Power of Tengen Uzui (Sound Hashira) in Demon Slayer 2021

(2021) Power of Tanjiro Kamado in Demon Slayer Explained

History of Sun Breathing Technique (Demon Slayer) Explained

(2021) Top 15 Strongest Demons in Demon Slayer Ranked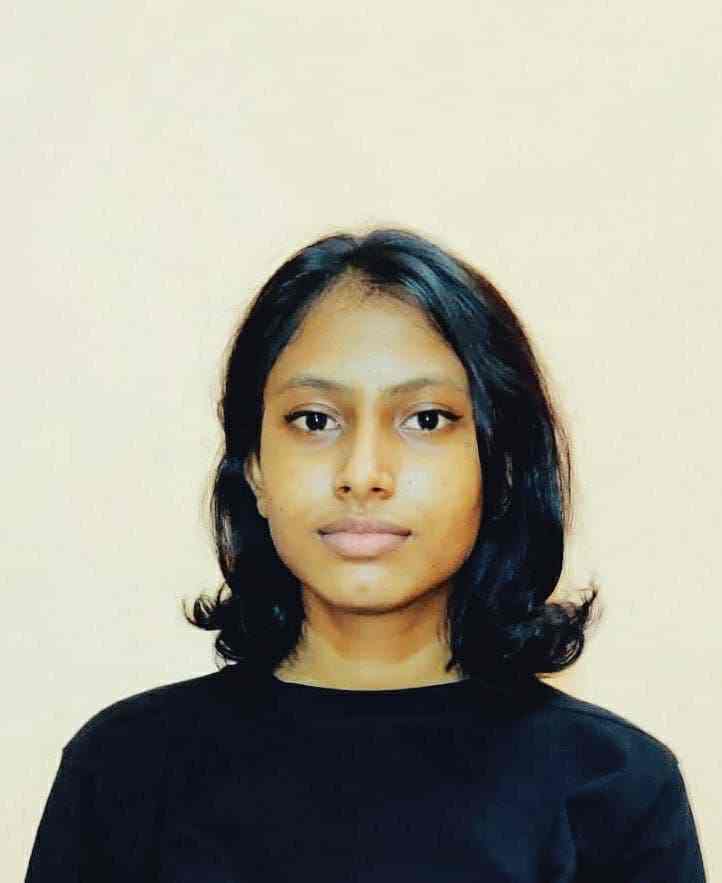 A simple wanderer in both actions and thoughts. Daydreaming is what they do best when they're not watching anime or obsessing over fictional characters. Open to all kinds of debates except those including ranking their love for their favourite fictional characters.