Last updated on January 4th, 2023 at 12:40 am
One Piece; almost all anime lovers must have had their hands on this fantabulous anime. Based on the manga of the same name, One Piece is a rightful standing pillar of the Big Three alongside Bleach and Naruto. 
The engaging story arcs, characters, and action-packed scenes are what make this anime so fascinating to watch. It can also be termed as one of the Gateway to the Anime World; it is currently one of the longest-running anime shows in anime history.
Over the past couple of years, the One Piece fan base has grown over several folds. With recommendations from the internet and fellow mates, more and more people are adding it to their watchlists.
However, One Piece isn't an anime to binge-watch in a single day. Spanning over 1000+ episodes and 15+ movies, trying to watch it creates several ambiguities.
Websites that provide its access often charge quite a sum, or one might find a section of episodes or seasons missing. This makes a break and hampers the overall viewer experience.
Hulu is one of the great streaming platforms to watch anime. So can you watch One Piece on Hulu? Recently, a question was raised among the Otakus, "Does Hulu have all of One Piece?" Therefore, in this article. I've shared my knowledge regarding this question, along with some bonus points.
---
Must Read- Does Hulu have all Naruto Shippuden dubbed?
---
Does Hulu have all of One Piece?
Currently, Hulu does not have all the episodes of One Piece. With its 100th volume being released, One Piece has become one of the longest-running anime series, with nearly 1000+ episodes. As per Hulu USA, there are 612 episodes of One Piece available as of now. Here is an episode distribution according to their respective seasons;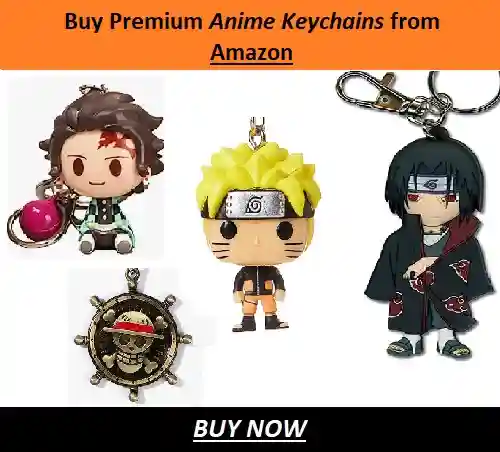 One Piece Season 1 (episode 1-35)
One Piece Season 2 (episode 54-88)
One Piece Season 3 (episode 145-205)
One Piece Season 4 (episode 206-263)
One Piece Season 5 (episode 264-303)
One Piece Season 6 (episode 304-373)
One Piece Season 7 (episode 385-454)
One Piece Season 8 (episode 457-516)
One Piece Season 9 (episode 517-574)
One Piece Season 10 (episode 575-628)
One Piece Season 11 (episode 629-698)
However, this is not the end as more episodes can be expected to come up on Hulu in the future.
Does Hulu have One Piece Dubbed?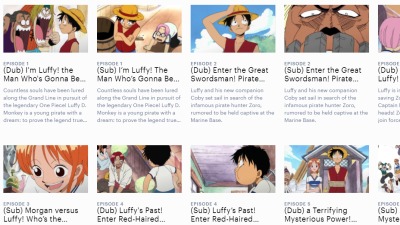 Yes, Hulu has One Piece dubbed. Though not all the episodes, there are currently 78 dubbed episodes available on Hulu USA. While all the available episodes have been provided with their respective subtitles, dubbed episodes are considerably restricted in their numbers.
Only starting few episodes have been made available in both formats, while the later ones have been provided with subtitles only. Dubbing a series is quite a tiresome job and might require a considerable amount of time. Therefore with each passing month, a new dubbed episode might get added to the platform.
Where Can I Watch Season 12 of One Piece?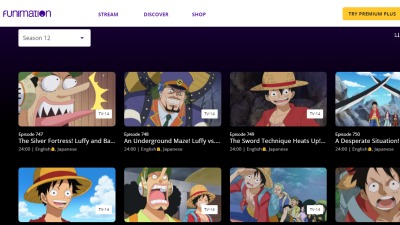 The anime series One Piece has its rights reserved by Toei Animation. However, Funimation at present has the right to air the show in the North America. Therefore, you can watch all of Season 12 on Funimation.
Spread over 40 episodes, from 747-782, Season 12 contains many significant arcs of One Piece. The episodes are available on both dubbed as well as subtitled versions. Apart from Funimation, you can also enjoy the subtitled episodes of Season 12 on Crunchyroll.
---
How to Watch One Piece on Hulu for Free?
Hulu has been quite consistent in bringing us top-notch anime series. However, this does not come free of cost. Its annual subscription can cost you nearly $70. But there is a catch to it. You can watch it absolutely for free. Don't believe me? Well, you will after you go through the following steps.
For the US and Canada viewers only-
Before anything, just open your desired web browser and search Hulu.
---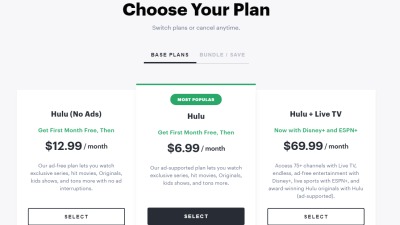 Log in if you have any existing accounts. If not, you need to sign-up to view any show. Do so by selecting your desired plan and entering your credit card details. Don't worry; you won't be charged anything for this. This is to activate a trial period of 30 days, post which you will be charged accordingly.
Now, you can search One Piece in the search box available. It will display a couple of options. Select One Piece TV series from them. The One Piece Window will appear on your screen.
---
Select Episodes and select your desired season from the drop-down menu. If you are watching for the first time, then go with Season 1 Episode 1. There will be two versions of an episode, one dubbed and the other subtitled. Select the one you are comfortable with and sit back and enjoy.
As of now, there are 11 Seasons of One Piece available on Hulu. Give a headstart with Episode 1 of Season 1 by choosing either a dubbed or a subtitled version. You can now sit back and happily enjoy your free trial. However, do not forget to cancel the plan, as you will be charged at the expiry of the trial period.
---
For the other countries-
For the people living in other countries, we have an alternative for you guys too. You simply need to follow just a few steps.
Install a VPN application and sign up for it. There are many available out there, but you must remember VPN lowers your internet bandwidth to a great extent. Therefore, make sure to use a good VPN service.
---
From the location list, select North America or the US. This will apparently make your device one from the US. Doing so will remove all such hindrances that were caused by the non-availability of the service in your country.
---
Go to the Private window or the Incognito mode section of your internet browser. Search One Piece on Hulu and follow the steps mentioned in the previous section.
---
Why does Hulu not have all of One Piece Episodes?
The original rights of the famous anime One Piece are held by Toei Animation and Funimation. However, it may grant the rights to another company to air the show for a limited period.
Hulu held the rights to air One Piece in North America and also on its website. However, with time, many of the rights have expired. With the contract of Hulu with Toei Animation (Studio of One Piece) nearing its end, the company has been forced to withdraw several of the episodes from their website.
As a result, one might find several episodes to be missing. Also, since the contract is drawing its end, new episodes beyond Season 11 have stopped coming. Not only episodes, even One Piece movies that hold a significant position appear to be missing, which disrupts the overall viewer experience.
Also, no such announcements have been made from Hulu about the renewing of the rights, so it would be pointless to wait for new Seasons on this platform. However, Funimation and Crunchyroll continue to have all the episodes and might prove a better alternative to Hulu.
One Piece Plot-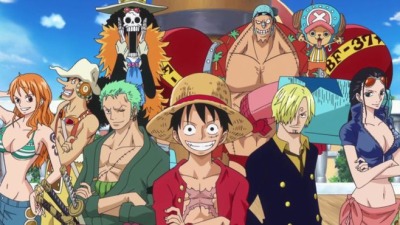 The capture and punishment of Gol D. Roger, the world's strongest pirate, by the World Government bought about a considerable stir throughout. Known as the Pirate King, Roger was the only person to have crossed the Grand Line. Before breathing his last, he revealed the location of his hidden treasure called One Piece.
This revelation brought the Great Age of Pirates once again into the world. Almost every pirate aspired to find the One Piece and enrich themselves with the huge amount of valuables in it. Needless to say, the title of The Pirate King would also come along with it.
Amidst the stir, he pops his head up, Monkey D. Luffy, a 17-year old lad who dreams of crossing the Grand Line, finding the One Piece, and rightfully earning the title Pirate King.
Luffy has a strange superhuman ability. He is said to have consumed the Devil fruit, which made his body stretchable like a rubber. Luffy's ways are quite different from his rival pirates.
He does not involve himself in the bloody game of plundering and ravaging other ships. His thirst for adventure and to befriend all sorts of people is what he gets admired for.
Luffy's journey is not a solo one. In fact, his group can be rightly said as one of the most entertaining "gangs" in the history of anime. From a highly skilled infamous pirate hunter and swordsman Roronoa Zoro to Ussop, a fabulous sniper, and from the chef Vinsmoke Sanji to Tony Tony Chopper, a doctor, and from assassins to former Warlords of the Sea, Luffy's gang has it all.
Will Luffy and his friends be able to sail the Grand Line and discover the One Piece? So why refrain yourselves further? Come let's be one with Luffy's exciting journey and with the amazing world of pirates.
With this, we come to the end of this article. Hope One Piece amazes you to the fullest as it has done for years to all. Happy Watching!
---
Must Read- (One Piece) How Strong is Luffy in 2022 | After the Wano Arc
---
Frequently Asked Questions-
Q1. Does Hulu have every season of One Piece?
Ans. No, Hulu does not have every season of One Piece. It has till Season 11.
Q2. How many episodes does Hulu have of One Piece?
Ans. There are 612 episodes of One Piece available on Hulu.
Q3. Does Hulu have dubbed One Piece?
Ans. Yes, as of now Hulu has 78 dubbed episodes of One Piece.
---
Do small things with great love.
Follow us on Twitter for more post updates.
Also Read-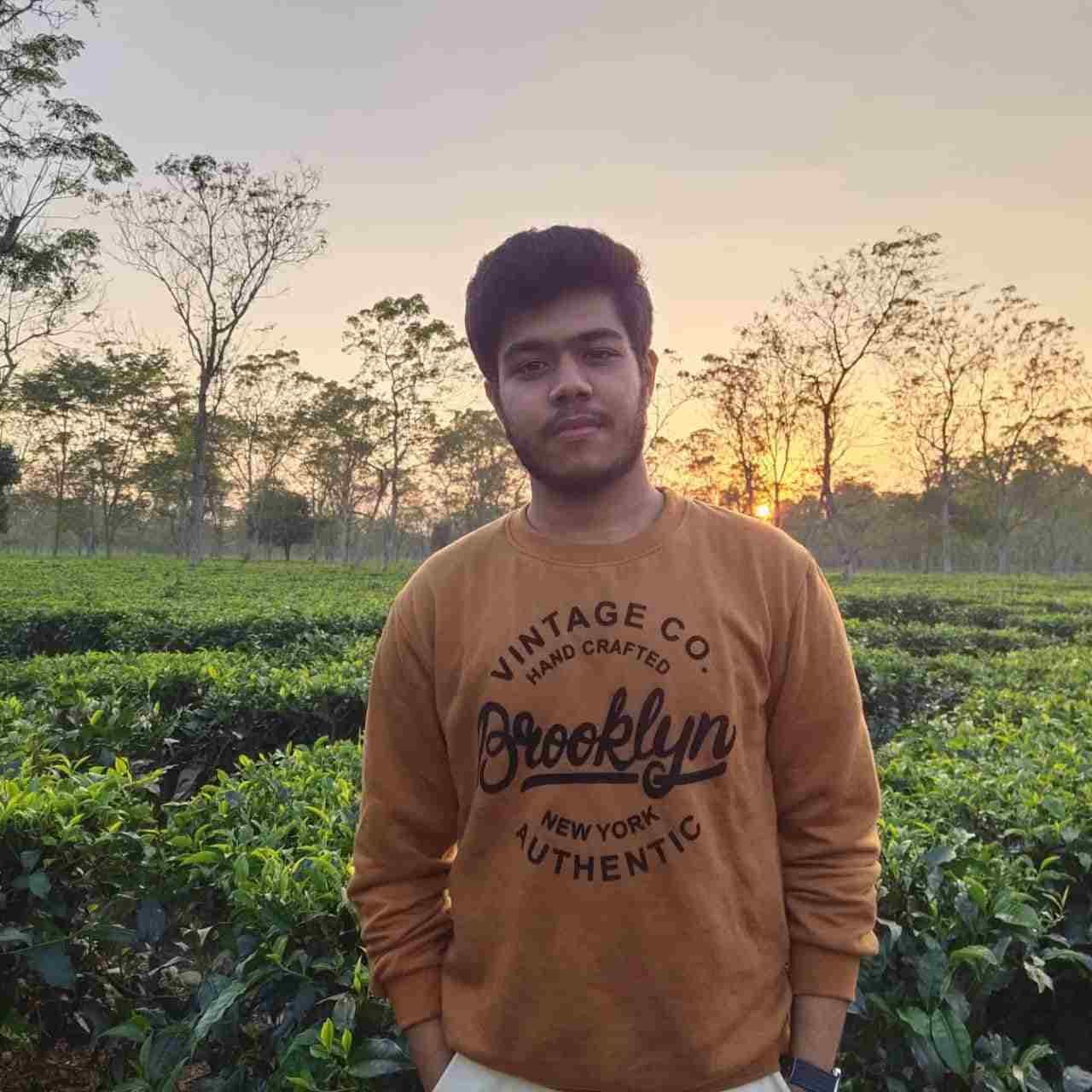 A zoology student turned writer. From hating anime to being an ardent anime lover, my journey has quite a sheen to it. While Parasyte served to be the stepping stone into this fantabulous world of animation, the foundation grew stronger with each series. If not engaging myself with anime content, you can always find me going through some Bengali classics or filling the air with some soulful Tabla beats. An artist, trying to throw some colours to my blank canvas of life.