Last updated on February 22nd, 2022 at 10:40 am
Dr. Stone is a series that has made science fun and enjoyable through its simple and effortless storytelling.
It also contains some of the most brilliant and pretty female characters that we have ever seen. So, today we are going to put a list together and rank Dr. Stone: Hottest Female Characters (Top 15)
The story about scientific discoveries has also got some gorgeous beautiful ladies in the mix.
Among every Dr. Stone characters that we are going to pick today are part of the Ishigami Village and live there. Only a few of them accompany Senku in his adventurous journey. 
Dr. Stone: Hottest Female Characters Ranked (Top 15) –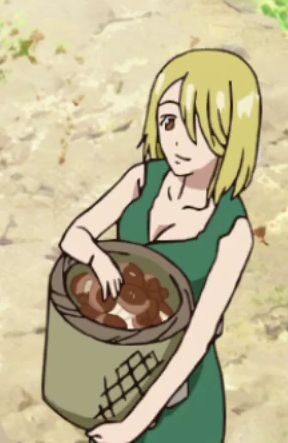 Shirogane is one of the residents of Ishigami Village. She is a young woman whose most eye-catching feature is her long blonde hair.
Her blonde hair is styled into bangs that rest on her face.
It also covers most parts of her left eye. She has a small mouth with prominent lips.
Her large eyes give off motherly vibes with curly eyebrows. She is seen wearing a green dress with a rope keeping it in place around her waist.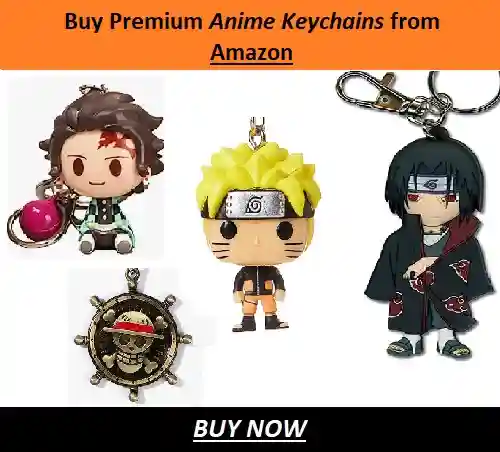 ---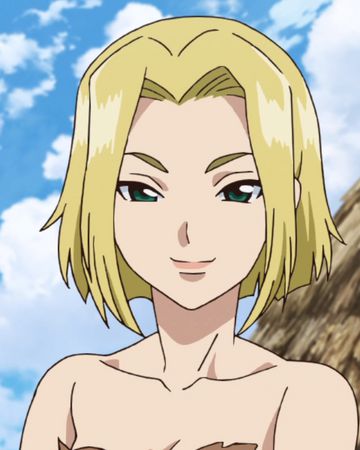 Similar to Shirogane, Kujaku is another one of the residents of Ishigami Village. Her dark lips and sharp eyes are two of her most attractive features.
She loves to style her hair in a bob and keeps two large strands on her forehead. 
Her happy and cheerful personality, along with her mature behavior, brings out the best in her.
She usually wears a blue tube-top that makes her collarbone really prominent.
---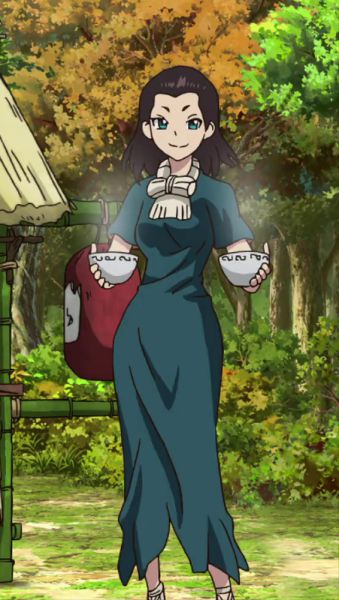 Turquoise is a Dr. Stone character who acts as the guard for Ruri. This stems from her motherly affection for both Ruri and Kohaku, which sometimes leads to overprotectiveness.
Her eyes are in the shape of almond with pointed eyelashes.
 She has shiny black hair that reaches up to her shoulders. She wears a long dark green dress as her attire with the village rope surrounding her neck.
She is also a great cook with the ability to prepare delicious ramen.
---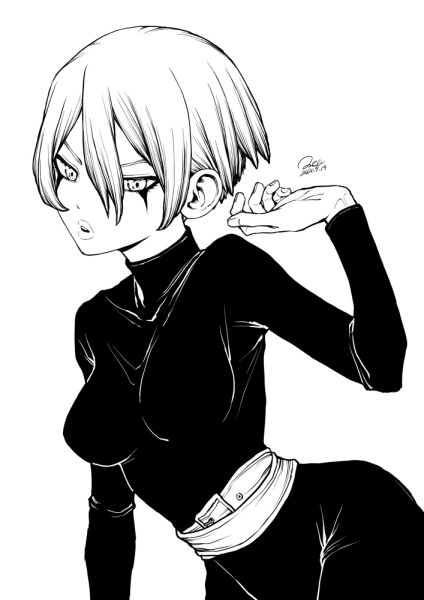 Bony is the first member of Stanley's gang to be featured in this list. She follows Stanley with all her heart, rarely leaving his side. She is very young with a unique sense of style.
She loves to keep her hair in a small bob with spiky ends emerging from the back of it. She also lets one strand of her hair fall across the middle of her face.
She has beautiful crescent-shaped eyes and usually has a bored expression on her face. Her attire consists of black skin-tight leather with a pair of gloves.
---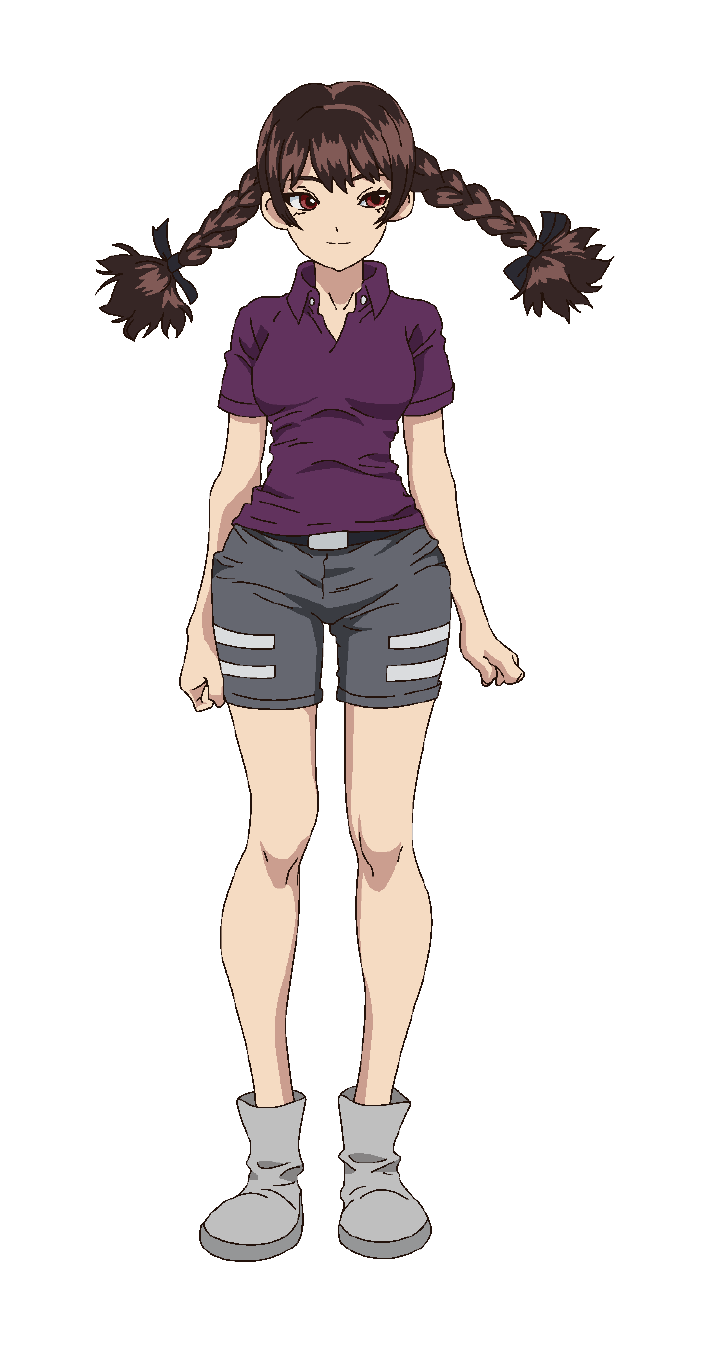 Connie was one of the few people who avoided the process of petrification on earth.
This was because she was in the International Space Station at that time, thereby escaping that horrible situation. 
She had long brown hair that she kept tied up in two long braids hanging on the sides of her head.
She had a slim figure with prominent eyelashes. Her outfit included a purple t-shirt with a high collar and a pair of grey shorts.
---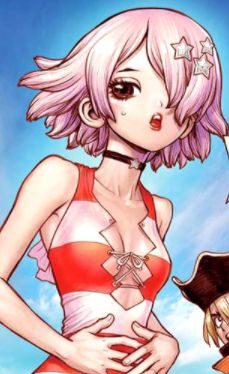 Luna is a part of Senku's Kingdom of Science and has the most advanced fashion sense among all the female characters in Dr. Stone.
Her attire consists of a striped short backless dress. She also wears a choker and takes a pouch wrapped around her left thigh.
In addition to these, her thigh-high boots complete her overall glamorous look. She is also highly intelligent and wishes for the same in her partner.
Her slim figure and strawberry pink hair has caught the eyes of many male characters in the series.
---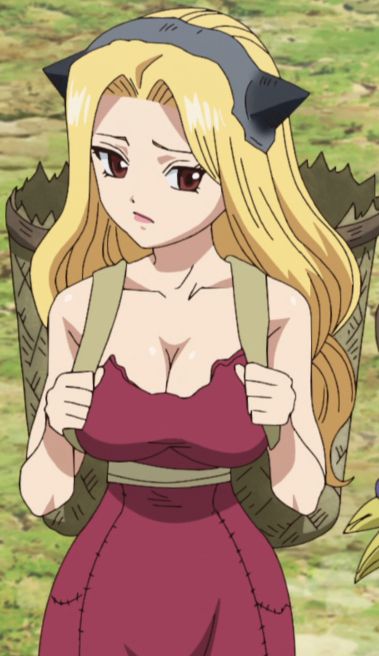 Minami has a very attractive appearance, and she knows how to flaunt her features to the perfect extent.
Her hair is long and blonde, which she likes to style with seashells. She has a soft flirty expression on her face, along with her pretty brown eyes. 
She is usually seen wearing a short burgundy dress with a ribbon tied to the upper portion.
She prefers walking barefoot and has horns sprouting from the two sides of her head. Her taste in men is what a typical woman wishes for, which is why she was affiliated with Tsukasa.
---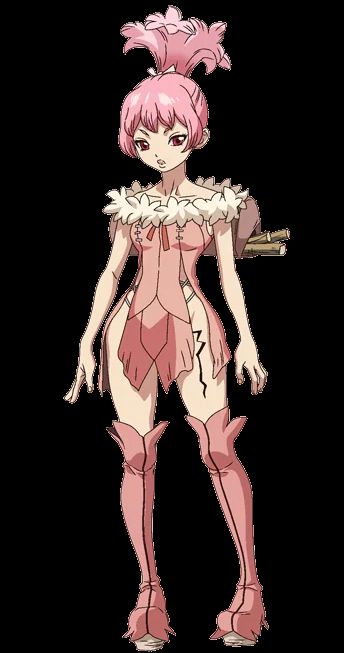 Despite starting out as an antagonist, Homura grew into one of our favorite characters. She is covered with the color pink ranging from her hair to her dress and boots. 
Her short and slim figure often appeals to the male characters in the series. Her outfit comprises a lacy dress that ends in a covering of fur. 
She keeps her hair tied in a bunch and sports knee-high leather boots. She rarely shows any kind of expression and has her petrification scar on top of her leg.
---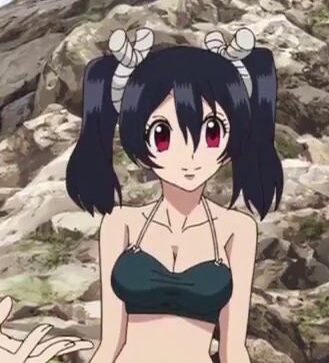 Ruby is the first of the Sparkly Sisters to be featured in this list. She is a gracious young woman with thick black hair.
She normally keeps her hair tied into two ponytails hanging from the side of her head. Her skin is pale in color, and she has a slender body. 
She also possesses large beautiful eyes with prominent eyelashes. She usually wears the short blue sleeveless dress that she keeps tied up with a rope.
She has a keen love for food that made her interested in Senku after he discovered Ramen. As a result, she is one of the top Dr. Stone hottest female characters. 
---
Sapphire is the second of the Sparkly Sisters to make her mark in this ranking. Unlike her sister Ruby, she has blond hair and blue eyes.
Her hair is medium in length, and a single strand covers the middle of her face. She has eyes like a doe with long eyelashes. 
She also has visible plump lips with a sloppy expression on her face.
She likes to wear a sleeveless green dress with the village rope wrapped around her neck. Moreover, she has an acute resemblance to Lillian Weinberg, who is her ancestor.
---
Garnet is the third of the Sparkly Sisters who gets mentioned in this list. She has the longest hair out of her sisters, and like Sapphire, it is also blonde.
Her eyes are red with prominent eyelashes. Unlike Sapphire, she has thin eyebrows that point downwards. 
Her attire involves a long blue sleeveless tube top with a high slit on the right side. She also loves to wear a fabric collar surrounding her neck with matching colors as her dress. 
---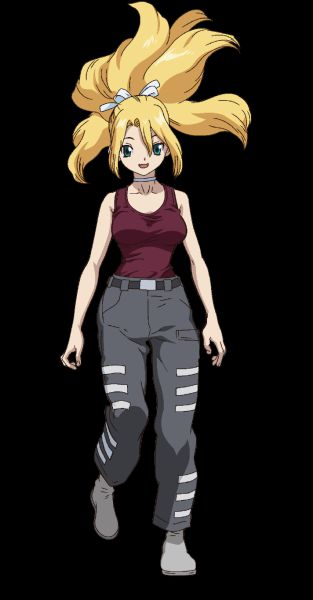 Lillian was one of the survivors of the Petrification process since she was a part of the International Space Station.
She is extremely beautiful, with flowing long blonde hair kept in place by tying into a ponytail.
 While spending time on the Island, she usually wore a red top without sleeves and white striped track pants that she later made into a makeshift short. 
She hailed from Germany and was kind of a diva. Her great taste in music and playful nature quickly made her a fan favorite among the male audience.
---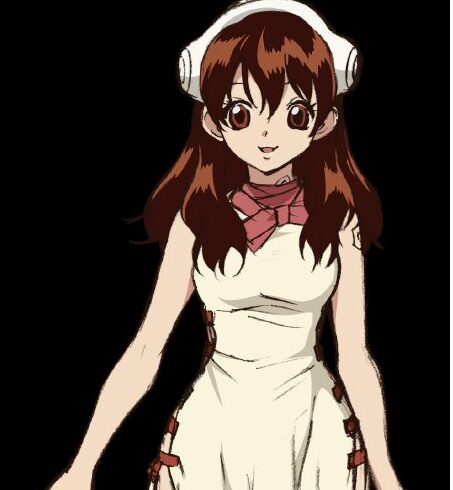 Someone who can make even Taiju fall heads over heel for them deserves a place in the top 3. Yuzuriha is one of our favorite Dr. Stone Anime characters. She is a young girl who is Taiju's love interest. 
With a slender figure and pale skin, she has many qualities of an attractive girl. Both are hair and eyes are of the same brown color, and she likes to keep her hair untied. 
She normally adorns a white dress with splitting sides and white shoes. Her most noticeable accessory is her headphone-shaped hairband that has remained constant since her introduction in the series. 
---
Kohaku is one of the main Dr. Stone Anime characters and loses the first spot to her sister. She has been a vital cog in their journey of reviving human civilization and is extremely loyal to Senku.
 She has medium height with a slim body. Her blonde hair is tied behind her back with a rope, and she lets two strands fall on the side of her face.
Her usual attire consists of a short blue dress with a v-shaped neck. Her kindness and caring personality bring out her beauty even more.
---
Must Read- (2021) Top 15 Best Creations by Senku in Dr. Stone Ranked
---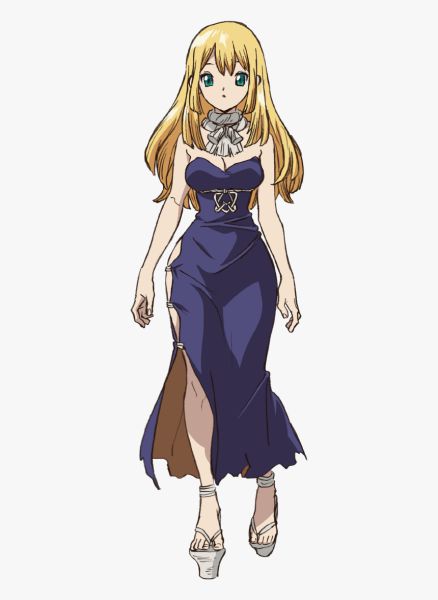 Ruri is the elder sister of Kohaku and is the epitome of beauty. She has a sweet look on her face with beautiful eyes and a delicate smile.
Unlike Koahku, her medium blond hair is smooth and silky that she keeps untied. She has a very curvy figure with long legs. 
She wears a long blue dress with the village rope around her neck. She also has a kind and gentle personality with a positive outlook on everything. 
---
Must Read- (2021) Top 30 Best Anime Couples, Loved Forever
---
This brings us to the conclusion of our top 15 Dr. Stone: Hottest Female Characters.
Ruri and Kohaku thoroughly deserved the top two spots while Lillian Weinberg and her descendants rightfully take up the next four positions.
There have been very few surprising entries in the list with very few prominent female characters in Dr. Stone.
We will be sure to keep on providing our readers with new and unique content. Till then keep on browsing our website.  
References-
Image Source- dr-stone.fandom
---
Do small things with great love.
Follow us on Twitter for more post updates.
Also Read-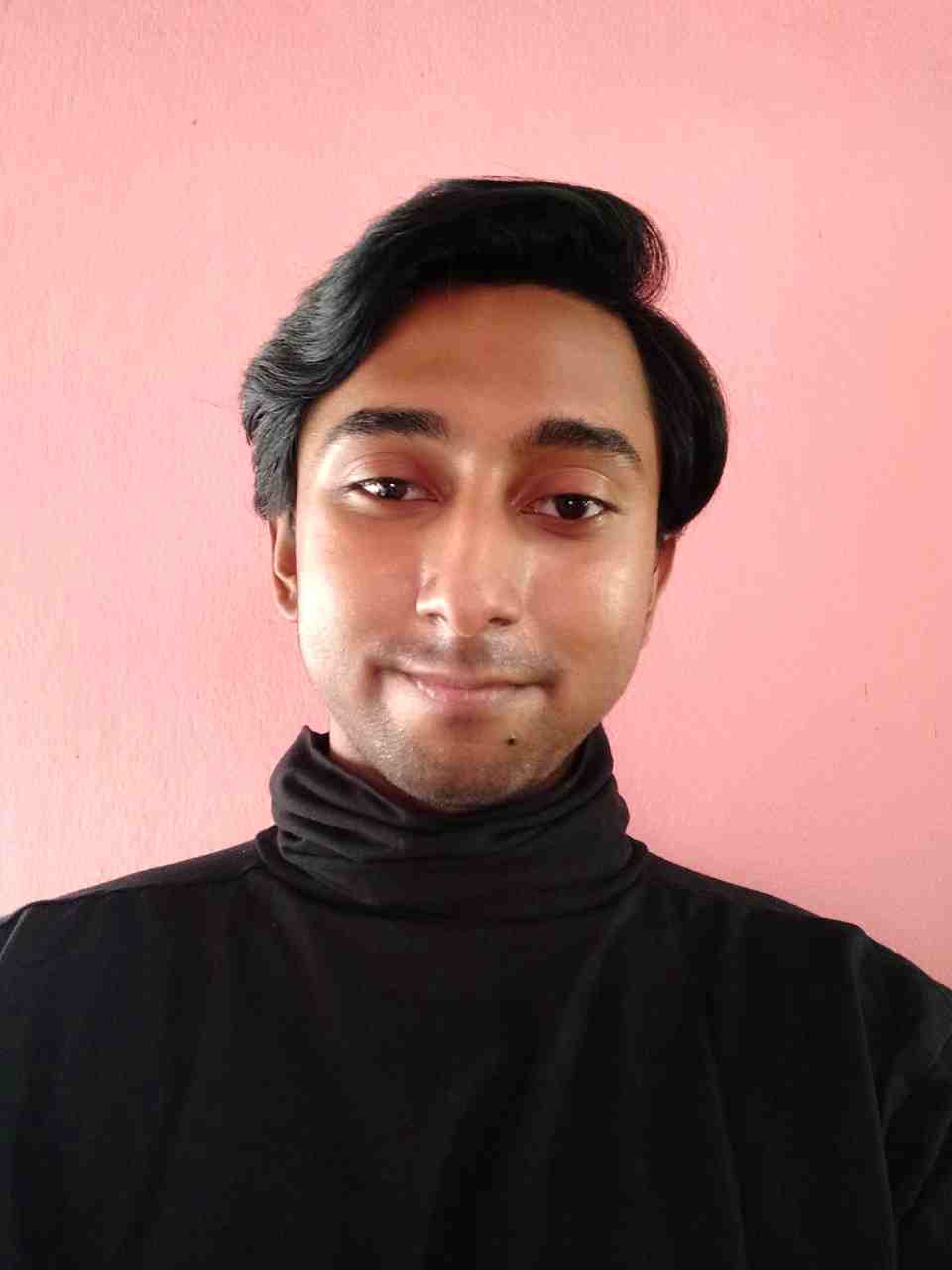 Life took a sudden turn for me when I finally decided to watch Kimi no nawa & Clannad. While both of them made me cry and introduced me to this vast world of anime. The Anime and Manga world is an escape for me from this complicated real world and serves as a relief. Being a content writer for OtakusNotes still feels like a dream and has been one of the best things to happen to me this year. It has been a productive distraction for me and I am loving every moment of it.