Last updated on May 15th, 2022 at 03:06 pm
The romance genre has been a popular category in animes for a long time. The slow plot development with the love triangles and occasional comedy bits makes it an exciting genre. There are also heartbreaking moments in some of them that are surely going to make you cry. Thus, what's better than to have an anime date with your boyfriend/girlfriend and binge watch love animes while revealing that passionate otaku side of yours.
Today we are going to rank the top 15 best love anime that you people can watch with your significant others. Most of these animes are quite popular and have a strong fan base. Some of them are even on the list of the best animes of all time. In these rankings, we are also including anime movies besides the series since their heartwarming stories are impossible to exclude.
Top 15 Best Love Anime to Watch With Your Girlfriend/Boyfriend –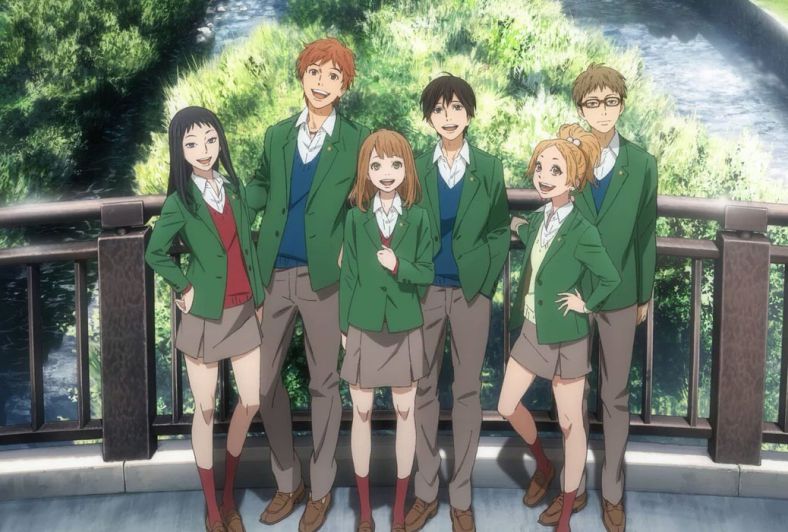 Rating – 7.62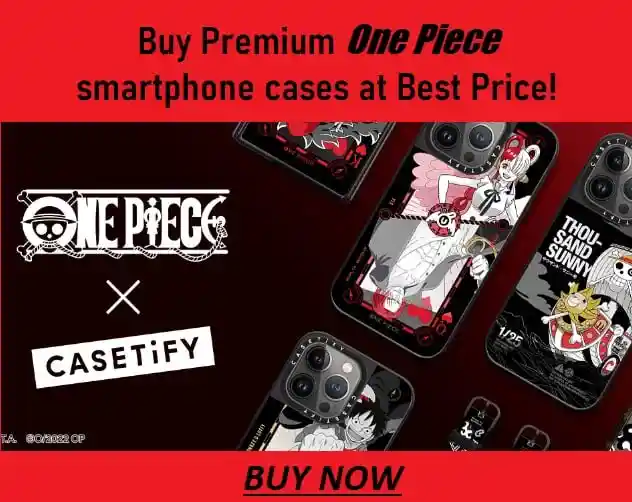 Plot – The first love anime to be featured in this list is Orange. With a great opening song and an engaging plot, Orange is one of the most underrated love animes. Have you ever wondered how you will react if you were to receive a message from your future self? If yes then this anime is perfect for you. It comprises of six main characters namely Naho, Kakeru, Hiroto, Takako, Hagita and Azusa. Apart from Kakeru each of them received a letter from their future selves to prevent Kakeru from committing suicide and save him.
Number of episodes – 13
Where to watch – Crunchyroll
---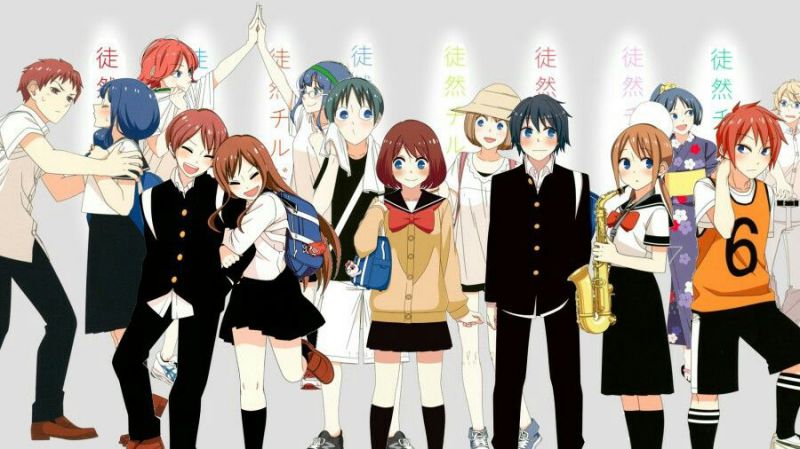 Rating – 7.65
Plot – Another very underrated anime follows Orange in the 14th position. Tsuredure Children is a mixture of many small romantic stories with some hilarious moments to keep the fans entertained. We explore a variety of relationships within the same high school and how each of them navigates through this complex emotion called love. Each of the characters is also connected through their various friendships and they all come together for one final episode at the end of the season.
Number of episodes – 12
Where to watch – Crunchyroll
---
13) 5 centimetres per second (Movie) –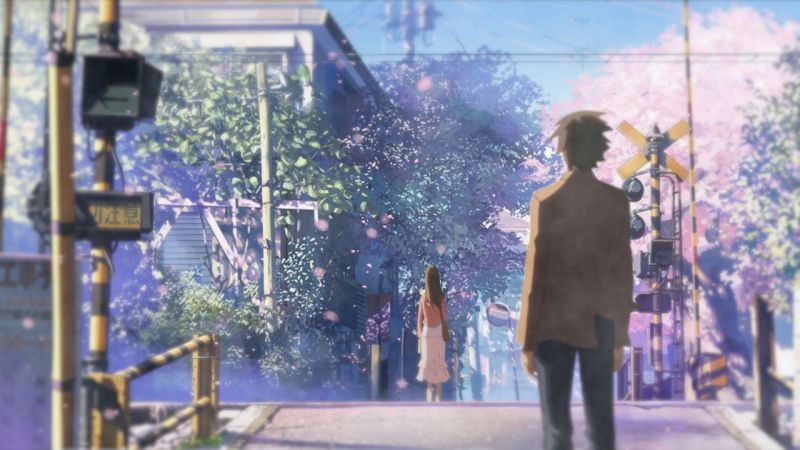 Rating – 7.70
Plot – A heart-wrenching love story can also be a good film to watch on a date. Go along the journey of Takaki Toono and Akari Shinohara in this beautiful film directed by Makoto Shinkai. Takaki and Akari explore the difficulties of their long distance relationship as they keep drifting apart with each passing day. The film beautifully surfaces the challenges faced by two people in a long distance relationship where in this film Takaki and Akari keep getting stuck in the past and as a result hurt their near and dear ones.
Number of episodes – 1
Where to watch – Netflix
---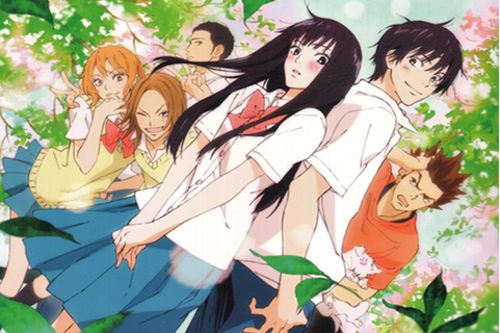 Rating – 8.01
Plot – In this romance anime, we follow a 15-year-old girl, Sawako Kuronuma. After being gravely misunderstood by her classmates, Sawako's high school life took a turn when she started talking with Kazehaya. It opened up new doors for her as she made new friendships and also started strengthening her romantic relationship with Kazehaya.
Number of episodes – 38
Where to watch – Crunchyroll
---
11) Garden of Words (Movie) –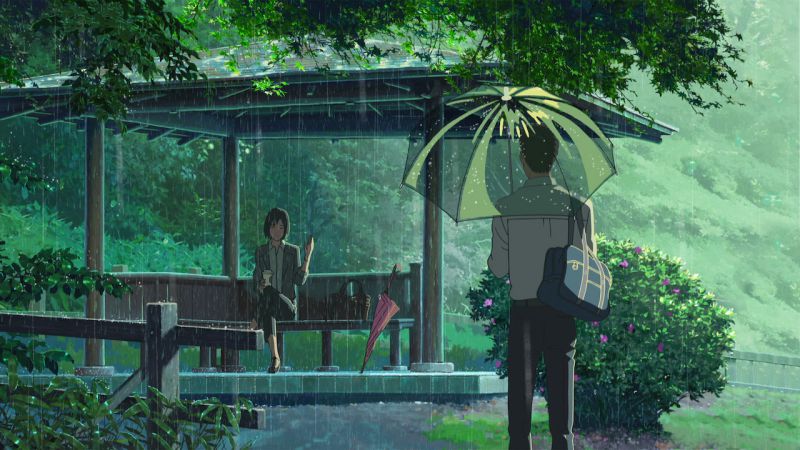 Rating – 8.02
Plot – In this yet another beautiful film directed by Makoto Shinkai we come across a shoemaker, Takao Akizuki. He happened to have a chance encounter with Yukari Yukino in a beautiful garden on a rainy day. This encounter proves to be life changing for both of them as they forget about their hidden worries just by being with each other.
No. of episodes – 1
Where to watch – Netflix
---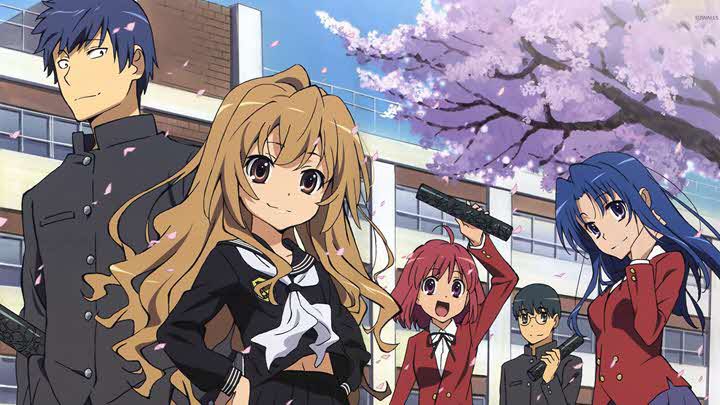 Rating – 8.21
Plot – When Ryuuji Takasu and Taiga Aisaka fall in love with each other's best friends things get complicated real quick. Watch as these two characters cross path with each other and discover a completely unknown side of themselves. As they try to help with each other's crush they develop a good friendship and love starts blooming among these four people.
No. of episodes – 25
Where to watch – Netflix
---
Must Read – Top 10 Best Anime Production Studio of all time Ranked
---
9) Weathering with you (Movie) –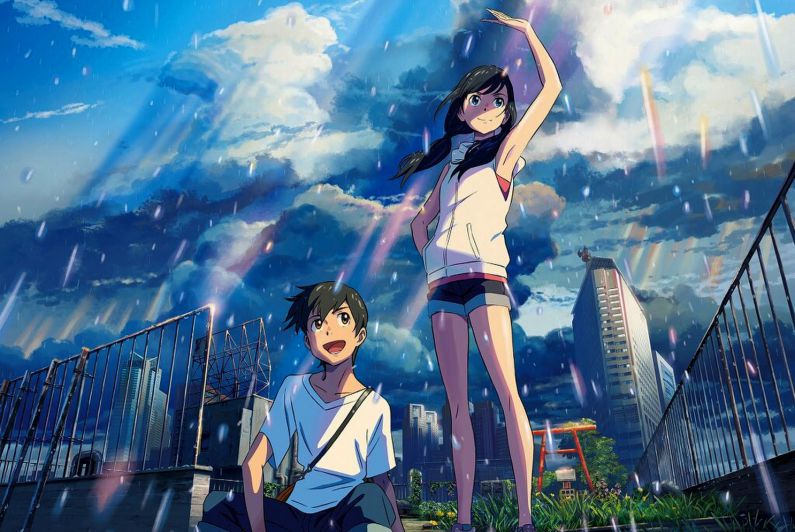 Rating – 8.39
Plot – Watch another masterpiece by Makoto Shinkai as he takes things to a next level with great animations and a soothing story. Witness Hodaka Morishima whose life changes after meeting Hina Amano as they go on an exciting adventure and tamper with the weather. In their journey, they overcome the obstacles that life throws at them by staying beside each other and never letting go.
No. of episodes – 1
Where to watch – Netflix   
---
8) Kaguya Sama: Love is War –
Rating – 8.42
Plot – In this hilarious rom-com follow along the journey of Kaguya Shinomiya and Miyuki Shirogane who are the student council president and vice-president. Although they have developed feelings and are the perfect couple for each other, neither is willing to admit it. Watch as they turn their love into a battlefield with the rule that the first one to confess will lose.
No. of episodes – 12
Where to watch – Netflix
---
7) My Teen Romantic Comedy SNAFU Climax! (Oregairu) –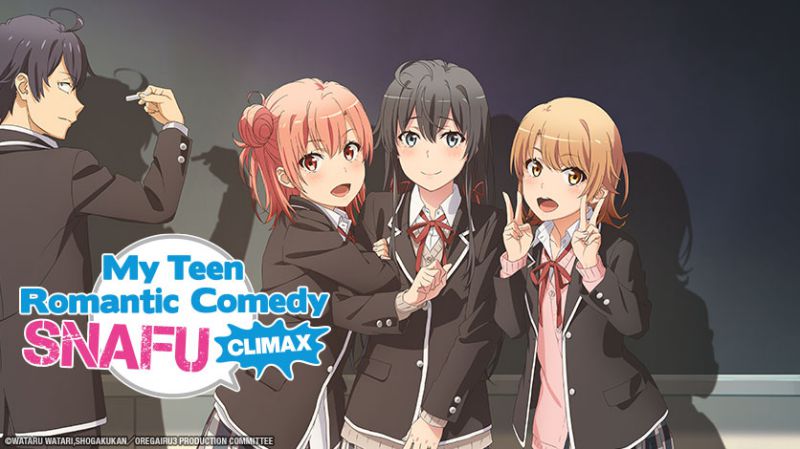 Rating – 8.44
Plot – A great romantic anime with some brilliant slice of life elements to it, Oregairu recently concluded its last season and has been a major hit. The story revolves around the two main characters Hachiman Hikigaya and Yukino Yukinoshita. Considered as the misfits of society watch as they explore their messy school lives and bring about major changes not only in their lives but also in the lives of their schoolmates. In this process, these two polar opposite characters also begin to develop a strong bond between themselves.
No. of episodes – 12
Where to watch – Crunchyroll
---
Rating – 8.49
Plot – This heart-wrenching story makes up one of the best animes for a date. In this beautiful series, we follow along with a group of childhood friends who are forced to reunite once again after the spirit of one of their friend who had died long ago appears. Consumed with pain and guilt, they re-live their past and try to sort out the events of the fateful night years ago.
No. of episodes – 11
Where to watch – Crunchyroll
---
5) Howl's Moving Castle (Movie) –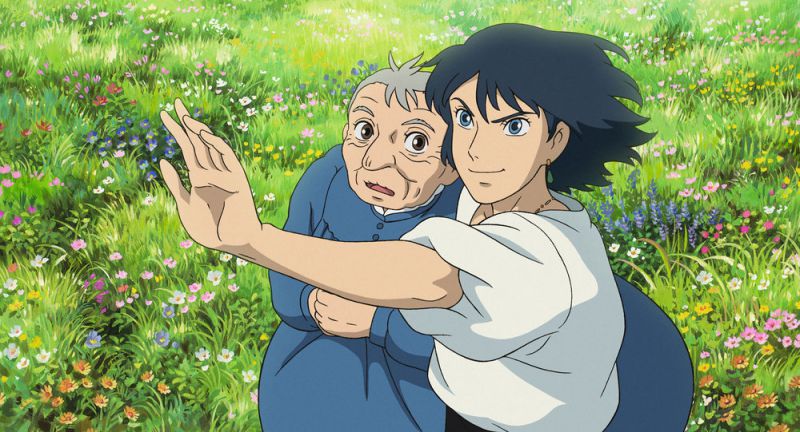 Rating – 8.66
Plot – In this Studio Ghibli masterpiece, we go along the journey of wizard Howl and Sophie Hatter. Their life takes a sudden twist when Howl rescues her from a disturbing situation. The Vengeful Witch of the Waste becomes jealous of this and puts a curse on Sophie turning her into a very old woman. Watch as Howl and Sophie try to revert this curse and their feelings for each other grow in the process.
No. of episodes – 1
Where to watch – Netflix
---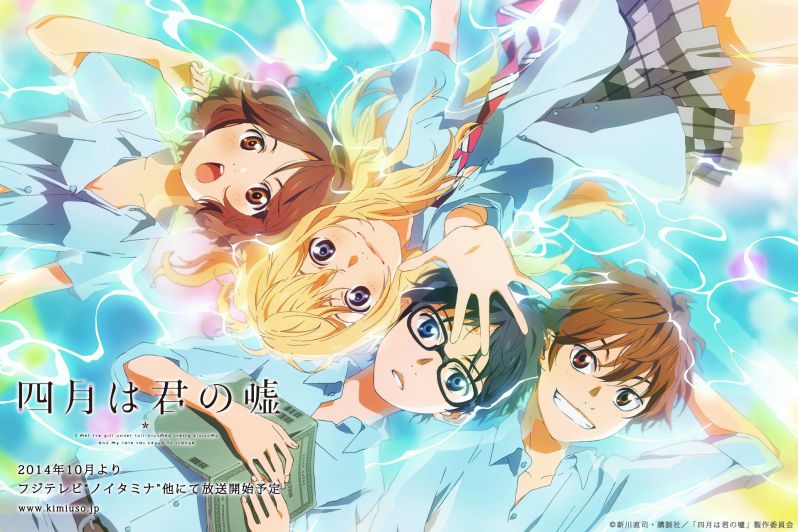 Rating – 8.72
Plot – This musical journey of talented pianist Kousei Arima and Kaori Miyazono takes the 4th spot on this list. Trapped in his past, Arima becomes unable to hear the sound of his own piano while Kaori helps her to recover from this state with her soulful violin. We watch their story as these two characters battle with their struggles and the series leads to a heartbreaking ending.
No. of episodes – 22
Where to watch – Hulu
---
3) Kimi no Nawa (Movie) –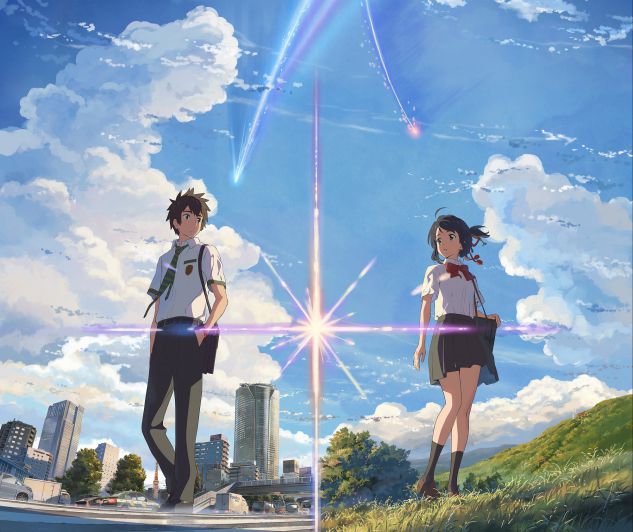 Rating – 8.94
Plot – As we enter the top 3 rankings, the first one to feature in the list is this masterpiece created by Makoto Shinkai. Kimi no Nawa took the world by storm on its release and even made a strong shout for winning the oscar. In this mindblowing film, we follow along Mitsuha Miyamizu and Taki Tachibana as they try to prevent a city from being wiped out by a meteor while living in different time periods.
No. of episodes – 1
Where to watch – Netflix
---
2) Clannad: After Story –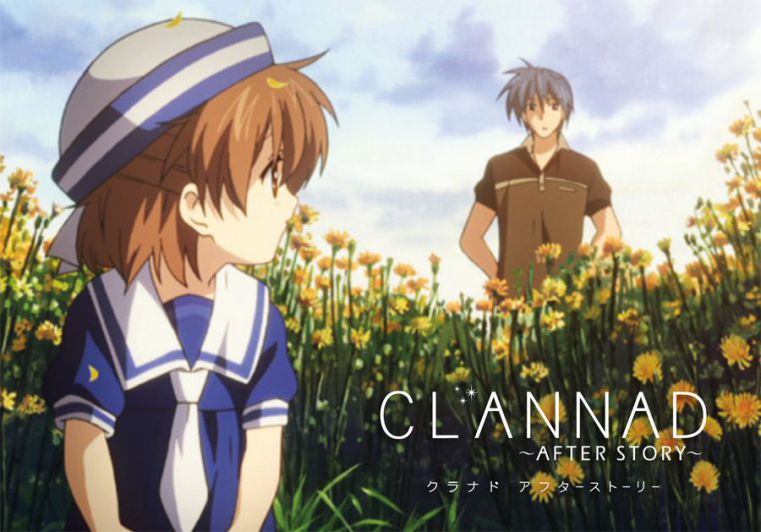 Rating – 8.96
Plot – As we reach the end of these rankings, the animes become sadder and more tearful. This soothing slice of life series with its emotional rollercoaster makes up for a fantastic watch. As Tomoya Okazaki and Nagisa Furukawa push through their personal problems and battle it out through their daily life, viewers are brought to tears in the concluding parts of this anime.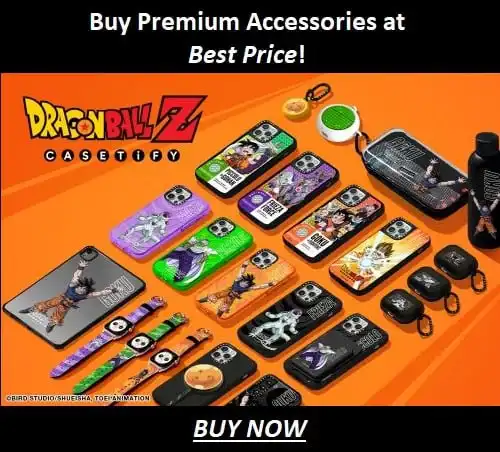 No. of episodes – 24
Where to watch – Hulu
---
1) Koe no Katachi (Movie) –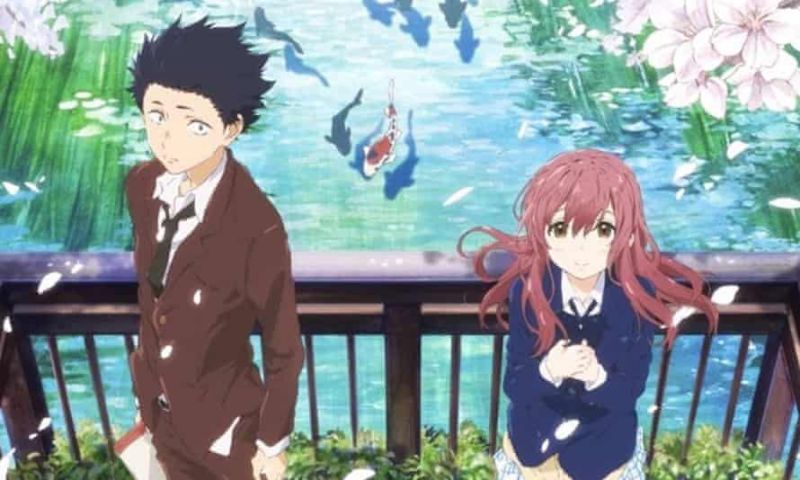 Rating – 8.99
If you are ready to cry your hearts out, give this highly rated anime film a watch. Watch how a delinquent Shouya Ishida's life changes after he encounters Shouko Nishimiya. The character development of both Shouya and Shouko is thrilling to watch as they grow up and try to adapt to their changing lives. A clash of emotions and memories from the past entangles this series and makes it one of the most heartwarming tales ever told.
No. of episodes – 1
Where to watch – Netflix
---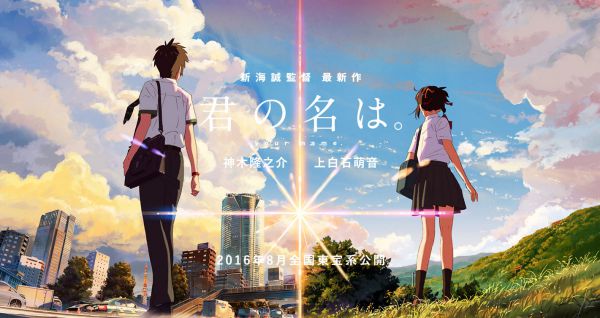 Must Read: Top 30 Romance Anime Shows of all time with Happy Ending
---
On that note, we conclude our ranking of the top 15 best love anime to watch with your boyfriend/girlfriend. All of the animes mentioned here are beautiful and unique in their own ways and are worth a watch. Makoto Shinkai has continued to make masterpieces over the years and it was no surprise to see four of his films take their spot in this ranking. We will be back with another top 15 article. Stay tuned with us till then.  
---
Follow us on Twitter for more post-updates.
Also Read: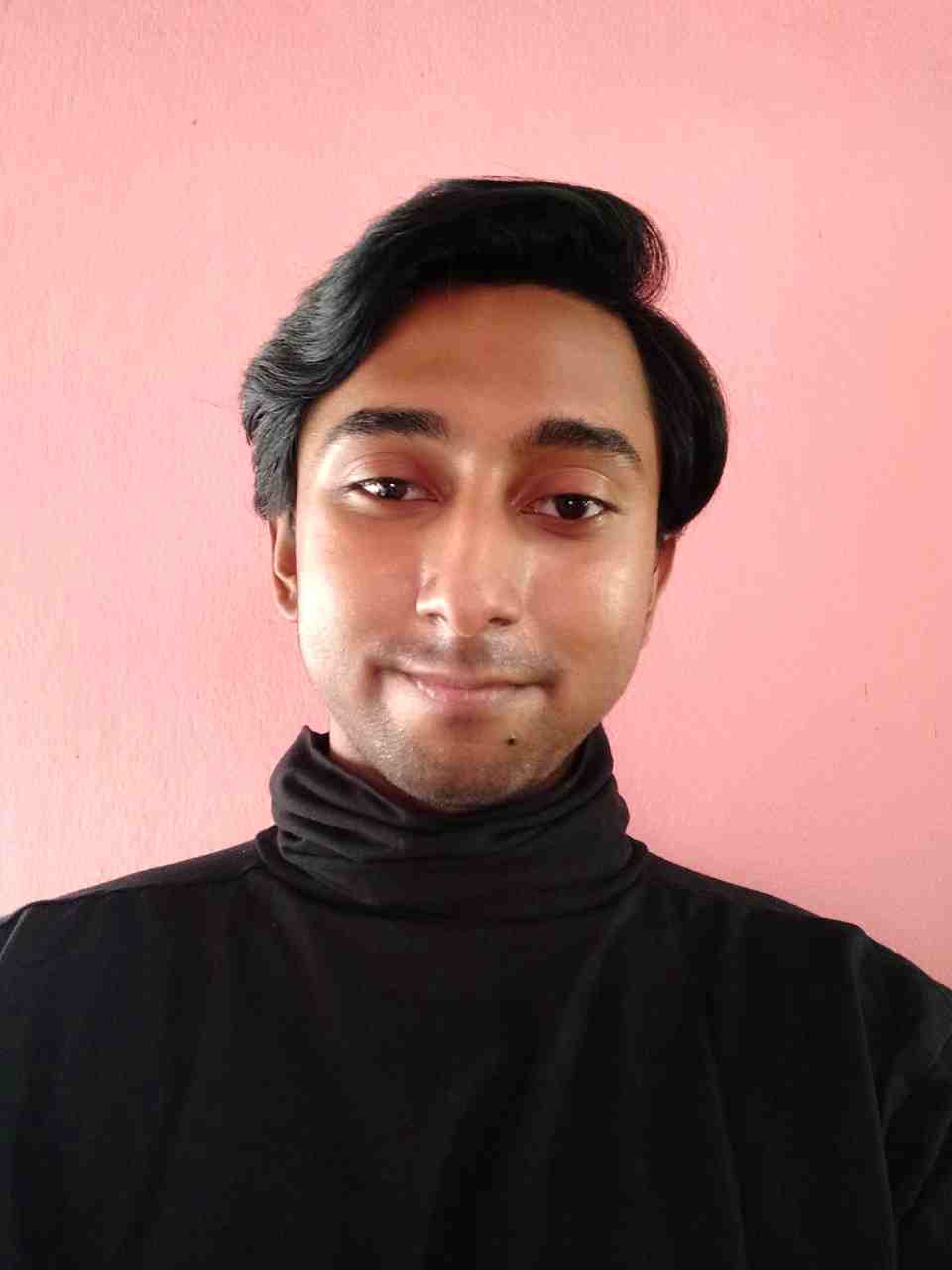 Life took a sudden turn for me when I finally decided to watch Kimi no nawa & Clannad. While both of them made me cry and introduced me to this vast world of anime. The Anime and Manga world is an escape for me from this complicated real world and serves as a relief. Being a content writer for OtakusNotes still feels like a dream and has been one of the best things to happen to me this year. It has been a productive distraction for me and I am loving every moment of it.